The Loop
A Player, Politician and Musician
Please see the two previous posts below for Part 1: The Player, Billy Andrade and Part 2: The Politician, Governor Haley Barbour.
Part 3: The Musician, Paul Overstreet
Last year my musical moments included: White Stripes at Madison Square Garden, Dylan at Woodstock, Springsteen in New Jersey and the Beastie Boys in Brooklyn.
In 2008 it's Paul Overstreet in a private cigar bar in Jackson, Mississippi.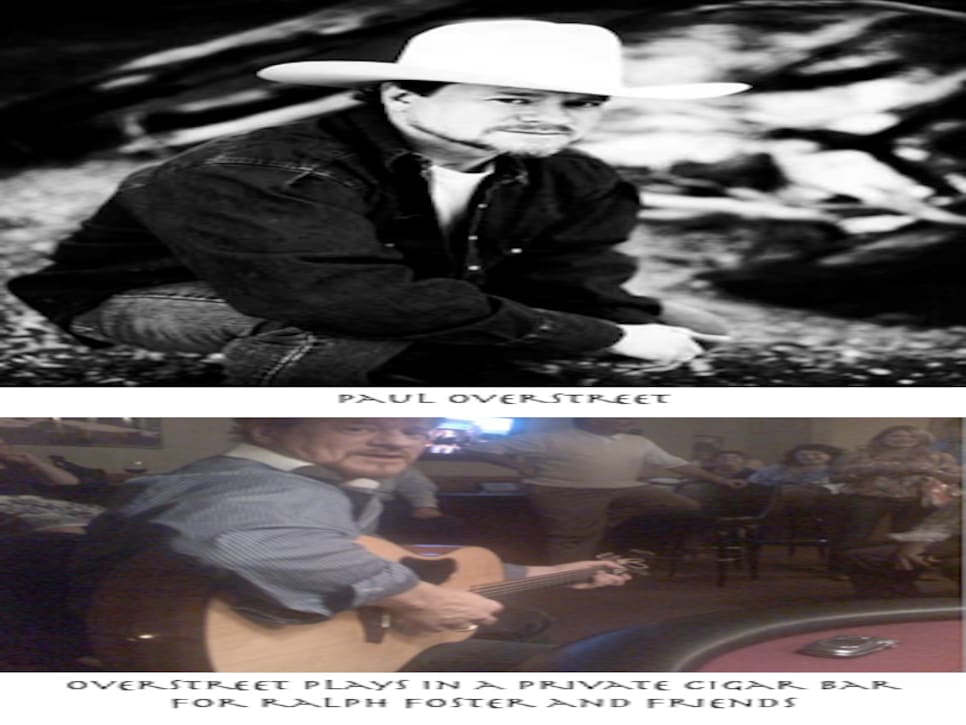 Admittedly, I asked the same thing when I found out Overstreet would be one of my playing partners in the pro-am of the Viking Classic at Annandale Golf Club in Madison, Miss. Curious, I Googled him. With a touch of country in my past and still passing through my veins, I was impressed.
A two-time Grammy Award-winning singer and song writer, Overstreet has written or co-written "Forever and Ever Amen" (Randy Travis), "When You Say Nothing At All" (Alison Krauss), "Love Can Build A Bridge" (Judds) and "She Thinks My Tractor's Sexy" (Kenny Chesney), just to name just a few.
Clearly, on stage or in a music studio, Overstreet's a plus five handicap. On the golf course he's an 18 with some pieces of equipment in his bag so old, "They may be appreciating," noted one observer.
You can put the cowboy in golf attire, but it doesn't mean it will fit like a pair of old chaps. "I'm much more comfortable in a cowboy hat than a golf hat," says Overstreet. "I own and ride horses at my home in Nashville and I'm used to working with them. Golf is an entirely different animal."
Overstreet started playing golf when he was 25. After he got married and started having his four kids, he had to shut it down. "Now that the kids are older, and can play with me, I'm playing again but, man, I have a lot of work to do," says Overstreet.
As I mentioned in the two previous posts below, it was an honor and enlightening to get the opportunity to talk golf with Billy Andrade, politics with Governor Haley Barbour and music with Paul Overstreet.
Influences on his work: "I loved Hank Williams, Sr. as a songwriter. I liked Jim Croce's acoustic sound and I was a big fan Credence Clearwater Revival. I've always thought it was interesting Fogerty never sang any love songs."
On writing songs: "I set appointments to write. I prepare for it and set meetings with people to get together and work on songs." He wouldn't say a song is spontaneous inspiration but at these appointments he sets, "I usually have something in the back of my mind."
The light bulb moment that he could be a musician: "I was 18, working as a mechanic's assistant in Waco, Texas. I went to see Tanya Tucker and Johnny Rodriguez. They got up there and played some good music but they didn't put on much of a show. I thought, 'Hell, I can do that.'"
Ten years after he saw Tucker and Rodriguez at the concert in Waco, Overstreet worked with Tucker on a song. "That was special for me," says Overstreet. "Everything had come full circle at that point."
After our round of golf, the state of Mississippi's Director of Tourism, Craig Ray, coordinated with a local radio show host, Bo Bounds, and the owner of the Habana Smoke Shoppe, Ralph Foster, to have Overstreet play a few songs for a crowd of about 25 people. Something he doesn't do very often.
Overstreet sat at a poker table, smoked a $45 cigar, sipped some of Foster's 30 year-old scotch and played some of his favorite songs. He sang "Forever and Ever Amen" and "When You Say Nothing At All." When he broke into "She Only Loves Me For My Willie," the crowd joined in.
He's played for a lot of powerful people over the years. When George H. W. Bush (#41) asked him to play in some remote town when he was on his campaign trail, Overstreet flew all day, transferred from small plane to small plane several times to get there. "I don't remember where I ended up but that was a long way to go to only play 20 minutes of music," said Overstreet. "I enjoyed meeting him and getting to know him. I hate small planes but they told me he asked for me, which was probably just B.S. to get me to make the trip. I just figured, anything for my country."
Our pro-am team, made up of these three experts in their particular fields, finished middle of the pack. I thought the Governor summarized the day the best. As we pulled our carts around to the front of the clubhouse, the valet attendant asked Barbour how it went out there. "Well, it was a great day to be alive and we were all good sports."