The Loop
A Player, Politician and Musician
Part 1: The Player, Billy Andrade
Last Wednesday I played golf with a tour pro, a politician and a musician. Experts in their field, they also birdied the categories: class, camaraderie and sportsmanship.
It was the Wednesday pro-am of the Viking Classic at Annandale Golf Club in Madison, Miss. Designed by Jack Nicklaus, Annandale, which is private, opened in 1981. It's a par 72 and tips out at 7,177 yards. Like most courses on tour, Annandale featured narrow fairways, long rough and fast greens. I shook like Shakira when I had to hit my first tee shot in front of a gallery.
Considering the event was up against the Ryder Cup, it had a solid field (Daly, Duval and Toms were a decent draw) and for the first time, Commissioner Tim Finchem stopped by. He participated in a cooking demonstration on Wednesday afternoon. He made a delicious Chinese dish, but he served cardboard on the plate of personality. Poor guy, he tried. I wondered if his visit to Mississippi was less about culinary class and more about circling the sponsorship wagons during a turbulent economy.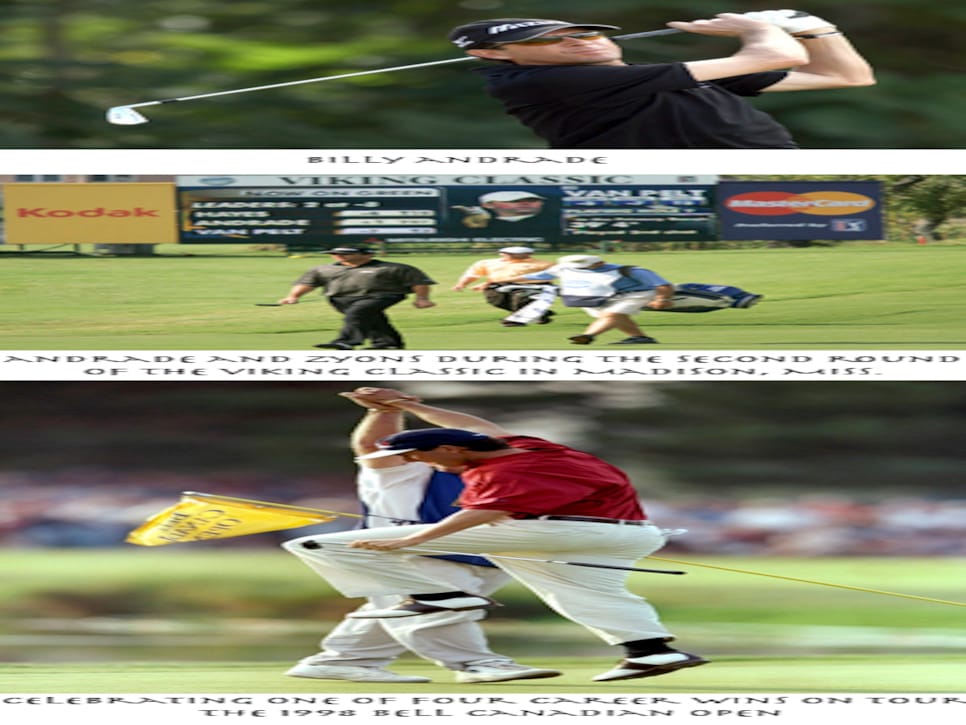 My pro was Billy Andrade. In covering golf and golfers for 13 years, Andrade joins Annika, Ernie and Arnie as my favorites.
Andrade had a successful amateur career before he turned pro in 1987. He played for Wake Forest on an Arnold Palmer Scholarship and helped lead the Demon Deacons to an NCAA title in 1986. He has four professional wins, three top 10s in majors, and over $12 million in career earnings. Although he's ranked 573rd in the world, behind Francois Calmels and Mikko Korhonen, Andrade is still decorated in endorsements.
In 1991, Andrade and Brad Faxon won the Charles Bartlett Award for their "unselfish contributions to society." I'll tell you how cool this cat is; Andrade mentioned that through various events and over the course of ten years, he and Faxon have helped raise $20 million for charity, but he only said that in the context of a conversation about the actor Michael J. Fox. Andrade felt inferior to Fox, who he said has raised over $120 million for the fight against Parkinson's disease (Fox was diagnosed with the disease in 1991 at the age of 30). But I can assure you; As impressive and inspiring as Fox is, Andrade is no slouch in the giving category.
He and his caddie, Mark Zyons (Andrade called him "Ziggy"), figured yardage, passed out swing tips, helped pick clubs, looked for lost balls, of which there were many, read putts and asked questions about our lives and families. I have best friends who wouldn't do any of those things for me.
I know what you're thinking, and it's not that I need new friends. You're thinking, that's what Andrade and all the other pros should do. Yes, I agree to some degree, but they don't have to. And most pros are opting for the "don't have to" loophole lately. Not Andrade and Zyons. Andrade gets "it." And we all appreciated "it." [For the purpose of this story, the definition of "it" is: Realizing you've made an obscene amount of money playing a sport for a living and are willing to give back with time, energy and acts of unselfishness.]
I've played with Mickelson, who has freakish, bionic golf skills. Andrade is a different type of pro. Andrade's the type who looks like a P.E. teacher but just happens to have a huge competitive heart and has overachieved his way to a plus-3 handicap.
Andrade has medium tour length (averages 283 yards off the tee); hits it solid and straight almost every time, but has struggled with the putter the last few years. I'm told it used to be the other way around; he used to be a better putter than ball-striker. Last week he was using the claw, a putting stroke made famous by Mark Calcavecchia and Chris DiMarco. I asked how long he's been using that grip on the greens. "I've been going back-and-forth," he said. Which is never a good sign, but he still managed to make four birdies.
Some of the best anecdotes he told us about his career in golf:
Playing with the Bear. It was 1987 and Andrade's first Masters. He had qualified to play at Augusta National because he was a member of the 1986 World Amateur team. He played a Tuesday practice round with Jack Nicklaus, who was defending his 18th major championship. He gave Andrade advice throughout the round. "At the 12th hole, [Nicklaus] told me, regardless of where the pin is, always just hit it at the bunker in the back."
Playing with the King: Andrade was paired with Arnold Palmer in the first round of the Masters in 1987, the same year he played the practice round with Nicklaus. He had already thanked him for the college education. "He was proud to see one of his guys having success," said Andrade. "He had a bad knee, and I beat him by nine shots, but he got a standing ovation at all 18 greens. It was a memorable day."
Playing with the Tiger: It was the 2000 Bay Hill Invitational. Andrade was paired with Tiger Woods and they teed off on the back nine. On the 13th hole, their fourth hole of the day, Andrade believes Woods used the infamous "stinger" (a low-flying shot, usually off the tee and with a 3-wood) for the first time in competition. "He hit this thing they call the 'stinger.' It never got higher than five feet off the ground and it went 260 yards. I just stood there in awe. I stood there so long Ziggy had to say to me, 'Hey Billy, you're up.' I had never seen a shot like that in my life."
Last week, in the first round of the Viking Classic, Andrade shot a 74. He doubled the second hole of his second round to go to four over par with 16 holes to try and make his 368th career cut. Sometimes good old-fashioned guts can also equal made cuts. Andrade finished with two bogeys and nine birdies for a two-day total of three under par--tied for 50th place and eight off the lead going into the weekend.
Part 2: The Politician, Governor Haley Barbour.
Part 3: The Musician, Paul Overstreet.