News
A brutal ending for Justin Thomas and four other takeaways from Day 4 at the Workday Charity Open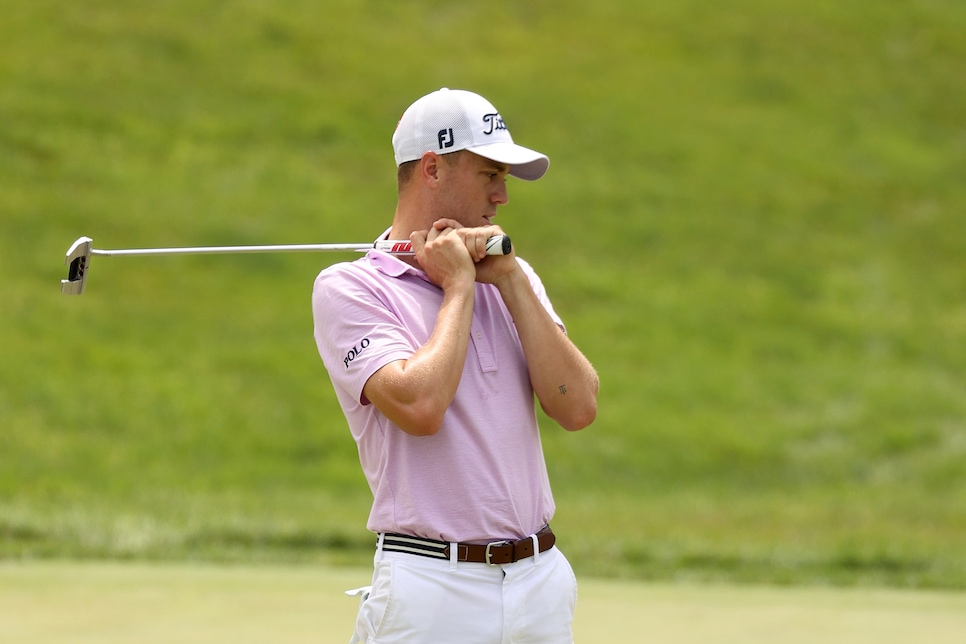 It wasn't all that easy to find the final-round coverage of the Workday Charity Open, but those who did were treated to an epic Sunday of live golf at one of the premier courses on the PGA Tour. And it all wrapped up just in time to head out and get a few holes in yourself this afternoon. You really can't ask for much more than that.
While it wasn't quite the exciting ending many had hoped for, it was still a wild finish that provided multiple edge-of-your-couch moments. We tried to sum up all of them in our five takeaways from Sunday at Muirfield Village Golf Club.
I had about four paragraphs originally written about how great of a closer Justin Thomas is, how his experience served him well, how clutch he was on the back nine, etc. Next thing you know, his three-shot lead vanished as he bogeyed 16 and 18, which forced a playoff with Collin Morikawa, which Thomas lost with a bogey on the third hole. If golf has shown us anything in these last five weeks, it's that **** can hit the fan quickly. Declaring a tournament "over" at any point before it's actually over is FOOLISH.
As if the chaotic final few holes weren't entertaining enough, the playoff was also off the chain. Thomas and Morikawa each recovered nicely from wayward drives on the first sudden-death hole (the 18th), finding the green with their second shots and setting up long birdie looks. Thomas' was from 50 feet, and it was his best putt of the day, which is saying a lot considering he had 10 consecutive one-putts at one point, including a 23-footer for eagle at the par-5 16th.
That appeared to be the second "VinceCarterIt'sOver.GIF" moment for Thomas on the day, but Morikawa answered with a long one himself:
Heart-stopping stuff. Unfortunately, after they each parred 18 the second time around, it ended on the third playoff hole with Thomas making a mess of the par-4 10th. A brutal ending for Thomas, who should have won going away. Also a brutal ending for viewers, who were enjoying an electric few hours of coverage only to watch it end on a bogey. Speaking of …
It'd be cool if people could have watched it
Look, we have to talk about the broadcast just … not being live on TV. That seems like such an impossible thing to believe, but it's not. With bad weather looming in the afternoon, the PGA Tour made the right move in moving up tee times, but it screwed up the whole broadcast schedule. Rather than just putting it on CBS or CBS Sports Network, which was airing one of America's favorite pastimes (Bullriding. It was airing Bullriding) on Sunday afternoon, you could only find it on the CBS Sports App. From there, you could mirror it to your TV. Most hardcore golf fans who understand how to use technology likely had no problem with this.
But for the fringe/casual viewers? It's a lot of hoops to jump through if you were just looking to throw on the golf live this afternoon. For a sport desperate for the casual fan and a younger audience, why is it so hard for them to watch golf? In a time when it's the only act in town, golf should be capitalizing. Instead, I had three separate friends—all fringe fans who only watched golf when Tiger Woods was playing prior to the pandemic—text me "What's going on with the golf?" And that was when the leaders were already on the back nine. Seems problematic, no?
Yes, we all understand there are TV contracts and a bunch of other important-people-who-wear-suits stuff that's used as an excuse for this. But, as prominent golf voice Brendan Porath pointed out perfectly/hilariously in this thread, would this ever happen for an NFL game?
The answer is no. "Two and a Half Men" would have to wait for Chiefs-Broncos. Sorry for going out on that limb. As for golf, hey, it's the TV contract man. Nothing you can do about it.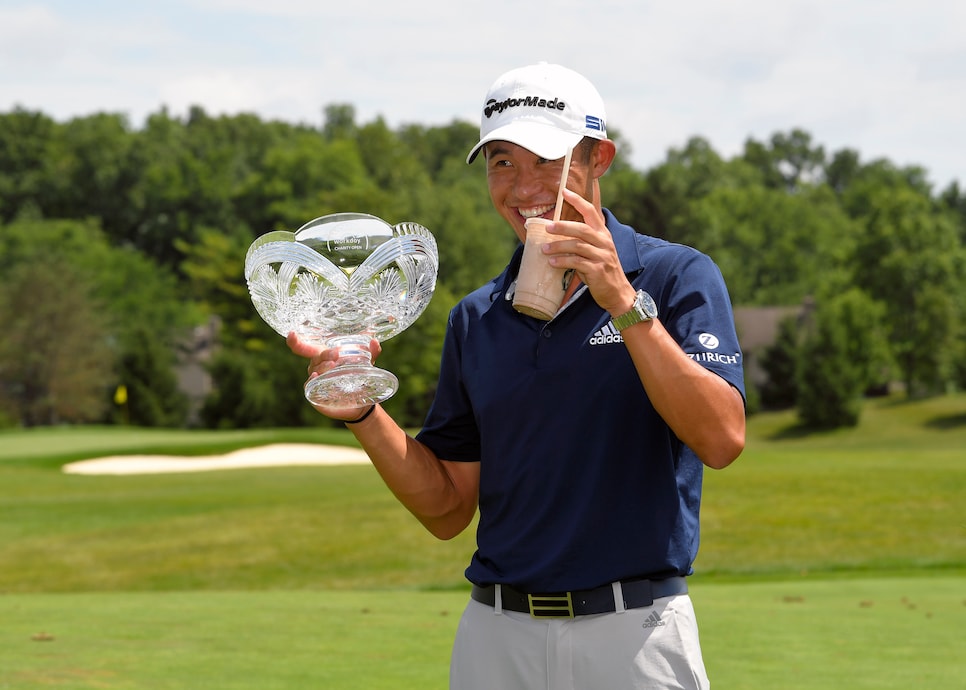 A literal L(augh)O(ut)L(oud) upon reading this one. "Hey Collin, really impressive stat here, you've now won twice before your second missed cut as a pro. That gets you mentioned with Tiger Woods, who also won twice before his second missed cut as a pro, and then did it 41 more times. Pretty cool, right?"
Jokes aside, it's still wildly impressive from Morikawa, who needed a lot to go his way near the end to finish this one off. But so did Daniel Berger when he won at Colonial, where Morikawa bricked a short putt in the playoff to lose. Everybody needs a little bit of luck to raise a trophy after 72 holes. Morikawa certainly had his fair share, but he also was arguably the best player in the field this week. Third in strokes gained/tee-to-green, third in SG/approach, sixth in SG/off-the-tee and 16th in SG/putting. He had it all working and was well-deserving of his second win. These young guys are [scary] good already.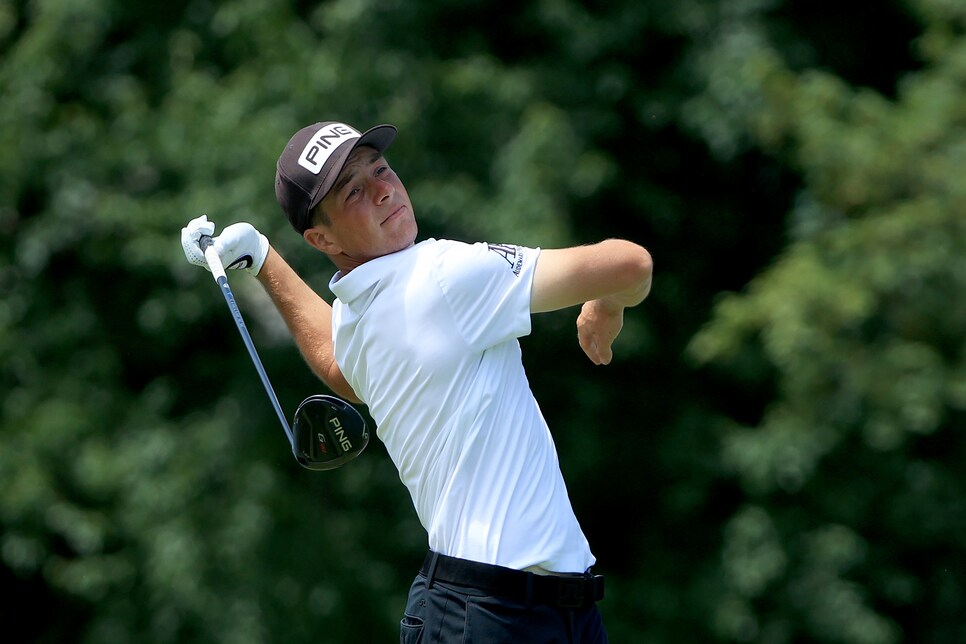 Viktor Hovland let that one slip away, but he's still on quite a run
After five holes, Hovland was at three under on the day, sprinting past Thomas, who had dropped two shots early. Morikawa got off to a hot start, too, but it did feel like Hovland's tournament early on, and he pretty much imploded. A water ball at the sixth from 158 yards out, a par on the par-5 seventh after having just 248 left to the hole in the fairway, a lipped-out seven-footer at the ninth, a poor approach at 10 that led to a bogey, a water ball and a bogey at the drivable 14th. Need I continue? The man missed a ton of opportunities on Sunday. If you couldn't tell, I bet on him, just like I bet on every guy that comes up just short every week. Sigh.
Even without the win, though, Hovland should take some positives out of this week. He's been on a tear post-lockdown, making every single cut, shooting under par in all 20 rounds (wait, what?!?!), and posting finishes of T-23, T-21, T-11, T-12, third. If you go by Bryson DeChambeau logic, Hovland is ready to bust down the door and win this week. We'll see if he can keep it rolling or if this stretch of a ton of golf in a short period of time catches up with him.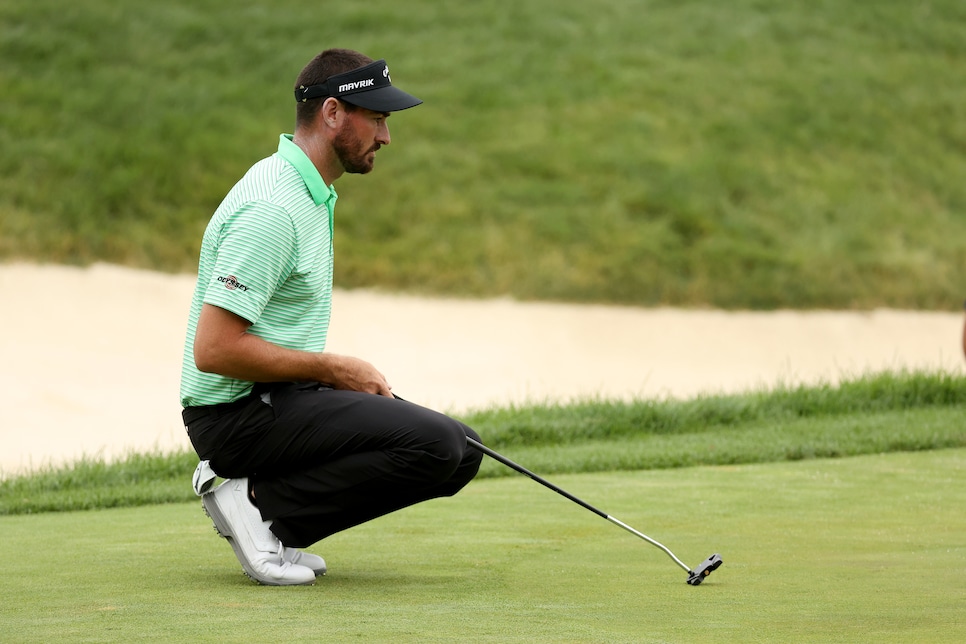 Have a week, Chase Seiffert
Coming into Workday, Seiffert, a PGA Tour rookie, had missed his last two cuts on tour and had yet to post a top-10 finish this season. That put him at 160th in the FedEx Cup standings. With so few starts because of the pandemic, Seiffert essentially has to start playing a lot better if he wants to have any chance of making the playoffs.
Well, he answered that bell in a big way on Sunday, shooting a final-round 67 that earned him a solo fourth finish (and a nice $303,800 check). More importantly, it vaulted him 51 spots in the FedEx Cup standings to 109th, safely inside the top 125 for the time being. Could very well prove to be a monumental moment for the 28-year-old Florida native's career.