News
A confident Phil Mickelson is ready to contend again this weekend at the Northern Trust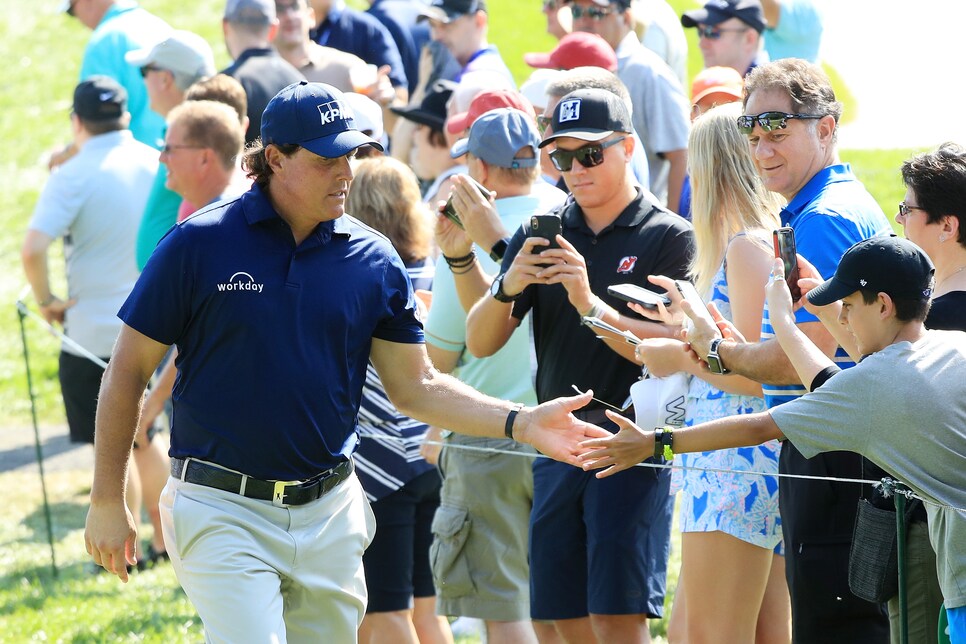 PARAMUS, N.J. — Phil Mickelson has never been shy about pumping himself up, often speaking shots or rounds into existence before they actually happen. Following a first-round 68 at the Northern Trust, the five-time major winner was adamant he'd keep it rolling, going as far as to say he would "come out (Friday) morning and shoot a really good round." The hard part comes when it's time to deliver on such a promise.
As we've learned with Lefty over the years, he usually does, Friday's second-round 68 at Ridgewood Country Club serving as the latest example. He got after it early, making four consecutive birdies to begin his round, and then narrowly missing what would have been a vintage Mickelson par at the par-5 13th (his round began at the ninth). Not even that, nor the fact he bogeyed his final two holes of the day, could shake his supreme confidence heading into the weekend.
"I look at the good," said Mickelson. "I look at it as though I know I'm playing well and it's going to get better each day, and even though I didn't finish the round the way I wanted to, it was a good day to put me in contention, which is what I wanted, and I'm going to build on that these next two rounds, because the game is coming back and it's getting sharper."
The most promising evidence of this late-season sharpness was Mickelson's driving on Friday, an area of the game that's befuddled him all year (he ranks 151st on tour in strokes-gained/off the tee). Thanks to a positive post-round range session on Thursday, the driver was a weapon for Mickelson in his second round, as he hit nine of 14 fairways, six more than he did a day earlier.
"It was just a fraction off," Mickelson said of the driver. "Now the path and the plane and so forth of the swing, which after a few years, is where I want it. So anything that's off is going to be a very small adjustment and it was. I came out today, I hit a lot of good tee shots.
"It's how I've been driving the last week heading into here. I fully expect to do that this weekend, to drive it more like that, and if I do, I'll be able to make a lot of birdies like I did early on."
After what's felt like a lost summer for the veteran, one could argue he's in need of a good run in the FedEx Cup Playoffs if he wants to solidify his potential spot on the Ryder Cup team. While he's likely earned the right to be a "lock," especially considering he won for the first time since 2013 earlier this season at the WGC-Mexico, he'd rather his play these next few weeks give Jim Furyk no other choice but to bring him to France.
"Yeah, it's important (to be in contention), because this started out to be a great year, and I want to finish it off right. And usually when I have a bit of a lull in the summer, I play well in the Playoffs. So I expect to have a good first two events and try to make it really easy for Captain Furyk."
Just one good result this week or next should be all he needs to quell any doubts. According to Mickelson, that's a foregone conclusion.
"I'm going to have a good finish this week or weekend. I don't know exactly, what that means, relative to the standings, but I'm going to play well this weekend and carry it on into Boston and it's just going to get better."