News
A confident, open Lexi Thompson leads going into final round of CME Group Tour Championship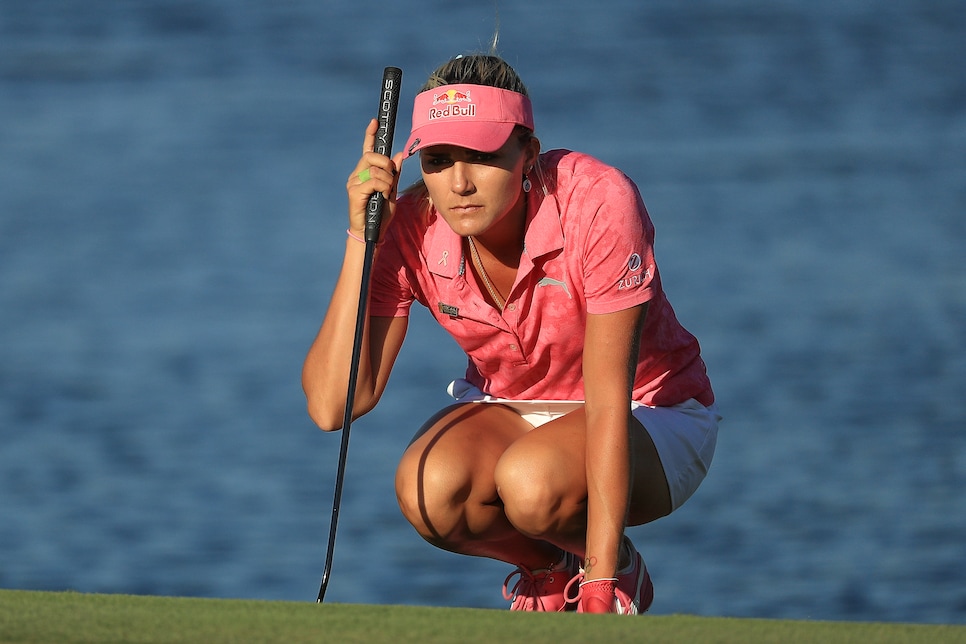 It's been an odd year for Lexi Thompson, who found herself in strange places: missing cuts, taking time off in the middle of the season to maintain her mental health. But after all of it, she finds herself in a familiar place at the end of the season: atop the leaderboard of the CME Group Tour Championship.
Through 54 holes at Tiburon Golf Club in Naples, Florida, Thompson holds a three-shot lead over Nelly Korda.
For Thompson, the season has been defined by what's been going on off-course rather than on-course -- a first for the 23-year-old. But the perspective that she's gained seems to be paying off with her play this week, the maturity she displays talking about her life both new and refreshing.
A few weeks before the Tour Championship, she posted about having insecurities with her body image. The post garnered positive attention from her followers, with people appreciating her for her honesty. After her third round in Naples, she spoke about the post.
"Everybody has imperfections," Thompson said. "We're all not perfect, and we have to own it. Own it and love who you are and the imperfections and flaws that you have, because we all have them."
Her off-course actions have proved that Thompson wants to be seen as more than just a golfer, but she remains competitive. Sitting at 16-under, she set the 54-hole scoring record at the CME. She's showing a confidence on-course that could make her difficult to catch on Sunday.
"Looking forward to tomorrow," said Thompson. "I'm going to go into it with the same attitude I did the last three days, focused on one shot at a time, doing my routine, and just have a good time out there with [her brother[ Curtis on the bag."
There is more than just the CME Group Tour Championship on the line. There's the $1,000,000 bonus to consider in the season-long competition, as well. There are five players who could win the money with a win: Ariya Jutanugarn, Minjee Lee, Brooke Henderson, Nasa Hataoka and Sung Hyun Park. Jutanugarn is the leader in the points and currently sits at T-12 in the tournament. With one round to play, she's outpacing the other four women who could take the box of cash with a win.
Jutanugarn isn't counting the money yet, though. She's instead putting her focus on the things within her power. All of that stays true to the new mental approach that she has adopted since working with Pia Nilsson and Lynn Marriott of Vision54.
"If I really want to be proud myself, I just going to focus on the thing under my control and keep doing that," said Jutanugarn.
________________________________________-