The Loop
A Canadian golf boom, kids interrupting things, and Sergio Garcia sings while going wedding cake tasting
Welcome to another edition of The Grind, where we work hard to find a golf angle in things every week -- but sometimes, they just fall right in your lap. Take that viral video of the father being interrupted by his kids while giving a serious interview on BBC:
There's no possible way to relate news of the South Korean President being ousted to golf (Well, actually, one good thing Park Geun-hye did during her time in office was to lift a golf ban involving high-ranking officials…), BUT just a few hours after that made the rounds, this happened on the PGA Tour:
Thank you, universe. And social media. Anyway, here's what else has us talking.
Adam Hadwin: Less than two months after becoming just the eighth man to shoot 59 on the PGA Tour, Hadwin notched his first tour title at the Valspar Championship. He joins fellow countryman Mackenzie Hughes in the winner's circle, and it will be the first time since 1968 that three Canadians (Mike Weir is the other) will play in the Masters.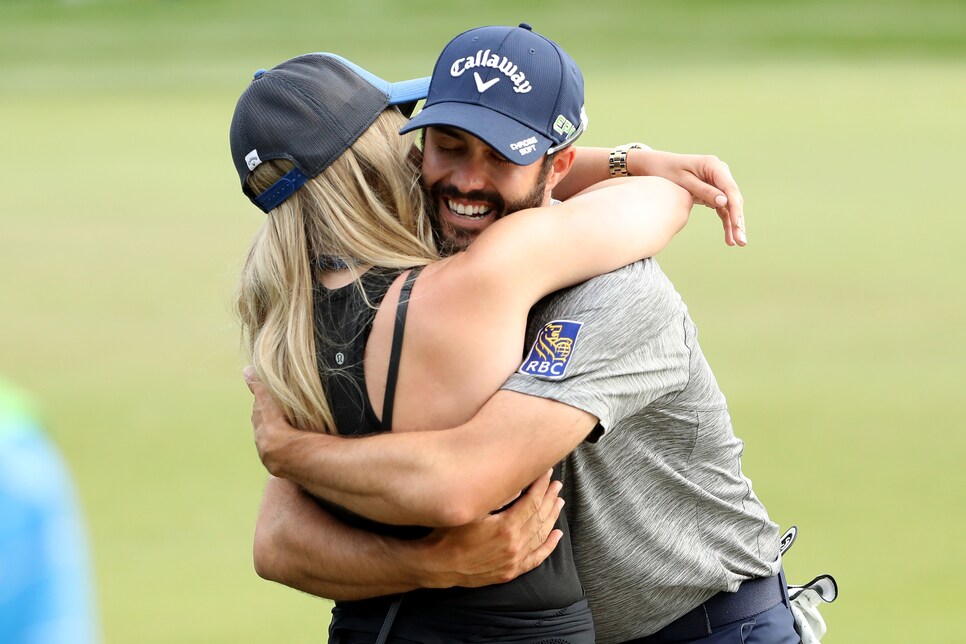 And yes, Hadwin will play despite that being the week he was supposed to be in French Polynesia for his honeymoon. Hadwin also qualified for the WGC-Dell Match Play, but he'll skip that event for his wedding. Sounds like a fair compromise.
Patrick Cantlay: Cantlay was a can't-miss prospect (He's the guy who shot 60 – yes, 60! – during a PGA Tour event as a 19-year-old amateur) until back problems derailed his career. But after sitting out for 27 months (a full year longer than what Tiger Woods sat out before returning in December), Cantlay, who turns 25 on Friday, finished second in just his second event back. He was disappointed to bogey the final hole, but he'll be back -- especially after earning enough money to earn his PGA Tour card.
Keith Mitchell: Another great story involved the PGA Tour debut of this 25-year-old University of Georgia product. The Web.com Tour pro Monday qualified for the event (actually getting into the field through a Tuesday morning playoff), eagled his first hole and never looked back, tying for 11th. The only negative? The cameras didn't catch that eagle.
Arnold Palmer tributes: There will be more this week at the Arnold Palmer Invitational, but what we've seen so far is fantastic. A mural being painted at the Valspar:
A statue being unveiled at Bay Hill:
And how about this MasterCard commercial?
Sorry, we should have warned you to have a box of tissues handy.
Players not at Bay Hill: Only 10 of the top 25 in the Official World Golf Ranking are teeing it up this week at the Arnold Palmer Invitational. Less than six months after The King passed away. "Disappointing," is the way Billy Horschel described it and I agree. Yes, the schedule is busy, but guys couldn't fly in for just a day to pay their respects? Sorry, but it doesn't look good.
Masters Par 3 getting selective: According to the Associated Press, honorary invitees (past champs of other majors more than five years removed from their wins) will no longer be allowed to tee it up in Wednesday's Par 3 Contest. This is not that big of a deal -- except to those who usually play like Ian Baker-Finch, who called it his "favorite day of the year." How can they say no to this face?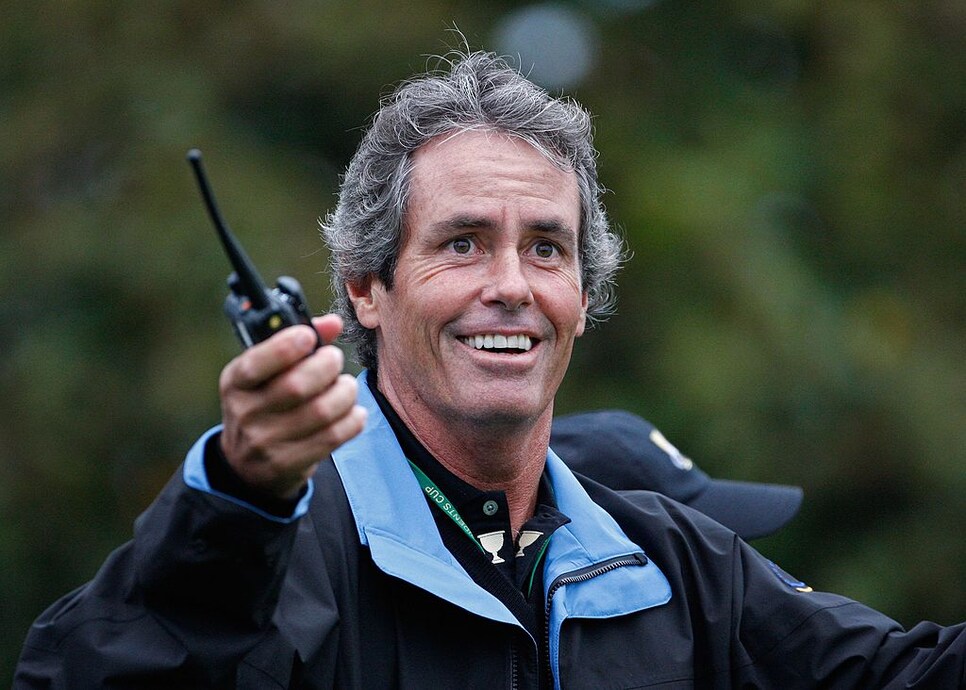 This golf fight: Or rather, this golf "fight."
Not that we needed another reminder, but golfers are lovers, not fighters.
The PGA Tour finishes the Florida Swing with its first trip to Bay Hill since Arnold Palmer passed away in September. It promises to be a somewhat somber occasion, but it's also a chance to reflect on the life of golf's greatest ambassador.
Random tournament fact: Arnold Palmer never won at Bay Hill. Make that, he never won a PGA Tour event there. The King – and everyone there – won every time he set foot at the club.
RANDOM PROP BETS OF THE WEEK
-- A Canadian will win the Masters: 100-to-1 odds
-- The winner of the Masters Par 3 will win the Masters: 1 MILLION-to-1 odds
-- Somewhere Arnie is pulling for Wake Forest in the NCAA tourney: LOCK
VIRAL VIDEO OF THE WEEK (TRICK SHOT DIVISION)
Watch this dude smash a drive 276 yards – with his PUTTER:
Probably puts your "career drive" to shame, huh?
"How am I going to drink and smoke if I don't play golf?" – Charles Barkley on why he doesn't quit the game. OK then. . .
Psst: You can afford another TV, Jon.
THIS WEEK IN DUSTIN JOHNSON-PAULINA GRETZKY SERGIO GARCIA-ANGELA ATKINS PUBLIC DISPLAYS OF AFFECTION
These two lovebirds managed to turn wedding cake tasting into an impromptu music video:
THIS WEEK IN BELEN MOZO MAKING US FEEL BAD WITH HER TRAINING
Another day, another crazy exercise routine for this LPGA Tour pro:
And apparently, she also has a professional photographer following her at all times: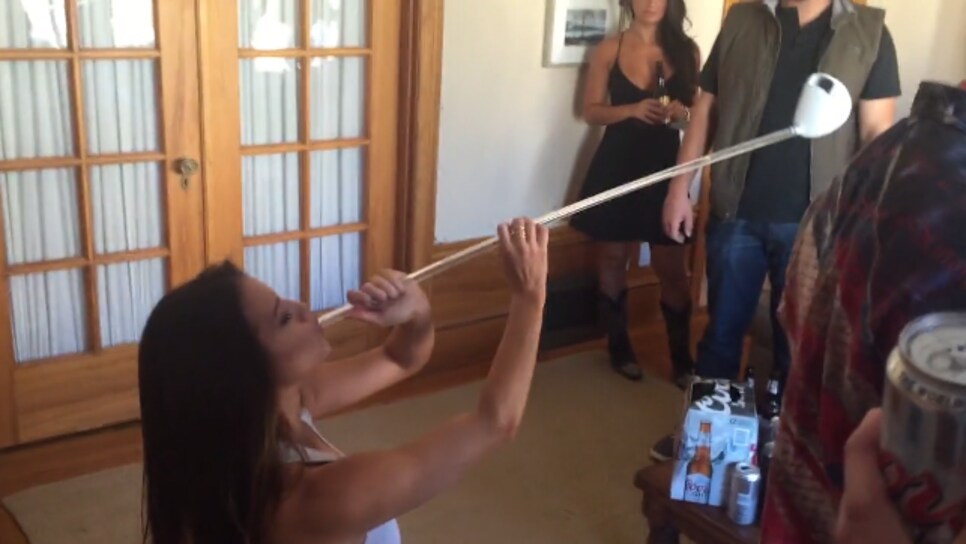 I haven't had the opportunity to test the product yet, but the "Big Beertha" is a fantastic name. . . .
And as per tradition, my wife made me this incredible cake for my birthday. This year I also took a photo of all the candy wrappers used to create it:
She also got my hopes up and nearly convinced me I was only turning 34. But I did the math and 1982-2017 comes out to 35. Oh well.
RANDOM QUESTIONS TO PONDER
Will more Big Berthas or Big Beerthas be sold in 2017?
When will I toss my bracket in the trash?
How many calories are in that cake?