News
A broke mini-tour player, a $3 million payday, a Ponzi scheme and the financial-planning career it spawned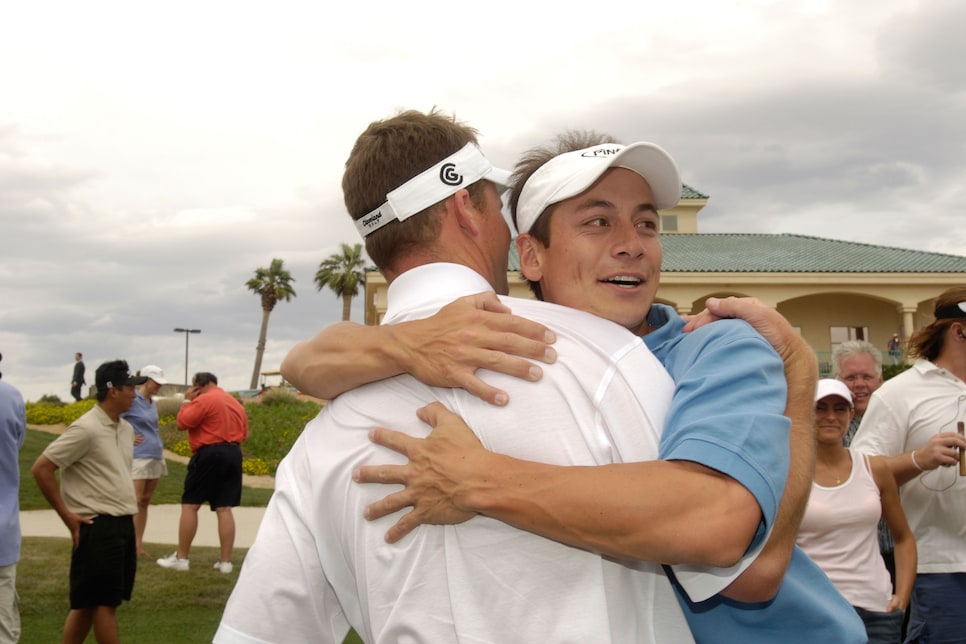 The PGA Tour was only a mirage for David Ping by the time he strode to the first tee at the CasaBlanca Golf Club, a desert oasis in the Nevada border town of Mesquite. It was May 2005, he was 26 and a mini-tour player whose career was running on empty.
Ping and his wife at the time were in considerable debt and living off her modest income teaching first grade at Ocean View Elementary School in Whittier, Calif. He was considering gainful employment.
He was in Mesquite, like so many others who travel to Nevada, hoping against hope to hit the jackpot, though not by playing slots, but by playing golf. Ping was entered in an enticing new golf competition, the Big Stakes Match Play, founded by former NFL quarterback Steve Bartkowski and a partner.
It was, in a sense, his last stand.
Sixty-four two-man teams had anted $100,000 each, with $3 million going to the winning team, or $1.5 million per man. More than 13 years prior to this week's big money match between Tiger Woods and Phil Mickelson, this was to be the richest payoff in golf to that point, exceeding the $1.44 million awarded Fred Funk for having won the Players Championship two months earlier.
Ping's partner was another mini-tour player, South African Garth Mulroy. Mini-tour players are far more likely to have $100,000 in debts than to spend on a tournament on a whim, but Ping knew those who would. Two NFL players, Barry Stokes and Ross Verba, put up the hundred grand. "My dad [agent Dr. Da-I Ping] represented one of them [Stokes]. Watching how they gambled, I thought, what's another 50 grand for each?" Ping said.
The agreement was that should they advance far enough in the event, they would first pay back the $100,000. Beyond that, it was an even four-way split among the two sponsors and the two players.
Their own investment, $1,200 on themselves in a Calcutta held the night before the first round, though modest by comparison, did portend an underlying confidence, albeit without justification. "I guarantee you, Garth and I have more debt than anyone else around here," Ping told a writer from Cigar Aficionado. "We're not making the checks we want [playing professionally] and endlessly throw out the green to keep playing. Last year, I made $16,000 from golf but had $60,000 in expenses."
Spending money you can't afford is the bane of many a gambler, but by the end of the third round it had started to suggest that maybe it wasn't a bad bet. They defeated a pair of future PGA Tour winners, Scott Piercy and Eric Axley, 5 and 3.
When they advanced to the final, they were guaranteed a $675,000 payoff, sans the $100,000 entry fee they owed Stokes and Verba. "We'll be able to pay off our credit cards," Ping said to his wife.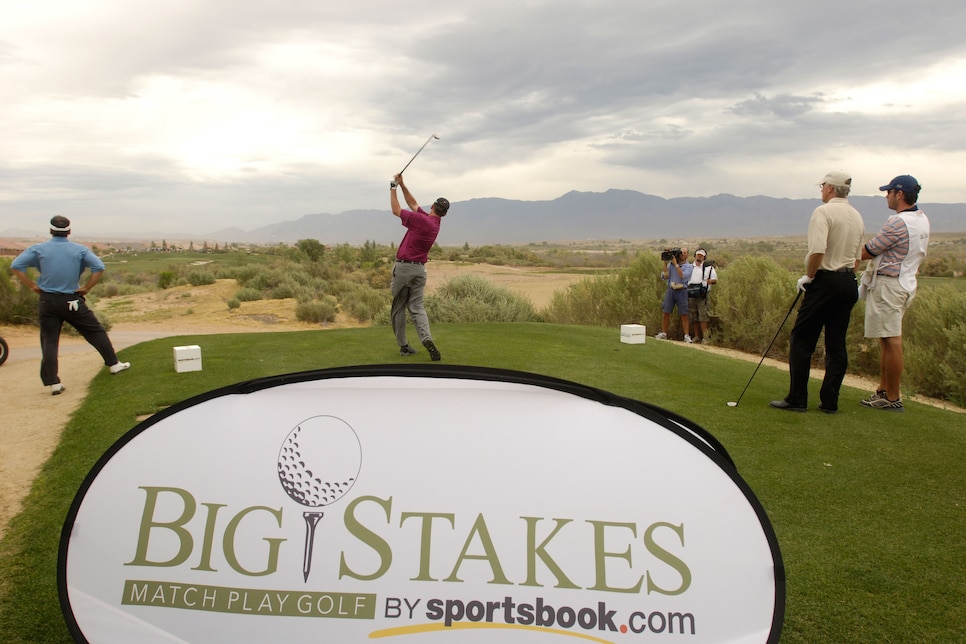 Ping and Mulroy were obvious underdogs in the final, playing two accomplished club professionals from the New York area. Mark Mielke played in five PGA Championships and four U.S. Opens. Rick Hartmann, a veteran of 10 years on the European Tour, had tied for 62nd in the British Open at St. Andrews in 1984 and had tied for 46th in the U.S. Open at Pebble Beach in 2000.
Yet the upstarts prevailed, 2 up, to win the $3 million first prize. After refunding their sponsors their $100,000 investment, Ping and Mulroy split their half of the remaining $2.9 million, $1.45 million, each pocketing $725,000.
Ping had defeated the odds. He had hit the jackpot.
There was more, too. The winning Calcutta ticket paid about $67,000, though Ping and Mulroy had agreed to give it to their fathers. The $3 million check, meanwhile, was issued to Ping, who was responsible for distributing the funds once the check cleared, about 14 days later. "Then," Ping said, "the bank was paying three-and-half percent or something ridiculous in interest. I think it earned $7,000 interest in two weeks."
Ping's golf career more or less ended there, but his story had legs and it ran off with more than half his earnings. He had encountered two familiar nemeses of those with found money, Charles Ponzi and the Internal Revenue Service.
The latter, together with the similarly voracious California Franchise Tax Board, took a $250,000 bite from his windfall, he said. As for the former, he was approached in the immediate wake of his victory by a man with an investment opportunity that could help mitigate the pending tax hit.
"You win this money and people come out of the woodwork," Ping said from Omaha, where he now lives with his second wife, Maura, and their blended family of four kids. "I was 26. At 26, you don't know any better. My personality is to trust everybody and give them the benefit of the doubt."
Ashvin Zaveri of Honeoye Falls, N.Y., was president of Zaveri Oil & Gas based in the Rochester, N.Y., suburb of Brighton. Ping invested in Zaveri's company.
Parlays, alas, are often a bad bet and this was one of them. From an Associated Press story, dated Dec. 18, 2009:
"Federal authorities say an upstate New York businessman has been charged with bilking oil and natural gas investors in a six-year Ponzi scheme that took in an estimated $35 million.
"Assistant U.S. Attorney Bradley Tyler says that 71-year-old Ashvin Zaveri is believed to have returned $30 million to $31 million to keep the scheme going from April 2003 to March 2009. He says Zaveri pocketed the remainder."
Zaveri's pockets included Ping's entire investment. "They got me for $150,000 or so," he said.
Combine that with the taxes he had paid, he was down about $400,000, which does not include the new BMW he had purchased to reward himself for winning.
Then his story took another unexpected detour. From another Associated Press story, this one dated Aug. 30, 2010:
"Authorities say an upstate New York businessman charged with bilking oil and natural gas investors in a Ponzi scheme that took in an estimated $35 million has committed suicide.
"The Monroe County sheriff's department says 71-year-old Ashvin Zaveri fatally shot himself Friday evening on a park bench in the Rochester suburb of Mendon."
Criminal charges obviously were dropped, but a civil action ensued. A reported $9 million was recovered from two life insurance policies and a bank account that Zaveri controlled. One of the policies was a "key-man policy," life insurance on a business' key person.
"We were fortunate," Ping said. "They ended up taking the money and making everybody whole."
Ping, meanwhile, gained more than a refund. He found a career and it wasn't golf. He had given up on a playing and had gone into financial planning. "The world I live in now, I do a lot of key-man insurance," he said. "A lot of that was inspired by what happened."
In the interim, he had regained his amateur status and won his first tournament, the Nebraska Mid-Amateur Championship, in 2008. Now 40, he is a financial advisor for Nelson Financial Services and plays to a plus-2.9 handicap index at Champions Run in Omaha.
"I still play a lot," he said. "I take clients out, one of my favorite things to do. The business requires a lot of trust and strong relationships, and there's no better way than to get them out there for five or six hours, having a little money game and cocktails afterwards."
His clients are not likely to know of the part he played in a $3 million payday, either. "I don't ever bring it up," he said. "It's a thing of the past."
Yes, but what a past. What a story. "It was," he said, "an exciting moment in my life."