Social Media
A beginner's guide to golf TikTok: Five accounts you should follow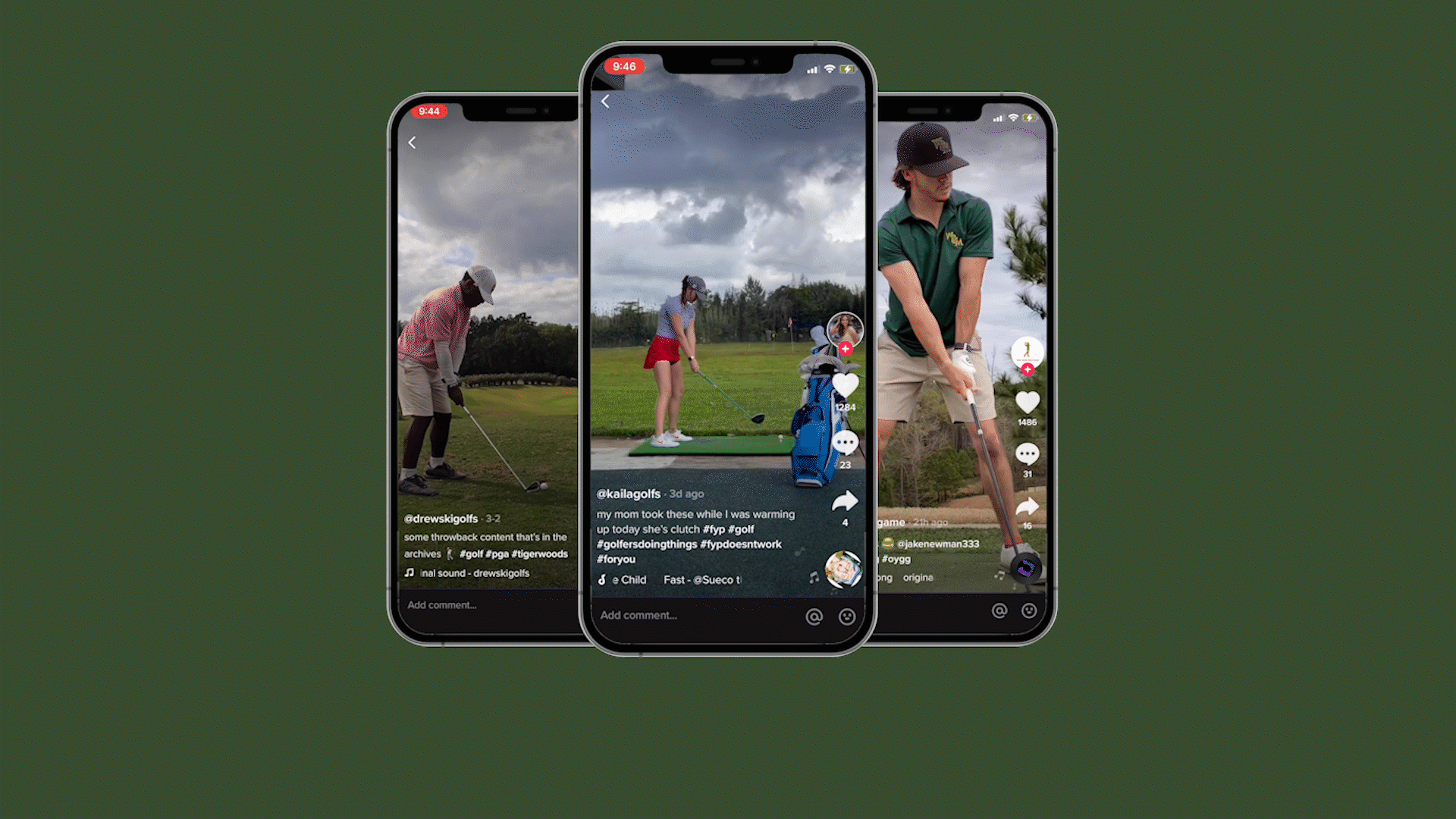 For many during the COVID-19 pandemic, golf has become a safe social and physical outlet from quarantine, triggering a dramatic nationwide increase in participation. For others, the hugely popular social media app TikTok has provided entertainment, humor, and online interaction in an isolating time. But what if we told you that the two have converged?
TikTok is a video-sharing social media platform, which allows users to post clips up to 60 seconds long, with background music, filters, and special effects at their disposal (Check out Golf Digest's TikTok here). The app's clever algorithm can hook you for hours. We've all experienced the overwhelming feeling of not knowing what to watch on Netflix or YouTube. TikTok's unique format solves this issue. The more time you spend watching a video you like, the more data the app acquires to feed you similar content on your "For You" page. The result is a steady stream of short-form entertainment you never knew you needed.
On TikTok there's a place for everyone, as hashtags enable tight-knit communities of creators and viewers to form. There's dance TikTok, food TikTok, fashion Tiktok, and now, golf TikTok. Avid golfers will naturally find their way onto "golf Tiktok," but the serendipitous nature of the app even has the potential to introduce non-golfers to the game. Golf TikTokers will often see users in their comment sections asking, "How did I get here?!"
Whether you're looking to further explore the golf community on Tiktok or you've stumbled upon it accidentally, here are five up-and-coming players, personalities, and coaches who are worth a follow.
At the beginning of quarantine, the former Maryville College football player was desperate to get out of the house and move his body, so he dusted off his set of clubs from middle school and played a round of golf with his cousin. "He whooped my tail," Collins said. As a lifelong competitive athlete, Collins was determined to improve and began documenting his progress with a series called "Hole of the Day." After just one post, he woke up to 150,000 views and users eager to follow his journey. His account gained traction during the height of the summer's police brutality protests, so Collins decided to pay tribute to the Black Lives Matter movement by titling his page "Back Nines Matter." Collins recognizes that golf is an expensive and often inaccessible sport, but he wants that to change. "I try to be that bridge between the community of golf and the community where I come from and say, you can actually do something with this," he said.
Bonawitz, a Hawaii Pacific University golf commit, started her TikTok account as a joke. One day, she propped up her phone on her golf bag while playing a solo nine-hole round and started recording. The high school competitor happened to capture a simple and otherwise unseen interaction with the players behind her, during which she asks if they'd like to catch up and merge groups. The video garnered 1.8 million likes and 9.2 million views, even capturing the attention of the LPGA Tour's official TikTok account in the comment section, commending her for her kindness on the course. Since then, Bonawitz has continued to post swing videos, golf memes, and the occasional trick shot. She even joined forces with a collective of other young golf creators to start a shared account called "GolfTok."
Stewart and Lorimer met in 2013, where they were paired as University flatmates in Glasgow, Scotland. They always wanted to start a golf-focused social media page, but it wasn't until the pandemic hit that they finally gave it a shot. Golf courses were closed in Scotland until late May, so Stewart and Lorimer started their TikTok account with indoor trick-shot videos, spending hours attempting to chip ping-pong balls off pots and pans and into a glass cup. When St. Andrews reopened its links courses, the pair launched a variety of on-course videos and provided comedic voice-overs to their golf antics. In a series called "One-Club Wednesday," the ASSL Golf members are randomly assigned any club from their bag to complete a single hole. Stewart has a seven-week long "Bulk Like Bryson" weight-gain series, where he drinks multiple protein shakes a day and tracks his clubhead speed progress. Stewart and Lorimer want their followers to see the fun side of golf. "We try to show that you can go out and have a laugh with your mates and add a bit of excitement to the game," Stewart said. "That's sometimes missing."
Duncan – an established swing coach based out of Lonnie Poole Golf Course in Raleigh, North Carolina – says that he has more than 40,000 swing videos on his phone. To deviate from the bland slow-motion clips he occasionally posts on Instagram, Duncan decided to try out the new social media platform that his young female students were raving about. Duncan says that TikTok allowed him to add trending music to his posts and feature swings in an "engaging upbeat way." Many of his students play at elite levels in junior, collegiate, and even professional golf. Duncan works with Akshay Bhatia, who recently decided to forego college and turn professional at only 19 years old. At the AT&T Pebble Beach Pro-Am, Bhatia became the first player to hit 18 out of 18 greens since Ryan Palmer in 2008, shooting an opening round 64. TikTok provides a space for Duncan to showcase the technically sound swings that his students have worked tirelessly to perfect in a contemporary way.
Bookholdt is a senior on the Elon University women's golf team and posts fitness content, swing videos, and day-in-the-life vlogs. Her TikTok account is a unique inside-look at the daily commitments required of Division I golfers. Bookholdt's first video documenting her sun-up to sun-down routine as a member of the Elon team amassed over 700,000 views. She walks her audience through her day as she heads into the locker room, completes her daily training regimen, eats meals with her team, and takes on an afternoon practice round. Bookholdt finds that these types of videos have encouraged high-school players to "embrace the hectic lifestyle" of Division I competitive golf. Her page has even prompted young women players to reach out to her and ask for her advice: "It's been great to share my experience with them and encourage them to keep working towards their goals," said Bookholdt.