Ancient history
Who is Marco Simone and why is Italy's Ryder Cup course named in his honor?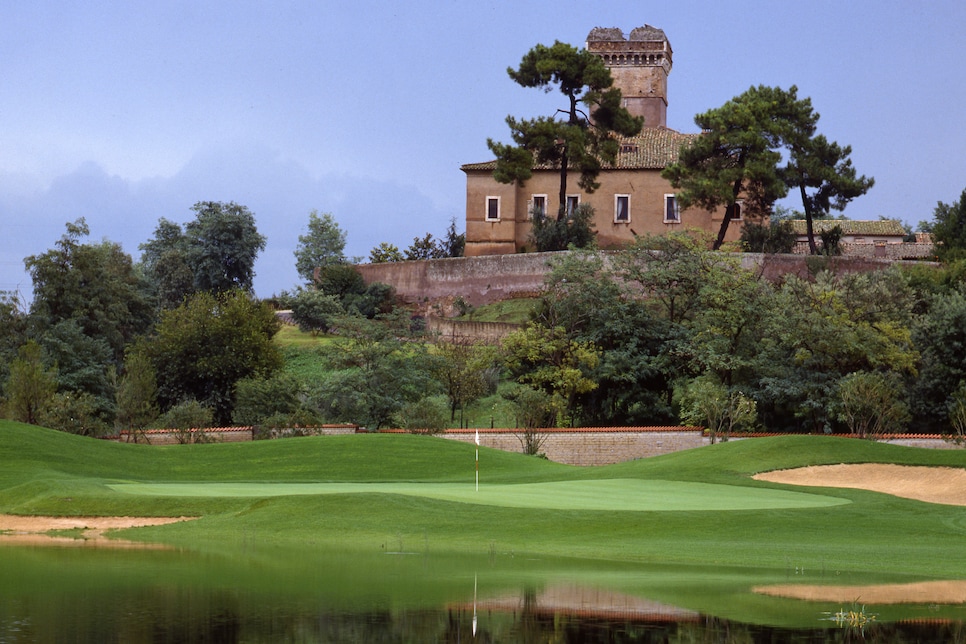 Pictured in 1992, the 1,000-year-old Marco Simone castle overlooks Marco Simone Golf & Country Club.
Edoardo Fornaciari
At this moment, a Google search of "Marco Simone" will produce a bunch of posts on golf and the Ryder Cup. Understandable, given that the 44th edition pitting the United States against Europe will soon be contested outside of Rome at Marco Simone Golf & Country Club.
However, the only immediate post you'll find on someone named Marco Simone is for a 54-year-old Italian former footballer who once played for AC Milan. Mr. Simone accomplished some nice things in his career, but hardly enough to have a golf course—and castle—named after him.
For the Marco Simone, we have to go back to well before golf was invented, to the middle 1400s. According to the Italian history books, a tower of stone was built in about the year 1000 in the Roman countryside and eventually sold to nobleman Simone dei Tebraldo. His son was Marco di Simone, and the two added to the property with buildings that would become a palace said to be among the best-preserved structures of its kind from the Agro Roman area. The history of the place is stunning—its dungeon houses the remains of fossils that have been pegged at 300,000 years old.
After Marco Simone died, Cardinals and Dukes took turns managing the property, and obviously, a lot happened over the next four centuries. Astronomer Galileo Galilei lived in the castle in the 1600s. An envious existence until after in the 17th century, when wealthy people stopped going to the countryside because of a malaria outbreak.
The castle and the property fell into complete disrepair for most of the 20th century, until a famous Italian fashion designer and her husband took interest. Laura Biagiotti, who founded the House of Biagiotti and was known as the "Queen of Cashmere," purchased the estate in 1978, along with her husband, Gianni Cigna.
"The restoration of Marco Simone's castle was like a madness that took me and that I followed gently. It was a pivotal choice in my life at 35 years," Biagiotti is quoted as saying in a story on the golf club's website.
The Marco Simone golf course opened in 1989 was originally designed by Jim Fazio and was fully restored by his more well-known son, Tom Fazio, with a price tag of $13 million.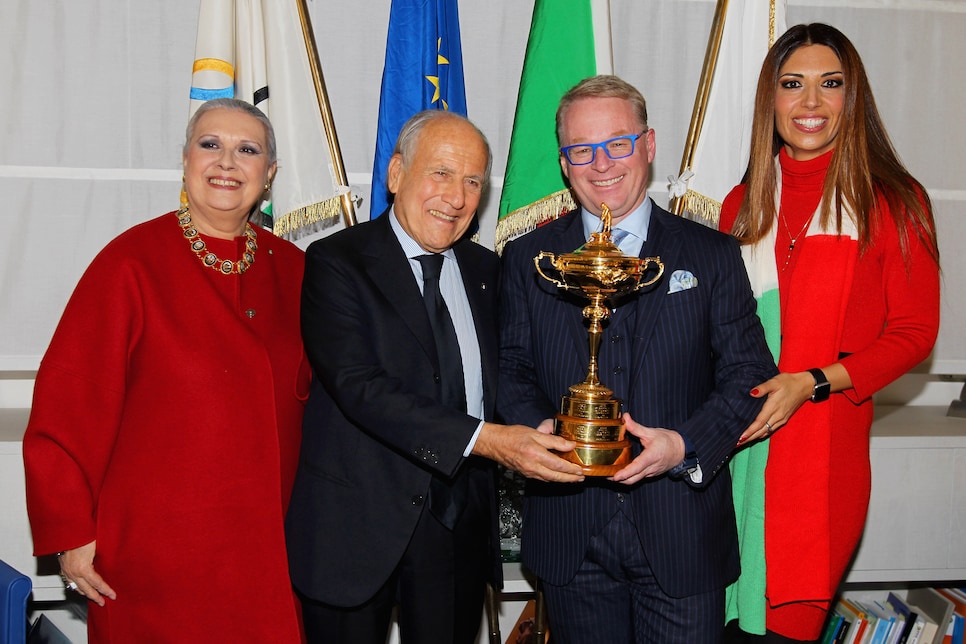 Laura Biagiotti, Italian Golf Federation President Franco Chimenti, European Tour CEO Keith Pelley and Lavinia Biagiotti pose with the 2015 press conference announcing the Ryder Cup would go to Italy.
Paolo Bruno
"We had bulldozers here for 2½ years and we tried to reach excellence," Lavinia Biagiotti Cigna, Laura's daughter, told the Associated Press in 2021. "This is what we want to offer to the world: a unique destination with amazing golfing features but not just that—with a typical Italian atmosphere, with culture, passion, food and friendship."
Italy was awarded the 2022 Ryder Cup in December 2015 while the family matriarch was still alive. Its staging then had to be pushed back to this year because of the COVID-19 pandemic.
Sadly, Laura Biagiotti didn't live to see Marco Simone experience its greatest attention and glory for the Ryder Cup. She suffered a heart attack on the castle grounds in May 2017 and died two days later.