Ryder Cup 2023
Ryder Cup 2023: This top-heavy European team is a blast from winning sides in the past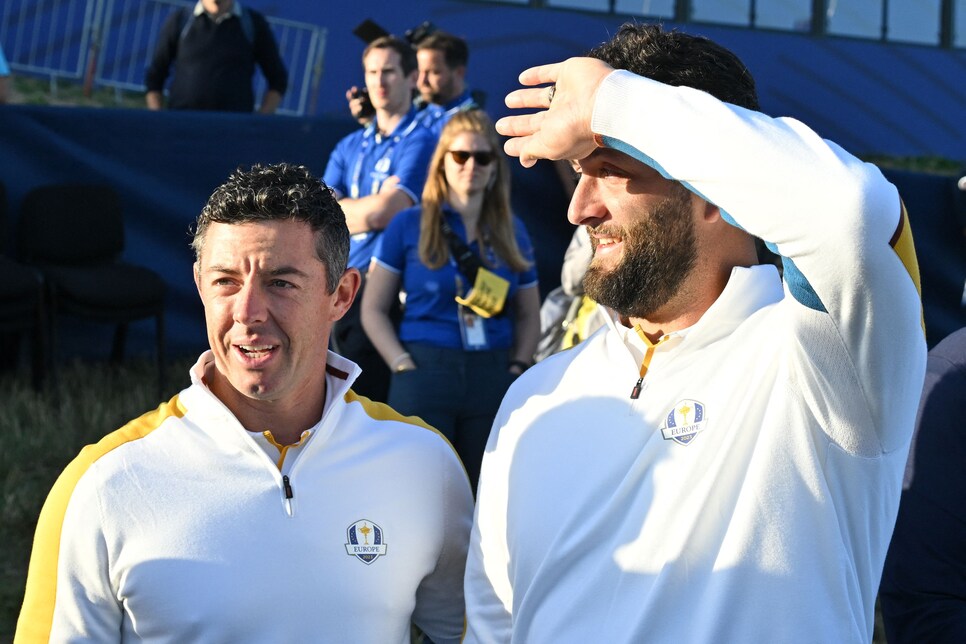 Rory McIlroy and Jon Rahm wait for their portraits to be taken on Tuesday morning.
ALBERTO PIZZOLI
ROME — The year is 1985. Tony Jacklin is captain of a European Ryder Cup team that might be called a "half-and-half" 12-man side. In at least four of the "top-six," the former Open and U.S. Open champion had at his disposal some serious firepower in the shape of Seve Ballesteros, Sandy Lyle, Bernhard Langer and Ian Woosnam. That foursome would have been a quintet had Nick Faldo not been mired within his now-legendary swing change under the tutelage of David Leadbetter. As a result, the future six-time major champion was temporarily a neutered version of what he would become.
Still, even with that caveat, Jacklin's lineup was formidable, the leading quartet backed up by the likes of Ken Brown, Howard Clark, Sam Torrance and Manuel Pinero. All one step down from the past and future major winners in their midst, but that step wasn't huge. It was no surprise that Europe went on to win comfortably, with Ballesteros, Langer, Lyle and Woosnam contributing 10 points between them.
Now fast forward 38 years. Here at Marco Simone, European skipper Luke Donald can call on six of the world's top-13 players in Rory McIlroy, Jon Rahm, Viktor Hovland, Matt Fitzpatrick, Tyrrell Hatton and Tommy Fleetwood. Which is formidable enough, even without the likes of Sepp Straka (22) and a pair of major champions in Shane Lowry and Justin Rose not far behind.
Get the picture? This is 1985 revisited, the formula for success unchanged. If Europe is to win this Ryder Cup, the leading players are almost certainly going to have to step up with a contribution similar to that of Ballesteros/Woosnam/Langer/Lyle. History says it is so.
In 1987, the Big Bad Four added a rejuvenated Faldo to the mix, as well as a young Jose Maria Olazabal. The result? A haul of 13½ points—albeit, that number is slightly diminished by the fact that Ballesteros and Olazabal were paired together, as were Lyle and Langer, and Woosnam and Faldo. Even in 1989, when the matches at The Belfry ended in a 14-14 draw, the pattern remained, the fact that Europe did not win explained by the fact that Langer failed to garner a single point.
Still, perhaps understandably, Rahm was uncharacteristically keen to sidestep the subject when he was asked if his ranking brought with it any extra responsibility this week. If history is our guide, it does. But he didn't want to go there. Not out loud.
"I was World No. 1 going into the last Ryder Cup and it really didn't mean anything," insisted the Spaniard. "I'd like to think that whatever we have done before this week and whatever we may do after this week doesn't really matter. It shouldn't really impact how we prepare for this week. At the end of the day, it's match play. So it's all about doing the best job you can to beat the person in front of you that session, that's really it. Whatever you've done before doesn't really matter. It's a different atmosphere, a different environment."
Hovland, perhaps less cannily, bit a little more when the same question was put to him. But thinking on his feet, he soon enough retreated into Rahm territory.
"I think that's cool," said the Norwegian, who currently is ranked fourth best on the planet. "You can use the ranking to look at, oh, the last six months, or the last five months and all that stuff. But it just goes out the window this week. The 12th- ranked player on their team could be the best player on their team right now. Just because someone is ranked a little bit higher doesn't mean that they're going to be tougher to beat this week.
"But yes, it's cool to have on the team," he continued. "It gives you maybe a little bit of extra confidence or you feel a little bit better about the week. But we've still got to go out there and play like the best players in the world. We've got to get some points for our team."
Yes you do, Viktor. Because if you don't, the U.S. side is almost certainly going to win. Just ask Tony