Ryder Cup
Ryder Cup 2023: It's early in Italy and Shane Lowry already has cried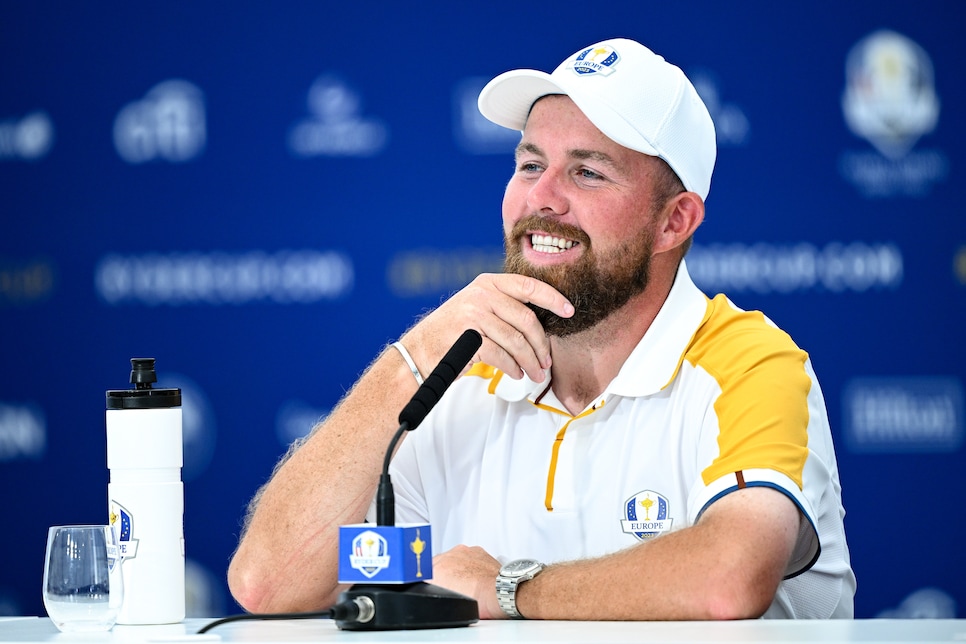 Shane Lowry at his Ryder Cup press conference.
Ramsey Cardy
ROME — It's only Tuesday at the Ryder Cup, which doesn't start until Friday, and already this week Shane Lowry has cried and thrown a golf ball in the water. The two aren't related at all but are an indication of the emotional wave the Irishman is prepared to ride in Rome.
OK, so the crying. Lowry, making his second appearance for Europe after going 1-2-0 on debut at Whistling Straits in 2021, has been positively overwhelmed in the team room at Marco Simone. He credited not only captain Luke Donald, but all the DP World Tour staff who control the European side, for preparing content and gestures that have reduced the 2019 Open champion to tears.
"Look, it's an emotional week, and even some of the stuff that's happened already this week would get you quite emotional," Lowry said. "I think being a part of something that is bigger than you or anything else is pretty cool."
Pressed as to what that content was, the 36-year-old blushed.
"Ah, probably shouldn't be saying this … a lot of stuff goes into this week, and there's videos that are played in the team rooms in the evenings, motivational videos, and just hits home a little bit," he said. "I'm not going to elaborate much further than that, but Luke and his team have done a great job. There's no stone left unturned this week; everyone at the DP World Tour has made this week the most special week in golf."
Has he cried already? "Yes."
We can only guess Lowry was shown videos of his emotional reaction to losing 4 and 2 to Patrick Cantlay in a spicy Sunday singles match at Whistling Straits, where Europe was thumped 19-9.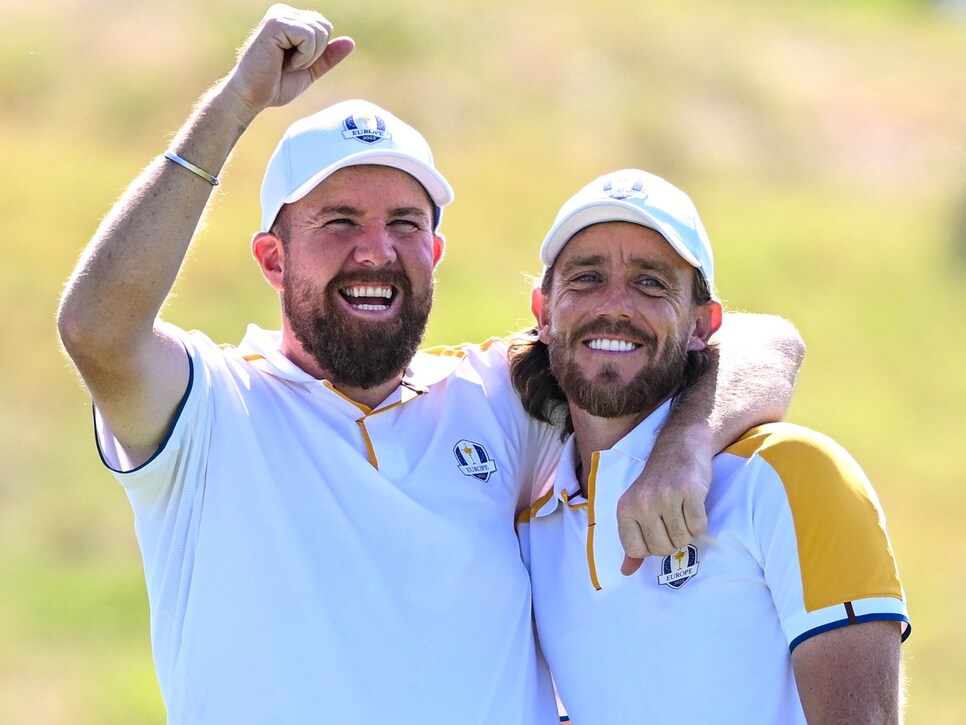 Shane Lowry and Tommy Fleetwood enjoy some time on the 18th green after their practice session on Tuesday.
Ramsey Cardy
"I cried today," Lowry said at Whistling Straits. "I didn't cry when I won the Open. I had another daughter a few weeks ago. [My wife] Wendy is probably going to give me s--t for this, but I didn't cry. Lads in the team-room were crying. You wouldn't believe the emotion this tournament brings out in people."
Two years later, the loss still stings. "Whistling Straits was hard to take," Lowry said Tuesday. "But it was quite motivating for me coming away from that, and it's quite motivating for me this week.
"I'm looking forward to going out there and hopefully earning some points for Europe, and hopefully we can all do a great job at trying to win the trophy back."
Now to Lowry throwing a ball in the water. He and Tommy Fleetwood were having a friendly nine-hole wager against Rory McIlroy and debutant Sepp Straka on Tuesday when McIlroy chipped in for birdie at the par-4 eighth to win the hole.
"It looked like me and Tommy were going to win the hole, and then he chipped in from nowhere, so that was disappointing," Lowry said, laughing. "No, we were just having a bit of fun out there. We were having a game, and he won the hole, so I threw his ball away."
Something that didn't make Lowry laugh, however, was recent criticism that he should not have been given one of six captain's picks for Europe. Many on social media suggested Lowry shouldn't make the team considering his most recent top-10 was the Honda Classic in February. Clearly motivated, Lowry tied or third earlier this month in the Irish Open.
"I felt like at the Irish Open, what should have been an amazing few days after getting picked on the Ryder Cup team, was kind of a bit of a downer for me because I had to kind of fight off all this negative talk in my head. But I did a good job of that," he said.
"I feel like at the Irish Open and [a T-18] Wentworth, I've played some of the best golf I've played all year. If people are talking about you saying you shouldn't be on the team, it's obviously not going to sit well with you because you feel like you should be there and you want to be there.
"Statistics don't lie. That's the reason I'm here."