Players Championship
Players 2023: Scottie Scheffler and Co. throw a record blitz at Sawgrass, but expect final round to be a different story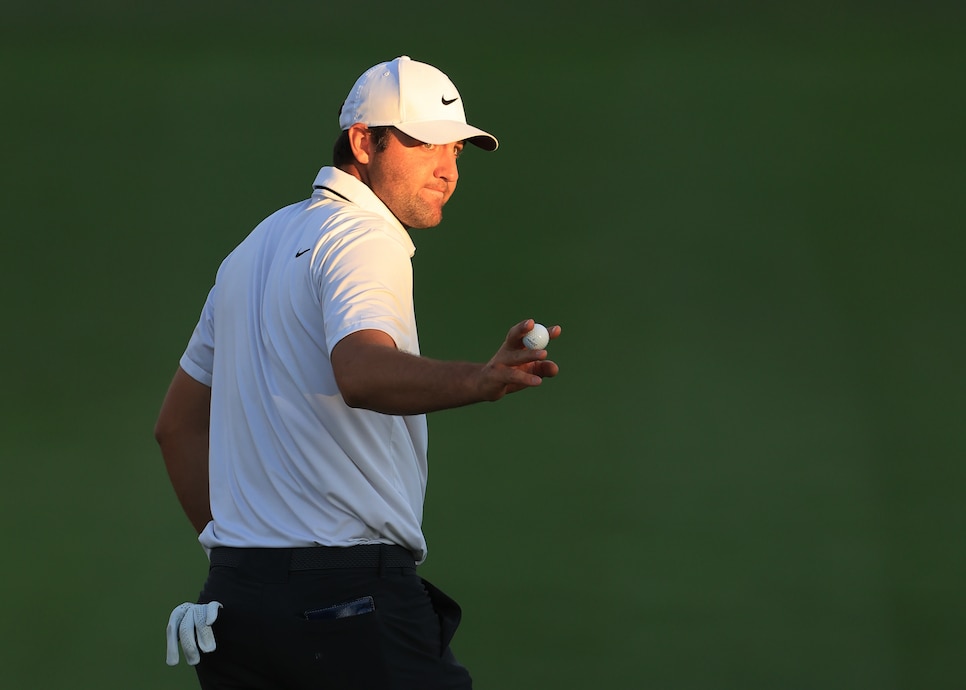 Scottie Scheffler waves after making birdie on the 18th hole during the third round of the Players Championship.
Sam Greenwood
PONTE VEDRA BEACH — Never in the history of the Players Championship had there been such universal disrespect shown to the Stadium Course at TPC Sawgrass as we witnessed during Saturday's third round.
Led by that Fargo, N.D., rogue, Tom Hoge, who lit up the joint for a course-record 10-under-par 62, the 75 gentlemen who made the cut earlier in the day strolled around the property on a temperate afternoon like they owned it. OK, technically, they do. But on this day, they owned it.
With the greens softened by the overnight rain and the winds barely an annoyance, the boys posted a collective scoring average of 69.573, the lowest single-day mark in tournament history. In fact, it was the first time any round had dipped below 70, and it was more than four strokes lower than this week's second-round average of 73.797.
No surprise that one of the primary plunderers was World No. 2 Scottie Scheffler, who has proven to be quite comfortable on a leaderboard and finds himself atop another one after seven-under 65. A 10-foot birdie putt on 18, combined with a three-putt bogey by Players rookie Min Woo Lee a few minutes earlier, enabled the talented Texan to forge a two-stroke lead through 54 holes at 14-under 202.
Lee, who began his third round with a hole-out eagle at the par-4 first from 112 yards—because nearly everybody tried to be a showoff on the nearly defenseless Pete Dye design—was hardly crestfallen by his lone scorecard blemish. A 66 left him at 204, two better than fellow Aussie Cam Davis, who had a 67.
Another stroke back were four players, including Tommy Fleetwood and Aaron Rai, who also ran up the leaderboard with 65s. Rai, another first-timer in this $25 million championship, followed a birdie at 16 by scoring the second ace of the week at 17, and then birdied 18. It was the first time any player posted 4-1-3 on the final three holes.
They were joined by first-round leader Chad Ramey, another first-timer, and Christiaan Bezuidenhout after 68 and 69, respectively.
Scheffler, 26, the reigning Masters champion, jumped on the hole-out bandwagon by flopping a wedge from the heavy rough left of the par-5 second green and watched the 62-footer go down for eagle, much to the chagrin of his caddie, Ted Scott. Read that sentence again. Apparently, they have a bet of sorts between them, so when Scheffler holes out, it's a win-win.
"Teddy and I got a year-long thing going that I just beat him on, and he owes me something, but he didn't have any of it, and so he owes me," Scheffler said. "It's an IOU from Teddy. It's just something he came up with that was just fun. Probably more fun for me than it is to him. He occasionally cheers for one to not go in, if that makes any difference."
With a $4.5 million first prize, we're thinking Scott will get over it if he receives the standard 10 percent caddie take.
Scheffler is the indisputable favorite heading into Sunday's final round. He's kind of used to this winning thing the last 13 months, securing five tour titles, and the last time he finished outside the top 15 was in October at the CJ Cup in South Carolina. He is 2-for-6 in converting a 54-hole lead into victory.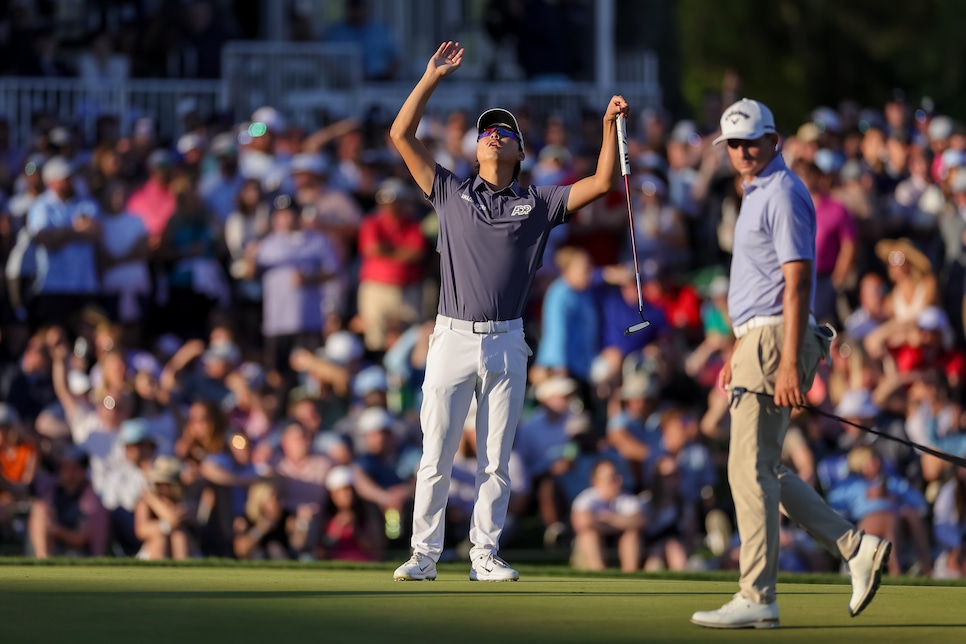 "I'm always hopeful to play well. I prepare to be in these moments. I prepare to come out here and play well," he said. "I've been on a lot of leaderboards, and I've said it a few times, it's a lot of more fun being in the lead than it is being in 20th going into today and shooting two under and finishing 30th or whatever it is. It's a lot more fun being in the arena and being in the moment."
Lee, 24, has a pair of DP World Tour wins, but this is by far his best chance for what would be a life-changing victory. Ranked 50th in the world, which qualified him for the championship, the diminutive Australian, a "proper player" in the words of Fleetwood, doesn't feel like the moment will be too big for him.
"Yeah, tomorrow could be the biggest day of my life, but I'm going to go out there and have fun again," said Lee, whose sister, Minjee Lee, is a two-time major winner on the LPGA. "It's been the motto for the last three months. Not taking it too seriously. I'm just out here enjoying my time. … I just crept into this tournament and making the most of it and soaking it all in. It's going to be a challenge."
Oh, he can count on that. And so can his golfing brethren. As gettable as the Stadium Course was on Saturday, an encore isn't likely on Sunday.
In fact, write it down. That ain't happening.
The forecast for the final round of the PGA Tour's flagship event calls for sunny skies, warmer temperatures and winds freshening to at least 20 miles per hour by afternoon. Throw in a dash of setup retribution and we're likely to witness a final round replete with all manner of comeuppance.
"You never know around this golf course," rookie Taylor Montgomery said after a 66, obviously having watched enough editions of the Players on television to know the honor of the late Pete Dye might come to bear on the proceedings. "Who knows, they might turn on the sub-air and roll the greens a couple times, [and] they could be back to the way they were round one and two."
"This course has a lot of difficult holes, so I'm not expecting it to be as good as today," said Sungjae Im, who is six behind Scheffler after a 64. "I'm not taking it for granted."
Somewhere, Pete Dye is rooting for another white-knuckle finish.