Playing like us
Players 2023: Justin Thomas hit one of his worst shots ever in making a double bogey after an eagle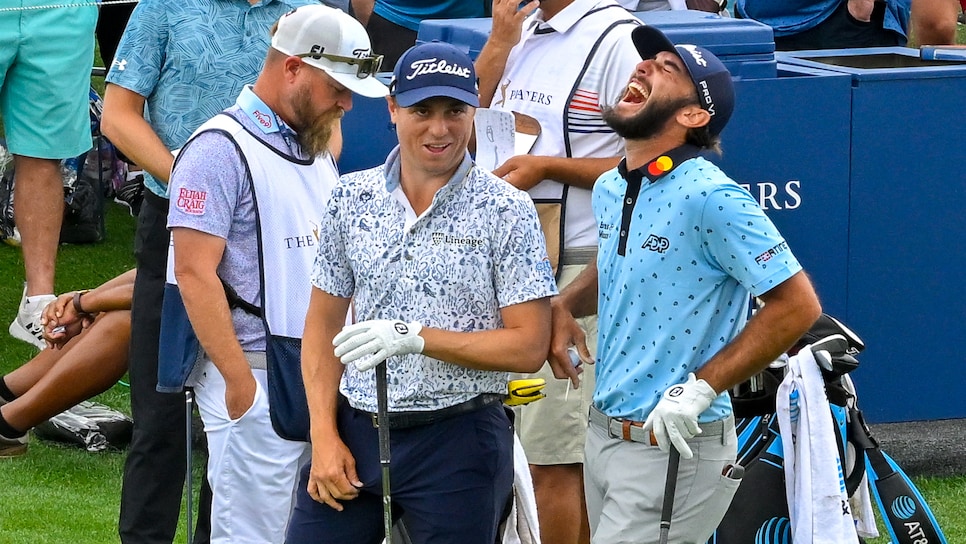 Justin Thomas and Max Homa share a light moment on the first tee ahead of Thomas' adventurous front nine.
Ben Jared
Justin Thomas could not have motored to a much better start in the Players Championship when he eagled the second hole by pitching in from 83 feet. You do something like that, and you figure it's going to be a very good week.
Two holes later, after one of the worst shots you'll see from this wizard with a wedge, he was shaking his head, completely shellshocked and back to level.
No one saw a double bogey coming when Thomas piped his drive on TPC Sawgrass' par-4 fourth down the middle. He had only 90 yards left with the pin in the front. But Thomas pushed his wedge approach, and it ended up in deep, deep rough to the right. It was a tough shot, but it figured Thomas would manage it fine, considering he ranks No. 1 on the PGA Tour this season in strokes gained/around-the-green.
Stunningly, it did not go well. With hands low, Thomas made a quick punch at the ball, and it immediately looked too strong. The ball bounced past the flag and rolled slowly before trickling onto one of Dye's ties and dropping into the water.
"What a mistake," exclaimed commentator Paul Azinger. "I never thought I'd see Justin Thomas do something like that. … I think that was a perfectly doable shot, very hard, but … "
Thomas, who was grouped with Jordan Spieth and Max Homa, was as stunned as anybody. And then came a difficult decision that he and caddie Jim "Bones" Mackay took a couple of minutes to work out. Thomas could drop within a club length of where he hit his third shot, but that would still leave him in the rough, or he could go to the drop zone—a shot that would require him to play over the water again. "My concern is if you drop into a bad lie here," Mackay could be heard saying about the rough.
Thomas did decide to drop in the rough, and then hit a brilliant chip that came less than an inch from dropping into the cup. Instead, he gritted his teeth and nudge the ball in for double.
For us hacks, the line would be, "Nice shot by Player B." For Thomas, the internal talk was probably a lot more R-rated.