Players Championship
Players 2023: An allergic reaction and calf issue didn't keep Min Woo Lee from strong opener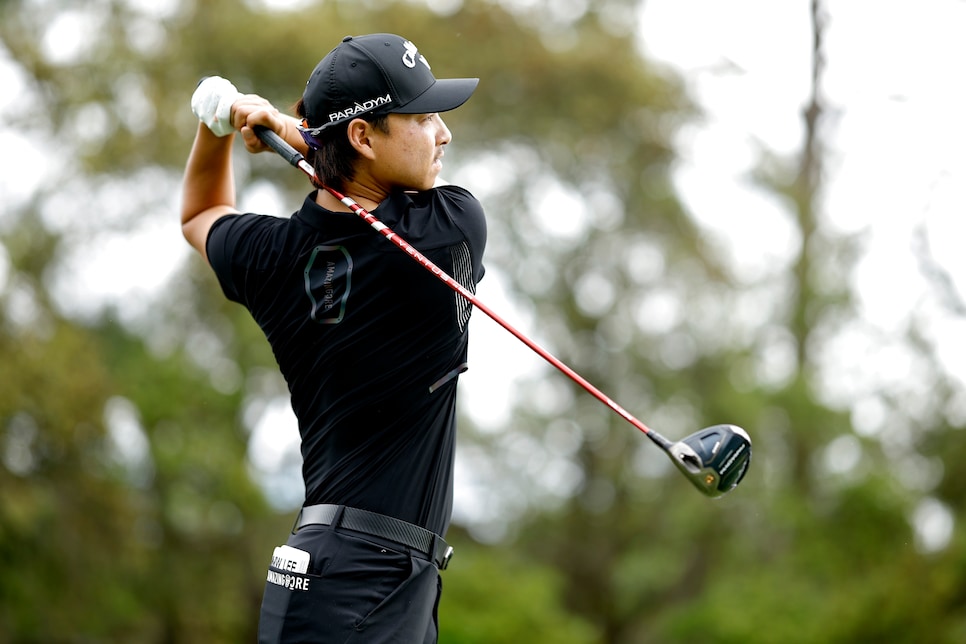 Min Woo Lee plays his shot from the 16th tee during the first round of the Players Championship.
Jared C. Tilton
PONTE VEDRA BEACH — Finishing a round at TPC Sawgrass with two bogeys after hitting the lead at the Players Championship is never what a pro golfer hopes for. But after a bizarre allergic reaction to electrolytes pre-tournament, and a mid-round calf cramp that needed treatment, Min Woo Lee was glad to be healthy enough to begin the PGA Tour's $25 million flagship event.
"I'm pretty happy to be standing here talking to you guys [reporters] right now," Lee, the younger brother of LPGA star Minjee Lee, said after a four-under-par 68 Thursday at TPC Sawgrass.
"At the beginning of the week, I thought I had an allergic reaction to the electrolytes I was [drinking]," the two-time DP World Tour winner said. "I don't want to show you my face from a few days ago. It was swollen and red. It got to the point where I got here on Sunday, and I couldn't even go out on the course because my eyes were half shut."
Lee shot to the top of the leaderboard through 13 holes courtesy of six birdies. A bogey at No. 14 was balanced by a birdie at the par-5 16th. Between that, the Australian overextended his calf at No. 15 and needed work done on course from his physio. He suspects that stopping the intake of electrolytes might have caused the cramp.
"As I swung my driver, I kind of overextended my calf and wasn't the best of timing, but I'm happy to get it done and that the physio came out and helped me out there," he said.
Two dropped shots on Nos. 17 and 18 halted Lee's momentum. He found the water from the tee at the par-3 17th before a drop zone wedge to two feet saved a bogey. Lee then failed to save par after missing the 18th green from the fairway.
"I didn't actually hit it that bad with the cramp," Lee said.
Lee is in the elite Players field courtesy of sneaking inside the top 50 on the Official World Golf Ranking when he reached No. 50 in time for the deadline of the Honda Classic.
Min Woo Lee came down with cramps while on the 15th fairway.
Jared C. Tilton
The 24-year-old was at the Honda courtesy of a sponsor's invitation. But he hopes to be on the PGA Tour full time next season, with the top 10 finishers on the DP World Tour's season-long rankings given PGA Tour cards for 2024 through the strategic alliance between the two circuits.
Lee currently sits third on the season-long DP World Tour rankings after three top-four results in four total starts, including a joint runner-up at the recent Abu Dhabi stop.
"I support both tours; I started on the European Tour, and they've helped me grow as a player, but obviously you want to be on the PGA Tour as a golfer," he said. "It's a great pathway to get out here, and it's nice that they've had that alliance."
Securing a PGA Tour card would likely come with a move to Dallas, where his sister, a two-time women's major winner, is based. Lee could test his game against some of the PGA Tour's elite who call the area home—Jordan Spieth, Scottie Scheffler and Tom Kim among others. But his sister, the reigning U.S. Women's Open champion, would give him a schooling in accuracy.
"Off the same tees, I [usually win]," Lee said with a grin. "But when she plays off the ladies, it's pretty close. Over 100 rounds, she would beat me. I can hit it sideways, and she doesn't [miss] fairways."
Lee also hopes to hang on to his place inside the top 50 through the WGC Match-Play later this month. Doing so secure a return to the Masters at Augusta National, where he tied for 14th last year in his debut.
"I think just having my back against the wall a little bit is fuel for my engine," he said. "I need to feel the urgency of needing to playing well. Augusta National is unbelievable. I will feel gutted if I don't get there; I would love to go back."