A PLAYERS RECORD
Players 2023: Hayden Buckley records Sawgrass first, but fails to close after strong start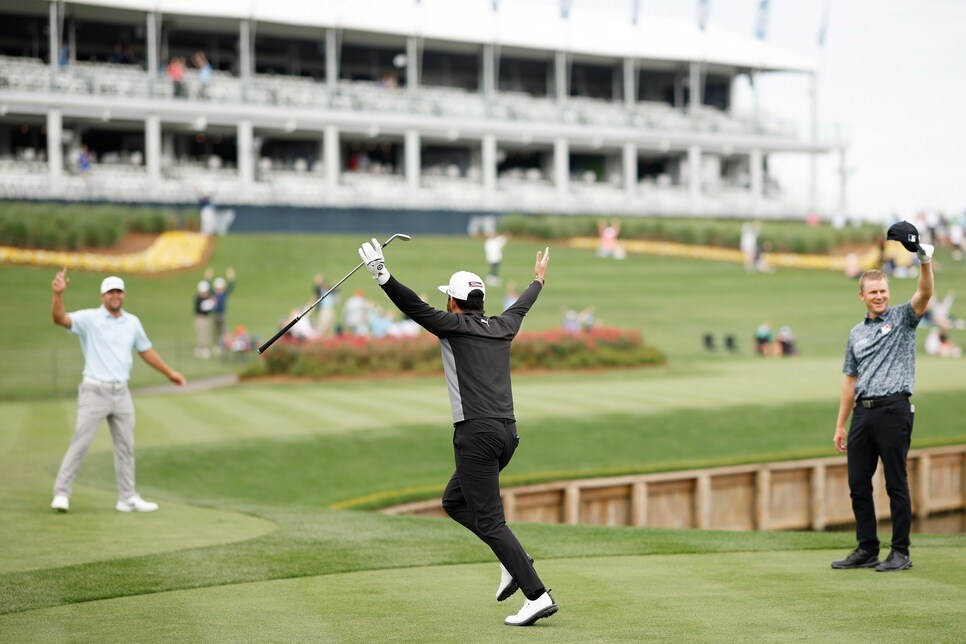 Hayden Buckley collected an ace on 17 Thursday, but he then made birdie on 18, a first in the history of the Players Championship.
Jared C. Tilton
PONTE VEDRA BEACH — In the midst of chopping his way to a one-over-par 73 on Thursday in the first round of the Players Championship, Hayden Buckley accomplished a feat never seen before at the Stadium Course at TPC Sawgrass that still gave him reason to smile.
Appearing in his second Players Championship, Buckley carded the 11th ace on the famed par-3 17 hole, watching as his pitching wedge tee shot from 124 yards flew past the pin, checked up, and then backtracked down the slope before finding the right edge of the cup. He then made a bit of history when he holed a 23-foot birdie putt from the left fringe on the difficult par-4 18th. Since the Players moved to TPC Sawgrass in 1982, no player had gone 1-3 in that stretch.
"I had no idea. That's a nice little claim to fame, I guess," said Buckley, 27, who celebrated his second career hole-in-one by sprinting to the back of the tee box, whipping his cap through the air and then tossing his wedge to his caddie. "It just looked perfect the whole way. I had a little feeling something like that might happen this week. I don't know, I've been hitting it well, but it's always nice to see it happen on that hole, too.
"The hardest shot of the day was the tee shot at 18," he added. "Had to calm down, reset, and find the fairway. Then I hit a nice [second] shot in there, 9-iron just pin high, rolled that in. Really had a nice run there."
That run concluded with yet another 9-iron into the first green to within six feet for another birdie that gave him a share of the lead at five under par.
But that is where the surge stalled. Buckley, who finished runner-up to Si Woo Kim at the Sony Open in Hawaii two months ago, struggled coming home. The Tennessee native played his final seven holes in six over par with a couple of double bogeys that added up to an inward 41. A perfect illustration of how tricky the Stadium Course can be—even when things feel good.
"Really, I thought every aspect of the game was pretty solid all day," Buckley said. "It's just, you hit it in the wrong place out here, you kind of have to chip out and hope to make par or bogey, and I just couldn't do it."
Still, he did something no one else had ever done. Overall, not a bad day.