On The Outside Looking In
PGA Tour rank-and-file criticize new system that caters to the elite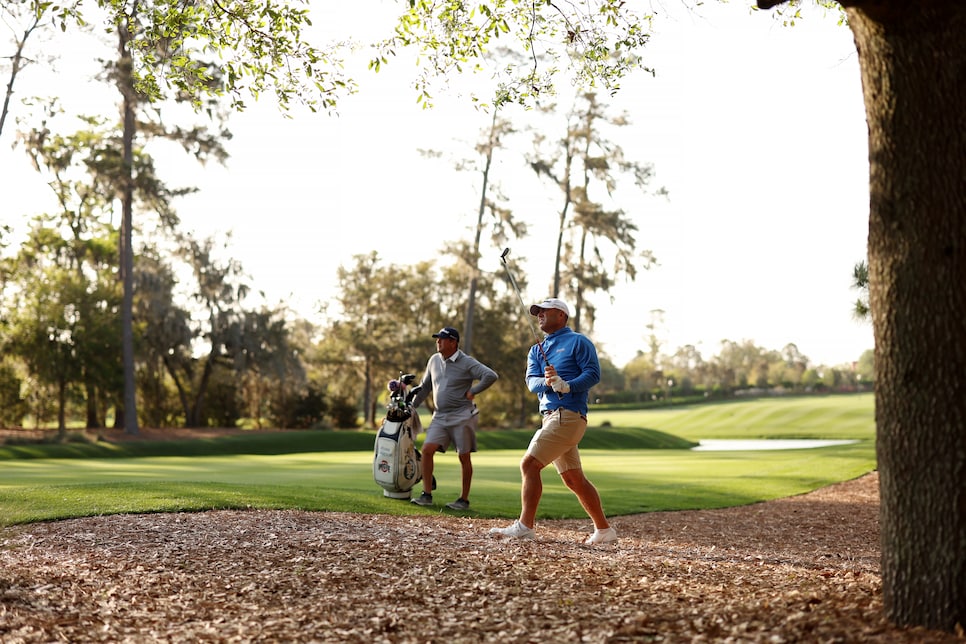 Photo By: Richard Heathcote
PONTE VEDRA BEACH — Veteran Ryan Armour has taken to referring to himself and some of his fellow PGA Tour members as "the mules" of the organization in light of the tour's new scheduling paradigm, and he argues that the tour's plan to turn seven designated tournaments into limited-field, no-cut events beginning in 2024 is a recipe for driving more good players and aspiring young talent to rival LIV Golf.
Speaking as a member of the tour's Player Advisory Council and as a representative for the rank-and-file, Armour pulled few punches in his assessment of the proposed realignment of the tour's schedule that includes 16 designated tournaments, half of which will feature fields of 70-80 players and no cut. And he was not alone in taking a few swings. Golf Digest spoke to a number of players about the plan that was presented to them in a meeting on Tuesday at the Players Championship—and apparently was passed in a surprise vote nine days ago by the PGA Tour Policy Board during the Arnold Palmer Invitational. Sentiment ranged from hope to unease to downright indignation.
But no one is more adamantly opposed than Armour, a former tour winner who has served for a number of years on the PAC. The tour, he said, has strayed from its mandate to create playing opportunities for its members and that the PAC is no longer relevant, usurped by a dozen or so top players.
"I think what bothers me most about this," Armour said at TPC Sawgrass, "is that we all were in the same [PAC] meeting in San Diego [in January] and there were serious concerns about going forward with this. We talked about the value of full fields, what it means for hospitality, for fans who want to watch golf all day, what the tour experience is all about. And then they went forward with it. If this was such a great idea, we should have done it 20 years ago when Tiger was winning everything. These guys aren't Tiger Woods. None of them are. The current hierarchy on the tour ... what makes this generation of 20- and 30-year-olds so special to benefit the most from this?"
The obvious answer, of course, is timing. The onset of LIV Golf, now in its second year, prompted a response from the PGA Tour to retain most of its top players with a series of designated events with higher purses that was introduced this year. As Rory McIlroy admitted on Tuesday, "the emergence of LIV or the emergence of a competitor to the PGA Tour has benefited everyone that plays elite professional golf."
Well, maybe not everyone.
While most designated events this year are full-field tournaments of at least 120 players, the plan for 2024 is to trim the fields to 70-80 players in seven of the 13 regular-season designated events, each offering a purse of at least $20 million. Those tournaments are the three invitationals—the Memorial Tournament, Genesis Invitational and Arnold Palmer Invitational—and four yet-to-be-determined stops. Other designated events will be the Players, Sentry Tournament of Champions and the four major championships in the regular season as well as the three FedEx Cup playoff events. The Sentry and playoff events also do not have a cut.
"Say you finished 75th on the points list, just using that as an example. Yes, you had a really good year, but you don't get in any of the designated events. Why wouldn't you take a LIV contract?"
PGA Tour veteran Ryan Armour
The top 50 from the FedEx Cup points list will be exempt into those smaller fields next year. Other avenues include tournament winners of full-field events (except opposite-field tournaments), the top five performers from the "swing" events between designated tournaments, top 10 in the latest FedEx Cup standings who are not otherwise exempt and the top 30 in the Official World Golf Ranking who are not otherwise exempt. There also will be four sponsor's exemptions, which one player called "a potential hornets' nest," because of the high stakes involved in both money and increased FedEx Cup points.
"Guys who keep their cards, they're good players, but they're not going to have a chance to play the playoffs," Armour said. "They're not getting into any of the designated events. But they want those players to go be mules for you at all the pro-ams, all the charity visits, all the hospital visits and sponsor events. And we're good enough to do that, but we're not good enough to play in designated events like we did this year?
"Say you finished 75th on the points list, just using that as an example. Yes, you had a really good year, but you don't get in any of the designated events. Why wouldn't you take a LIV contract? You've just been told by the tour that you fought for and were loyal to that we don't want you.
As the LIV Golf League has created a schism in men's professional golf, the PGA Tour is now facing another within its ranks. While the membership as a whole might better understand what is being described as a "cadence" to the next season—full-field tournaments interspersed with rich designated events—they aren't inclined to blind acceptance.
"There is already a bit of a tiered system and I think they made it worse to benefit a select few," said one winner of multiple tour events. "People want to watch great players. No doubt. Fans love it and TV really loves it. But they also want to see underdogs. Sports is compelling when you have both. It's not very smart to diminish that element, even if it is for a handful of tournaments."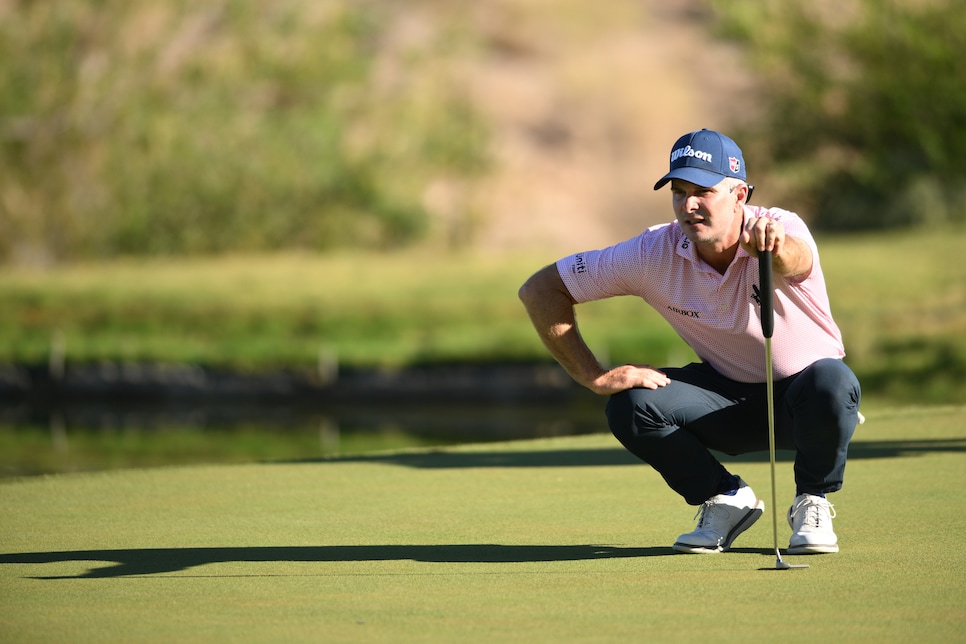 "There is literally no difference in the caliber of player who is 51 or 49 [on the points list], but one guy's entire year is set," Kevin Streelman says.
Orlando Ramirez
Kevin Streelman, who has been on the PAC for a number of years, also spoke of stars and underdogs, but then pointed out that the difference between the two is almost imperceptible in skill level. Which is a problem.
"The depth out here is astronomically higher than it's ever been before," he said. "I firmly believe 120 people in this field could win this week ... I've been in eight or nine BMW Championships in 15 years, two Tour Championships, and it always comes down to a shot or two throughout the whole year. There is literally no difference in the caliber of player who is 51 or 49 [on the points list], but one guy's entire year is set. So that's the frustrating part from our side."
The PGA Tour Policy Board, which includes five players, approved the changes despite the objections of the majority of the 16-member PAC. "That's because we have a PAC and then we have the secret PAC," said one veteran player who spoke on background only and not for attribution. "The secret PAC is the group running things. And to be honest, they're all about the present. They are trading the present for the future. We've always had this feeder system in which we provide playing opportunities and develop the next wave of star players. And, yeah, we're still going to develop stars, but it might not happen as fast or as often. That's not good."
"No one in San Diego was like, 'Yeah, this is going to be great.' And then a month later, the decision was made," said Mackenzie Hughes, another PAC member. "I had no idea what was happening. I found out through Twitter that we had decided to change the schedule. They just went ahead and did it. Our opinion didn't matter."
Hughes, who won the Sanderson Farms Championship last fall, recognizes that the tour needed to change, "because we were under threat from another tour," and, furthermore, he accepts the reality that the top players are going to call the shots.
"Obviously, there are a lot of guys who are upset, whose voices weren't heard."
Gary Woodland, 2019 U.S. Open champion
"It's a different time for golf. I do think that more than any other time we, we really have to sort of cater to the top guys," Hughes said. "It's not been a typical year-and-a-half span. I don't think [commissioner] Jay Monahan can keep 150 guys happy on this tour. The top guys have all the leverage. They have all the power right now to do these things. If it means that everyone else does better, too, then it was the right idea. That's what we all hope happens."
"I think we have to wait and see," former U.S. Open champion Gary Woodland. "I don't have a problem with guys who drive the tour making more money. What it sounds like is a different version of the World Golf Championships. It used to be that if you got to the Tour Championship, finished top 30, you were in those WGC events. Now they are talking about the top 50 in designated events. So, in a way, they have added 20 spots to some bigger tournaments."
That said, a collection of smaller fields with no cut isn't an idea that's winning over the membership, even players like Woodland who are fundamentally in favor of the concept of elevated events. Several players, speaking on background, said debate remains about keeping invitational fields in the range of 100-120 players and having a cut. A strong proponent, one player said, is Woods, host of the Genesis Invitational.
Monahan said the 2024 schedule likely will be released in mid- to late summer.
"Obviously, there are a lot of guys who are upset, whose voices weren't heard, that we shouldn't have all these events with no cut," Woodland said. "I understand the frustration. I think it's better to have a cut. Even if it's just a couple of events where they keep the cut, the opportunity is there for more guys. Our designated events so far this year have been full field and a cut, and they have been pretty amazing. We'll have to wait and see how it goes and if adjustments need to be made. The tour has always been pretty good about making modifications when it needs to."
"I agree that the top players playing together more often is crazy exciting for the tour," Streelman said. "Do I want our top players together? Yes. Do I want big purses? Yes. But do I want better competition? Absolutely. So I firmly believe that cuts and relatively full fields are an integral part of professional golf. I think a cut affects how we play. I doubled the ninth hole at Bay Hill last week to miss the cut by one. I was devastated. Like, I was really in a tough place.
"I've listened to a lot of podcasts and interviews lately. I've read what a lot of fans have said on Twitter and social media. It just seems like everyone agrees that they want to see a cut in most tournaments. I understand the pros and cons of what we are trying to do, that we have to do something bold. I just don't want to jeopardize the integrity of our competition and integrity of professional golf."