ROCHESTER, N.Y. — He is the defending champ and that alone makes Justin Thomas a success, for this is the PGA Championship, one of the four men's events whose outcomes matter in perpetuity. Whatever argument can be made is silenced by the fact he has won two of the major variety and 15 events in total. If you had to personify what prosperity looks like on the PGA Tour, Thomas is on the short list.
And yet, the interstitial from Thomas' triumph at Southern Hills last May to his arrival this week at Oak Hill could be classified as a disappointment. Zero wins, failing to contend at the following three majors and falling outside the World Ranking top 10 for the first time in six years. If that sounds harsh, it's also Thomas's self-assessment.
"I guess in literal terms, it's 'did you win the tournament or not?' It's unfortunate how it happens that way," Thomas said of success. "In reality, it's not how you should or how all of us base success and failure, but at the end of the day, we're all trying to win the golf tournament.
"And whether it's we back-doored a third place or we were tied with one hole left and made a bogey and finished third, we might be pleased somewhere in here with a third, but there's somewhere down there that's upset we didn't win."
However grating that reality is, Thomas can find solace in that he's not alone. The same standards—and same conclusions—can be made to varying degrees to the likes of Rory McIlroy, Jordan Spieth, Brooks Koepka, Xander Schauffele. Basically, a case of failure can be made for anyone right now but Jon Rahm or Scottie Scheffler, and the assertion wouldn't be wrong. But does that make it right?
Three weeks ago, the Milwaukee Bucks lost in the first round of the NBA Playoffs to the Miami Heat. In a year of parity in basketball, the Bucks, the top seed in the Eastern Conference and owners of the best record in the league, were heavy favorites to win the title. By any metric and analysis, to get bounced with such expectations qualified as a capital-F failure. But when a reporter asked if he considered the just-closed campaign a failure, former MVP and franchise star Giannis Antetokounmpo scrunched his face, looking both physically pained and tiredly indignant, before delivering an answer that soon went viral:

"Oh my God. You asked me the same question last year," he said. "Do you get a promotion every year? In your job? No, right? So, every year you work is a failure? Yes or no? No. Every year you work, you work towards something, towards a goal—which is to get a promotion, to be able to take care of your family, provide a house for them, or take care of your parents. … It's steps to success. I don't want to make it personal. There's always steps to it. Michael Jordan played 15 years, won six championships. The other nine years was a failure? That's what you're telling me. I'm asking you a question, yes or no? Exactly. So why do you ask me that question? It's the wrong question.
"There's no failure in sports. There's good days, bad days. … Some days it's your turn, some days it's not your turn. That's what sports is about. … You don't always win—so other people are going to win, simple as that."
It was a beautiful, thoughtful response in an emotional moment. In a predominantly results-driven business, Antetokounmpo's answer spoke to a deeper truth, that success—and, perhaps, joy—is found not in an end goal but in the pursuit of it. The remarks also beget a separate question: Are we as a sports apparatus holding the gladiators we watch to a standard they themselves don't follow?

In our neck of the woods, golf's benchmarks are especially high for its stars. Chiefly, a major is a prerequisite and anything less seems unacceptable. Should there be any doubt, just Google "The best player to never win a major" and see the engine catch on fire. Of the current crop, Schauffele and Patrick Cantlay contend for that title, with Max Homa and Tony Finau not far behind.
Eventually, even that is not enough. Yes, winning a major makes you a made man, and what happens after doesn't change what happened before. In that same breath, for those of perceived superior talents, one major does not satisfy the thirst. It's always about more wins, more majors, and failing to add to those totals is seen as squandered potential. This is the vicious vortex that has sucked in McIlroy over the past decade and Spieth for the better part of six years.
Those guidelines can be, and often are, unfair. After all, golf is not one team versus another but one player against 155 peers, to say nothing of the course and the elements and even himself. Mathematically, beating 154 of those competitors and finishing behind just one shouldn't qualify as a loss, and yet, that is often how we tend to treat anybody but the winner. Forget unfair, those seem unreasonable; and yet, that is the price of stardom.
However, that is our perception of success and failure. What is the barometer for the stars themselves?
There is no universal answer, each response singular to the individual and spanning from the absolute to the relative. Thomas' default was win or bust, which makes sense: Perhaps more than most, his competitive fire burns bright and burns fierce. Yet Thomas later qualified his stance, saying there are varying levels of satisfaction.
"I just think it's just kind of understanding where you're at that time or in the golf tournament or in your game," Thomas said at Oak Hill. "There's going to be weeks where a seventh-place finish is really good for what I have that week, but then there's going to be some weeks where maybe I have a one-shot lead on No. 5 on Sunday and I finished seventh. Those sevenths are very different.
"It's just understanding, I think, the situation and circumstances of that given day or week and basing it off that, if you will."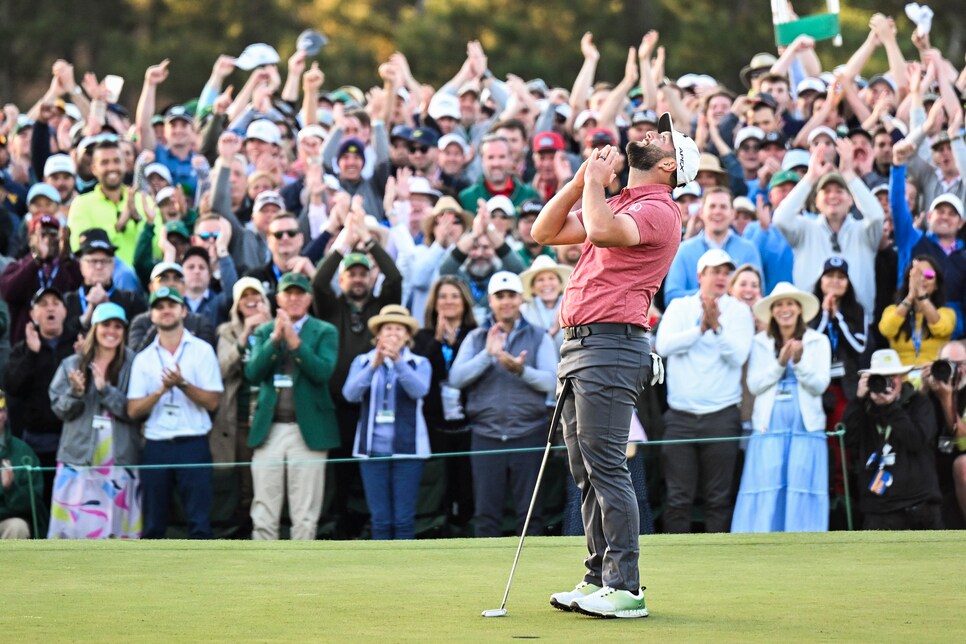 Jon Rahm reacts after winning the 2023 Masters.
Keyur Khamar
On the other end was Rahm. He is the World No. 1 and winner of four tournaments this year, including the Masters. The only thing that's been able to stop him was a stomach bug. He comes into Oak Hill as the hands-down favorite, with whispers that he could do the unthinkable and win the Grand Slam this summer.
Still, while he hopes to keep riding that wave with no crash in sight, Rahm said Tuesday that Giannis' answer resonated with him and his game.
"I fully agree with what he said," Rahm said. "In the world of sports, especially in basketball, you either win the championship or not. You can't define a good year by just, OK, you got bounced in the first round. You're talking about losing four games, right? In the grand scheme of things, it's a small number. … In golf, as well, just because you haven't won something doesn't mean it's been a terrible year. That's kind of what I was saying last year. It would be very similar to what Tiger [Woods] might have said in '98 in the middle of swing changes. … So just because you haven't accomplished something today doesn't mean it's not going to pay off in the future.
"Jesus, you don't win very often," he added, "so you've got to focus on what the positive is each week, and you can call a lot of weeks a success that maybe public or media wouldn't think, just because of what's going on internally."
Tony Finau also sides with Giannis, which is not a surprise. Finau has racked up four wins in the past year, yet he long has been proof of the concept that an upper-echelon player isn't defined by wins alone. The game is too good and too deep for that to be the standard. To Finau, sports is about winning, but it's not about winning and losing; you either win or you learn.
"It's hard to say that you fail especially at the level we're playing at," Finau said. "Just anybody in general, when you're trying to accomplish something, if you're always looking at yourself or something as a failure, it will be hard for you to succeed."
What constitutes success is not just singular to a player; it's something that evolves and morphs over time. For Homa, success was returning to tour after losing his tour card. Then success was staying on tour, then winning on tour, then making those wins routine. Once the little engine that could, Homa has reached the precipice where he's not judged by trophies but what he has done in majors, and thus far, the record is lacking. It is a blessing and a curse.
Yet Homa has always been one to preach process. When he was in the depths of his struggle, he borrowed a mantra from former Lakers great Kobe Bryant to make sure his direction was true. "Basically, it said you could fail a lot of times in small ways as long as you never packed it in and took it as one big failure," Homa told Golf Digest in 2019. "Here's how I make sense of it: If I'm hitting a stone, and I don't break it, I can look at that as, I failed to break it or I'm closer to breaking it. I looked at it as, I'm closer to breaking this stone every time I hit it. I'm not failing with a bad round. I'm not failing by missing a cut. I'm not failing because I'm working toward something bigger.
"Now, if I play bad on Thursday, and instead of practicing and working out, I go to the bar, then that swing at the rock means nothing. But the swing at the rock wasn't the rounds or the tournament. I'd shoot a million on Thursday and practice all afternoon. I'd miss the cut Friday and practice all afternoon. I knew what I was working on would eventually click. Nobody wants to practice Friday afternoon after they've just missed a cut by 10, week after week, 20 times in a year. I did—every single time. Why? Because I'm hitting this rock, and it's going to f-----g break."

• • •
There's a flip side to this coin. Antetokounmpo may be able to decouple worth from the result, and that dynamic holds true to him. That also doesn't mean others have to accept the same truth. Clearly, Antetokounmpo's Bucks did not agree: Days after their elimination, the team fired its coach, and coaches aren't fired for successful seasons. The Bucks were just the sixth No. 1 seed in NBA history to lose in the first round and the first team to lose to a play-in team. The best-of-seven series went just five games. At a macro level, Giannis is right. At a micro level, he might be wrong.

For what makes sports sports is the theater of victory, and for victory to be had someone has to come out on the business end. There have to be consequences. That doesn't make every tournament that isn't won a loss; context and nuance are needed. But sports are at their best when something is on the line.

McIlroy is the embodiment of this tug-of-war. In 2022, he won the FedEx Cup, finished top 10 at every major, earned respect from his peers and from the sport at large for standing up for what he believed was right regarding LIV Golf, and though Cam Smith won the claret jug, those at St. Andrews will testify Smith was not that week's champ.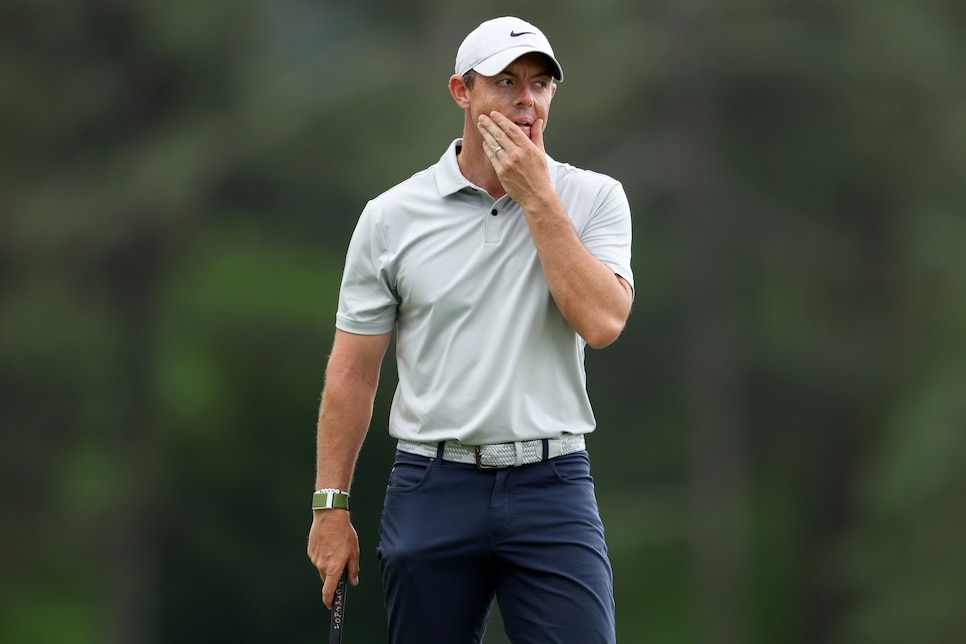 Rory McIlroy, shown in the 2023 Masters, has an intense spotlight on him in regards to his results.
Christian Petersen
McIlroy also has the penchant to make this ridiculous game look ridiculously easy, and because he has done it before, anytime a major is contested and McIlroy is not the winner, his week is seen as a failure to some. Those top-10s are not a sign of consistency, but are spun as an indictment that he's unable to close. His present continues to be weighed down by both his past performance and future expectation, and with Woods sidelined for the near future, that battle will not just remain in the spotlight but get brighter with every major that passes.

Again, that is our interpretation. McIlroy has his, which he shared on Tuesday, which had no ambiguity.
"If I don't win another tournament for the rest of my career, I still see my career as a success," McIlroy said. "I still stand up here as a successful person in my eyes. That's what defines that."
Those criticisms aimed in his direction have merit, but McIlroy is not a man who comes to conclusions without thought. He could break his drought this week at Oak Hill. If not, he will not be a lesser man for it. Perhaps that's the true barometer of success and failure.