PGA Championship 2023
PGA Championship 2023: Confident club pro is writing his own fairy tale at Oak Hill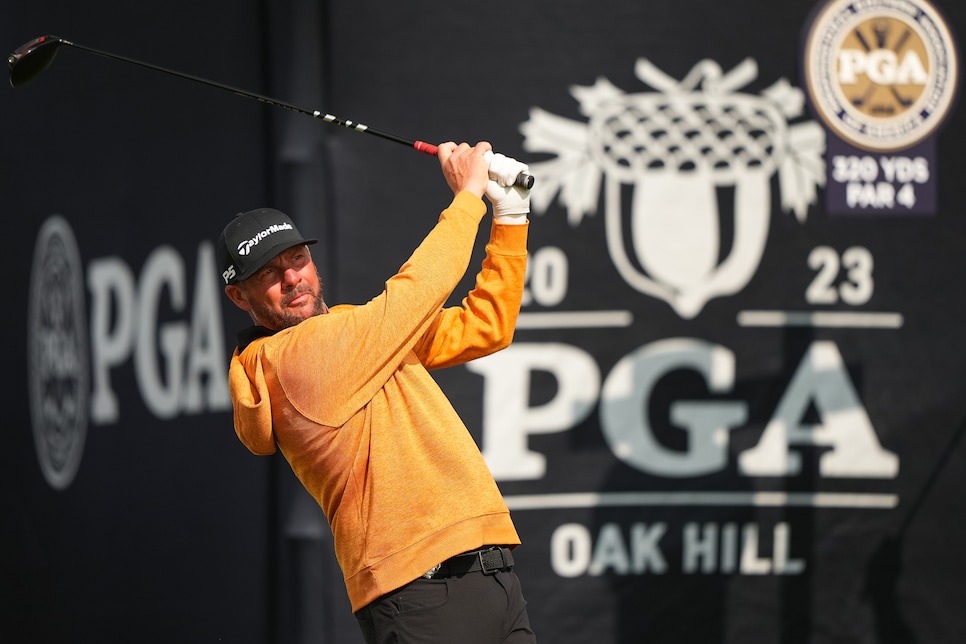 Michael Block hits his tee shot on the first hole during the second round of the PGA Championship.
Darren Carroll/PGA of America
ROCHESTER, N.Y. — Years from now, Michael Block can spin a yarn about his week at the 105th PGA Championship at Oak Hill Country Club, and it's going to sound like a fairy tale or a tall tale—and probably a little bit of both—but it won't need any embellishment. His is a story of possibilities sprung from a counterintuitive blend of tears and swagger comingled with that thing we all desire—a contented life.
A month shy of his 47th birthday, Block, a club pro from California, stole the spotlight Friday at Oak Hill, momentarily seemed to get blinded by the glare, and then finished off his second round as solidly as any of the high-paid touring professionals who devote themselves wholly to preparing for these highly demanding major championships.
If anyone tuned in to ESPN's coverage Friday morning at just the right time, they might have seen Block hit the ultimate soul-crushing shot a golfer can produce and think he was merely on television for that singular embarrassment. His cold shank with an 8-iron at the par-3 fifth hole rattled off the trees, caromed back into play and settled in the rough just 56 yards from where he stood. He gouged out into a greenside bunker and needed three more strokes to complete a double bogey.
End of story. Thanks for playing. Now show us what Dustin Johnson or Justin Rose or Patrick Cantlay is up to.
Only Block didn't go away. One of 20 club pros in the 156-man field, he refused to fold. Until his unfortunate mishap, which followed a sloppy bogey on the par-5 fourth hole, Block had produced some of the most immaculate golf of the championship, climbing to three under par and within one of first-round leader Bryson DeChambeau.
"I could have spiraled downward for sure, but I was telling myself, as I tell the players I teach, that you have to spiral up," he said.
And so instead of crumbling after making a mess of two of the easiest holes on the East Course, Block buckled down, executed solid shots, and registered four pars to close with his second straight even-par 70. In his eighth major start and fifth PGA Championship, Block didn't just make the cut but put himself on the cusp of contention.
"Yeah, super impressive," said Canada's Taylor Pendrith of his playing partner after beating him by one stroke. "He is a great dude. We had a lot of fun out there, kept it light. Yeah, he played unreal. Really good player, a better person. … Hopefully, he has a good weekend."
The 2022 PGA Professional Player of the Year, Block is the head pro at Arroyo Trabuco Golf Club, Mission Viejo, Calif., who has built up quite a resume of success in the PGA Southern California Section. He once attempted to advance through the PGA Tour's Q School after winning the California State Open in 2001 but didn't make it out of second stage at TPC Craig Ranch, site of last week's Byron Nelson Open.
"I remember Sonny Skinner, who's about this big [holding his hand about to about shoulder height on his 6-foot-2 frame], hit it about 240 and beat me by four," Block said. "And I said, 'I'm done.' I didn't need 10 years to figure out what I wanted to do. It took one, and I'm grateful for that and to have a chance to be a PGA professional but still come out and compete occasionally against the best players in the world.
"I found out a long time ago that if your life is in the right place, the hole looks big," added Block, disseminating a bit of wisdom. "I figured out that I don't want to have to make putts to make a living. I'm very lucky. It's really the perfect life. I get to be at home with my family. I get to watch my kids grow up … be a mentor, be a father. I wouldn't change it for the world."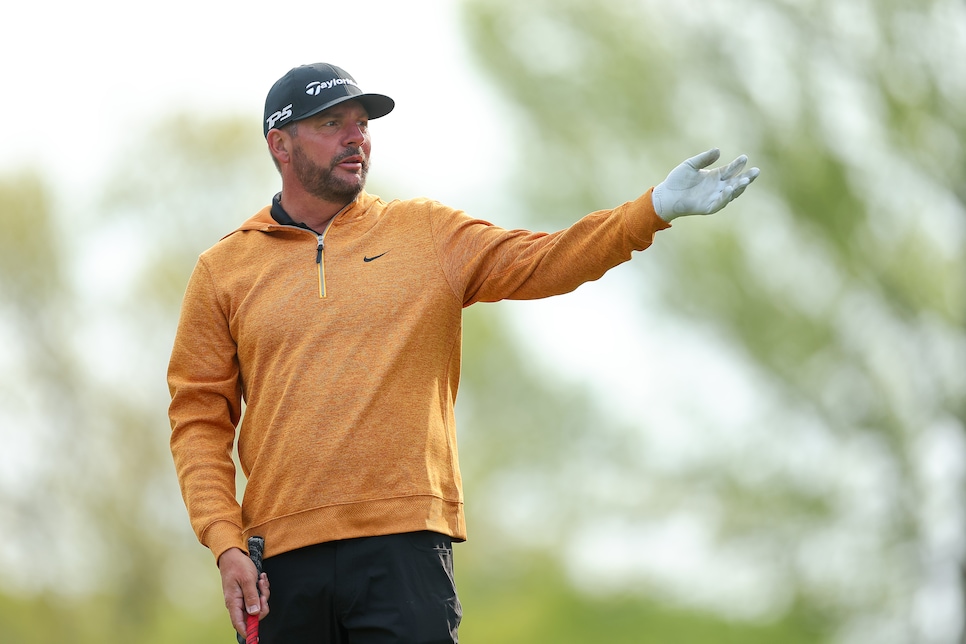 He also gets to be a golfer. The St. Louis native has competed in more than 20 PGA Tour events, mostly through winning his section championship, and that includes starts this year at the American Express and Farmers Insurance Open. He also qualified for the 2007 and 2018 U.S. Open championships.
It doesn't hurt that he hooks up with Cantlay, the fourth-ranked player in the world, and tour player Beau Hossler for occasional games. "I've played a lot of golf with them now where they've become my friends," said Block, who laughed when he revealed that Hossler only gives him one stroke in their matches. He and Cantlay compete using odds, with Cantlay allegedly giving him 10-to-1. "I understand where they're ranked in the world. I understand how my game doesn't quite get up to them, but I'm pretty darn close, and I can compete with them."
Cantlay, by the way, trails Block by a stroke through 36 holes after a second-round 67. Hmmm. Bet those odds might be changing in the coming weeks.
Block teared up several times after his round talking about his job and his level of play at Oak Hill, which earned him copious amounts of TV coverage beyond that one wayward swing. "I don't know why I'm getting choked up," he said after his third bout of emotion overtaking him.
As for the poor swing at the fifth, he was philosophical. And smart. Scottie Scheffler hit a shank at last year's Presidents Cup when he was World No. 1. It happens.
"We've all been there, done that, and we look up, and I'm, like, oh, my goodness. The ball was just going off, somehow hit the tree, almost killed somebody, and then comes off and goes in the deep rough, and I was actually fortunate enough to make a double bogey," he said. "I was actually very comfortable. Honestly, the couple bad shots I hit had nothing to do with where I was at that time."
He had the presence of mind to make an immediate adjustment, getting his hands closer to his body on the downswing. "And I flushed it coming in," he said.
Block flushed it for most of his two rounds and was largely all-around stellar. As the second round continued, he ranked seventh in strokes gained/off the tee, averaged 295 yards in driving distance for the measured holes, and hit 17 of 28 fairways. He also ranked 11th in strokes gained/putting.
No wonder he sounded almost slightly arrogant when he was asked if he was happy with his play. "I wanted to be under," he shot back. "Started out great, made some crucial mistakes on my—I don't know if it's 13th, 14th holes that were just oddballs. Outside of that, played amazing. I feel like I've got the game this week to compete, to tell you the truth. I've made the cut, which is obviously a huge goal. I feel like I could shoot even par out here every day. I feel like at the end of the four days that that might be a pretty good result.
"The last couple of days on the driving range is like a video game. I'm ripping it, and I'm putting it. I would love to see my stats."
Whatever happens this weekend isn't going to change him. He has lessons lined up starting Monday. Then he faces a bit of a competitive conundrum. Block is scheduled to play in the upcoming U.S. Open final qualifier at Hillcrest Country Club in Los Angeles. The field vying to compete in the 104th U.S. Open at Los Angeles Country Club includes the oldest of his two sons, Dylan, who is 18 and pumps it about 70 yards past dad.
"I've got to compete against him," Block said, "or, perhaps, we both get into LACC, because there probably is going to be five or six spots there. Maybe we can make that happen."
Block stamps his golf balls with the question, "Why not?" It was inspired by his holing a 22-footer in a playoff to qualify for the 2007 U.S. Open at Oakmont. So, yeah, why not both of them?
Wouldn't that be another great chapter in the fairy tale?
MORE FROM GOLF DIGEST @ THE PGA CHAMPIONSHIP