DJ being DJ
PGA Championship 2023: Dustin Johnson is a gazillionaire and he hasn't owned a golf simulator?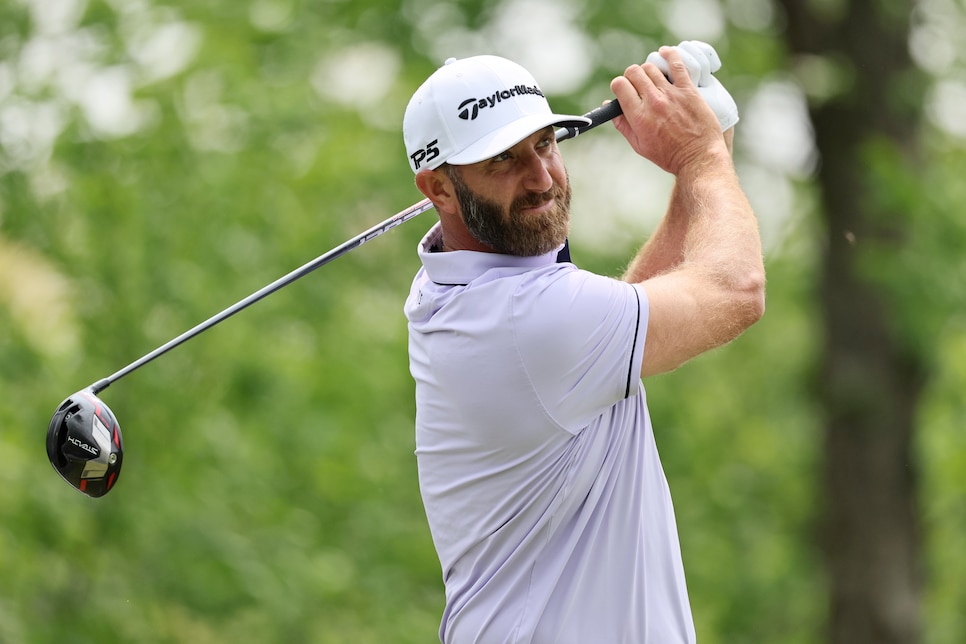 ROCHESTER, N.Y. — Considering how much disposable income he has after signing that nine-figure contract with LIV Golf last year, you might surmise that Dustin Johnson is a man who has everything. On Tuesday, he figured out that his Florida home needs an addition.
Crazy as it sounds, the two-time major winner doesn't have a golf simulator in his house. Granted, he lives in Jupiter, Fla., where he can work on his game outdoors year-round—whenever, that is, he isn't on his boat.
This week, he is staying at a home near Oak Hill Country Club, where the 105th PGA Championship begins Thursday, and this home obviously is pretty sweet because among its amenities is a simulator. On Tuesday night, Johnson's wife Paulina posted a video to her Instagram account receiving a lesson from her hubby while on the simulator. They were working on ball position and getting Paulina to stop casting the club from the top.
"I'm kind of thinking that we need to get one, because she really likes hitting off it," Johnson said, drawing incredulous looks from those within earshot.
Wait, how do you not have one?
"I don't know. Just never got one," he said. "But now that I know how much she likes it, I'm definitely going to put one in. Something we can do together, so I'm enjoying it as well. I don't know how much it is, but I can probably handle it."
Um, yeah, he probably can. Johnson, 38, is coming off a playoff victory in last week's LIV Golf League event in Tulsa, Okla., where he won $4 million. His return to form after an early season back injury has stirred talk of the former World No. 1 contending this week on Oak Hill's rugged East Course. A victory would put him within one leg of the career grand slam, having already claimed the 2016 U.S. Open and 2020 Masters.
It also would further fuel a bid to be included on the U.S Ryder Cup team. LIV golfers might be suspended from PGA Tour events, but they remain members of the PGA of America and are eligible for inclusion. Given that Johnson went 5-0 in America's rout of Europe two years ago at Whistling Straits, he'd have to be on captain Zach Johnson's radar.
Winner of 24 PGA Tour titles, Johnson has missed the cut in his last two PGA starts after consecutive second-place finishes in 2019 and '20. He was eighth at Oak Hill in 2013.
Coming off a victory—regardless of the competition—has him feeling confident about his chances. Rightly so.
"Yeah, absolutely. Still playing against unbelievably good golfers," Johnson said. "To be honest, the scores the last few tournaments we played were a lot lower than I thought they would be. You've got to play well every single day if you want a chance to win.
"The game last week, [I did] a lot of really good things," he added. "Played really solid all three days, and doing everything well. I'm driving it well, controlling the distance with the irons, starting to wedge it a lot better, and then rolled in a few putts. It's definitely nice coming off a win, coming into this championship, and especially this golf course."
MORE FROM GOLF DIGEST @ THE PGA CHAMPIONSHIP