The cut
PGA Championship 2023: Big names grind to make the cut, but some aren't so lucky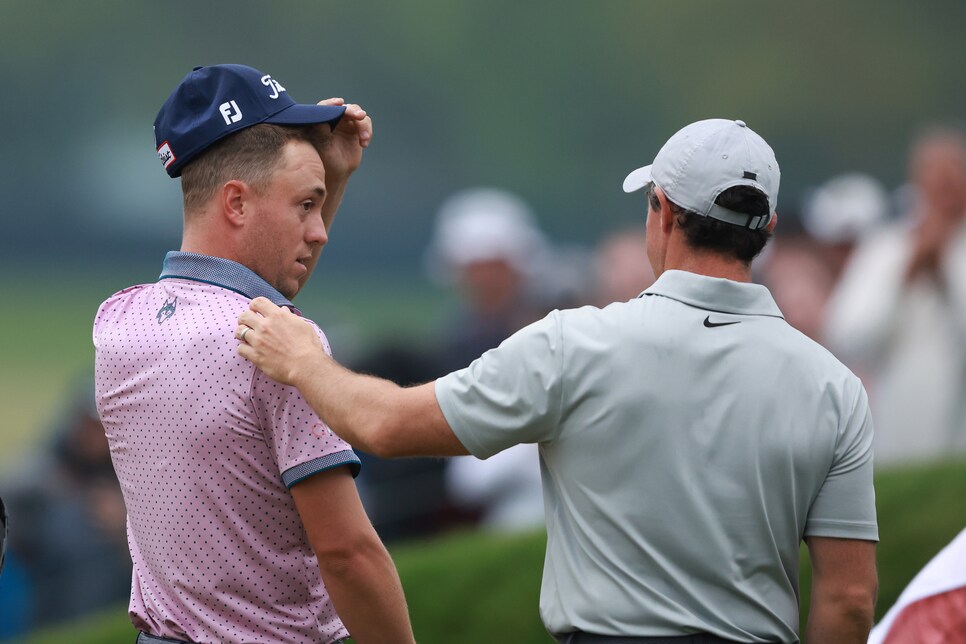 Rory McIlroy and Justin Thomas talked after their second round in the PGA.
Warren Little
ROCHESTER, N.Y. — After guiding home an eight-foot bogey putt on the home hole at Oak Hill Country Club under a canopy of rain clouds late Friday afternoon, Justin Thomas made a disgusting swipe with his arm after pulling his ball from the cup. But he managed a smile walking off green when Collin Morikawa gave him a hug and then Rory McIlroy put an arm around him and said a few words.
Thomas, the defending champion in the 105th PGA Championship, averted disaster with that putt and avoided a second straight 36th-hole collapse in a major. A month ago at Augusta National Golf Club, the Kentucky native had to return Saturday morning to complete his second round but struggled in the chilly conditions, bogeyed three of his final four holes, and missed the cut with a 78.
On Friday at Oak Hill, things looked even more ominous when his second shot from the right fairway bunker at 18 caught the lip and caromed back in the sand. He had to lay up with his third and then pitched to eight feet below the cup. It was make it or go home.
He made it for a three-over 73 and finished right on the number at five-over 145, 10 shots off the lead and one of 76 players to make the cut.
"It was a grind again," said Thomas, 30, who still didn't seem all that happy after surviving the day. "Just got off to a poor start … but hung in there and fought tough. Tiger [Woods] has always said it, I've always said it, you've got to give yourself a chance and anything can happen, and on this golf course I gave myself a chance, so see if we can do something crazy this weekend."
As for what Rory said to him walking off the green, Thomas was touched by the support. "He just said, way to finish, good putt. I played with him before when I've had it unfortunately go the other way in a very similar circumstance, so he was glad to see it go that way he said."
Thomas' fight to stay alive underscored the high drama at the lower end of the leader board as the second round drew to a conclusion. He was one of several big names battling to play two more rounds at the East Course at Oak Hill and not everyone was as successful. It also was a reminder, as no-cut tournaments seem destined to proliferate on the tour next year, that having a cut matters, and that it gives an event a further element of importance—not to mention entertainment.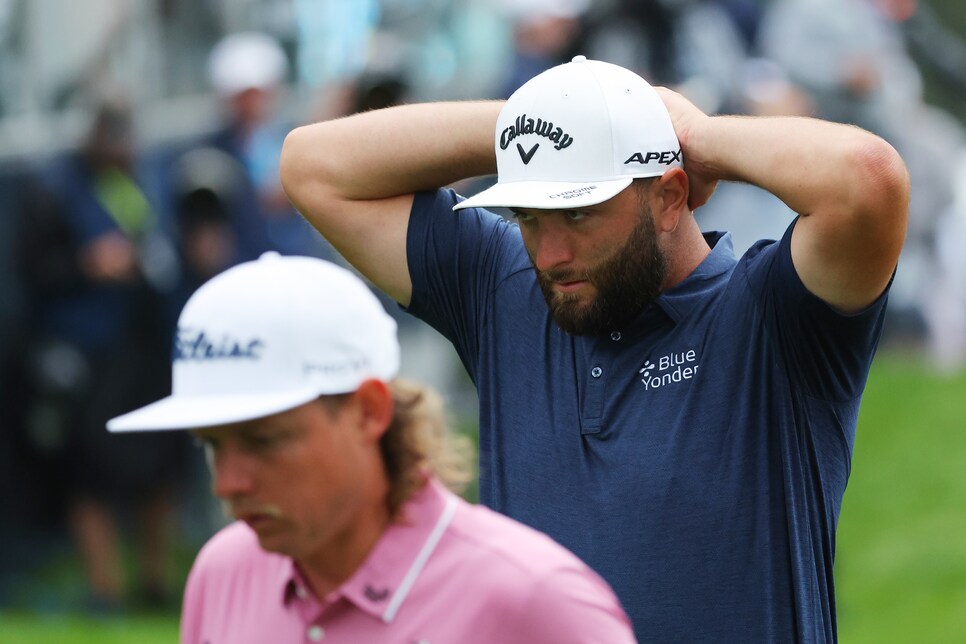 Jon Rahm had a day of emotional ups and downs before making the cut.
Kevin C. Cox
Among those who breathed a sigh of relief and were glad to see their fortunes go the way they wanted was world No. 1 and reigning Masters champion Jon Rahm, who kicked things into gear with three straight late birdies after bogeying the 12th and made it to the weekend with a couple of strokes to spare at four-over 144.
"Yeah, I was pissed out there bogeying one of the easier holes on the course," said Rahm, who let loose with some colorful language when he missed the fairway at No. 12 and rallied for a 68. "All you need to do is somehow hit it in between the lines. Doesn't even need to go far, and you have a short iron into a pin. That's doable today. I wasn't happy. Knowing that those next three holes were doable, I tried to be a little bit more aggressive and go after it and hit the shots I needed to and made the birdies I needed to."
European Ryder Cup teammate Tyrell Hatton had to dig even deeper, starting the day at seven over and cobbling together his own 68 to sneak inside the cutline.
Three-time major winner Jordan Spieth, nursing an injured left wrist, managed to par in on his last three holes for a 72 and made the cut on the number. That was not as impressive as LIV Golf League player Harold Varner making birdie on four of his last five holes to move from the cutline to the edge of contention at one-over 141.
Phil Mickelson, another LIV golfer and winner of the 2021 PGA, fell to five over with three holes remaining, but also strung together three pars to make the cut for the 100th time in a major. He now has made the cut in the year's first two majors—after his second-place finish at the Masters—14 consecutive years, not counting last year when he skipped them.
Not everyone was so lucky.
U.S. Open champion Matt Fitzpatrick bogeyed his final two holes for a 70 and fell one shot short. He three-putted the last from 53 feet, missing an eight-footer that would have kept him around for the final 36 holes. Jason Day, the 2015 PGA champion, came into the week off his first win in five years at the AT&T Byron Nelson but finished three off the mark. Joining Day at eight over was former U.S. Open champion Gary Woodland.
With the cut at five over par, the entire field will begin Saturday's third round 10 shots or closer to the lead shared by Scottie Scheffler, Corey Conners and Viktor Hovland.
MORE FROM GOLF DIGEST @ THE PGA CHAMPIONSHIP