News
PGA Tour Latinoamerica announces amended schedule for 2020-'21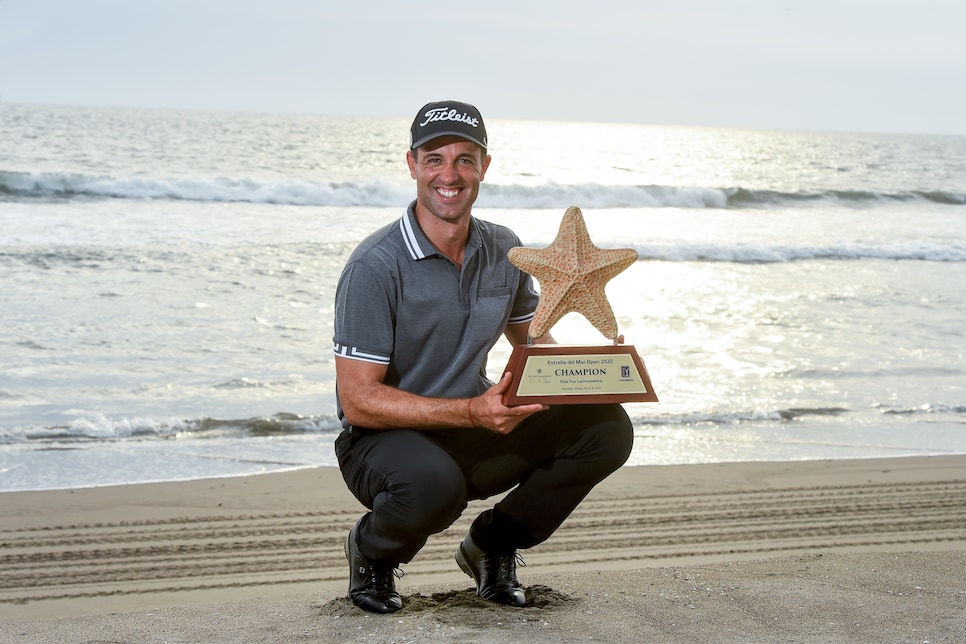 MAZATLAN, MEXICO - MARCH 08: Alexandre Rocha of Brazil poses with the trophy after the final round of the Estrella del Mar Open at Estrella del Mar Golf & Beach, on March 8, 2020 in Mazatlan, Mexico. (Photo by Enrique Berardi/PGA TOUR via Getty Images)
Enrique Berardi
The PGA Tour Latinoamerica announced this week it intends to play two tournaments in 2020 as part of a new 2020-'21 wrap-around season.
Logging just one event in March before operations were suspended due to COVID-19, the feeder circuit will resume play Dec. 10 at Trump National Doral in Miami for the Shell Open. The tour will play the Puerto Plata Open the following week in the Domican Republic, and then observe a two-month break.
"The fact we'll be playing in 2020 and that other planned tournaments will be rescheduled is extraordinarily good news considering all the challenges we've faced in Latin America due to COVID-19," said Todd Rhinehart, PGA Tour Latinoamerica managing director. "Since playing the Estrella del Mar Open in Mazatlan in March and then experiencing the disappointment of indefinitely postponing play after that, we still always felt we would play again in 2020."
The Latinoamerica circuit intends to play 10 additional tournaments between February and June, meaning the completed schedule will run from March 2020 to June 2021.
Currently, many of the tour's players are competing in the LOCALiQ Series, a chain of eight events conducted in the Southeast corner of the United States that will end in October. The winner of the series-ending tournament and the top two players on the series points list will receive sponsor exemptions into a PGA Tour event in 2021.
"This is a unique and unprecedented situation we've faced, and we appreciate the patience of our players and their flexibility as we've always put health and safety first in everything we do. We have also been grateful for the LOCALiQ Series, where many of our members have competed in the Southeast United States during the summer," Rhinehart said. "This has been an extraordinarily successful venture, and we are grateful our players had tournaments to play in that provided competitive atmospheres and money-making opportunities.
"We look forward to getting back to the pacing that a regular schedule offers."