Trophy case
British Open 2023: Think there's pressure to win the claret jug? How about engraving the winner's name on it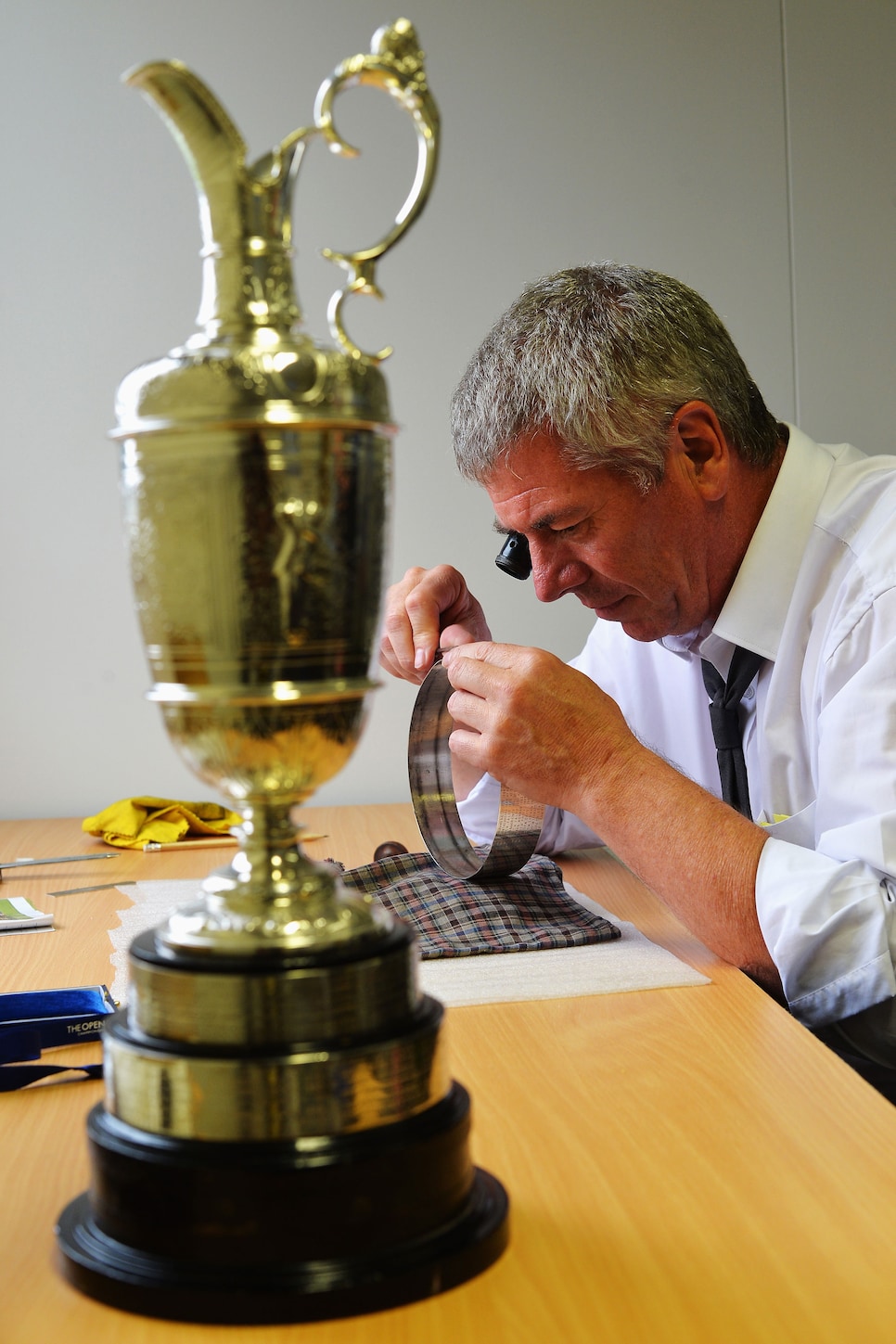 For almost 20 years, Garry Harvey has etched some of golf's most famous names into the claret jug in his role as the R&A's official engraver at the Open Championship. Tiger Woods twice, Padraig Harrington twice, and Rory McIlroy, just to name a few. But his career writing onto trophies began with his own name.
"I won the British Boys Amateur in 1972 at Moortown Golf Club in Leeds, and no one else there could engrave it, so I had to," Harvey said.
The Scotland native, now 68, began an apprenticeship in the family engraving business under his father, Alex, as a teenager in the 1970s while also becoming a tour pro. Alex was the R&A's long-time engraver and retired in 2003.
Pro golf worked out just fine for Harvey. He won the European Tour's Kenya Open in 1985 and spent 12 seasons on the Old World circuit. He even played in the 1979 Open Championship at Royal Lytham when his father finished the week by writing Seve Ballesteros' name onto the jug.
But the family business beckoned. "I took over in 2004, when Todd Hamilton won at Troon," Harvey recalls. Only a year later, Harvey etched Woods' name onto the jug when he won his second Open title at St. Andrews, and again in 2006 when Woods triumphed at Hoylake.
During his two decades in the role, Harvey has even developed a method of picking the champion hours before they end up winning golf's oldest major. They all smile more than anyone else in contention.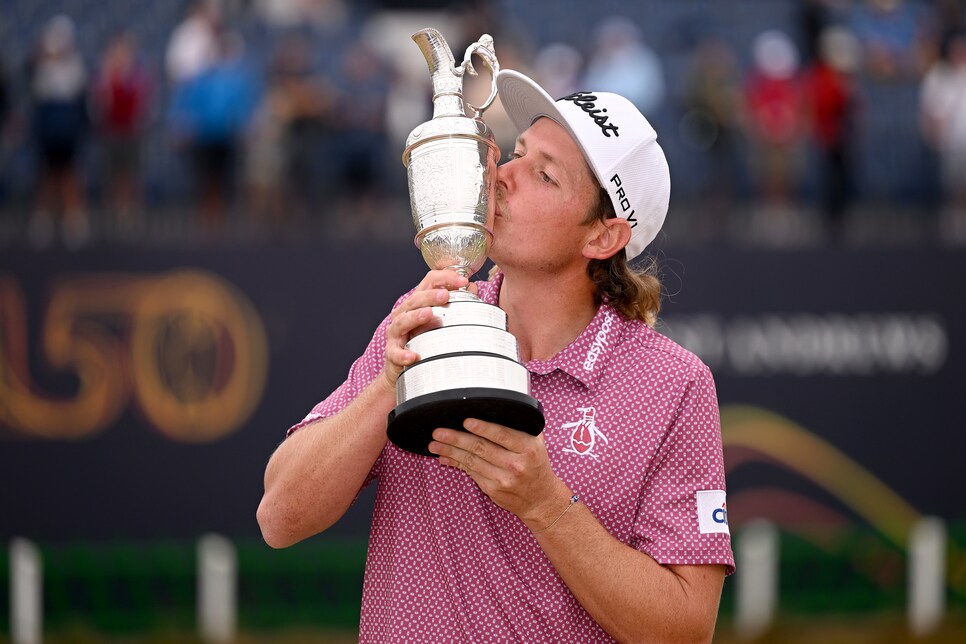 Cam Smith celebrates with the claret jug after winning the 2022 Open Championship.
Ross Kinnaird
"The face tells a picture," he said. "Last year, looking at [winner] Cameron Smith's face … you could tell he was enjoying himself."
One couldn't tell from Harvey's own face that he enjoys writing the champion's name onto the jug in the chaotic moments as the championship concludes. "The TV cameras are right next to me, and the commentary sometimes says, 'He must know who is going to win,'" he said. "There's pressure, but it's not too bad. I'm focused on the physical technique."
Sometimes, depending on the host course's facilities, it's hard to focus at all when fans are walking past the window of a room where Harvey is engraving. "I have to use daylight, which means engraving by a window," he said. "Sometimes, the public can see it and you can hear all their comments, which is quite funny."
It's even trickier when the Open result goes down to the wire. Last year at St. Andrews, Smith held a one-shot lead going up the Old Course's short par-4 18th. Playing partner Cam Young drove the green and made eagle to force Smith to make his short birdie. A group behind, Rory McIlroy could have forced a playoff with a 2 of his own on 18.
"It's quite tense when I'm sitting there waiting for it to happen," Harvey said. "I normally get the go ahead when they hit their second shots or when it's very unlikely a player will collapse. Like, if he's two [shots] ahead and puts ball on the green."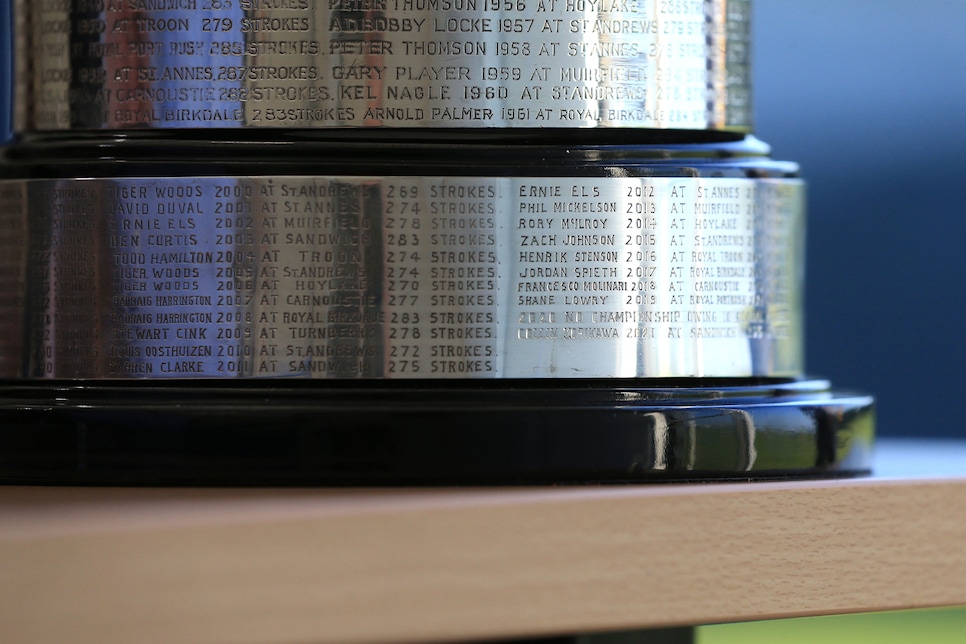 The bottom ring of the claret jug shows off Harvey's latest handiwork.
Stephen Pond/R&A
Such composure requires a degree of emotional disconnection from the result. Harvey doesn't obsess over which Opens have been the most special. That's been made easier by how enormous the championship has become as a global sporting spectacle.
"When my father engraved it, they [the R&A] used to bring the champion over to shake hands with him," he said. "But when Tiger [first] won it [in 2000], there was so many people about they stopped [doing] that."
Whichever name Harvey writes into the jug at next week's 151st Open at Royal Liverpool, it will be among the last to fit on the third silver band that joins the jug at the base like a wedding cake.
"I was at the museum recently where they have the original, and I counted another 17 years [worth of room]," he said.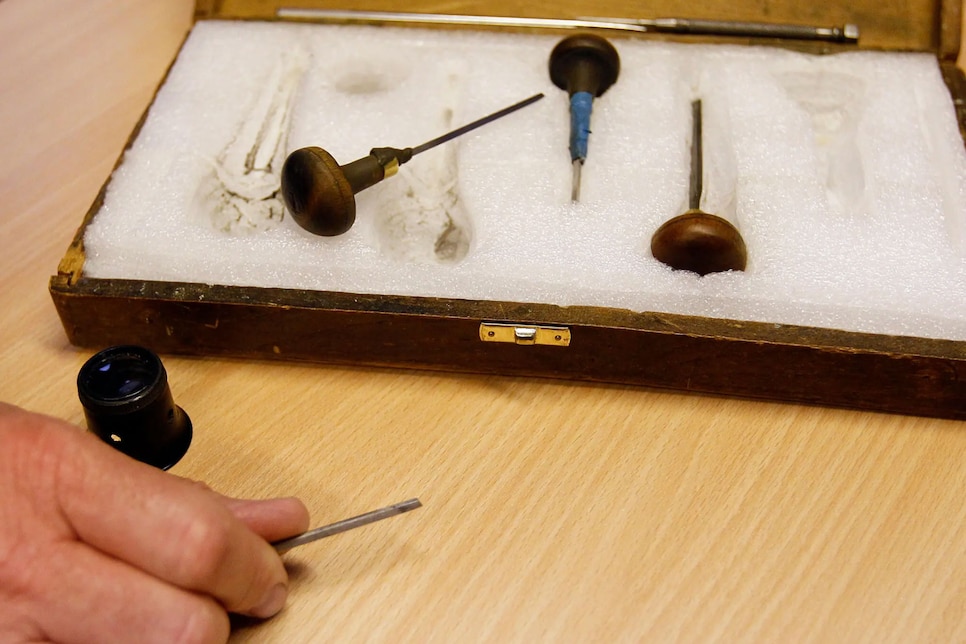 Harvey's engraver tools are believed to be more than a century old. (AP Photo)
Harvey does not know whether he will still be engraving the jug at the 2040 Open "I'll certainly do it for another 10 or 12 years; we will see," he said.
Which begs the question, how would Harvey end his tenure as official engraver, whenever that is? "I always thought, after my very last Open, I'd write my own name [on the jug] and run off," Harvey joked through a fit of laughter.
​​Is it the British Open or the Open Championship? The name of the final men's major of the golf season is a subject of continued discussion. The event's official name, as explained in this op-ed by former R&A chairman Ian Pattinson, is the Open Championship. But since many United States golf fans continue to refer to it as the British Open, and search news around the event accordingly, Golf Digest continues to utilize both names in its coverage.