Apparel
The Nike Air Max 270 golf shoes are finally here with style and a ton of bounce
These highly anticipated golf shoes are fashion-forward and expected to sell out fast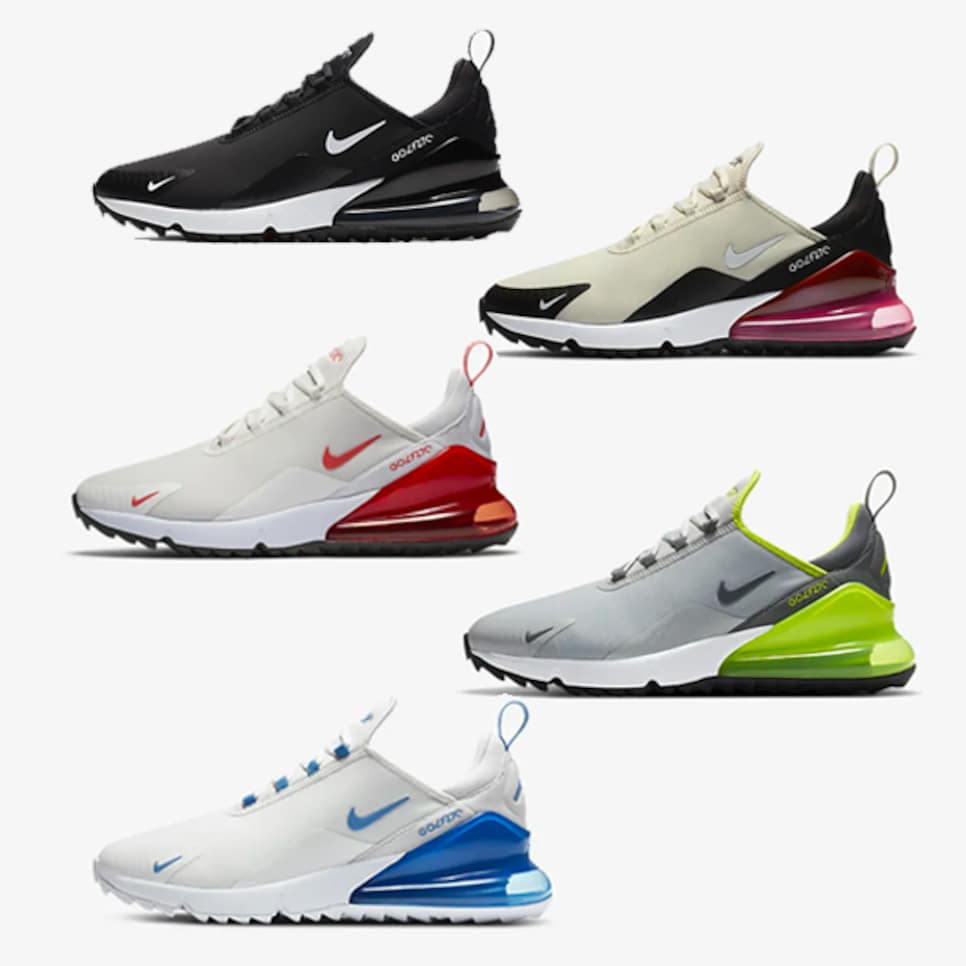 In line with the chunky shoe trend arriving in golf, Nike has released the popular Air Max 270 golf shoe—a remix of the popular extra-cushioned street shoe version. The Air Max 270 G is available now on the Nike website—with one of the five color options already sold out and the rest expected to go fast. Additional stock and two exclusive colorways are available at Golf Galaxy and Dick's Sporting Goods.

Related: The Best Golf Shoes of 2020
*All products featured on Golf Digest are independently selected by our editors. However, when you buy something through our retail links, we may earn an affiliate commission.*
Nike reconstructed the Air Max 270 street shoe stitch-by-stitch to create an almost identical silhouette as a golf shoe. New to the 270 model, a mesh overlay was added to the sleeve-like upper to waterproof the golf shoe. The mesh add-on will also help keep the kicks cleaner.
Hybrid traction is of course the other main difference between the street and golf versions of the Air Max 270s. The perimeter of the outsole is designed to support rotational movements in the swing, but the lugs are durable enough to be worn off the course.
The Nike Air technology uses pressurized air in a durable membrane across the bottom of the shoe. Upon impact, the air compresses and then springs back to its original shape for a comfortable cushioning on each step. The visible urethane Air pocket is usually identified by a tinted translucent window on the shoe. The 270G will have Air heel pockets in red, lime green, blue, black and a burgundy color option to match the mostly simple uppers of the golf shoes. Note the burgundy color sold out almost immediately after the shoe launched on nike.com, but is available at Golf Galaxy and Dick's Sporting Goods.
In addition to enhancing the foam midsole and adding a considerable amount of bounce, the Air membrane also adds a bit of height to the wearer. The Air Max 270 street shoe, which launched in February 2018, was one of Nike's tallest heels to debut in the Air line's history with 32mm (just under an inch and a half extra at the heel). The airy cushioning cradles the heel adding comfort and energy return. The 270 name is inspired by the fact that the Air feature is visible at 360 degrees, both horizontally and vertically.
The Nike Air Max 270 G golf shoe is available now for $150.