LPGA Tour
Tour Championship's weekend contenders all had to steel themselves mentally for this opportunity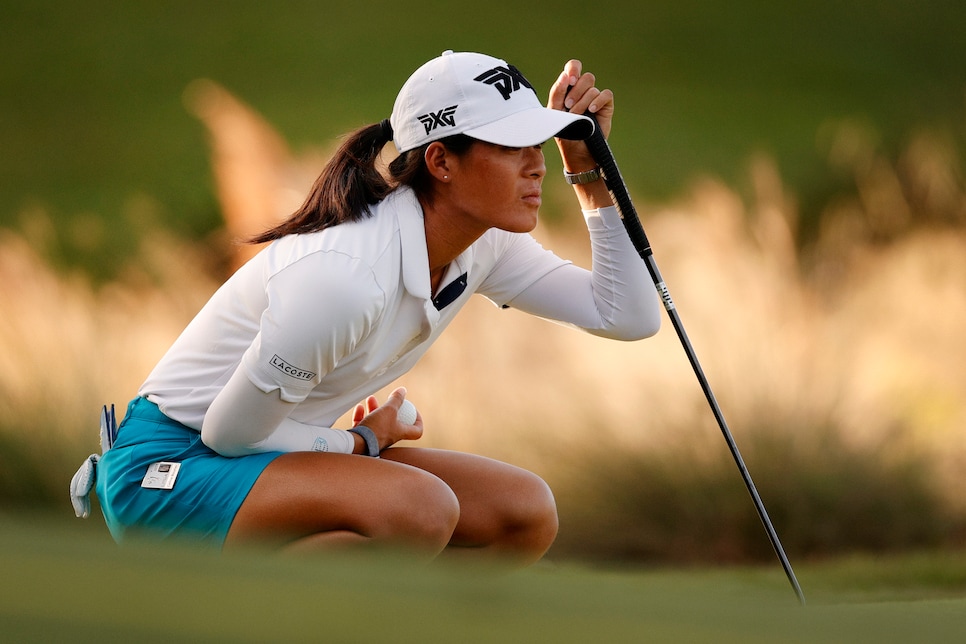 Celine Boutier lines up a putt on the 17th green during the second round of the CME Group Tour Championship.


Douglas P. DeFelice
NAPLES, Fla. — The scrutiny, the stories and the eyeballs were focused on Nelly Korda and Jin Young Ko heading into the CME Group Tour Championship. Their world-beating ways earned the attention as they won 27 percent of the LPGA's events between them in 2021, with Korda seizing the gold medal at the Tokyo Olympics for good measure. As their Rolex Player of the Year battle remains close at Tiburon Golf Club, with Ko (T-9) at eight under par and Korda (T-5) at nine under, four players stand above the dueling powers.
Tour Championship leader Celine Boutier is at a tournament-record 14 under par through 36 holes, and the trio at T-2 of Gaby Lopez, Minjee Lee and Mina Harigae trailing by four find themselves ahead of the World No. 1 and No. 2 by leaning on the confidence they've built within themselves throughout the season.
Even with Boutier's two wins over a recent three-week span—in her home country of France's LET Lacoste Open and the Shoprite LPGA Classic—it remained a challenge to not look at Ko's performance relative to her own. "It's really easy to just compare yourself to other people and just start watching them," Boutier said. "That's something that's been a bit of a struggle for me, especially when I had like big pairings or I was playing with Jin Young Ko or whoever I felt like was a great player, which there are a lot out there."
Despite outdueling Ko and Inbee Park in New Jersey for her second career LPGA victory, Boutier has found it challenging to look away from the radiating talents. "You just start watching them and forget about your own game," Boutier said. "I think it's been really major for me to just focus on myself. I mean, it's always a struggle still now, but I try to do it a little bit better."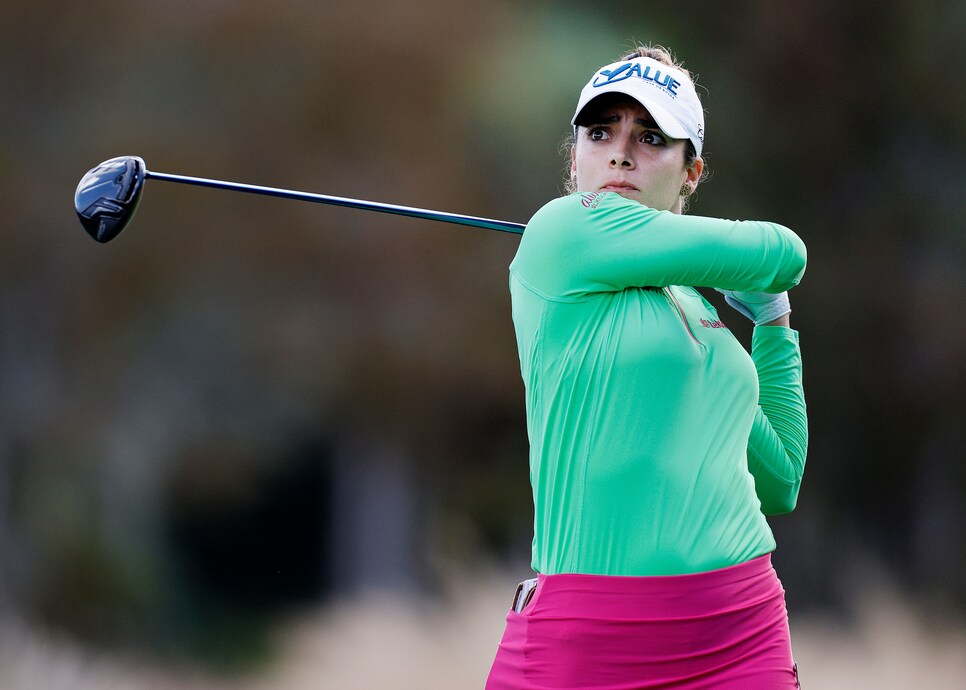 Gaby Lopez plays her shot from the third tee during the second round of the CME Group Tour Championship.
Douglas P. DeFelice
Lopez focuses on daily journaling to encourage herself to stay more present. Recently, the 28-year-old from Mexico beat herself up over mistakes instead of letting herself learn from them. "I get really hard on myself and I get really tough," Lopez said, "so sometimes I don't validate myself enough. When I'm doing great things, I'm just writing down all of the great things that happened that day. Just like today, just got to be very aware of all the things that I'm doing right so I'm focusing on the right stuff."
Lopez uses positive thinking to help get into a mentally competitive zone. This season she posted five top-10s, including applying the self-validation to a T-6 at the Pelican Women's Championship last week.
Lee battled the label of one of the most talented players without a major victory throughout her career. That was further compounded when she went two years without an LPGA victory. Before her first major victory, at the Amundi Evian Championship in July, the 25-year-old Aussie's previous win was the Hugel Air-Premia LA Open in April 2019. "I've been out here seven years," Lee said, "but you still go back to feeling like, Oh, do I really belong here, if you don't win for a little while?"
Lee rebuilt her confidence by combining with U.S. Women's Open champion Yuka Saso for a fifth-place finish at the Dow Great Lakes Bay Invitational the week before her major breakthrough. She also watched her brother Min Woo Lee win at the Scottish Open on the European Tour in early July. Now, Lee is self-assured that her game can travel into any situation.
"It's just like a little silent confidence for me," Lee said, "just so I can go out there and play confidently and know that I can play under pressure and play well under pressure."
Harigae started discovering her confidence at the Drive On Championship at Reynolds Lake Oconee and punctuated it with a fourth-place finish at the CME Group Tour Championship last year. But, instead of aiming to emulate the top two players in the Race to CME, the 31-year-old focuses on what she can do.
"Being able to not compare myself to Jin Young and Nelly is important," Harigae texted, "especially to me because my game is nothing like theirs. I think being comfortable with my game style and who I am plays a big part in being confident."
The 11-year veteran carried that momentum to the Solheim Cup, where accomplishing one of her dreams fueled her self-belief. "Just honestly being able to pull off the shots that I did during my matches and making some clutch putts," Harigae said Thursday, "I think that gave me a ton of confidence. Almost as if I can do that there in that kind of atmosphere, I can really do it anywhere on any course in any tournament."
It's a test of confidence that Harigae and other contenders worked towards all season.