Takeaways
Aaron Baddeley, contending in Bermuda, looks to be just the sixth player since 1980 to pull off this feat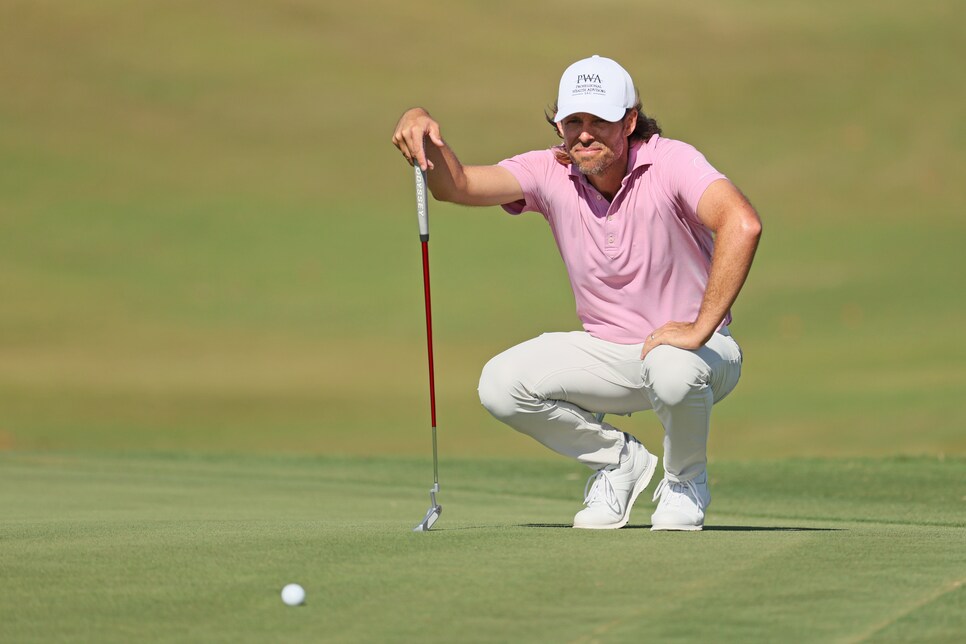 Aaron Baddeley of Australia lines up a putt on the eighth green during the third round of the Butterfield Bermuda Championship at Port Royal Golf Course.
Andy Lyons
Since 1980, only five players have pulled off the accomplishment on the PGA Tour. On Sunday at the Butterfield Bermuda Championship, Aaron Baddeley will look to become the sixth to win a tour event after Monday qualifying.
Baddeley, a four-time PGA Tour winner but without a victory since 2016, will start the final round at Port Royal Golf Course at 16 under, just two shots back of the lead shared by Seamus Power and Ben Griffin. Playing this season on past champion status, the Aussie wasn't in the field this week, so he decided to try his hand at Monday qualifying.
The 41-year-old shot five-under 66 in the qualifier held in Orlando on Oct. 17 before advancing in a 6-for-2 playoff to earn a tee time this week in Southampton, Bermuda. Funny enough, Baddeley also advanced out of a 6-for-2 playoff to Monday qualify for the Fortinet Championship last month, where he finished T-36th.
Baddeley, whose last tour win came at the 2016 Barbasol Championship, has struggled in recent years, with his last top-10 on the tour coming in 2019. For the veteran with more than $22 million in tour earnings, though, being in contention in Bermuda brings with it a certain comfort.
"It feels like it's the right spot to be, to be honest," said Baddeley after shooting a third-round 68. "I feel like my game's been in the spot to be in this position for a while, and it's just nice to be here, be back having a chance to win."
A Baddeley win on Sunday would be consistent with a theme that is emerging at the Butterfield Bermuda Championship in its short four-year history. Starting with Brendon Todd's win in 2019, Port Royal has proven to be a putter's paradise.
Both Todd and 2020 champion Brian Gay finished inside the top four in putts per round en route to their wins, and though last year's champion Lucas Herbert finished T-6 in the stat, he led the PGA Tour in strokes gained/putting for the 2021-22 season.
Like Todd, Gay and Herbert, Baddeley has long been regarded as one of the best putters on tour. The Aussie led in strokes gained/putting in 2015 and has rarely strayed from the top 10 in the stat throughout his 20-year career.
Though his numbers have slipped over the past few years, Baddeley said earlier in the week that he'd "got the putting figured out again now," which has been confirmed so far this week, as he sits T-2 in putts per round.
Should the putter stay hot and he come back to win, Baddeley would be the first Monday qualifier to win on the PGA Tour since Corey Conners did it at the 2019 Valero Texas Open.
Brian Gay plays his shot from the eighth tee during the third round of the Butterfield Bermuda Championship.
Andy Lyons
The last couple of seasons on the PGA Tour have been pretty quiet for Brian Gay. Except when the five-time tour winner steps onto the island of Bermuda. Since the start of 2020, Gay has recorded just two top-25s on tour, with both of them coming at Port Royal.
In his Bermuda debut in 2019, Gay finished T-3 before winning the title in 2020, his first PGA Tour victory since 2013. After continuing the good play with a T-12 finish last year, the 50-year-old sits at 15 under after three rounds this week, just three shots back of Power and Griffin. Gay, known for his strong putting, chalks much of his success on the island up to the greens at Port Royal.
"I grew up on greens virtually identical to this," Gay said after a bogey-free third-round 66. "They're not too fast, grainy bermuda, something I've played my whole life, so it's just comfortable for me."
Since turning 50 last December, Gay has split his time between the PGA Tour and the PGA Tour Champions in 2022. He finished fourth at the Chubb Classic in his senior debut in February and has recorded four more top-10s since, including a T-6 finish last week in Virginia.
As Gay shifts more and more of his playing time to the 50-and-older circuit in the coming years, he may be smart to keep Bermuda circled on his calendar. Over the last two seasons on the PGA Tour, Gay has made just shy of $1.2 million. Of that $1.2 million, nearly $850,000 was banked in Bermuda.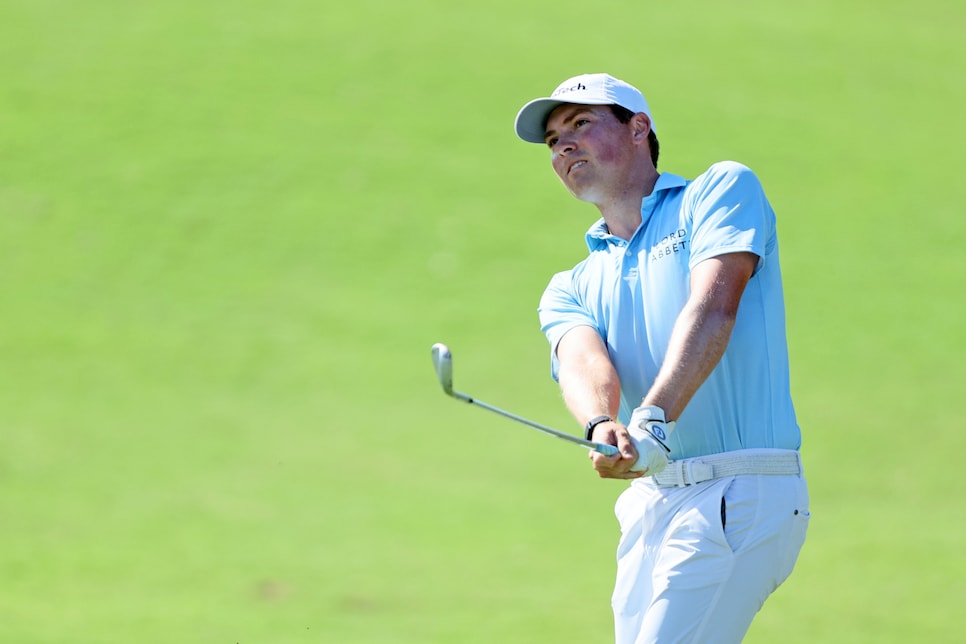 Ben Griffin plays a shot on the ninth hole during the third round of the Butterfield Bermuda Championship.
Courtney Culbreath
A couple rookies look to jumpstart their careers
Ben Griffin has a share of the 54-hole lead in just his eighth career PGA Tour start. Not bad for a 26-year-old who, as of 18 months ago, was working as a mortgage loan officer. After a three-win college career at the University of North Carolina and a victory on PGA Tour Canada in 2018, Griffin had become weary of tour life, trading his clubs for a more stable income.
"It was a combination of burnout a little bit from COVID and then also financially, I didn't want to rely on my parents anymore for everything," Griffin said after his third-round 66.
Childhood dreams don't die easily, though, and in the summer of 2021, he caught the bug again. Earning Korn Ferry status that fall through Q school, Griffin made quick work of the developmental tour in 2022, finishing eighth on the regular season standings to earn his PGA Tour card.
After rounds of 65, 64 and 66 to grab a share of the lead in Bermuda, Griffin is well-positioned to make quick work of the PGA Tour as well.
"It's nuts definitely to be sitting here talking to you guys, getting ready to win a PGA Tour event tomorrow," Griffin said. "I'm just super blessed to play golf. I've got that attitude where I've got nothing to lose and I'm going to go out there firing."
Kevin Yu, the former Arizona State standout who earned first-team All-America honors in 2019, sits just two back of the lead. A former No. 1-ranked amateur in the world, Yu earned his PGA Tour card for the 2022-23 season after a solid year on the Korn Ferry Tour. Like Griffin, Yu is in position to ignite his rookie campaign with a strong Sunday in Bermuda.
The 24-year-old has made two of his first three cuts this season, including a top-20 finish at the Sanderson Farms Championship. Making just his 14th career PGA Tour start this week, Yu spoke after his third round about what he's learned in his short tour career that may help him tomorrow.
"Just really have to trust your game," Yu said. "Just be really patient about every circumstance because you might face different weather or whatever tomorrow, so just trying to be very consistent and trust my game and just be 100 percent on every shot."