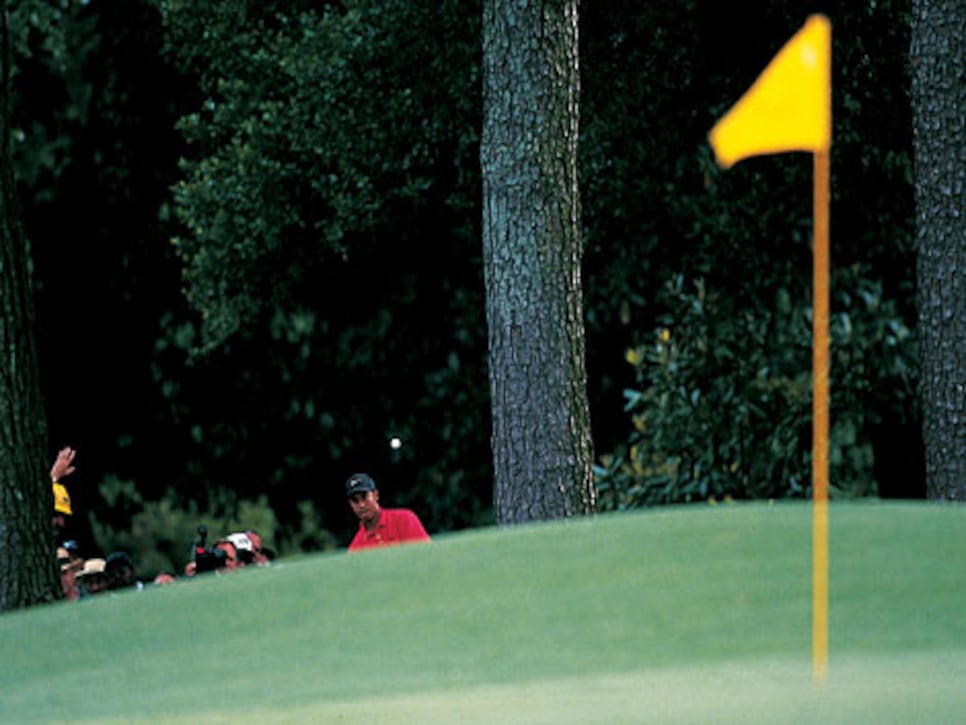 Please don't bother me while I'm writing this TV commercial for Tiger Woods, which will be sponsored by his agent, ITG--International Tiger Group--and some of his new companies: Time Woods Inc., Woods Fifth Avenue, Merrill Woods Lynch, Diet Tiger, and Disney Woods. Fade in Nick Faldo, bent over and battered: "I'm not Tiger Woods."
Fade in Freddie Couples, thin and wan:
Fade in Tom Lehman, haggard and short of breath:
Fade in Greg Norman, old and lifeless:
"I'm not Tiger Woods--but I'm putting '97 behind me just like I put '96 behind me."
As you no doubt know by now, Tiger Woods' overwhelming performance in the Masters this April made it the tournament that changed golf forever, changed golf-course design forever, and may have changed society forever.
So the main question that begs to be answered, after watching him reduce everyone else in the game to a bit player, if not set decoration, is what can be done to stop him, or at least slow him down before he makes some of us forget that we ever saw Ben Hogan, Byron Nelson, Sam Snead, Arnold Palmer and Jack Nicklaus swing a club?
Fortunately, I've given it considerable thought--much more time than it took the Masters field to give up--and I hereby present 10 Steps to Stop or Slow Down Tiger Woods:
(1) Make him wear Harry Vardon's tweed suit.
(2) Make him wear Greg Norman's planter's hat.
(3) Make him read a David Leadbetter instruction article.
(4) Make him use Phil Mickelson's clubs.
(5) Make him play the gutty.
(6) Make him wear Tom Kite's glasses.
(7) Make him read every word of the new Jack Nicklaus autobiography.
(8) Make him go to dinner with Mark Rolfing.
(9) Make him attend the annual golf writers' dinner.
(10) Make him get married and have to go to Ace Hardware a lot.
The fact of the matter is no golfer has ever come on the scene with more shots in the bag than Tiger, plus remarkable length. Hogan, Nelson, Snead, they had all the shots, they had style and they had grace, but they didn't have his distance, either off the tee or with the irons.
As the kid destroyed the Augusta National in those middle 45 holes, the stretch of 30-66-65 that removed any shred of suspense, other than whether he would fall through a trapdoor, I was struck by the contrast in how he played the course and how Hogan used to play it.
Fasten your seat belt while I take you through a normal round.
No. 1, 400-yard par 4: Driver, 6-iron for Hogan. Driver, pitching wedge for Tiger.
No. 2, 555-yard par 5: Driver, 2-iron to front bunker, sand shot for Hogan. Driver, 8-iron for Tiger.
No. 3, 360-yard par 4: 3-wood, 7-iron for Hogan. Driver, 15-yard chip for Tiger.
No. 4, 205-yard par 3: Three-quarter 4-wood for Hogan. Six-iron for Tiger.
No. 5, 435-yard par 4: Driver, 3-iron bounce-in for Hogan. Driver, pitching wedge for Tiger.
No. 6, 180-yard par 3: Six-iron for Hogan. Nine-iron for Tiger.
No. 7, 360-yard par 4: Driver, 8-iron for Hogan. Two-iron, pitching wedge for Tiger.
No. 8, 535-yard par 5 (uphill): Driver, spoon, wedge for Hogan. Driver, 2-iron for Tiger.
No. 9, 435-yard par 4: Driver, 7-iron for Hogan. Three-wood, pitching wedge for Tiger.
No. 10, 485-yard par 4: Driver, high 4-wood for Hogan. Two-iron, 8-iron for Tiger.
No. 11, 455-yard par 4 (with water left): Driver, 4-iron for Hogan. Driver, pitching wedge for Tiger.
No. 12, 155-yard par 3 (with Rae's Creek in front): Seven-iron for Hogan. Pitching wedge for Tiger.
No. 13, 485-yard par 5: Driver, 3-iron lay up, pitching wedge for Hogan. Driver, 8-iron for Tiger.
No. 14, 405-yard par 4: Driver, 5-iron for Hogan. Driver, pitching wedge for Tiger.
No. 15, 500-yard par 5 (with water in front): Driver, 4-iron lay up, wedge for Hogan. Driver, pitching wedge for Tiger.
No. 16, 170-yard par 3: Six-iron for Hogan. Nine-iron for Tiger.
No. 17, 400-yard par 4: Driver, 7-iron for Hogan. Three-wood, sand wedge for Tiger.
No. 18, 405-yard par 4: Driver, 5-iron for Hogan. Driver, sand wedge for Tiger.
If you're counting, that comes to wedges on 11 of the 18 holes for Tiger.
You may wonder about the utensils he used to do all that. Mostly the same ones he used to win his three U.S. Amateur titles, his NCAA Championship, and his three tour stops since last October. To walk you through his bag:
Cobra driver, 9-degree loft. Titleist 3-wood. Mizuno 2-iron through pitching wedge. Two Cleveland Classic sand wedges, a 56-degree and a 60-degree. Titleist putter by Scotty Cameron, which looks like a Ping but isn't. All-steel shafts, folks. No graphite, no titanium. And a three-piece Titleist Professional 90 ball, if you're curious.
At the start of the year, British bookmakers had put the odds of Tiger winning the Grand Slam this year at 5,000 to 1. Panicked at the possibility of losing almost $2 million if the bet comes in at the U.S. Open (Congressional), British Open (Troon) and PGA (Winged Foot), several bookies dropped the price to 66 to 1. "I think it can be done," Tiger said. "Who knows?''
"All I want is a green jacket," he kept saying after he took the 36-hole lead by three, then the 54-hole lead by nine. But he got much more. Along with entering the first-name category of the massive celebrity--Ike, Elvis, Madonna, Frank, Cher, that bunch--he collected his fourth major at the tender age of 21, and nobody else has ever done that. To put it in better perspective, Jack Nicklaus had only two at the same age, and Bobby Jones had only one.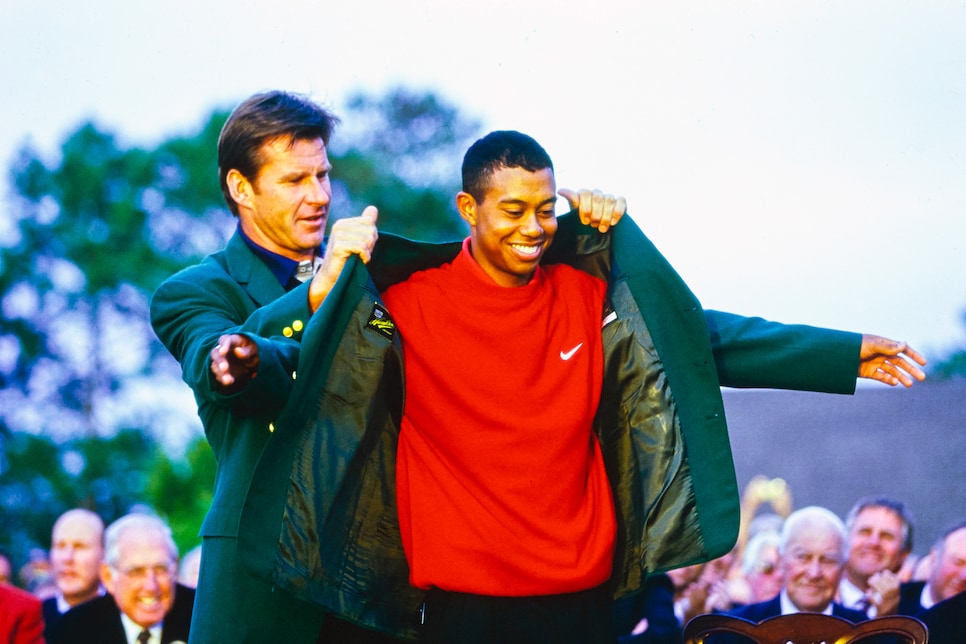 And then there were the records. Among them:
• His four-foot par putt on the final hole gave him an 18-under total of 270 to break the 72-hole record, by one stroke, that had been held by Nicklaus (1965) and Raymond Floyd (1976).
• His 201 after 54 tied Floyd's tournament record.
• His mind-boggling 12-stroke victory margin was the largest of the modern age in a major championship. It's topped only by the 13-stroke margin with which Old Tom Morris won the British Open at Prestwick in 1862, which happened to be at 36 holes when only four people owned a set of clubs. And it's only equaled by Young Tom Morris at Prestwick in 1870--when only eight people played golf.
• His victory tied him with Jerry Pate, now of television, as the only two competitors who have ever won in their first professional major. Pate did it at the Atlanta Athletic Club when he captured the '76 U.S. Open. Nicklaus won in his second major as a professional at the '62 U.S. Open at Oakmont, if you're wondering.
If you also happen to be wondering if anything else of note happened in the '97 Masters, it can be stated in one paragraph:
Arnold Palmer finished 36 holes despite recent surgery, and nobody cared what he shot; Nicklaus made the cut at age 57 when such other dignitaries as Faldo, Norman and Phil Mickelson didn't; Tom Watson made a putt, and, against all odds, Faldo stayed around to slip Tiger into his green jacket.
At first it was a funny old Masters, as it sometimes is.
As opening days go, Thursday was one of the better ones this time, starting with how the golf course played. The screams and complaints of the young whippersnappers both inside and outside the ropes were drowned out only by the giggles and laughter from some of us codgers who have been around a while, who have seen the Augusta National play far tougher in days gone by.
"Goofy golf," the whippersnappers called it as they watched three-putts and four-putts multiply on the speedy bent greens and observed chip shots that never stopped rolling forward or pitch shots that never stopped spinning backward. And then there was the whining about pin positions, some of which had obviously been set on semi-knobs because of rain that had been forecast but never came.
Whippersnappers don't know, or refuse to recognize, that precipitous pin positions are as old as the Masters, that this is how Bobby Jones wanted it, believing that "thought" should be a part of trying to beat the golf course. Learning where not to be on certain holes, on certain days, has earned more than one green jacket for more than one immortal in the past.
Frankly, it wasn't that tough on Masters Thursday. John Huston shot 67, six others broke par, and Sir Tiger of Eldrick even dug out a 30 on the back nine after going out in 40. Hey, there had been more grueling days in the past, days of wind and lightning greens when nobody could break 70.
To quote a codger--me, I guess--you should have seen what it was like on the hard, scratchy, slippery rye.
Take 1954. It's in my scrapbook. A couple of 70s led the first day, one by the amateur, Billy Joe Patton, the other by Dutch Harrison. And Friday was the toughest day in the history of Earth. Peter Thomson's 72 was low, and 73s by Hogan, Snead and Bob Rosburg were next best. Approach shots bounced 20 feet in the air. The only way you could hold a green was with a posthole digger.
Ben and Sam tied at 289 that spring--right, one over par--before Sam chipped in on the 10th and won the 18-hole playoff by a shot.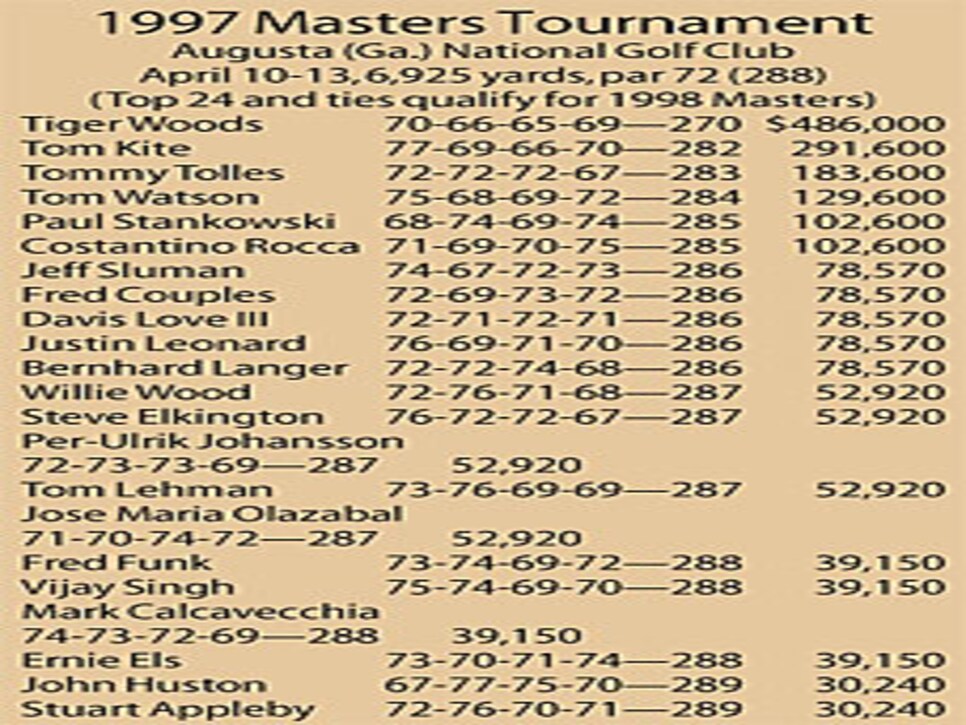 One thing nobody pointed out about Huston's 67 is that it should have been a 72, or worse. The guy holed out a 60-foot chip for a par on the first hole. Then at 15 his ball mysteriously stopped short of rolling back into the water, which got him a birdie instead of a 6. And then he holed out that absurd approach shot for the eagle on the 18th--from the 10th fairway after a wild-slice, Seve-type tee shot. He simply hit a blind 5-iron over the big tree and the bigger leader board, and it rolled into the cup. No problem.
Although Hogan would have said, "What do you mean the 10th fairway is over there? I thought that was out-of-bounds." If Jimmy Demaret had stumbled into a deuce that way, he would have joked, "Guys have gone to prison for less." The colorful modern-day pro John Huston, however, thrilled the world by saying, "Somehow it went in."
OK, he went to Auburn. He did have the decency to rectify things on Friday when he scooped three wedge shots into the creek at the 13th hole and limped away with a 10. It slung him to a 77, but what it mainly did was give the scoreboard operator in the press palace a chance to remark:
"Huston, we have a problem. I don't have a 10."
By then, the Masters belonged to the Tiger Man, who had warmed up the week before by shooting a 59 at his home club in Orlando. It had actually started belonging to him on Thursday when, after that shaky front-nine 40, he stomped on the back side for the six-under 30. This was the first indication that he was going to undress the golf course and make all other pros in the game look frail, weak, uncertain--almost silly.
Going head-to-head against three of Europe's Ryder Cup stalwarts, Tiger beat Faldo by five shots, Colin Montgomerie by nine and Costantino Rocca by six. Anybody out there like Tiger and Corey Pavin in the alternate shot?
But the thing he did best is the hardest thing to do in golf. Stop the bleeding in mid-round. Most guys who go out in 40 come home in 42, for goodness' sake, not 30.
"I found something in my swing on the ninth tee," he said. "On the back nine, I corrected what was wrong." Right. The arithmetic.
Well, that too. But in fact he sensed, he felt, he had a suspicion, that his backswing had grown too long. He was taking it back to horizontal--long for him--which had caused him to lose the kind of control he needed, the result being a few tee shots that explored the pines at the first, second, eighth and ninth holes.
A 21-year-old figured this out, mind you, while Faldo and all the rest of the millionaire grown-ups were glaring at their putters and other clubs, as if to say, "Let me down one more time, by god, and I'll change agents and gurus again."
After the kid righted things, it goes without saying, the tournament was over. All over except for letting drop the news that he wears a 42 long in a green jacket, that next year's champions' dinner will feature Big Macs, and that the name of the G-5 he'll soon buy will be The Flying Tiger. The nearest thing to him on the leader board with 18 to play was Costantino Rocca, which is not a forbidden dance, as many people believe, it's a veal dish with pasta, light on the red sauce.
Next closest was Paul Stankowski, who had put aside composing his symphony long enough to be only 10 back.
What, one of those guys was gonna throw a little 55 at Tiger? Tiger Woods on Sunday at the '97 Masters was the biggest lock in sports since Secretariat at the Belmont.
It didn't matter that he played like dogmeat, for him. He still slopped it around in three-under 69--two shots off the day's best round--and left all of his so-called pursuers looking like the member-guest partners that let you down. He played Amen Corner like he owned it, birdie-par-birdie. He hit nothing but brilliant shots in that crunch of the 11th, 12th and 13th, where so many Masters tournaments have been won and lost. Fact is, he played Amen Corner in seven under for four rounds.
"You envision dueling it out with Faldo or Nicklaus or Watson, someone who's awfully tough to beat down the stretch," he said. "You dream of doing that or getting into a playoff, weird things like that, but never to do it in the fashion that I did it."
What he did, indeed, was remind everyone of Montgomerie's dramatic statement on Saturday evening. "I have a brief comment," he said. "We're all human beings here, but there is no chance humanly possible that Tiger Woods is going to lose this golf tournament. No way...Faldo's not lying second, for a start, and Tiger Woods is not Greg Norman."
One more thing can be added now, of course. Nobody else is Tiger Woods. Not on this planet.
EDITORS' NOTE: This story first appeared in the June 1997 issue of Golf Digest