The Loop
From The Archive - 9/11: Remembering A Forgettable Day
*I'm taking a short break from true travel and writing a little long this time. I realize a lot has been written about 9/11, and by much better writers than I am. I also realize a lot has been written about Davis Sezna and his family's loss that day. This is a portion of my story about 9/11, how I met Davis Sezna and a recent round we shared at Bayonne Golf Club in New Jersey with the man who built Bayonne, Eric Bergstol. And it's a story about Deeg.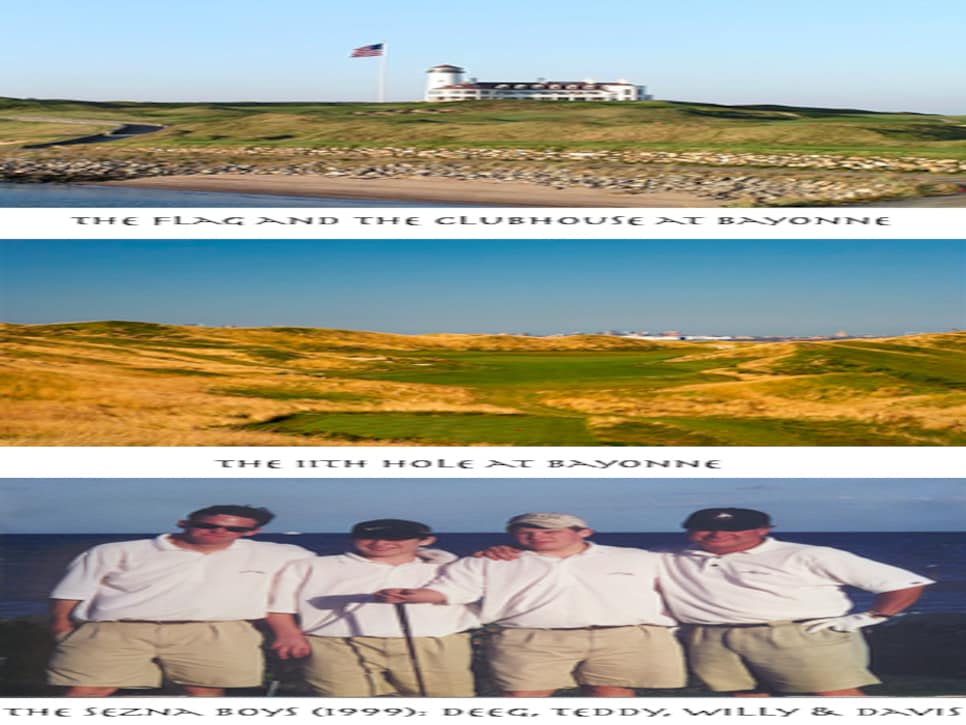 Davis "Deeg" Sezna Jr. had been on the job for a few days. He ran around the 104th floor of the South Tower of the World Trade Center with a pair of binoculars. A recent graduate of Vanderbilt, he was excitable, as most of us are at that point in our life. He directed his colleagues to the golf course across the Hudson River being built by his dad's friend.
His father was Davis Sezna, his father's friend building the golf course was Eric Bergstol. Deeg (pronounced Deej) was working at Sandler O'Neil and the golf course he could see with his view-finders was Bayonne Golf Club, located on the water in New Jersey, only four miles as the crow files from the southern tip of Manhattan. Construction, on the course that would eventually open in July 2006, was underway, and Deeg was showing off the progress.
Only a few days later, on a clear bright blue Tuesday morning, Sept. 11, 2001, Sezna Sr. and Bergstol were playing golf together at Pine Hill Golf Club in New Jersey. After they finished the sixth hole, Sezna received word about two planes crashing into the World Trade Center. Sezna left immediately.
At this point, I didn't know Davis Sezna. I didn't know he had lost his youngest son, Teddy, in a boating accident 14 months before 9/11. I didn't know he was in the inner circle of golf--a member at Pine Valley, Seminole, Merion, the R&A and Mid Ocean. I was working as the golf photo editor for Sports Illustrated at the time.
While Sezna spent the day navigating the craziness and trying to contact his son, I was making my way to Bethlehem, Penn. with five colleagues. Sports Illustrated writer Jack McCallum, was hosting an annual company golf tournament and six of us had rented a van to get there. Without going into too much detail, we left the city and we saw the towers burning from across the river. We watched the news coverage all day from McCallum's living room floor. We stayed at a hotel that night near Bethlehem. We came back to the city the next day and both towers were gone.
I'll never forget three things. As a small group of us gathered at our meeting place, the golf course, we were failing to wrap our arms around the implications and enormity of the situation that was unfolding back in Manhattan. Bill Nack, another SI writer, said, "The world has changed before our eyes. The world has just changed forever." He was right.
As we drove the van back to the city the next day, I couldn't believe we could smell the destruction about 40 miles from Ground Zero. A smell unlike anything I've ever smelled before or since.
I'll also never forget thinking I didn't know anyone who worked in the towers. And then I got a call from a friend who told me Ward Haynes was missing.
Haynes was the golf photo editor at Sports Illustrated before I was, and he trained me to do his job before he left SI to go to the world of bonds, gas and finance. He had remained a close friend and called me, "Matty-kid." He always said it twice. "Matty-kid, Matty-kid." An athlete, a very good golfer, a husband and a father of three. He had accepted a job at Cantor Fitzgerald two weeks before 9/11 and I didn't realize their offices were on the 101st floor of the North Tower.
So now it was September 12, 2001 and I was dropping off guys at their apartments. At one point we stopped for a convoy of military vehicles. The city was a war zone. It was surreal to say the least and the smell, now only a few miles from the chaos, was horrific. I also remember the city was so quiet. Not even cab drivers were using their horns.
Back at my apartment on the Upper East Side of the city, I got a call from the golf editor. Sports Illustrated decided to publish a magazine that week. The issue would feature a story about each sport and how it was affected by the events of 9/11. Michael Bamberger would be the writer of the golf story. Sezna, his deep ties to the game and his search for Deeg, would be the subject.
Any journalistic matter in my system was on shutdown. I was having a hard time understanding how Sezna was a sports story, how this was a golf story, why this belonged in Sports Illustrated.
My boss told me to call Sezna, a stranger, and ask if a photographer could follow him around Ground Zero and the surrounding hospitals as he looked for his son. We needed pictures to go with the story.
That was the last thing I wanted to do. A part of me and my heart feared the worst for Haynes, who had left a message on my work voice-mail the night before congratulating me on taking my new job at Golf Digest. The rest of me was still in shock.
I shelved my emotions. Out of respect for the people and the magazine I worked for, I made the phone call. It was my job for at least another two weeks.
When Sezna answered the phone, I immediately prefaced everything by saying I could not begin to grasp what he was going through. I remember telling him I'd understand if he hung up on me at any point during our conversation.
Sezna never hung up. He quietly told me to have the photographer call him. He was aware of the story that was being written and, given the circumstances, he'd cooperate best he could. I'll never forget how easy he made that call on me.
Unfortunately Deeg Sezna and Ward Haynes both lost their lives on 9/11.
Thankfully, by way of a round of golf at Seminole in Florida a few years later, I got to know Sezna under much different circumstances. I learned very quickly that being gracious, selfless, and one of the game's best storytellers, is a big part of what defines him. He's a man's man and the ideal golf partner.
It's amazing because a guy who has experienced such tremendous loss in life, two out of three sons, no one would blame him if he curled up in the corner of a padded room. And yet, spend a day with Sezna, and all he does is make everyone around him feel like they're welcome, a member of the gang--and everyone laughs.
Spin forward to Bayonne G.C. two months ago. I was in a game on a steamy, sticky summer day in the northeast. Again, I was a guest of Sezna's, and our third was Bergstol. It's rare, but very cool to say, "I love this hole" and have your playing partner, the guy who built the course say, "Thank you."
Early in the round, with the innocent question, "How do you guys know each other?" I learned Sezna and Bergstol met in 1995 because a common friend said they should. Bergstol is tall and Sezna is small but the men meet somewhere at respect and admiration for one another. "I don't usually warm up to tall and lanky," said Sezna. "It turns out we were both raised by kick-ass dads."
Late in the round at Bayonne the conversation eventually made its' way back to their round of golf on 9/11.
Over a beer at Bayonne's 19th hole, Bergstol told me that shortly after I spoke to Sezna on Sept 12, 2001, he received a call from Sezna. He was updating Bergstol about his plan to search for Deeg. Sezna asked Bergstol if he had any suggestions about where he should go, which hospitals he might try. "I remember I couldn't say anything," says Bergstol. No words came out. So Sezna asked again. "I still couldn't say anything. I couldn't speak."
On the other end of the phone, Sezna, knowing his friend was struggling with the situation, once again was gracious and selfless and filled the silence. "Hey, don't think I forgot that I birdied the sixth hole yesterday," Sezna said to Bergstol. "You owe me five bucks."
At Bayonne G.C., as Bergstol was telling me the story, both Sezna and Bergstol got tears in their eyes. "That's the kind of guy Davis is," said Bergstol. "I'll never forget that. He did that for me." At that point they shared a spontaneous hug that included a tight squeeze and a lot of back thumping. In a way it was awkward for me, but I was also honored to be there and appreciated the moment for what it was. Male bonding and some sense of healing almost seven years later.
Bergstol has built several courses, but Bayonne G.C. is bigger and better than the rest. It's an example of a well-executed vision, lots of money, perseverance, time, energy and landfill.
The highest point of the property used to be 10 feet. After 7.5 million cubic yards of mud, dug-up from the bottom of the river and three years of shaping it into a golf course, Bergstol has a true links-style layout. The bright white clubhouse, which looks like a lighthouse, sits at the top and in the middle of the property and is at an elevation of 96 feet. There are parts of the course that are over 100 feet, which gives you a sense of just how much landfill we're talking about. It was Sezna who urged Bergstol to put the clubhouse where it is now. "It's like Cindy Crawford," says Sezna. "It looks good from every angle."
Like a center of a wheel, the course spokes out around the clubhouse. If you're not a fan of watching the planes land on the Hudson River, watching barges bring containers of goods in and out of the New York Harbor, a decent view of the back of Lady Liberty, the New York City skyline or various aspects of what you see of New Jersey, then the clubhouse is always there as an impressive form of visual relief.
When Bergstol speaks about Bayonne G.C. there's a quiet pride in his voice. As if he could care less whether or not you like it, that he knows it's special, and that if you don't appreciate it, it's your loss. He has close to 300 members who must agree with him and his vision--they've paid $200,000 to join. He'd like to eventually have 250 domestic members and 250 international members. He said there were roughly 9,000 rounds played last year. He figures 12,000 rounds will be played this year. He'd like to cap it at 20,000 rounds per year.
My thoughts on Bayonne G.C.? I like it. It's a par 72, tips out at 7,160 yards. It has a 74.4 course rating and a 143 slope (which means it's hard, especially when the wind blows). I enjoyed the back nine more than the front nine. I didn't need to hit driver until the sixth hole, and I was only using it there because I was going for the green off the tee on a short par 4. Holes 11 through 18 are a fantastic finish. My favorite hole is No. 12 (442-yard, par 4); standing on the tee, there is so much to look at. I also enjoyed the 10-degree temperature drop as you get close to the water.
Not only is it an efficient use of landfill, for the wealthy and successful, it's a huge advantage to have it be accessible from New York City by boat, helicopter, car and train. The club can arrange for a ferry to pick you up from Manhattan and drop you off at the dock Bergstol built behind the 16th green. There's a helipad, the path train to New Jersey from Penn Station, and it took me 30 minutes to drive the 12 miles from the east side of the city. The driving range is unique. You hit floating golf balls at targets in the water. The food is delicious. The clubhouse is impressive, inside and out.
I was fascinated by the massive American flag that hangs from a 150-foot pole right next to the clubhouse. This Old Glory is 40-feet high, 70-feet wide, and dances around in a stiff wind. You can see it and hear it snap throughout the round. It makes the same noise a bed sheet makes when you pull it up before you tuck in the corner, but it's a lot louder.
"How much does a flag like that cost?" I asked Bergstol. "I don't know," he replied. "Maybe four or five thousand dollars. Maybe a little more."
"Why did you make it so big?"
"I thought it was pathetic, as you come into the New York Harbor, you don't see an American flag--I fixed that," said Bergstol.
And then Bergstol brought it all back to young Deeg Sezna, his view from his office, 9/11 and a sense of perspective.
"I also wanted to make sure Deeg doesn't need binoculars to see the golf course any more."
In May, when they finished the clubhouse at Bayonne G.C., Bergstol had a ceremony--the American flag was raised in the name of Deeg Sezna.