The Loop
9 (not so) burning questions for the new NBA season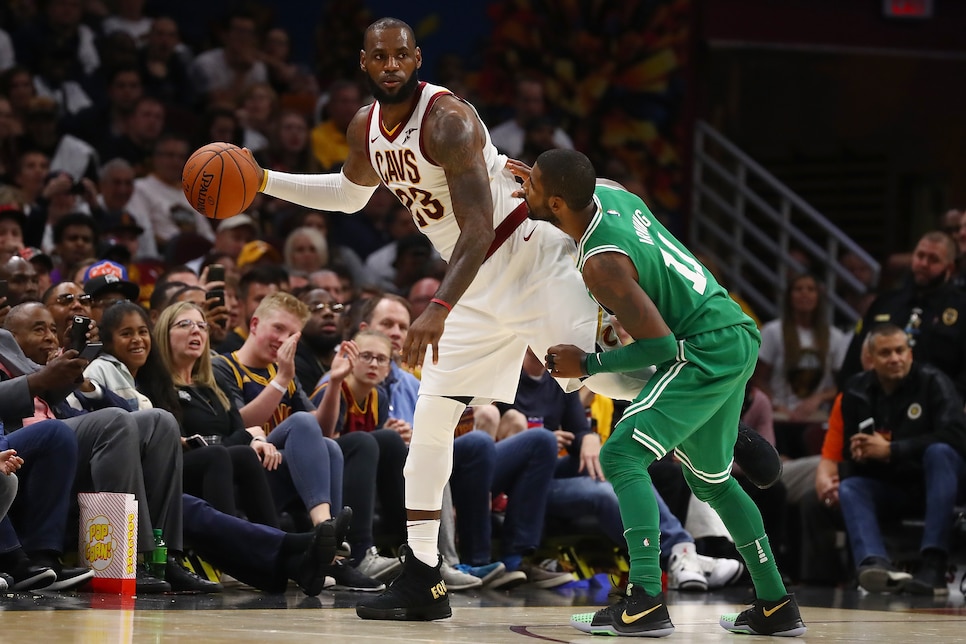 The NBA season is back, and with it, a rash of questions. But not of the "Is this LeBron James' last year in Cleveland?" or "Can anyone stop the Warriors?" variety (which, for posterity's sake, "yes" and "get out"). We're talking about the real issues at hand, ones you raise with your friends at the bar and argue about with random eggs on Twitter. And by "real," we mean, you know, nonsense. Here are the nine (not so) burning questions for the new NBA season.
Which franchise legend will James Dolan alienate?
Has to be Patrick Ewing. Now the coach of the Georgetown Hoyas, expect Dolan to make some asinine statement when Ewing returns to the Garden in a Big East matchup. Dark horse: Kristaps Porzingis. With Phil Jackson and Carmelo Anthony gone, Porzingis is now front and center for Dolan's wrath. If such an egregious act transpires -- and it forces the Unicorn to request a trade -- there's an 82 percent change New York City will riot.
What fan base has the most unrealistic expectations?
Unlike baseball, where every franchise has some version of "hope springs eternal," most NBA fans are grounded in reality regarding their team's prospects. We underline most, as there are a few notable exceptions; mainly, the Lakers. Los Angeles has averaged 23 wins the past four seasons and traded former No. 3 pick D'Angelo Russell for pennies on the dollar this offseason. That hasn't stopped purple-and-gold backers from peacocking like Shaq and Kobe just arrived via time machine. The cause for this excitement? A young core -- Lonzo Ball included -- deserves some credit, as does the misguided belief that LeBron will come next season. We'd be remiss in forgetting the additions of Magic Johnson and Rob Pelinka, hires that help calm one of the shakier front office situations in the league.
Still, while better days are on the horizon, it's a skyline that remains distant. Forget the playoffs; the Lakers will be lucky to win 30. Speaking of the Lakers...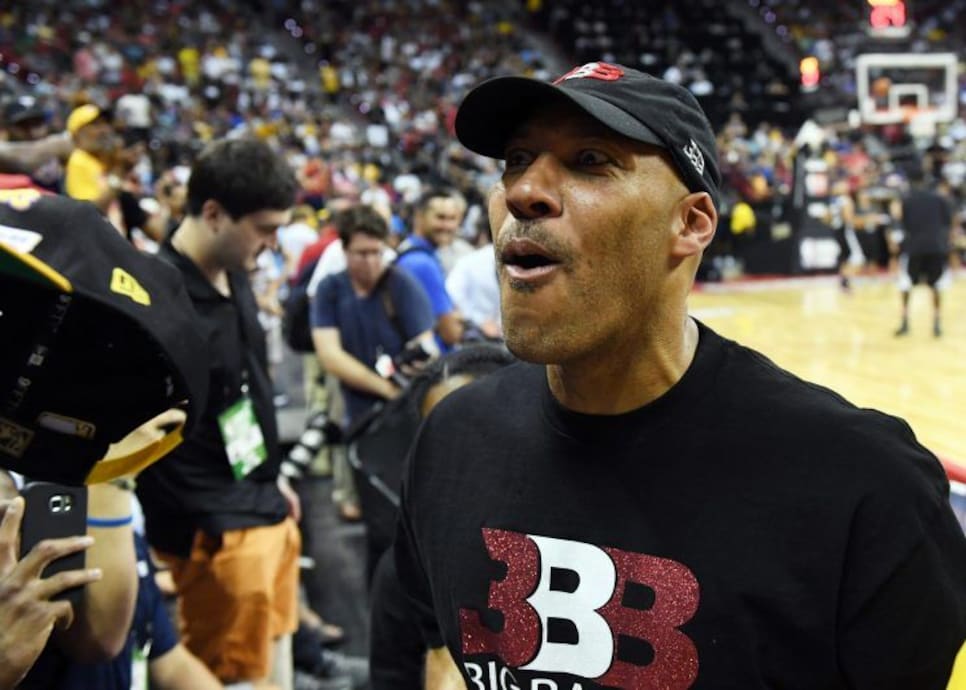 When will LaVar Ball run onto the court a la Shooter from Hoosiers?
Dennis Hopper's over-the-top character is the worst part of the best sports movie ever made. Keeping that in mind, LaVar's antics are so overblown that, if he were in a movie, you'd call B.S., claiming no one is that full of themselves. It's a matter of when, not if, Ball makes an ass of himself at a game this season.
In his 20th season, is Dirk Nowitzki still the man?
It's a simple answer, but one that's resolute: **** and Yes.
Will communal jersey bonfires become a thing of the past?
These godforsaken rituals hit a critical mass this summer when Isaiah Thomas was traded to the Cleveland Cavaliers. Nevermind that Thomas wanted to re-sign with Boston and was dealt against his wishes. Or that he was an integral role in reviving the team from its rebuilding stage, and, oh yeah, he played through injury and his sister's death last postseason, only to further aggravate his body because of it. In the eyes of some Celtics fans, because he was no longer wearing green and white, it was cause to burn the uni.
Luckily, most reasonable fans condemned this ridiculous act, with a host of tributes manifesting in response. The crowd shaming may have been enough to abolish this ceremony for good; conversely, it's not hard to imagine some dumb-dumb breaking out a fire if LeBron leaves Cleveland this summer. Crazy idea: if you're that pissed off that a player left your town, and you happen to own his threads, how about you donate that clothing to Goodwill?
Who will be the first NBA player to say their Twitter account was hacked after an embarrassing gaffe?
Joel Embiid. From calling out other NBA players to letting us know he's a fan of the Vampire Diaries, the man owns Twitter, which makes him the logical candidate. (He's so active on the buttons his own teammates were unable to spot which posts were fake and real.) And if the Sixers center ever shuts his account down in response, it would be a damn shame, because the cat's the most engaging athlete we've seen in decades. Of course, as long as the Process stays healthy, this is a blow we can recover from.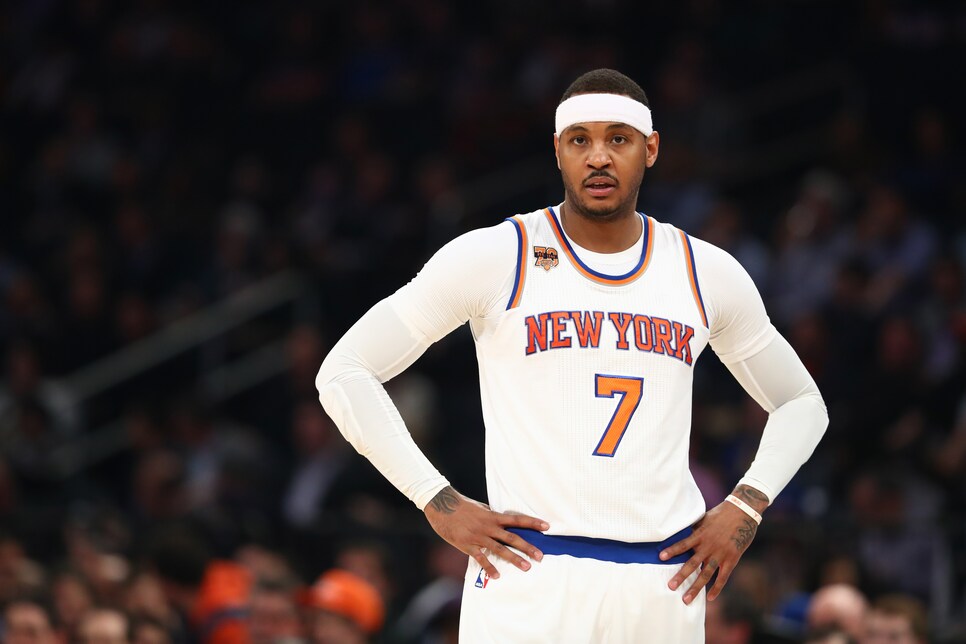 When will Carmelo Anthony's camp make the first passive-aggressive swipe at Russell Westbrook?
Sure, keep telling me two of the league's biggest ball-hogs—to say nothing of Paul George, a superstar in his own right—will make it work. Westbrook's play already alienated Kevin Durant, one of the top five pure scorers of all-time. That the combo lasted so long is a testament to Durant's subservient demeanor and patience, two sentiments that have never been said about Anthony.
Obviously other superteams have made it work, but those squads had the right match of personalities and personnel. The Thunder basically threw shit at a wall this summer, needing to do something to get Westbrook to stay. (And it worked!) Alas, while Anthony has shown he can be a team player in the Olympics, it's a different ballgame to do it over nine months. Let's call the over/under date for the first "Sources: Melo unhappy in OKC" report January 25th. Take the under.
Will Skip Bayless be able to top this incendiary, insensitive take?
Moments after Gordon Hayward suffered a horrific, possible career-ending injury, the human form of SPAM email Fox Sports 1 personality Tweeted these words of wisdom:
Even for a man who's built a livelihood by tearing others down, this was low. Like, FS1 ratings low. But here's the thing: that's the whole point of the Skip Bayless Experience. The man makes you wonder if society's hit rock bottom, only to take a stick of dynamite to that bedrock and find another pit of despair. I wouldn't be surprised if he eventually blames LeBron for the national deficit.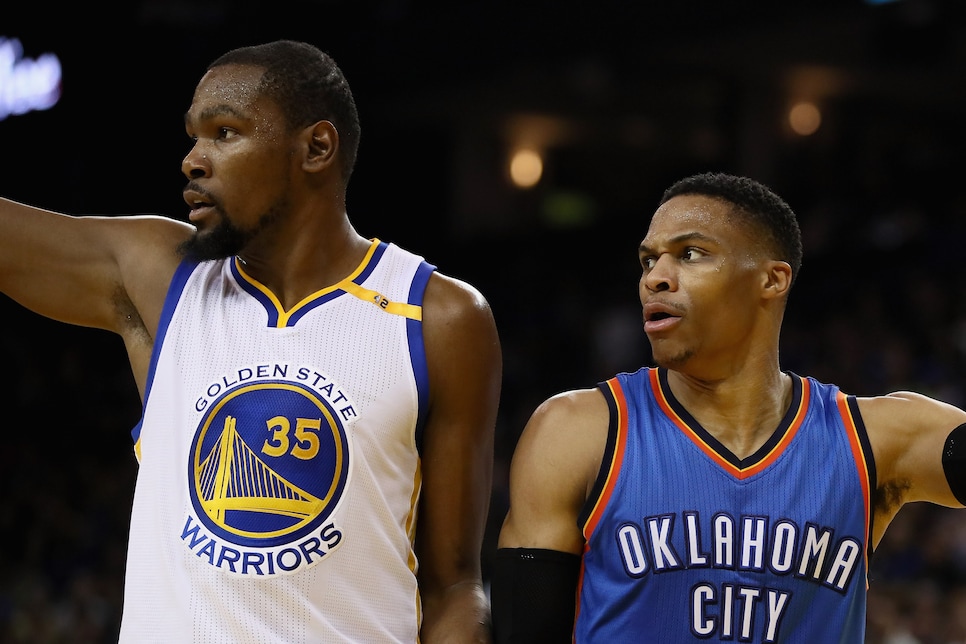 What are the most likely awkward All-Star scenarios?
In case you missed it, this year's All-Star teams will be chosen by the league's top two vote getters. Our own Christopher Powers covered this topic a few weeks back, but it bears repeating. Some scenarios in play:
-- Kevin Durant and Russell Westbrook as captains. Actually, this isn't awkward; it would be fantastic. Please, Adam Silver, make this happen.
-- All the Warriors making it on one team except Draymond Green.
-- LeBron holds off on picking Kyrie Irving until the final pick.
By the way, the game is still going to suck, but at least the draft will be entertaining.