Courses
75 Best Golf Resorts In North America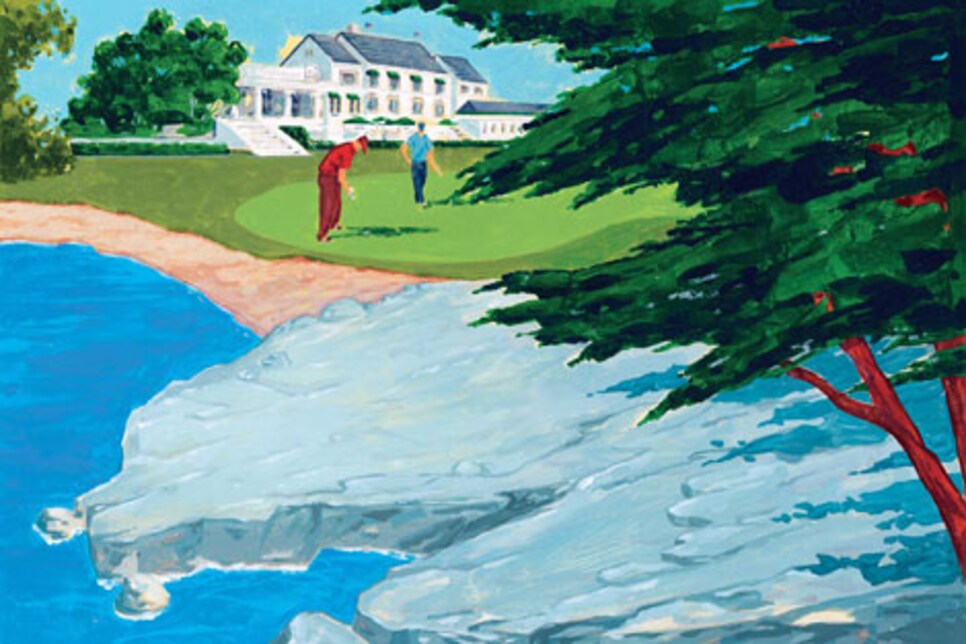 Nobody could fault The Greenbrier's employees for expecting the worst. Summoned to the resort's 750-seat Colonial Hall on May 7 without explanation, many had to assume they were being fired. Everyone knew The Greenbrier was in deep financial trouble. Battered by the economy, owner CSX Corp. had recently furloughed several hundred workers and placed the resort in Chapter 11 bankruptcy protection.
But management had a different sort of surprise for employees that morning. "Ladies and gentlemen," said Greenbrier President Michael Gordon from the stage, "I'd like for you to meet the new owner of The Greenbrier, Jim Justice."
The announcement was so unexpected, it seemed like a miracle.
The room erupted. Employees jumped to their feet and cheered, hugging each other and high-fiving, many of them in tears.
"It was a great day to be Jim Justice," the new owner recalls with a smile.
James C. Justice II, a West Virginia native who made his fortune in coal mining and agribusiness, has big plans for the 6,500-acre resort. He has rehired all furloughed employees and, during the next 18 months, intends to spend $125 million on new amenities, including a casino, 1,500-seat theater, teen center and new dining options. Justice also has lined up a PGA Tour event.
At Oregon's Bandon Dunes Golf Resort, owner Mike Keiser recently added an inn and a new restaurant at the Pacific Dunes course, and next year he'll unveil his fourth course, the much-anticipated Old Macdonald. Boca Raton Resort in Florida is fresh off a $220 million investment that produced three new pools and a fitness center, among other improvements. Indiana's French Lick Resort spent more than $500 million renovating two hotels and building a Pete Dye course, a casino and a spa.
Consultant Henry DeLozier of Toronto's Global Golf Advisors is not surprised. "Patrons of these kinds of resorts have high standards," he says, "and they're not willing to compromise those standards" just because the economy is in the dumps.
We created our list of top golf resorts with the help of Golf Digest's 900-plus course-rating panelists, who also produce our biennial ranking of America's 100 Greatest Courses. They rated hundreds of U.S., Canadian, Mexican and Caribbean golf resorts on a scale of 1 ("awful") to 10 ("perfect"). We averaged their ratings and multiplied the result by 10 to come up with a score for each.
Pebble Beach regains the No. 1 ranking, a position held by Sea Island in our previous resort survey (December 2006). Rounding out 2009's top five are Sea Island, Bandon Dunes, Four Seasons Resort Hualalai and Fairmont Banff Springs.
Like these five, all the resorts on our list deliver a fine combination of golf, lodging, food and service. Yet as a consumer, it's worth remembering that each offers a unique mix of those elements -- and thus, a resort's precise place on the ranking is less important than the fact it is on the list.
Consider our Nos. 8, 9 and 10: The Greenbrier, the Homestead and Pinehurst, all separated by no more than four-tenths of a point. The first two are more family-oriented destinations, with a rich supply of nongolf diversions including hunting, fishing, mountain biking, even falconry. Pinehurst has a spa, yes, but the real draw is its eight golf courses, one of which is a regular U.S. Open site. The "serious golfer" looking for 36 holes a day is likely to gravitate there.
Wherever you end up on a golf trip these days, expect to see fewer people than in years past. Through June, occupancy at U.S. golf resorts was down nearly 16 percent from 2008 levels, says Jan Freitag, vice president of hotel specialists Smith Travel Research in Hendersonville, Tenn. "We haven't seen anything like this since immediately after 9-11," he says.
Room rates at golf properties have tumbled too, dropping by an average of 10 percent in the first half of 2009, Freitag says. That's obviously good news for consumers, though you shouldn't expect to see across-the-board price cuts at top resorts. "Value" is what many of them are pitching. They're packaging more goods and services together for one price, including meals, spa vouchers, golf-shop credits and the always popular "unlimited golf."
Don't assume you need to accept the package deals you are offered. "People can call up a resort reservationist and get a package that's just right for them," says consultant DeLozier. "They'll say, 'We don't really want a spa visit, but we want you to throw in breakfast every day instead.' "
At the same time, resorts are having to cut some corners -- even at the highest levels. So don't be shocked if, for example, one of a resort's courses is temporarily closed when you arrive in an off-peak month. Sea Island did this last year with its Retreat Course. Others are closing some of their restaurants at times. And some are curtailing course maintenance where appropriate. Michigan's Grand Traverse Resort, for example, has designated some out-of-play areas as money-saving "no-mow" zones.
The good news for resorts is "everything is cyclical, and this too shall pass," says Freitag. Gross domestic product growth "is going to be positive in the first quarter of 2010, and room demand ought to be about a quarter behind," he predicts.
Still, it's going to take more than a few positive quarters to get big, high-maintenance resorts back on solid financial footing. Take The Greenbrier, which cost Jim Justice $30.6 million. It showed losses of $38 million in 2008.
"If you just sat on your hands and were an absentee owner, it would bleed you to death," concedes Justice, 58, who has no previous experience in the resort business. But he is counting on his energy and passion for the resort, where he competed in amateur golf tournaments as a boy, to carry the day. "My plan is, 'Don't disturb the eloquence, but inject the energy back into the grand old lady.' ... It's going to take a lot of my time. But I really and truly know what we need to do."