Stinger contest
How an unusual series of events led to a series of mind-blowing drives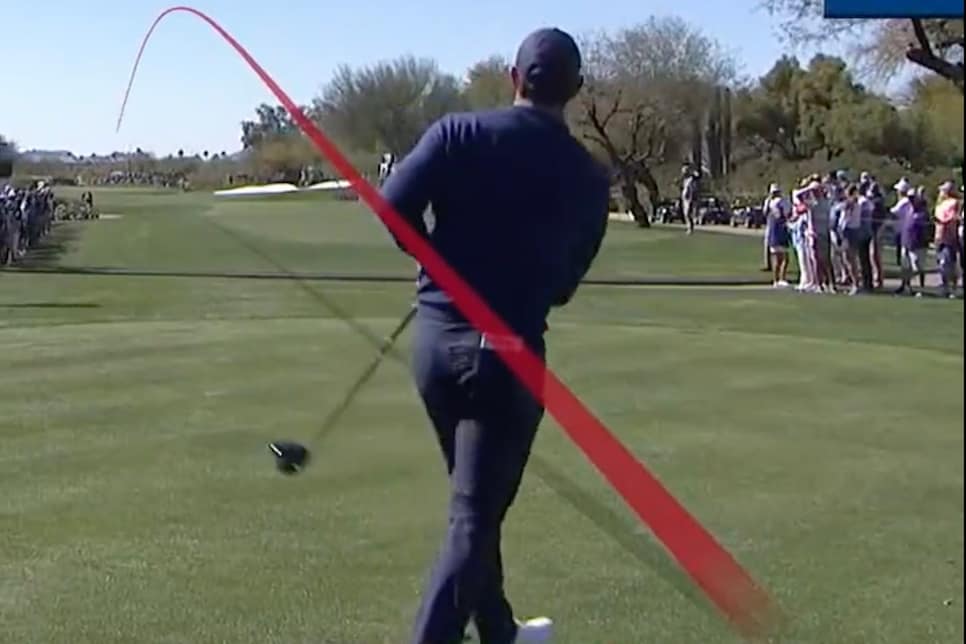 SCOTTSDALE — Everybody knows the stadium hole is the place to be during the WM Phoenix Open. But it was the otherwise nondescript fifth tee box that was the best seat at TPC Scottsdale on Friday.
It was an unusual day in the Arizona desert. A frosty one to start turned sunny and very windy. And when the wind did blow, it moved out of the northeast.
"It's usually out of the south," said first-round leader Nick Taylor, a Canadian who now lives in Scottsdale and frequents the facility. "I don't see a whole lot of northeast winds here."
That unusual confluence of events meant TPC Scottsdale's downhill, 470-yard par-4 fifth hole played almost exactly downwind. The hole's length and lack of other obstacles allowed players to pull driver relatively risk free, and it led to some interesting golf shots.
The players who took advantage of the unique set of circumstances the best, like those listed below, were those who started the ball low. Really low. While that may sound counterintuitive—after all, wouldn't you want to send a drive high into the air when you've got the wind at your back?—it made sense given the setting. The goal, ultimately, was to get the ball started in the fairway and let the slope and firm fairways do the rest. It effectively led to a stinger-driver contest.
The average PGA Tour launch angle—which measures the direction the ball flies off the face—usually hovers close to 11 degrees, but those who fared the best sliced that number in half.
Rory McIlroy: 4.89 degrees
Gary Woodland: 0.27 degrees
Corey Connors: 3.57 degrees
Shane Lowry: 1.62 degrees
Billy Horschel: 7.85 degrees
With the tailwind providing some extra horsepower, it led to a series of low, hot drives that rolled forever. Gary Woodland's drive, which rolled 84 yards, reached an apex of just 33 feet.
Rory McIlroy: 366-yard drive rolled 102 yards.
Gary Woodland: 381-yard drive rolled 84 yards.
Corey Connors: 376-yard pop rolled 71 yards
Shane Lowry's 368-yard drive paltry 77 yards.
Billy Horschel claimed the longest drive of the day: A whopping 381-yard pop that, coincidentally, also rolled 77 yards too.
All of which is to say, maybe we should go work on our stinger drivers. It's a shot that may come in handy one of these days. Only problem is, the pros make hitting it look easy.