Instruction
America's Fifty Greatest Teachers
52 / Dallas / $500 an hour / 307 votes
Hank haney had earned plenty of teaching accolades before starting to work with Tiger Woods in the spring of 2004. Haney had won the 1993 National PGA Teacher of the Year award and a shelf full of regional honors and had taught more than 200 pros on every major tour.
But Woods' win at the 2005 Masters—his first major victory since the two had teamed up—was supreme professional vindication. For both men. "The scrutiny he's under, and, in turn, I'm under, it's unprecedented in golf," says Haney, who spends more than 100 days a year on the road with Woods. "When he won that Masters, my first feeling was relief. Then, it was time to get back to work."
Woods' obsessive drive and perfectionism are a perfect match for Haney's work ethic and attention to detail. "When he wins, I'm so excited that I'm up until 3 a.m." says Haney. "Then I'm up at 6, with my head just buzzing with ideas for helping him get better and wanting to go to it. Tiger is the same way, and that's why this is so fun and so much of a challenge. Even with all the scrutiny that comes with it, it's the opportunity of a lifetime, to work with somebody so physically talented and mentally gifted. I wouldn't trade it for anything."
Go Across The Line, And You'll Get Stuck
Set the club parallel to the target line at the top.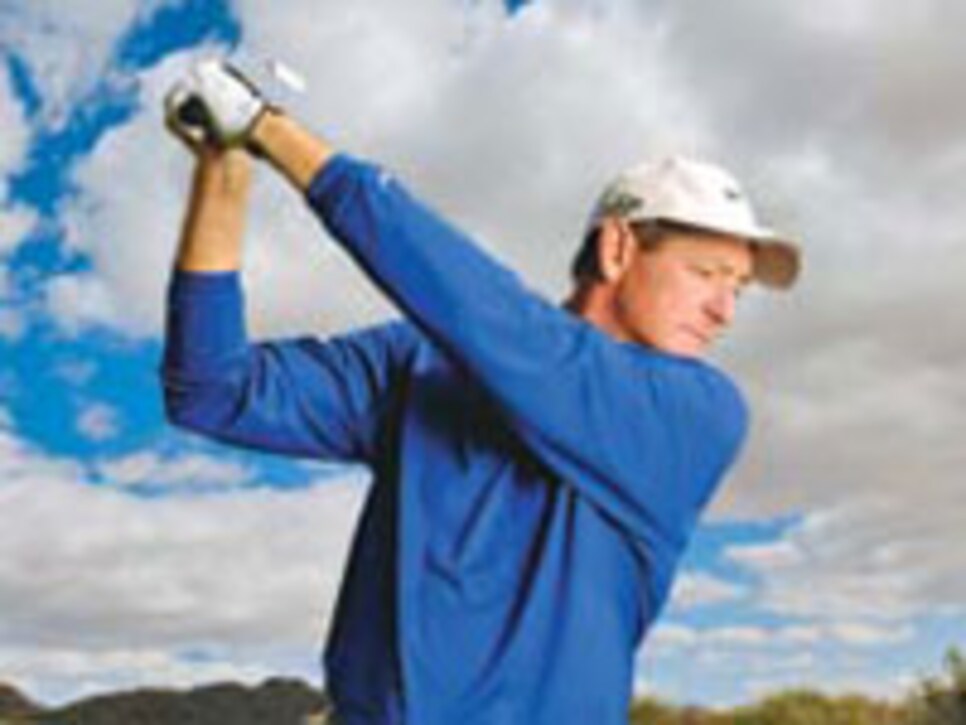 Nothing is more damaging to your game than the two-way miss. One major reason it happens is the club going across the line—pointing to the right of the target—at the top.
If the club is across the line (or too upright) at the top, it will have a tendency to drop too far to the inside and behind you on the downswing. Two things can happen from there: If your body stays back, the hands will flip, and you'll hit a low hook; if your body moves forward, you'll hit a high block. When you're missing on both sides of the golf course, you're in big trouble. You want the club to be parallel to the target line at the top.