Crunching the Numbers
What these 5 stats had to say about Day 1 at the U.S. Women's Open
PEBBLE BEACH — A maiden trip to Pebble Beach is not the only first for the LPGA Tour this week. The 78th U.S. Women's Open also marks the first time a full ShotLink system is tracking the best in the women's game, providing strokes-gained data from off the tee, approach, around the green and putting for the entire field. Here are five notable insights from Thursday's opening round.
1. The right "approach" pays off
Hyo-Joo Kim and Xiyu Lin shared the Day 1 lead with matching four-under 68s. Kim and Lin were also first (4.48) and third (3.77), respectively, in strokes gained/putting. Only Nasa Hataoka (eighth) of the six players at T-3 is in the top 10 of strokes gained/putting.
However, the majority of players in the top 10 on the leaderboard are also in top 12 in strokes gained/approach with amateur Aine Donegan in first (4.35), Allisen Corpuz in fourth (3.78), Bailey Tardy in fifth (3.58), Hae Ran Ryu in sixth (3.58), Leona Maguire in eighth (3.28), and Hataoka in 12th (3.05). Surprisingly, the leaders trail by a decent margin, with Kim in 25th (1.9) and Lin in 38th (1.43).
2. Annika Sorenstam's still got it … around the green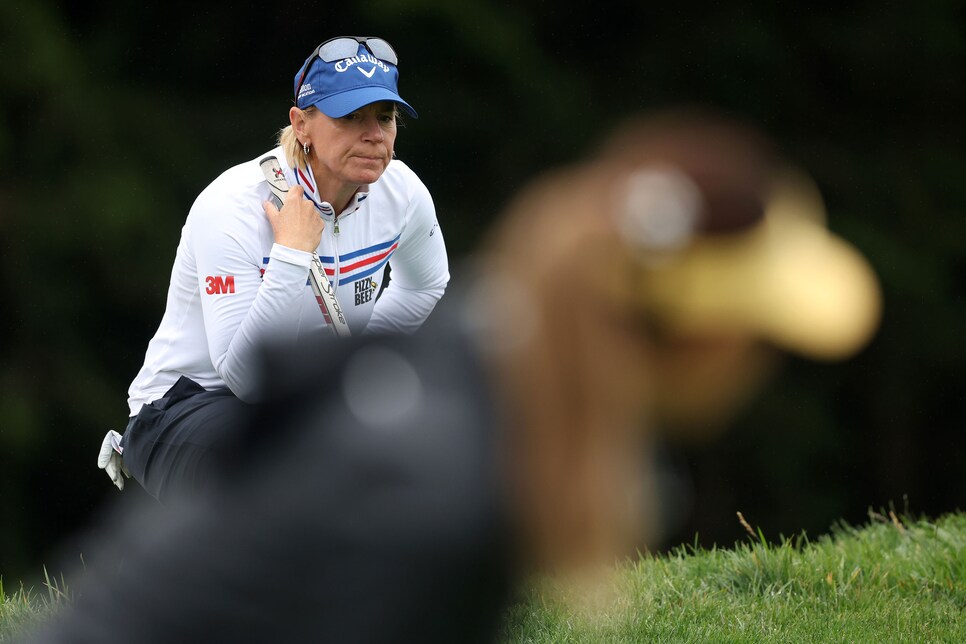 Posting an 80, even for Sorenstam at 52, seems inconceivable for one of the game's all-time greats. Sorenstam finished in last in strokes gained/off the tee, making sense, given she only hit one fairway. A lone bright spot was ending up with 2.51 strokes gained/around the green, the sixth best in the field. While her capabilities on a major venue are different from what they were in her prime, the 72-time winner needed no data to know the best part of her game Thursday.
"I'm disappointed in that [80], but I fought really hard," Sorenstam said. "I thought I made some great saves. It sounds funny when you have this score, but I did."
3. An amateur leads the field in this SG stat
Donegan, an amateur from Ireland who plays college golf at LSU, posted a 69 despite her clubs not arriving until Tuesday. That that makes her 4.35 strokes gained/approach stat even more impressive, particularly too considering she hit only 12 greens in regulation. The Irishwoman bested defending U.S. Women's Open champion Minjee Lee in the category, with the Australian sitting at 4.05 strokes gained/approach.
Donegan's driver clubhead also arrived smashed to Pebble Beach, but she raved about the replacement one she put into her bag this week, saying it fueled her ability to play well into the greens by outperforming the field from the tee box as well. Donegan sits in second in strokes gained/off the tee (1.58).
4. One of the most consistent U.S. Women's Open performers leads SG/off the tee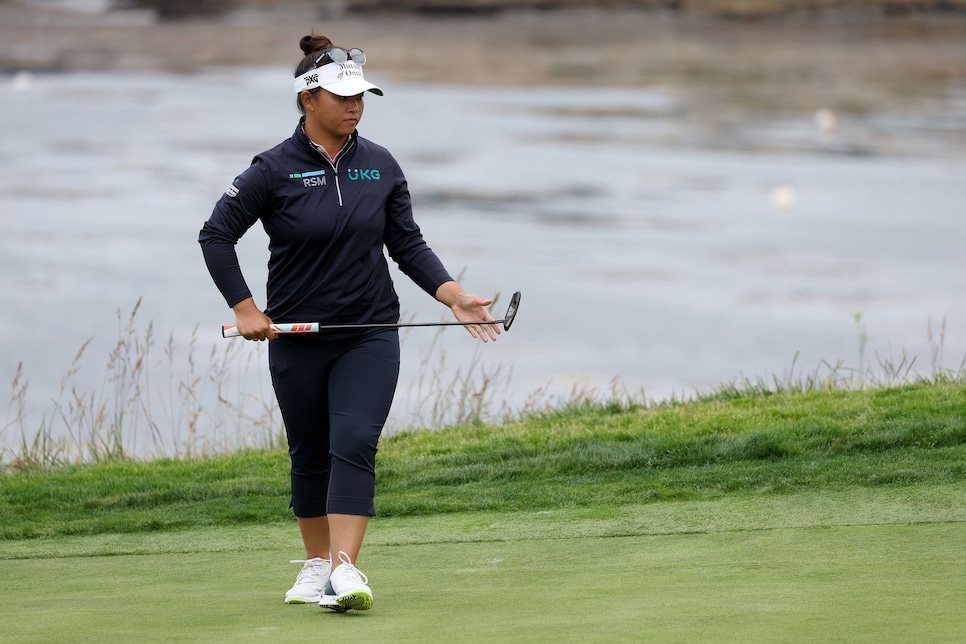 Megan Khang has rattled off three consecutive top-10s at the U.S. Women's Open, and is lurking at five shots off the pace after the first round. Her secret sauce might lie in her ability from the tee, as finding 13 of 14 fairways contributed to her leading 1.84 strokes gained/off the tee. That's .26 ahead of Donegan. In a reminder of how distinct strokes gained/off the tee is, compared to driving distance, the longest player in the field Thursday, Amelia Garvey, sits in 114th in sstrokes gained/off the tee at -.39.
5. Michelle Wie West didn't lie—she doesn't like putting drills
Entering Wie West's final competitive start, she shared the thing she won't miss the most.
"The putting drills that I'm doing, you'd best believe I'm not going to do another putting drill for the rest of my life if I don't need to," Wie West said.
Fitting, then, that the 2014 U.S. Women's Open winner finished last in the field in strokes gained/putting at -4.18. Wie West carded a 79, sitting T-126. Impressively, she kept her touch, finishing 11th in strokes gained/around the green (2.01).