Gambling
3M Open 2020 expert picks and best bets: We're playing a dangerous game with Brooks Koepka this week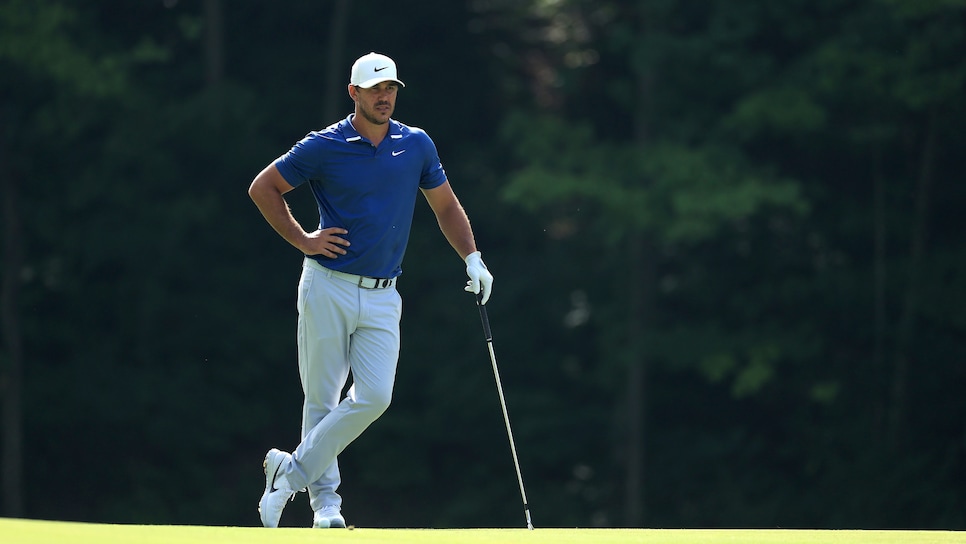 But after weeks of major-like fields, the lineup in Minnesota this week does feel like a letdown. The consensus among the gambling community is that makes it a lot tougher to handicap, as it's difficult to find value. But that's not going to stop us from giving it our best effort. Plus, we have a hot streak to maintain.
Last week, numberFire/FanDuel's Brandon Gdula kept it rolling with his outright bet on Jon Rahm, making it 13 out of 27 tournaments that the Golf Digest expert panel has picked correctly this season, putting our panel collective up more than 270 units (that's $2,700 on $10 bets). Stick with us, folks.
That panel consists of a tour caddie, offering insight from the range and putting green at this week's 2020 3M Open; picks from three of the most respected experts in the daily-fantasy community, including Gdula; Pat Mayo of DraftKings, and Rick Gehman, a leading data scientist and founder of RickRunGood.com; and Lee Alldrick of FanShare Sports, which tracks DFS ownership and sentiment.

Read on to see who we like this week at the 2020 3M Open.
3M Open 2020 Picks To Win (Odds from DraftKings)
Anonymous Caddie Picker of the week: Harris English (35-1) — The big-hitting Georgian is working toward something big. He has been so consistent this year, it just feels like the win is coming. And at these odds against this field, this is an attractive number.
Pat Mayo, DraftKings/Fantasy National analyst: Paul Casey (18-1) — There's a clear tier break at the top end of the odds board, followed by a middling second tier. Casey is in between but closer to the top tier, and we're getting a price break. He actually played pretty well last week outside of one hole (making that 8 on the par-3 12th), and TPC Twin Cities fits perfectly into his all ball-striking game plan.
Brandon Gdula, FanDuel/numberFire managing editor: Paul Casey (18-1) — TPC Twin Cities fits Casey about as well as we could hope, as we need ball-striking and can downplay short game and putting. Last year at this course, Matthew Wolff and Collin Morikawa led the field in strokes gained/tee to green but gained less than 0.7 strokes putting each to finish at the top of the leaderboard. Casey missed the cut last week, and his price dropped from what it should be. Casey ranks in the top three in strokes gained/off-the-tee and strokes gained/approach over the past 50 PGA Tour rounds, via FantasyNational.com.
Rick Gehman, data scientist and RickRunGood.com founder: Paul Casey (18-1) — The "boxscore" will show Casey's missed cut last week and nothing else. A deeper dive will show that he carded an 8 on the par-3 12th hole on Friday, which derailed his tournament and sent him packing, missing the cut by one stroke. For 35 holes, Paul Casey played the incredibly difficult Muirfield Village at 1-under, but he played one hole at 5-over alone. Per the RickRunGood.com database, he was eighth in the field in strokes gained/off-the-tee through the two rounds that he actually played. Casey is a notoriously great ball-striker being overlooked because of one bad hole.
Stephen Hennessey, Golf Digest dep. managing editor: Tony Finau (14-1) — This is not the sharp play. 14-to-1 odds on Tony Finau, someone without more than alternate-field win to his resume, is not a good bet, others will tell you. Cashing winning bets, however, is all that matters. This field is so much worse than last week's, and I get it, he really struggled on the weekend. But Finau is a birdie machine. He's second in Birdies Gained in this field, per FantasyNational.com; first in strokes gained/tee-to-green and fifth in strokes gained/approach in the past 50 rounds. Sometimes you have to ignore the odds and accept poor value on a bet. I hope we're both happy you do so come Sunday.
Christopher Powers, Golf Digest assistant editor: Matthew Wolff (28-1) — It's very hard to make a case for any of the top six or seven favorites this week. For me, the only place to find value is in Matthew Wolff, the defending champ. He just had a close call at Rocket Mortgage, then quietly finished 22nd last week in some brutal conditions. Last year at the 3M, he gained a ridiculous 13.3 strokes tee-to-green and just 0.7 putting. He should feast tee-to-green again this week, which will lead to a bunch of birdie chances. Just have to convert as many as possible to have a chance.
Lee Alldrick, FanShare Sports: Lucas Glover (25-1) — Glover has been getting very close to returning to his best. He ranks first in the field in strokes gained/tee-to-green over the past two months. He also ranks 10th in our course-suitability ranking, due to his excellent Off The Tee and Approach game on these easier courses. His course fit and current form make him a lovely match for this week's 3M Open.
Results from this season: Brandon Gdula of numberFire/FanDuel added his sixth correct prediction in this column this season with Jon Rahm's win. That's four correct picks in the past five events, including six outrights in the past eight events. We have correctly predicted 13 of the first 27 winners this season. Golf Digest's betting panel continues to be the hottest golf betting panel in the industry: Counting outright winners, top-10 bets and matchups won and lost, we are up 270.78 units (the equivalent of being up $2,707.80 if you wagered $10 on all of our bets).
Sleepers/Dark Horses That Could Win the 2020 3M Open (odds from DraftKings)
Caddie: Wyndham Clark (100-1) — He hasn't really found his form yet since the return to golf, but what better place to back him than a place where he bagged a top 5 last season.
Mayo: Bernd Wiesberger (90-1) — The Austrian was back on the course for the first time since the restart and it was a rough go. But to make your return at one of the toughest setups we've seen in some time, that's tough. He's still the No. 29-ranked player in the world, and you can grab him at a deeeeeeeeeep number. And the scoring expectation and field strength in Minneapolis is pretty close to the birdie fests he tends to win over in Europe.
Gdula: Max Homa (60-1) — Homa has a similar profile to last year's winner, Wolff, as a good but inconsistent ball-striker. He's missed four of five cuts since the break but hasn't gained strokes putting in any of those. He's had some top-tier iron showings, though, and in a field like this, he can linger. The course suits him.
Gehman: Bernd Wiesberger (90-1) — Consider this incredible value. Playing a primarily European schedule, Wiesberger finished third in the "Race To Dubai" last season, the European Tour's equivalent of the FedEx Cup Playoffs. He captured three victories in 2019, more than almost any of his other peers in this price range can boast. Normally, we only see Wiesberger play WGC events, but he's opted to tee it up this week, which will be the weakest field, by far, that he's ever seen in a PGA TOUR event.
Hennessey, Golf Digest: Kristoffer Ventura (90-1) — Matthew Wolff announced his presence on the PGA Tour here last year; why not another Oklahoma State standout? Ventura won twice last year on the Korn Ferry Tour and finished 21st in his last PGA Tour start at the Rocket Mortgage, also a birdie-fest in a weaker field. Maybe this is Ventura's time.
Powers, Golf Digest: Charley Hoffman (70-1) — You probably didn't even notice it, but Chuck Hoffman finished seventh at Muirfield Village. OK, so it was the Workday and not the Memorial, but still a good sign that the Hoff's game is coming back around. The four-time tour winner missed the cut here by three last year, but that was with a pair of double bogeys. If he can avoid the big number this week, he'll be around for the weekend, and I can absolutely see him contending. He's fifth in Birdies Gained per FantasyNational.com, which should be an important metric for success this week. Don't be afraid to sprinkle on him to be first-round leader, which he's been known to do.
Alldrick, FanShare Sports: Bernd Wiesberger (90-1) — These easier courses are the exact types of courses where Wiesberger thrives. Following a return to action last week at the tough Memorial, Wiesberger will be game ready and confident after notching four wins in the past 14 months.
Players to Fade This Week (who will disappoint)
Caddie: Dustin Johnson (12-1) — I'm sorry: Not even DJ can come back and win after shooting back-to-back 80s last week. He lost the most strokes in his short game than he has in over five years, but he was also negative in other categories. I expect him to use this week as a prep for the PGA.
Mayo: Brooks Koepka (14-1) — Maybe this is the week he returns to form. I'd be happy for the guy, but nothing really points in that direction. Apparently his knee still hasn't healed, and there's just no value in his number this week.
Gdula: Matthew Wolff (28-1) — There are some (probably overpriced) favorites in the field, but it's easy to justify a return to form for someone of their caliber. For Wolff, he's priced here because he won this event last year. Wolff lacks the consistency with his iron play to treat him like a true favorite. I wouldn't be surprised to see him lurking on Sunday, but there are better values right above and below him on the board, given his profile.
Gehman: Henrik Norlander (40-1) — Norlander has become a sweetheart in fantasy and betting communities for his great run of golf during the PGA Tour's restart. He's notched four consecutive cuts made and finished T-6 last week at the Memorial. Don't fall into the trap. Norlander rode a scorching putter to that finish last week, gaining 8.43 strokes on the greens. That was second-best in the field and the single-best event of Norlander's young career. Don't expect anything close to that on the greens this week as Norlander comes back to Earth.
Hennessey, Golf Digest: Brooks Koepka (14-1) — The strokes gained/approach numbers are very middling, ranking 74th in this weak field in the past 50 rounds, per FantasyNational.com. In the past 24 rounds, it's even worse (82nd). That's just too much inconsistency to expect it to all click this week.
Powers, Golf Digest: Brooks Koepka (14-1) — After picking him the last two weeks, I think I've had enough. He'll probably win by five now.
Alldrick, FanShare Sports: Brooks Koepka (14-1) — It sounds strange but Koepka doesn't have the birdie power to compete at these types of courses right now. When you don't statistically gain strokes putting on Bentgrass greens, it's going to be difficult pulling away from the field over four rounds.
3M Open 2020 picks: Matchups
Caddie: Tony Finau (-120) over Tommy Fleetwood (William Hill) — Though I don't have the confidence to say Finau will get over that hump to win this week, I do love seeing him play well. And to put that up against the uncertainty of Fleetwood's game is something to be confident in.
Mayo: Dustin Johnson (-120) over Brooks Koepka (DraftKings) — Dustin was dismal last week, but he has won three times in his career following a missed cut, so it's clear he has a short memory. This is a battle of the best players in the field, and I'll pay the small price on the guy who won two weeks ago.
Gdula: Harris English (-115) over Bubba Watson (FanDuel) — Among this field, English, over the past 50 rounds on Tour, ranks better than Watson in strokes gained: approach (18th to 35th), around the green (39th to 123rd), and putting (9th to 46th). The only area in which Watson wins is off the tee (10th to 11th). English has been the better player.
Gehman: Bubba Watson (-110) over Matthew Wolff (DraftKings) — Both players are very intriguing this week but Watson has really caught my eye. He gained 7.85 strokes on approach last week, the third best number in the field. If you want to look at total ball-striking, he gained 10.76 strokes on the field, second to only Xander Schauffele. TPC Twin Cities should offer Bubba exactly what he wants, a course to bomb it around with no threat of rough and plenty of birdie opportunities lurking.
Hennessey: Emiliano Grillo (-120) over Russell Knox (DraftKings) — I'm taking a dive into the treacherous waters of Team No Putt this week by taking Grillo. The ball-striking numbers are so good, and yet the putting is so bad. TPC Twin Cities is a course where putting should be negated. Knox is more of a grinder than a birdie machine, so I'm willing to hold my breath and hope something can rescue Grillo's putter.
Powers: Tony Finau (-120) over Tommy Fleetwood (William Hill) — Normally, I only go with plus-odds or the dogs in these matchup bets, but I think Finau is a very strong play here. I have no doubts he'll bounce back in a big way. Fleetwood, meanwhile, is making his first start since Bay Hill. I'm sure he's ready to go and he'll more than likely make the cut, but that's still a long layoff to come out of and contend right away.
Alldrick, FanShare Sports: Lucas Glover (-110) over Russell Henley (Betfair) — As you've seen above, I like Glover to win this week so being offered almost even money against a guy he statistically gains 0.6 shots/round against on Bentgrass greens is a big green light.
Matchup Results from Memorial: Tour Caddie: 1 for 1 (Brooks Koepka (+110) over Hideki Matsuyama); Gdula: 1 for 1 (Justin Thomas (+100) over Bryson DeChambeau); Powers: 1 for 1 (Patrick Reed (+100) over Daniel Berger); Mayo: 0 for 1; Gehman: 0 for 1; Hennessey: 0 for 1; Alldrick: 0 for 1
Matchup Results from this season: Powers: 10-4-1 (+6.59 units); Alldrick: 15-8-2 (+4.95 units); Tour caddie: 13-8-1 (+4.46 units); Hennessey: 9-6 (+4.09 units); Gehman: 4-2 (+1.62 units); Mayo: 11-14 (-2.86 units); Gdula: 9-13-2 (-3.22 units)
3M Open 2020 picks: Top 10 (odds from FanDuel Sportsbook)
Caddie: Luke List (+500) — People are remembering just how good Luke List is. The guy finished runner-up at the U.S. Amateur and made the cut at the 2005 Masters. He's played some extremely good golf since the return and he's coming off a top 10 at last week's Memorial. This is a driver-heavy course, which suits his game.
Mayo: Doc Redman (+600) — Redman has carded three consecutive top-25 finishes before forgetting how to putt at Memorial. Seriously. Even though he gained over three strokes ball-striking in just two rounds, he lost an otherworldly six strokes on the greens. Now, Doc isn't a great putter, but he had gained over three strokes with his flagstick in three of past six starts coming in. Start rolling it a little and let the elite ball-striking do the rest of the work.
Gdula: Tom Hoge (+1200) — Hoge picks up strokes from his approach play very frequently and rates out as one of the best iron players in this field. That's a good start, especially at these odds. He struggled at Muirfield Village both weeks, but this field is a lot easier than that one was, and that should benefit him. Neutral data against good fields should lead to good data in this field.
Gehman: Erik van Rooyen (+430) — The South African has shown us that when he hits it well, he can compete in any field. His 8.33 strokes gained on approach last week was second to only Ryan Palmer and was the third time in his last seven starts that he's gained at least five strokes from tee-to-green. To put that into perspective, Patrick Cantlay has only gained 5+ strokes from tee-to-green twice in his last seven starts. Van Rooyen certainly won't be as consistent as Cantlay, but possesses incredible upside in a very weak field.
Hennessey, Golf Digest: Sam Burns (+500) — I love the recent form (17th, 30th, 24th in his past three starts), plus a seventh-place finish here last year. Usually you target Burns on Bermuda greens, but it appears like TPC Twin Cities and its Bentgrass greens also suit Burns' eye. He'll be pretty popular in DFS this week, and I think rightfully so.
Powers, Golf Digest: Charles Howell III (+900) — I'm so bad at these top 10 bets that I might as well start going with a sure thing. Is there anything more sure than CH3 in the top 10? Well, yes, considering he hasn't had one since the Zozo. All the more reason to back him to get back to his ATM machine ways, right?
Alldrick, FanShare Sports: Brian Harman (+470) — Harman's form has been very good since the restart. He ranks 12th for strokes gained/tee to green and seventh for Opportunities Gained, per FantasyNational.com, since Colonial. A seventh-place finish here at TPC Twin Cities shows the course suits his eye.
Top 10 Results from Memorial: Hennessey: 1 for 1 (Jon Rahm (+275); Everyone else: 0 for 1.
Top 10 Results from this season: Mayo: 4 for 23 (+12.5 units); Hennessey: 4 for 14 (+5.75 units); Alldrick: 5 for 24 (+2.5 units); Gehman: 1 for 6 (+1 unit); Gdula: 3 for 25 (-6.8 units); Powers: 1 for 14 (-11.3 units); Tour caddie: 1 for 32 (-18.5 units)
8.89 — The number of total strokes Dustin Johnson lost in "short game" last week at the Memorial, en route to carding two rounds of 80. The strokes gained/putting stat, a combination of around-the-green-plus-putting, was the worst measured for Johnson in at least the last five seasons.
0.56 — The average number of strokes gained putting by Patrick Rodgers on Bentgrass greens, dating back to 2015. That's the 12th-best mark in the 3M Open field, and the most of anyone with at least 50 rounds on the surface. TPC Twin Cities features bentgrass greens.
17.05 — The total number of strokes lost from tee-to-green for Harry Higgs in his last five starts. Once a DFS and betting darling, Higgs has the seventh-worst mark of anyone on tour in that span.
740 — The number of rounds played by Rory McIlroy on tour dating back to the final round of the 2011 Masters. McIlroy has carded two rounds of 80 in that span. Dustin Johnson carded two rounds of 80 last week.
Click below to listen to Golf Digest's weekly betting podcast, "Be Right," where we discuss our bets for the week, as well as chat with Jason Sobel of the Action Network, who broke the story over the weekend about Phil Mickelson's bet on Jon Rahm with Colt Knost. Sobel gives us one more reason you never bet against Phil in our podcast—have a listen.
Pat Mayo is an award-winning video host and producer of long and short-form content, and the host of The Pat Mayo Experience daily talk show. (Subscribe for video or audio. Mayo (@ThePME) won the 2020 Fantasy Sports Writing Association Daily Fantasy Writer of the Year and Golf Writer of the Year awards, along with the Fantasy Sports Trade Association Best Sports Betting Analyst award, and was finalist for four FSWA Awards in 2020 (Best Podcast, Best Video, Daily Fantasy Writer of the Year, Golf Writer of the Year). His 21 FSWA nominations lead all writers this decade and are third-most all-time. Mayo is on the board of governors at www.fantasynational.com.
Brandon Gdula, managing editor and analyst for NumberFire, a FanDuel daily-fantasy analysis company, recently won the 2018 fantasy sports-writers association Golf Writer of the Year *(congrats, Brandon!)*. Gdula also co-hosts the DFS Heat Check podcast.
Rick Gehman is the founder of RickRunGood.com and the RickRunGood YouTube Channel, is one of the industry's leading experts on golf DFS and gambling. Gehman is co-host of the First Cut Podcast and appears regularly on the Pat Mayo Experience golf podcasts. Follow him on Twitter: @RickRunGood.
Lee Alldrick of FanShare Sports started out writing an article highlighting the best bargain plays for fantasy golf under his twitter handle @DKGolfBargains. His success at this prompted FanShare Sports to enlist him as a guest writer, which evolved into him writing the weekly Under The Radar article. As a U.K.-based expert, Alldrick's insight into European Tour regulars and low priced, low owned plays has provided an invaluable edge for readers when it comes to DFS GPPs.