Crystal ball
Rory's fifth major, Fowler's comeback, Spieth's second green jacket: 23 predictions for 2023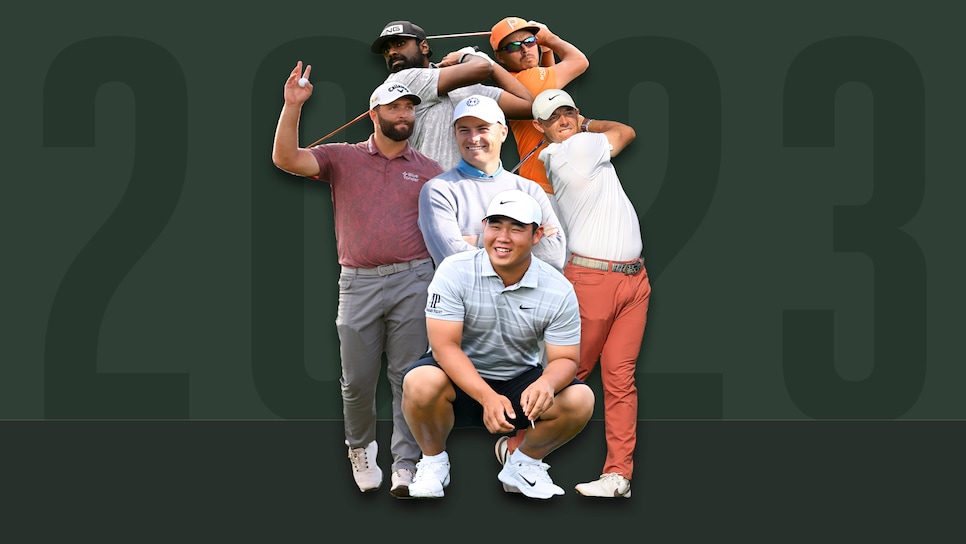 Philosopher and former baseball manager Casey Stengel once warned, "Never make predictions, especially about the future." However, there's an unwritten rule of golf journalism that requires the first week of January be spent doing just that for the upcoming season.
So as the PGA Tour resumes play this week in Maui for the Sentry Tournament of Champions, we gathered 23 thoughts regarding what lies ahead for 2023. These are tour-centric forecasts, some serious, some very much not. And we swear we won't pick Jordan Spieth winning the Masters for the sixth straight year. This is the time to resolve to break habits, after all.
Cameron Young leads the tour in strokes gained
This isn't the farthest of reaches considering Young finished 15th in this category last year despite a pedestrian second-shot figure (91st in approach)—and the fact he hasn't yet won a PGA Tour event. Closer investigation reveals the 25-year-old former Wake Forest standout is one of the better players from both close (11th in approaches from 50-125 yards) and long range (13th from 220-225 yards), so improvement between this expanse is doable. There are few if any holes outside this facet in Young's game, which by the way travels as illustrated with solid performances in disparate venues such as Riviera, Harbour Town, Quail Hollow, Southern Hills and St. Andrews. In short, don't expect a sophomore slump for the Bronx Bomber.
A relative unknown wins the U.S. Open
Similar to a New Year's resolution of eating healthier by gardening your own vegetables in the backyard, the chances of this coming to fruition are theoretically probable yet realistically unlikely. The last player outside the top 25 in the World Ranking to win the national championship was Martin Kaymer in 2014, and he entered Pinehurst that week at No. 28. The tournament has been dominated increasingly by power over the past decade, and most of the game's marquee names double as the sport's biggest hitters. But we're overdue for a major winner that's not a household name in the golf world, and the nuanced confines of Los Angeles Country Club seem ripe to deliver that longshot. (By the way, don't grow your own vegetables. That's dumb. Grocery stores have plenty of 'em.)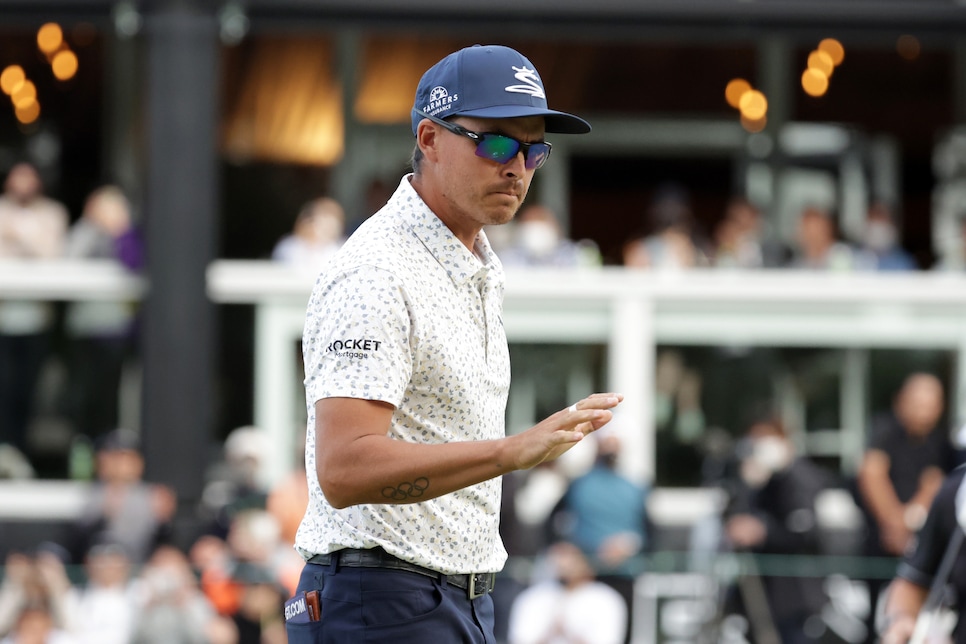 The Fowler Comeback is real
He failed to parlay a strong fall in 2021 into a resurgent 2022. Conversely, we don't think his past autumn—highlighted by a T-2 at the Zozo Championship and T-6 at the Fortinet Championship—is fool's gold. And if it is, so what: New Year's is synonymous with fresh starts and hope, and few deserve those allowances more than Fowler. The notion that he was overrated and overexposed always overshadowed what he accomplished, which was still a lot, and dwarfed the fact that the five-time tour winner was the rare bird that was more than a player, serving as an engaging, likable personality when the tour was desperately short on such guys. Turning just 34 last month, there's still plenty of runway for a Rickie revival to take flight.
Your new distance champ is …
Brandon Matthews, who averaged more than 330 yards on the Korn Ferry Tour a few seasons back and, at 6'4", 210 pounds, has the stature of someone that comes knocking at the door when your bets haven't been paid. Through the fall, Matthews is fourth in distance at a 323.3 yard clip.
A major makes major changes to its qualifying criteria
Augusta National announced last month it wouldn't be changing its current eligibility criteria for the 2023 Masters, signaling LIV Golf members would not be banned for the tournament this spring. However, the operative word is current. "As we have said in the past, we look at every aspect of the tournament each year," said Augusta National and Masters chairman Fred Ridley, "and any modifications or changes to invitation criteria for future tournaments will be announced in April." Our prediction: At least one, if not multiple, organizations running the men's majors change how it uses the Official World Golf Ranking to fill out its field, either by tightening the benchmark—from the top 50/60 in the OWGR receiving exemptions to the top 25/30—or dropping the ranking all together and instead relying on the FedEx Cup, Race to Dubai and other tour point systems for its invitations.
Davis Riley becomes breakout star
It is easy to fall in love with Riley; the 26-year-old's swing is smooth and savage, like a lumberjack doing work on a sequoia. He also carries himself with a cool conviction reminiscent of Will Zalatoris (who, oddly enough, was his frequent roommate on the Korn Ferry Tour). Riley was somewhat overlooked last season thanks to the impressive debuts by fellow rookies Young, Sahith Theegala and Mito Pereira, though his résumé included four top-five finishes. Our bet is Riley bagging an early season win and finding himself in contention enough to insert his name into Ryder Cup consideration by spring.
Will Zalatoris cashes in at PGA
It may take a few months for Zalatoris to regain his stellar form in his return from a back injury, but he should be good to go by May and Oak Hill is traditionally a ball-striker's course. There's been no better ball-striker over the past two seasons than Zalatoris (first in approach, first in SG/tee-to-green last year), who's proven himself a big-game hunter with runner-up finishes in three majors and three more finishes of T-8 or better since the fall of 2020.
Will Zalatoris snaps after one-too-many Happy Gilmore jokes
A man can smile at the same observation for only so long.
The PGA Tour adds another Euro-based event
While co-sanctioning the Scottish Open is a good start to strengthening its relationship with the DP World Tour, we would love to see another European tournament added to the PGA Tour's schedule. Admittedly this is wish fulfillment, as Jay Monahan told us last year there are no immediate plans to do this. Of course, we saw last year how quickly plans can change, so it's not out of the question. Our pick would be the Irish Open. The tour can help bring a bigger sponsor, thus opening the tournament up to more seaside venues, giving the golf calendar a nice three-week serving of links with an Irish Open-Scottish Open-Open Championship slate.
Jon Rahm returns to World No. 1
On Tuesday at Kapalua, Rahm said he spent most of last season fighting his swing, which could explain his down year. Well, "down" by his standards, given he grabbed three worldwide wins and finished 10th or better in eight of his 19 PGA Tour starts. Nevertheless, we see Rahm opening '23 on a tear and riding that wave back to the top spot.
Sahith Theegala makes U.S. Ryder Cup team
It's a shame Theegala wasn't picked for the Presidents Cup; with the Americans overwhelming favorites, it would have been smart to get him or Riley into the mix, two guys who should be on Ryder and Presidents Cup radars for years to come. No matter … after a season that saw Theegala in contention multiple times, we're projecting multiple wins for the fledgling star, giving U.S. captain Zach Johnson a fireplug for Rome.
A super-tight Ryder Cup
The popular assumption is that a potential ban of LIV Golf members would hurt Team Europe more when it host the Ryder Cup in September. In truth, most of the team from the 2021 matches who joined the breakaway circuit were well past their primes, with maybe Paul Casey the lone guy who could have been counted on to contribute. The Europeans might not have the depth of the Americans, but their frontline is just as good, and a bet against Europe is a bet against history (the last U.S. win on foreign soil came in 1993).
No star defections to LIV Golf
Though we and other outlets have reported the outline of LIV Golf's itinerary for 2023, as of Jan. 4—a little more than a month from its stated start date—the Saudi-backed circuit hasn't announced its full schedule for the upcoming year. Perhaps the league is waiting to pair that announcement with its next whale signing … but what if only minnows are taking the bait? This prediction could age as poorly as the tour's "We're moving on" proclamation from the Players Championship, and the rumor mill is not barren regarding the next wave of LIV recruits. If the majors don't change their current criteria and LIV does get OWGR accreditation it's likely more names will be interested. But it doesn't sound like LIV is adding any more firepower to its roster in the near term, and if a marquee name hasn't jumped now, it seems unlikely a move would happen in the months to come.
The LIV social-media bots become sentient, learn how to love
Assuming Twitter hasn't swallowed itself whole, that is.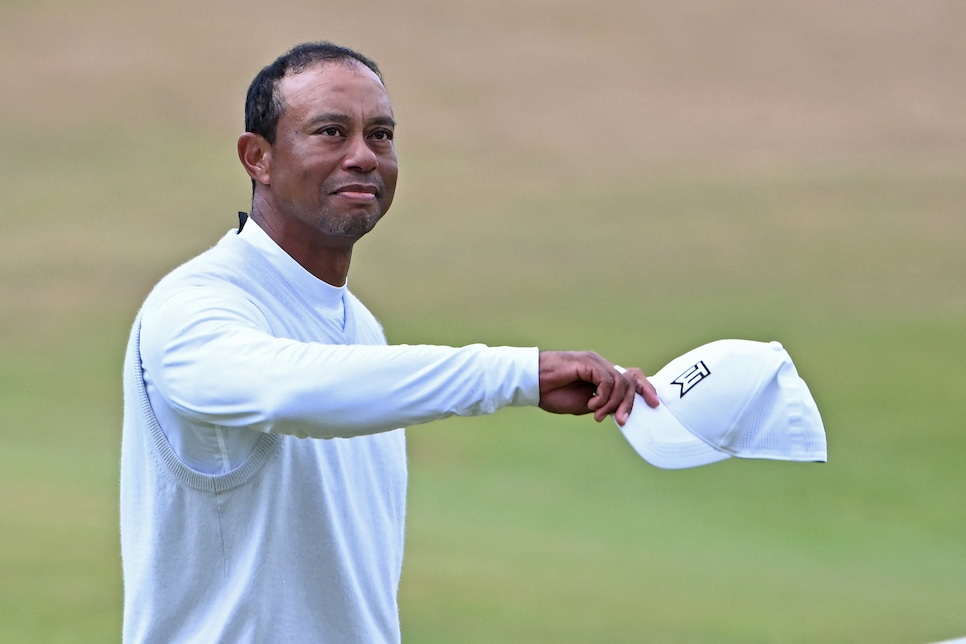 Tiger Woods contends at Liverpool
The Open is historically friendly to the 40-and-older crowd for a number of reasons: The game is played on the ground rather than the sky, experience and creativity matters, the weather can shrink the field in half, etc. Plus, you know, we're talking about Tiger Woods, who has a penchant for these types of things. Woods won his third claret jug here in 2006. Mind you, we don't foresee him capturing his fourth, but hovering outside the top five after 36 holes doesn't seem unreasonable. As for that winner …
Rory McIlroy gets off his four-major mark
His Sunday run last spring at Augusta National will make him a popular Masters favorite, and a potential wet and soggy Oak Hills would play to his strengths. But if you're looking to bet McIlroy at a major this year, claiming victory at Liverpool—where he won in 2014—is the date to schedule.
Tom Kim shows 2022 was no fluke
We're not exactly going on a limb by stating the kid with two wins and seven finishes of T-13 or better in his last 11 starts is legit, so let's turn our attention to a different matter: Given "Tom" is his nickname, yet doubles as a common surname, can we give Kim a nickname off his nickname? Because we're well overdue for a golf moniker that isn't just an abbreviation of a player's name or his initials. May we suggest "The Jolly Trolley"? No? OK, moving on.
Distance debate reignites
For years no conversation in golf was as heated as distance gains, yet those flames died down amid the pandemic and schism in professional golf. But Augusta National has lengthened its iconic 13th, and the 150th Open revived questions if the Old Course can stand up to the modern game. With rumblings that the USGA and R&A may be making an announcement of some sort on the matter this winter, expect the heat to be turned back up on distance.
Ben Griffin and Davis Thompson battle for ROY honors
Griffin enjoyed a nice start to the fall with three top-25s, including a T-3 at the Butterfield Bermuda Championship, and Thompson isn't far behind with a T-9 in Napa and T-12 in Las Vegas. We're giving the slight edge to Thompson for his length (sixth on the KFT in distance last year at 322.3 yards), yet Griffin's second-shot ability should get his name on a number of scoreboards this season.
The elevated events are a hit
We understand the criticism that this series is essentially a rebranding of the World Golf Championships, but the fundamental principle behind the concept—guaranteeing almost all of its talent will be together for 13 weeks a year on top of the four majors—markedly improves the tour product.
The Travelers Championship makes the floating umbrella its playoff hole
Do it, you cowards.
Justin Thomas wins Player of the Year, FedEx Cup
We're going big on JT: four wins, including the Players. His first real contention at the Masters. Passes the World No. 1 reins back and forth with Rahm. Comes close to starting an international incident with primal screams at the Ryder Cup. As Bones Mackay has testified, Thomas has all the shots. This is the year where it comes together.
Jordan Spieth, two-time Masters champ
Like most New Year's resolutions, ours was broken before it began. Speith snapped his slump on Easter Sunday at the 2020 Texas Open. He won again last Easter at Hilton Head. Masters Sunday falls on Easter this year. Prepare yourself for countless "He is risen" headlines.