Blast from the past
One lucky U.S. Amateur player has a former champion at Cherry Hills on his bag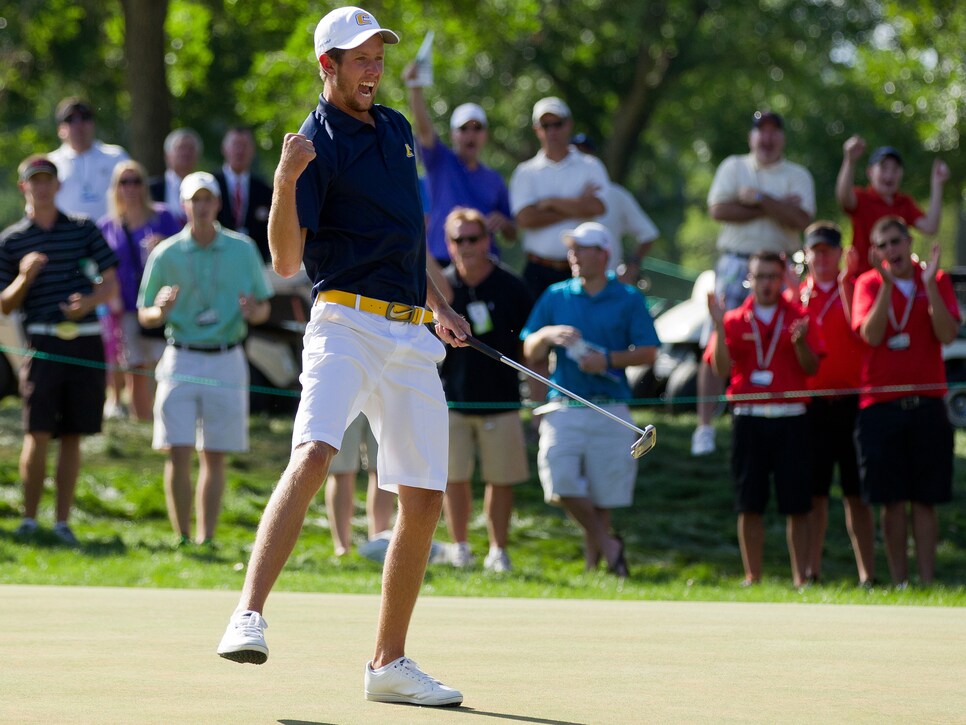 Steven Fox celebrates making a birdie putt on the 37th hole to win the 2012 U.S. Amateur.
Justin Edmonds
It doesn't quite match the lore of Arnold Palmer coming from seven shots down to beat Jack Nicklaus in the 1960 U.S. Open, but Steven Fox and Cherry Hills are linked in the most fascinating way.
In 2012, Fox was the 127th-ranked amateur in the world and the longest of long shots to seize the U.S. Amateur Championship at the renowned country club outside of Denver. His odds didn't seem that much better when Fox emerged from a 17-for-14 playoff, getting him into match play as the 63rd seed among the 64 survivors.
But Fox, a Tennessee native who was heading into his senior year at Tennessee-Chattanooga, beat one favorite after another, and with his dad on the bag, the 21-year-old reached the 36- hole final. Hs opponent was a buddy, Cal's Michael Weaver, and the two were so friendly that they attended a Denver Broncos preaseason game the night before their matchup.
They put on quite the show that Sunday, with Fox coming back from two holes down with two to play to extend the match. And then he captured the title by making a curling 18-foot birdie putt on the 37th hole.
No U.S. Am winner before or since has been as low a seed to start the match-play portion of the tournament.
"It doesn't feel real," Fox said in the aftermath. "The whole week is like a dream to me."
The Am triumph would be Fox's greatest achievement in golf. He got a bunch of exemptions on the PGA Tour in 2014 after turning pro, but missed all nine cuts. He subsequently played seasons on the now-Korn Ferry Tour and PGA Tour Latinoamerica, but Fox made a total of just more than $100,000 in 72 total starts on four PGA Tour-sanctioned circuits.
Now a married father of two, Fox works in commercial real estate, but this week, he and Cherry Hills have connected again, with Fox serving as the caddie for a friend from his hometown, Bryce Lewis.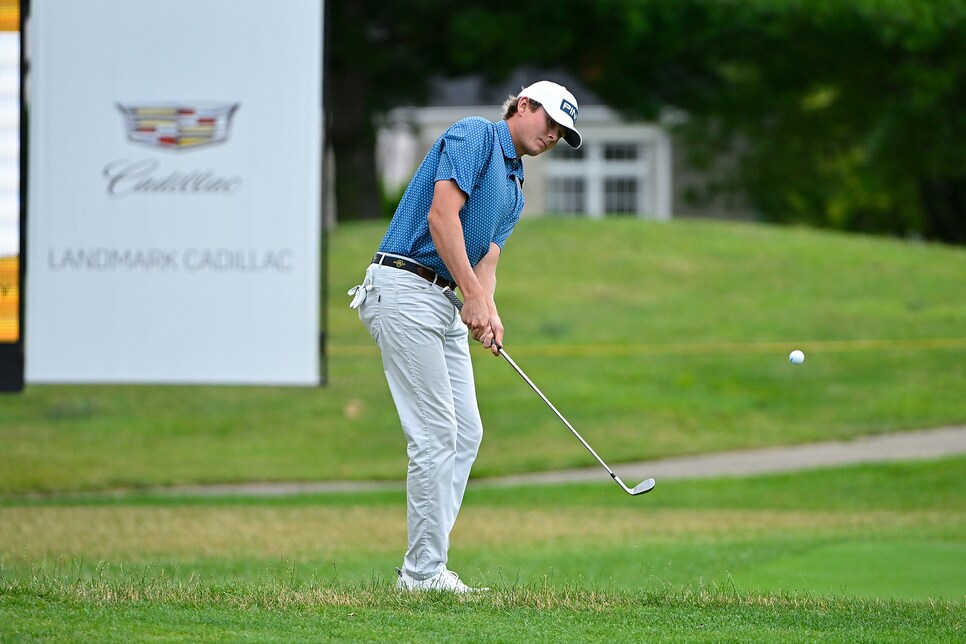 Bryce Lewis hits his second shot during the final round of the 2023 Memorial Health Championship.
Jeff Curry
An upcoming redshirt senior at the University of Tennessee, Lewis reached the match play by shooting 68 on Tuesday at Colorado Golf Club, the co-host site for the stroke-play portion of the event. That score, combined with the 71 that Lewis shot on Monday at Cherry Hills, put Lewis, who tied for 10th, in a far better position than Fox was in his Am.
Going into Wednesday's Round of 64 in match play, Lewis, who is No. 37 in the World Amateur Golf Rankings, was seeded 10th and set to take on No 52-seeded Parker Bell, a University of Florida rising sophomore from Tallahassee, Fla.
In a USGA post on Instragram, cameras followed Lewis and Fox on Monday. They appeared to have an easy chemistry.
"It's great," Fox says at one point. "I'm here to help Bryce and hopefully get him as far as I can."
In another moment, someone notes that it's probably a good thing to have the former U.S. Am champ on your bag.
"Absolutely, if you're going to get a caddie, it was me," Fox says with a laugh. "I mean, Colorado Golf Club, I might not be worth a s—t. But here … "
They actually scored better at CGC, but now all of the remaining play will be at Cherry Hills. Is there Rocky Mountain magic for Steven Fox? Stay tuned.