Dial it in
2023 Ryder Cup: Why one putting training aid is everywhere this week
*All products featured on Golf Digest are independently selected by our editors. However, when you buy something through our retail links, we may earn an affiliate commission.*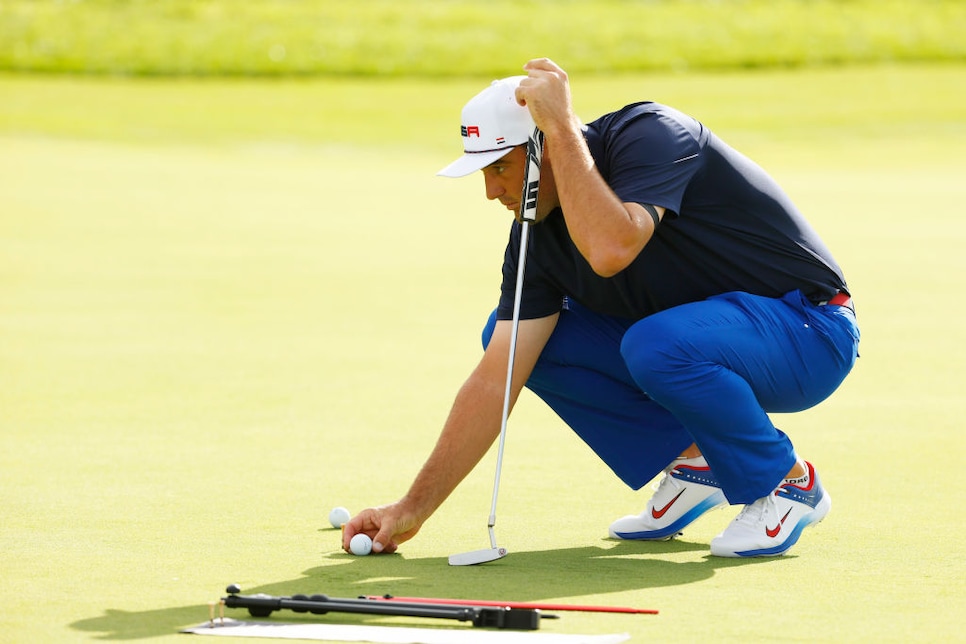 ROME — You won't see players on opposing sides agreeing on much this week, especially with the contest officially underway. Yet cruising around the grounds this week, there's one exception: A VISIO practice mat training aid, which has been littered around the Marco Simone Golf Club and used religiously by players on both sides.
By my count, here's who I've spotted using it over the past few days...
Max Homa
Scottie Scheffler
Sam Burns
Sepp Straka
Matt Fitzpatrick
Justin Rose
Tommy Fleetwood
So, why are so many players grinding on it this week?
The mat, as you can see below, is a series of lines crisscrossing each other. The one, longer line denotes the direction the putter head should travel during the stroke. The many shorter, perpendicular lines highlight where the putter face should point at each point during that stroke.
It's a training aid invented by renowned putting coach Phil Kenyon, so naturally a lot of his students use the training aid (you can read about my experience with it right here). The reason why players are placing such added importance on it this week is because if their path, or putter face, is just a few degrees off, the mat allows them to really see it.
The team that makes the most putts is the one that wins the Ryder Cup. And making putts means starting your ball on line. A few extra minutes of practice helps them dial in their putting stroke do a deep degree. And if those putts start going in because if it, it's time well spent.