PNC Championship
Vijay and Qass Singh finally win, JT's new shot and two other takeaways from the PNC Championship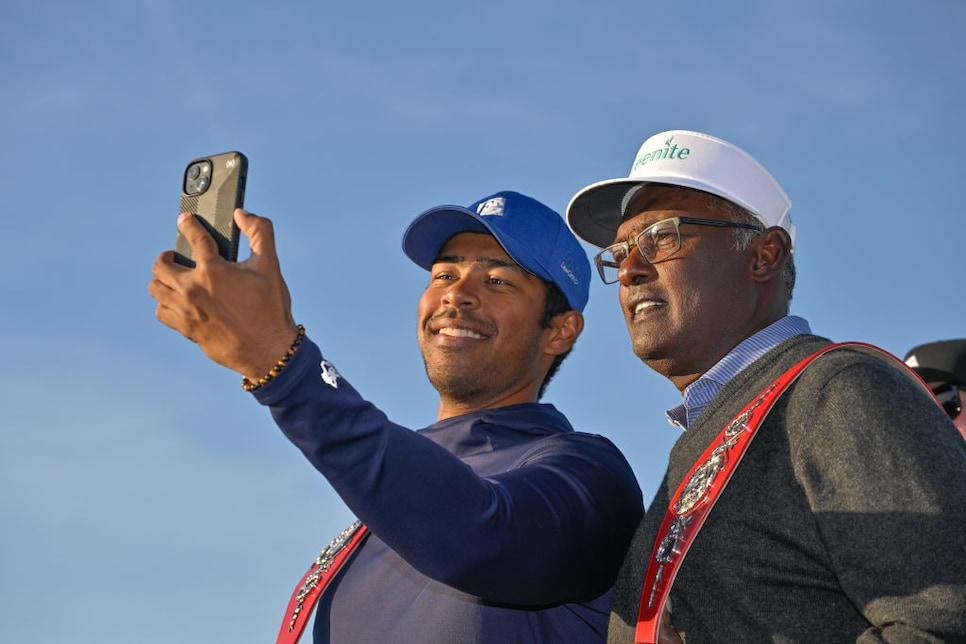 ORLANDO — The gift (and the curse) of Tiger Woods playing with his son Charlie at the PNC Championship is that they become the inevitable center of attention. It's to be expected by now, given this is the third year they've played in the event. And yet, there was plenty of other interesting stuff going on beyond Team Woods finishing T-8, so let's buzz through the final round's other storylines.
A career highlight for the Singhs
It took 16 starts, but Team Singh finally did it. Former World No. 1 and three-time major winner Vijay Singh, alongside his son Qass, captured their first victory at the PNC Championship. The pair shot 59-59 to secure a two-shot victory over John and John II Daly and Justin and Mike Thomas.
"It's what we wanted. We wanted this all year, so just to have it finally is like it's almost a dream come true. It's going to be a memory I'm going to have forever," Qass said.
"This is a highlight of my career, winning with him," added Vijay, who turns 60 in February. "He's played this so many times and I wanted to win so bad for him."
Indeed, the pair first played in the event when Qass was 13, and had come close on various occasions, recording three runners-up finishes and eight top fives.
"Every year we came here, from the very first time, I wanted to win this, we wanted to get it together. And it got harder and harder," Vijay said. "Each time we went out as the first loser or second loser. But never won. And we'd talk about it a lot, OK next year we're going to go back and win it. And to finally do it, it means a lot."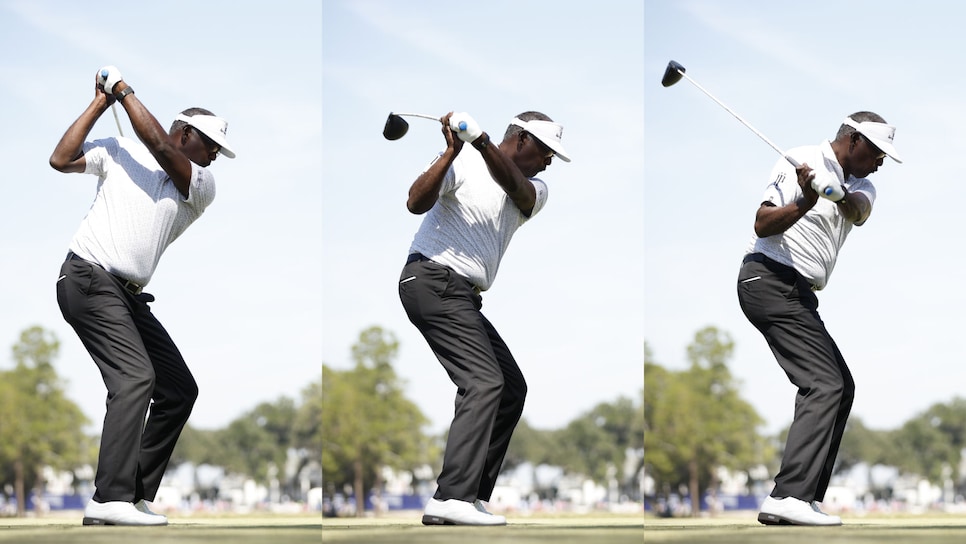 On one occasion, after a few practice swings, Vijay hit a drive that traveled a little shorter than expected. His caddie delivered the news that his backswing was slightly shorter compared to his practice swings.
"I don't know what I'm so f**king afraid of," Vijay said. Intense much?
His next swing didn't make the same mistake. Vijay swung notably longer and sent a drive high and far into the distance with the slightest of left-to-right flight. It was the kind of fade that Vijay became known for in his prime. He celebrated by teeing up another golf ball and starting again.
The Dalys did it their way
On the other end of the spectrum was John Daly, who didn't bother hitting a golf ball before his round. It didn't seem to matter. He and his son, defending champions in the event, went 11 under on their first 13 holes, then eagled the 18th. If there was ever a proof point that there's no right or wrong way to play this game, Daly, who is scheduled to knee-replacement surgery this coming week, proved it.
Jordan Spieth's advice for dads
Jordan Spieth made his first appearance at the PNC Championship in 2022, competing with his father Shawn, and marked the occasion T-8 finish. Spieth is a new dad himself, and in keeping with the theme, I asked him the same question I asked Tiger earlier in the week: What makes a good golf dad.
"It's a dad who creates a good environment for their son," Jordan said. "He surrounds them with good influences, that will help them and encourage them."
Golf's top shot-maker adds another
Justin Thomas has transformed himself, on good friend Tiger's advice, into the most versatile shot-maker in the game today. The forgiving fairways at the PNC Championship gave JT an opportunity to lean on a new shot he's been working on: His all-out, lift-the-left-heel drive. He's been trying to dial it in since the FedEx Cup, and he's liking the results.
"I would say it gives me an extra three-to-five miles per hour club speed, probably six-to-seven miles per hour ball speed," he says. "I feel comfortable. If I hit it solid I can fly it 315, maybe 320 yards doing that."
This course is very, very generous off the tee and if my dad hits a good drive, I definitely have the opportunity to do it out here.