Fantasy Advice
Tour Championship 2021 DFS picks: Bryson DeChambeau a top option even with staggered start disadvantage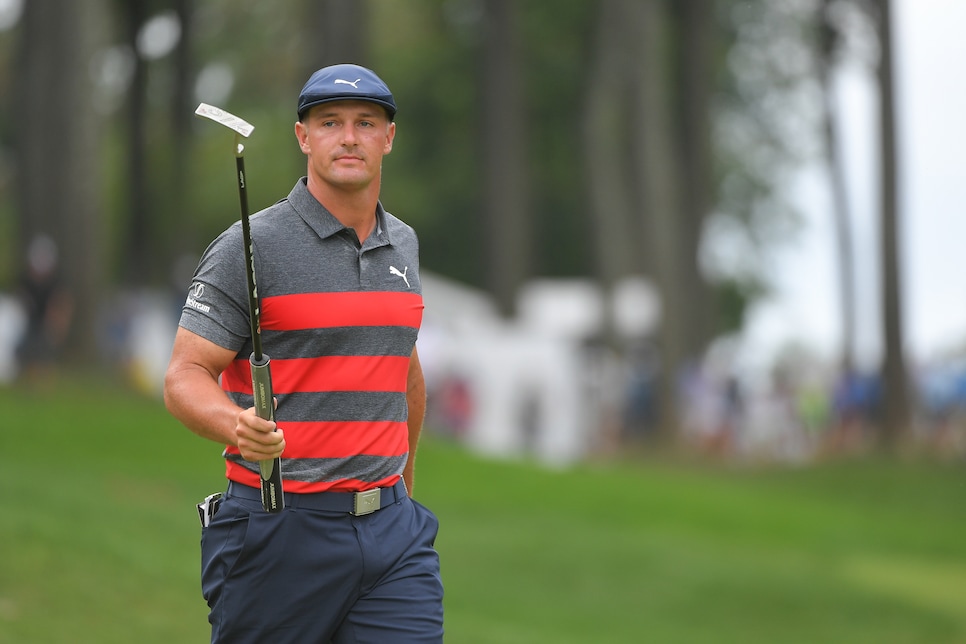 We've arrived at the Tour Championship and for the third straight year, we have a staggered start. Based on their rank in the FedEx Cup Playoffs, each golfer will begin the event anywhere from 10 under par to even par. It'll be a huge advantage to the golfers at the top of the standings and it also impacts the fantasy scoring.
On DraftKings, before the first tee shot is hit, Patrick Cantlay will have 30 points for his first place positioning. Those finishing position bonuses will certainly fluctuate over the course of the event but the golfers near the top will have a built-in floor thanks to the staggered start. Those advantages have been reflected in the pricing this week, with golfers ranging from $13,400 to $5,000 on DraftKings.
East Lake will play host, as it has every year since 2004. The par-70 layout skews just a hair more difficult than the tour average and will feature bermudagrass greens. With the consistency of the field, the course, and the event, the data is incredibly strong. Per the RickRunGood.com golf database, the most important stat is strokes gained/approach. There are only six other courses on the tour schedule where SG/approach has been more important.
Price range: $10,000 and above
High Upside: Jon Rahm ($13,000 DraftKings)
It's clear that Rahm is on a different planet from the rest of his peers right now. Even with a disappointing weekend in Baltimore last week, he still finished T-9 and continued his stretch of five consecutive top-10 finishes (in events that he completed). He's devastating off the tee, gaining strokes in 32 measured events. He's gained on approach in five straight and he's gained on the putting greens in six straight. His game is complete and he's dialed in as the season concludes.
Safest Option: Patrick Cantlay ($13,400 DraftKings)
The built-in starting strokes for Cantlay are critical. In the first two editions of the staggered start format, the leader entering the event has finished T-3 and first. That shouldn't be a surprise considering he's playing well and will have at least a five shot lead on 25 other players in this field. His putting performance last week was literally the best week since strokes gained started being measured in 2004. He won't have a week like that again, but he doesn't need it.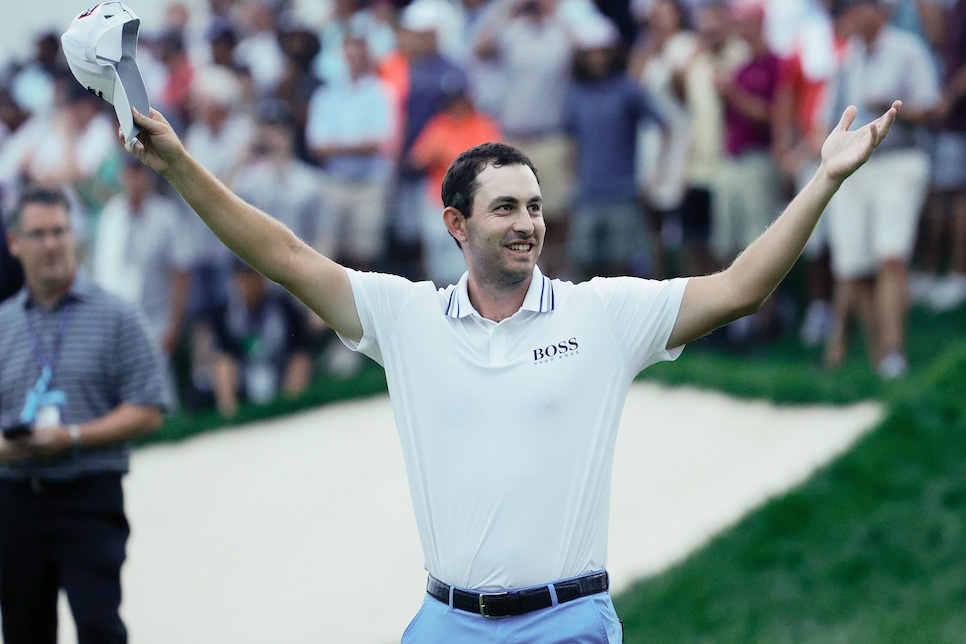 Most Likely To Disappoint: Tony Finau ($11,800 DraftKings)
Finau received a big boost in the FedEx Cup Standings with his win at The Northern Trust and now his salary is reflective of him starting in second place at eight under par. The problem for Finau is that, outside of his win, he hasn't been all that impressive this year. In his last 17 events, he has three top-10 finishes and missed the cut five times during that stretch. He won't have to worry about missing the weekend at East Lake, but he is the mostly likely name at the top to lose ground over four rounds.
Pick To Win: Bryson DeChambeau ($12,300 DraftKings)
DeChambeau was in complete control of his game in Baltimore and played in a way that was true to his golfing DNA. He gained 8.03 strokes off the tee, which is the most of any golfer in any PGA Tour event in the last three years, per the RickRunGood.com golf database. He will begin the week at seven under, three shots back of Cantlay, and he possesses the firepower to make up the difference.
High Upside: Xander Schauffele ($8,900 DraftKings)
Schauffele is proving to be one of the more difficult golfers to figure out on a weekly basis. He nearly lost strokes across the board last week en route to his disappointing T-49 finish. But now we're headed to East Lake, where Schauffele has been "Rory-Lite." In four trips, he hasn't finished worse than T-7, including an outright win in 2017 AND a "win" in 2020 -- when he had the lowest 72-hole score of the week without the starting strokes.
Safest Option: Viktor Hovland ($8,000 DraftKings)
The pricing on Hovland is a bit disrespectful. He will begin at three under, ahead of Xander Schauffele and Rory McIlroy who are $900 and $1,300 more expensive than Hovland, respectively. While one stroke over four rounds isn't a big deal, he shouldn't be the least expensive golfer in this range. We haven't seen Hovland's best as of late, but he's gained strokes on approach in eight consecutive events, which provide him a solid floor heading into East Lake.
Most Likely To Disappoint: Collin Morikawa ($8,300 DraftKings)
The back injury sustained by Morikawa in Tokyo has really knocked him off his game and the advanced metrics don't provide much to be optimistic about. Over his last four measured starts, he's lost a total of 1.58 strokes on approach. In the four measured starts prior (before the injury), he gained a total of 28.66 strokes on approach. This is a golfer going to battle without his best weapon.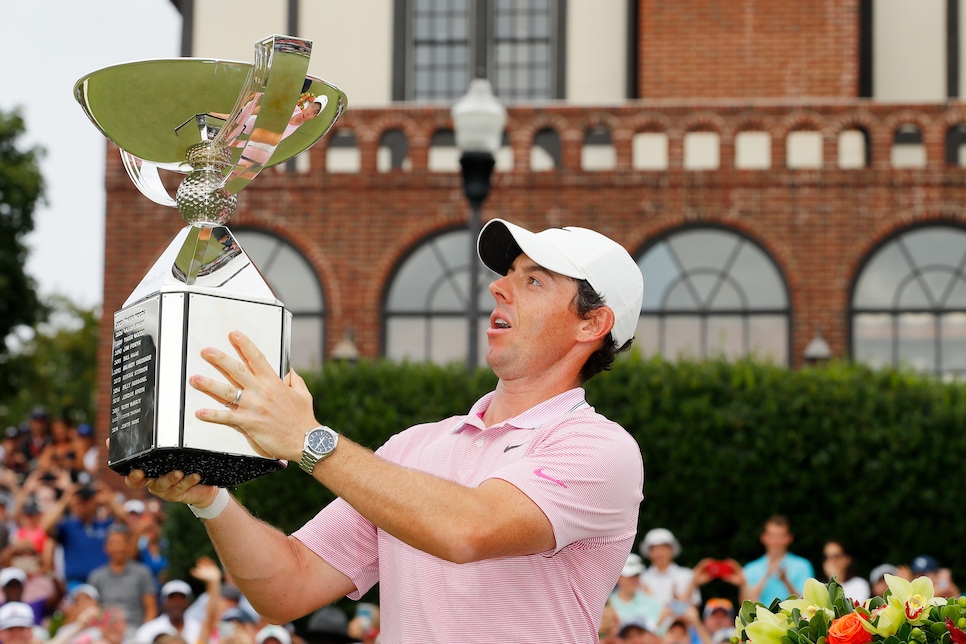 Pick To Win: Rory McIlroy ($9,300 DraftKings)
To be clear, there's little chance McIlroy actually wins. He will need to make up eight strokes on the leader and has a handful of stars to pass in the process. But he can certainly fly up the leaderboard. He's found something on the greens, gaining three-plus strokes putting in three of his last four starts. That's the key to unlock McIlroy, who has dominated at East Lake in his career. He's gained an average of 1.42 strokes in 28 career rounds at this venue, by far the best mark in this field of anyone with that many rounds.
High Upside: Daniel Berger ($5,800 DraftKings)
Berger offers a trending skillset that should fit perfectly for East Lake. As discussed in the introduction, SG/approach has been the one stat most closely correlated to success at East Lake. Berger is averaging +1.24 strokes gained on approach over his last 20 rounds, by far the best mark in the field. He will have work to do, starting at even par but this stage won't be too big and he has plenty of upside.
Safest Option: Sungjae Im ($7,300 DraftKings)
The third-place finish from Im last week wasn't a surprise. He's been trending in the right direction and finally got his putter working (+6.16 strokes gained). Now he gets to putt on bermudagrass greens, which have been the best surfaces for him in his career.
Most Likely To Disappoint: Kevin Na ($6,000 DraftKings)
This type of event is built for volatility and I love the volatility that Na offers. Unfortunately, East Lake has been his arch nemesis. In five trips, Na has lost strokes to the field in every one of them and has (by far) the worst average of anyone in the field with at least five rounds at this venue.
Pick To Win: Erik van Rooyen ($5,000 DraftKings)
Again, there's no chance that van Rooyen actually wins but he's certainly capable of providing value as the lowest priced golfer in the field. In his last four starts, he has one win and two more top-7 finishes -- the latter two coming in the last two weeks. He's been excellent across the board, can play with a "chaser's freedom," and knows he has plenty of birdies to make to climb up the board.