Takeaways
Scottie Scheffler set up for first win, Memorial Park punches back and Matthew Wolff's wild double bogey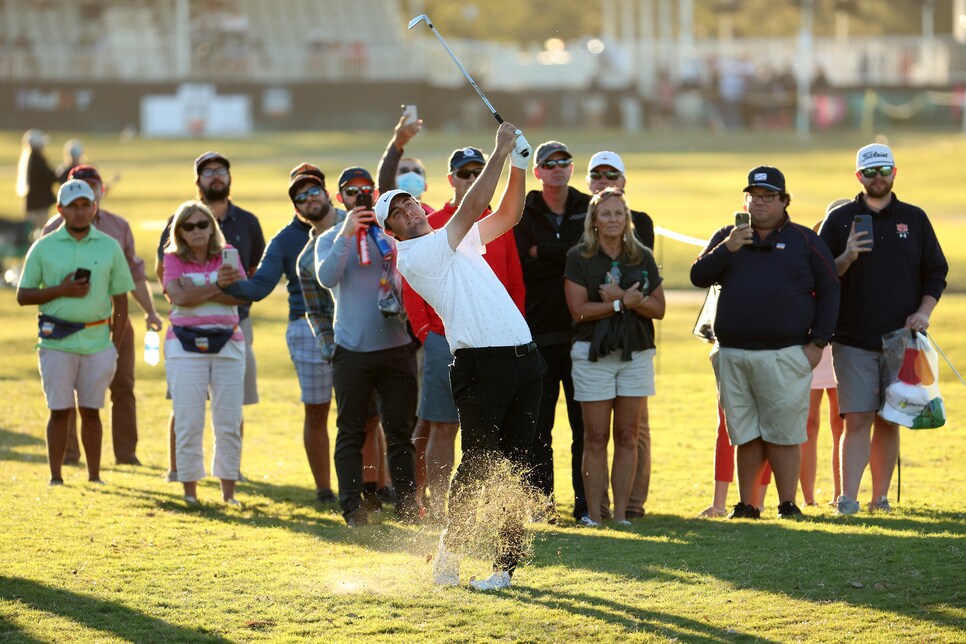 Scottie Scheffler plays his shot on the 18th hole during the third round of the Hewlett Packard Enterprise Houston Open.
Andy Lyons
Saturday was a one-way moving day with players set in reverse at the Hewlett Packard Enterprise Houston Open. A day after Scottie Scheffler posted a new course-record 62, this Tom Doak renovation (with Brooks Koepka's assistance, you may have heard) pushed back on the field of elite tour pros. The rains that came earlier in the tournament dramatically softened a course that, we were told, was looking fairly firm and fast at the start of the week. But the water that rained down starting on Wednesday night will make any course gettable for a PGA Tour field.
In the third round, the course started to dry out, the winds picked up a little bit and changed direction, coming out of the north, and the tour played the ball as it lies, which sometimes feels like the exception rather than the norm on the PGA Tour. After two rounds of a lift, clean and place, the preferred lies police arrived and the third round was played down. It may not seem like a massive change, but it at least brought the possibility of bad and funky lies into play, and there were several throughout the afternoon in the final groups.
"The wind was definitely swirling, at least I thought. I was having a hard time figuring out the wind and that definitely cost me a few shots on 17 and on 7," said Matthew Wolff, who is one shot off the lead at six under. "So I think that was difficult, but I think it's just firming up a little bit. It's making the fairways more important to hit because beginning of the week it was pretty soft because we had so much rain, so being in the rough wasn't as penalizing, whereas being in the fairways now is just really important with how fast and firm these greens have gotten."
The low round of the day came from Jason Kokrak, who followed up his Friday 30-41—71 with a Saturday 66. So there was a number out there but, by and large, this was a field just hanging on and trying to steer it in a shot or two under par on the day. The leading number after 36 holes came back three shots to seven under as one player after another backed up. That leader, Scheffler, said the number stood at only seven under not because of "any crazy conditions" and gave full credit to the challenge of the Doak course.
Memorial Park is a unique venue for the PGA Tour, a city-owned municipal course that typically takes on a ton of recreational traffic. It was fun to see some of the run-offs and chipping areas brought back into play on Saturday, and the course not get bludgeoned over four days of the dartboard golf that's ubiquitous on tour. Jhonattan Vegas, who will start Sunday just a shot off the lead, described the challenge of those chipping areas at Memorial Park. "If you look at the greens, they have a lot of movement, a lot of slope," Vegas said. "Chipping up some of these big slopes and it's really hard to put spin on the ball. Usually spin's your friend, but not here. When it comes down to that, like I said, with the movement these greens have, it's just really hard to chip it close. Missing the green, you're going to have to fight really hard to make par."
Some top young players made a few moves, and the leaders came back to the pack, but Memorial Park was the star on Saturday. It also set up a …
With the leaders coming back, we have a wide open track on Sunday with dozens of possibilities. There's the longshot dreamer in Martin Trainer, who looked like he was held together with duct tape that was rapidly losing its adhesiveness in the third round. Simply watching Trainer was a bit anxiety-inducing, as he yanked approach shots and blasted putts past the cup. As Justin Ray noted on Friday, no one has been more over-par on tour in recent years. After a three-over-in-three-hole stretch on the front, he did well not to all-out implode and with everyone else around him dropping shots, he's still in contention for Sunday.
His lead, however, was long gone with elite young talents like Wolff and Scheffler chasing him down and passing. Kevin Tway, who has not had as acute a struggle as Trainer since his first victory, has gone three years since that first win in the fall of 2018. Tway opened with a bogey and went out in 37, but held the solo lead for a stretch on the back nine until giving two shots back in his final two holes. He's only one shot back with 18 to play.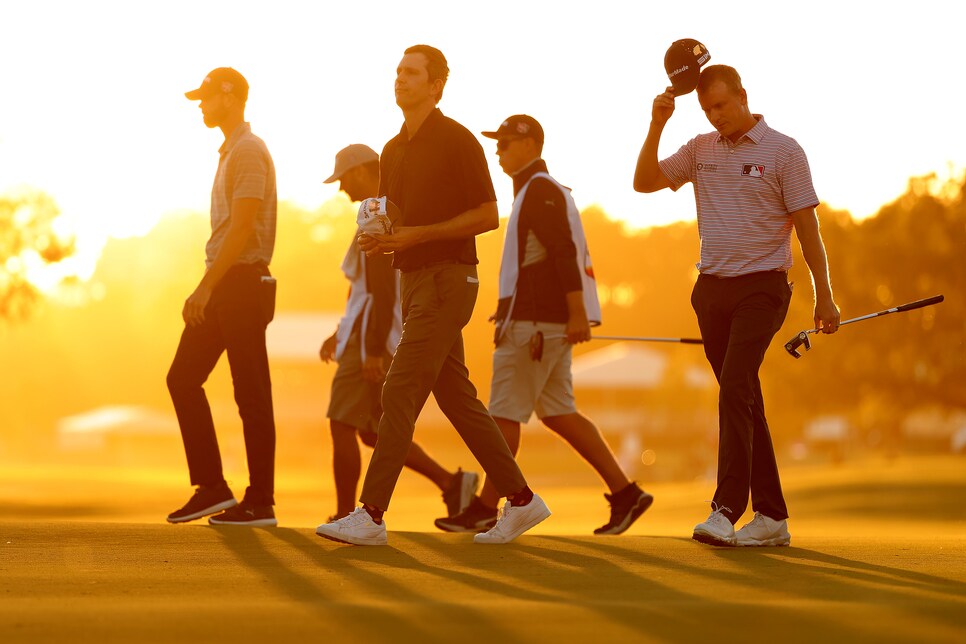 In addition to Tway, there are ample "home state" favorites in the hunt. Longhorns Scheffler, Kramer Hickok and Vegas are all inside the top five. "Lots of friends, lots of family around here," Vegas said. "The city has embraced me ever since I came from Venezuela. It would be amazing to kind of share like a home title with everyone here in Houston. Like I said, it will be up there with if not the biggest win for me."
There are 13 players within three shots of the lead, and it's a nice mix of those young stars, local favorites and longshot dreamers. This is what you want come mid-November on the PGA Tour.
Wolff throttles down, splashes
It feels like we're writing about Wolff almost daily in this space, and with good reason, as he's been on the first page of leader boards almost every round he's played this fall. A poor third round last week at Mayakoba erased his lead and chances there for a second career win, but he's right back in contentiion in Houston with a prime opportunity again. The refrain in Mayakoba, a course where he did not and could not use his driver to its full potential, was patience and sticking to his game plan to not get seduced into trying to bomb away at every point.
In Houston, he employed a distinctive strategy at the 17th hole, hitting a pitching wedge off the tee for what he thought would be an ideal or comfortable wedge into the green. Unfortunately for Wolff, he dumped his next ball in the water and is probably still mystified and muttering to himself about how and why it happened. It was the rare moment where he looked totally dumbfounded about what transpired after he thought he'd flushed it close.
Wolff said it was absolutely not a driver hole with the front pin, and we saw some players who did try to drive it up there really struggle to chip it close. Tway chipped it through the green and into the water. Wolff held back and still hit it into the water after he thought he'd given himself his best chance.
"I just didn't really see a point of going for it, and on top of that, I hit pitching wedge off the tee, which I almost felt a little—I almost feel like I wouldn't let myself hit pitching wedge on a par-4, and I knew it was the right club, and I hit sand wedge in," Wolff said. "I knew I was going to be able to hit the fairway with a wedge and I would have another wedge in. Not many times I thought I would be making double with two wedges, but it is what it is and I have to live with whatever happened, but I just didn't really see a point in going for it."
He's now three over on the hole for the week and it was a fairly costly double bogey coming into the clubhouse when a par would have had him solo first heading into the final round.
"I feel like I'm really close," Wolff told Golf Channel after the round. He cited just a bad break or two, or a wind misjudgment like at 17 on Saturday, from keeping him off the winner's check. Sunday presents another opportunity but he's not the player on the leaderboard with …
This will be only the second time Scheffler holds the 54-hole lead on the PGA Tour. For all his accomplishments, cash earned (more than $7 million so far for the 25-year-old) and FedEx Cup points accrued, Scheffler has yet to win on tour. You probably didn't need that reminder and he certainly doesn't need it.
No one doubts his ability to win, and wiping out World No. 1 Jon Rahm in Sunday singles at the Ryder Cup is about as strong an argument as one can make in the most pressurized cauldron in the game. Saturday's round was far from the brilliance on Friday, but again he didn't need a bunch of birdies to find himself on the solo lead at the end of the night. A chip-in at the 14th hole, followed by a birdie at 15 would be plenty with everyone else struggling.
Scheffler did not have a number in mind for Sunday, but did reiterate multiple times that he does like his chances on the harder courses.
"I think I always prefer the harder courses because I feel like I can take it deep on them still and get myself back in the tournament, which I did this week," Scheffler said. "This golf course is pretty challenging, but it's not a golf course where if you're playing great golf, you can't take advantage of it. There's some scoring holes out there and I'm just going to do my best tomorrow to put myself in position and hopefully make some birdies."
There are a handful of great stories on the leader board, but the player with the most to gain is Scheffler. His work on tour is deserving of a win, and checking that resume box and removing those questions about converting would be a welcome achievement heading into a year-end break. No one wants to undergo that narrative transition from "trendy young player" to "why hasn't he won?"
Scheffler will also likely have the crowd on his side. Another great feature of Memorial Park, that's also unique from most stops on the regular tour schedule, is that it's close in to the city. Last year, it boasted a truly rowdy and loud crowd and there were plenty of shouts for Scheffler caught on Saturday. The crowds were large and full-throated, especially for this sleepy time of the season. Given Scheffler's increased profile from the Ryder Cup and the Texas connection, expect the fans to be pushing him and Wolff late on Sunday.
Saturday featured the rare occurence of the PGA Tour yielding the stage to another tour. Typically, the PGA Tour calls the shots, and everyone else just tries to get in where they can fit in. But with the altered schedule due to the inclement weather in the first round and the two days catching up, finishing at the originally scheduled 4 p.m. ET would have been impossible.
So with the Champions Tour playing their season finale Schwab Cup Championship, it was the PGA Tour's turn to get out of the way for the senior circuit and the final two hours of the leaders on the back nine was relegated to streaming. That just almost never happens, and I'm sure there were a handful of confused folks trying to find the streaming-only coverage.
The good news is that after three days of scrambling, we're back on schedule for Sunday. No one wants a five-day tournament and Monday finish this time of year, with just two weeks left until a holiday break after an exhausting "super season" that rolled right into the next one this fall. So good on the Tour and mother nature for getting us back set up for the 4 p.m. ET finish with a strong Sunday leader board for this time of year.