Plodding Along
Martin Kaymer, undeterred by seven-year winless drought, back in contention in Dubai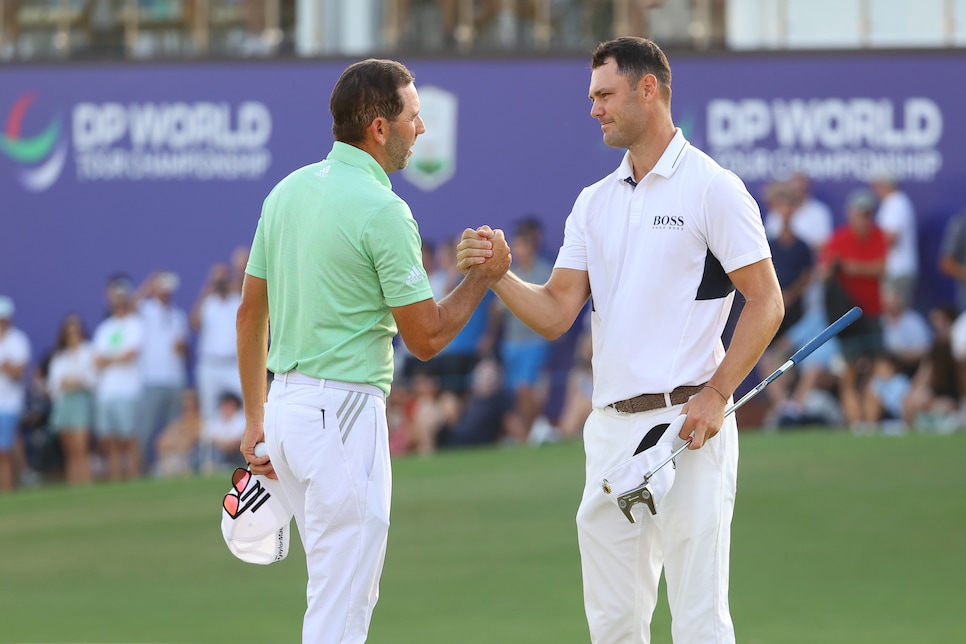 DUBAI, U.A.E. — As anyone who has followed the recent fortunes of Martin Kaymer must surely know by now, more than seven years have passed since the now 36-year-old German has won a golf tournament anywhere in the world. His last victory was a big one mind you, an eight-shot stomping of the field at Pinehurst for the 2014 U.S. Open. Players champion that same year, Kaymer also finished first in the 2010 PGA Championship and was runner-up in the 2011 WGC Match Play, a result that took him to No. 1 in the world.
Heady stuff indeed. But all a while ago now. As evidence of the decline in his play, Kaymer arrived at the DP World Tour Championship as the 113th best golfer on the planet and 47th in the soon to be re-branded European Tour's season-long Race to Dubai. Still, the news is not all bad. Over the last couple of seasons, Kaymer has numerous times come close to ending his victory drought—most recently at the BMW International Open in June, where only Viktor Hovland was able to beat his 17-under-par score.
"I'm not tired of hearing the 'it's been seven years since I won' question," Kaymer said. "It's a fact and something I don't need to talk about too much. It is how it is. I know where the weaknesses and the issues were in my game. For a long time my game was not where it needed to be. But I have worked hard to eliminate them. If I am to win again, I want to do it in the proper way.
"I have been really close a few times over the last couple of years," he continued. "But I haven't been able to finish it off. It really isn't that easy to win again after such a long time. Expectations are high. Everybody thinks if you are up there you will, or should, win. And that thought is always in my mind. But the most important thing for me is not comparing myself with the past. I'm a different person now. I need to hit the reset button and play the golf like I did today."
So far this week Kaymer has performed solidly. His pair of 68s has him eight under after 36 holes on the Greg Norman-designed Earth Course at the Jumeirah Estates. Two shots off the pace set by Shane Lowry, John Catlin and Sam Horsfield, he is T-6 alongside Open champion Collin Morikawa.
"I didn't think I played as well as I did yesterday, even if, until the last hole, my score was one shot better," said Kaymer, who made a 6 on the 620-yard par-5 18th. "I scored well today. I kept my game together and used the opportunities I created with my short irons. I had some good birdie chances off those and did a nice job finishing them off. I'm happy enough. Shooting four-under par on this course is something I would take any day."
So he's in contention. Again. And determined to use recent experience to his advantage rather than seeing the prospect of "failure" as something to be feared.
"My overall game is good, somewhere around 7-8 out of 10 right now," he claimed. "My iron game is really solid. I'm not making many mistakes in that area. I'm still hitting a couple of loose drives once in a while. But I guess nearly every golfer can say that. And my putting has seen a big improvement. The combination of good irons and better putting has made me a lot more competitive.
"The biggest issue I have had when in contention is not continuing to play … I don't want to say 'aggressive,' but I have definitely held back a little bit," he continued. "It is almost as if I have been trying to avoid mistakes. Not many people talk about that, but it is the truth. So my main goal over the next two days is to continue playing as I have done so far. All the way to the 18th or 72nd hole. I'm working on that. And it is going well."
Indeed, life in general is good for the Dusseldorf native. He has a lot going on. So much, in fact, that this will be his final tournament appearance of 2021. For the best of reasons. From here in Dubai he will head back to Germany, where he and his girlfriend, Irene, will await the birth of their son early in the new year.
"So I won't be playing in Abu Dhabi [where he has won three times] and Dubai in January," he revealed. "No chance. This is my last event of the year. From here I will go to Germany and I won't be seen again on tour until March. I will take that time off. Besides, being at home means I won't be able to practice. So I wouldn't be prepared golf-wise or mentally. Given that, I don't see the point of going."
Indeed. Even after seven years, winning really isn't everything.