Stay In The Fight
British Open 2021: Rory McIlroy expounds on majors philosophy of giving himself 'a chance' ahead of Royal St. George's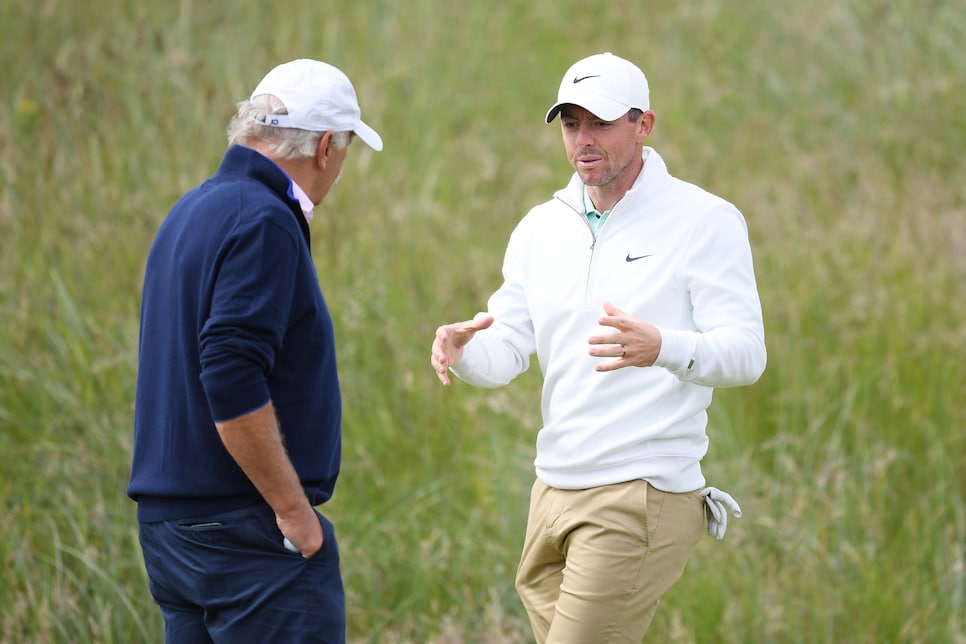 NORTH BERWICK, Scotland — That Rory McIlroy knows how to win major championships is not in doubt. The 32-year-old Northern Irishman has four of golf's ultimate prizes to his name, albeit he celebrated the last of those as far back as 2014. So it's been a wee while since his last sip of champagne at a Grand Slam event. Still, with his head and thinking long clear of alcohol-induced fuzziness, McIlroy hasn't forgotten the formula that carried him to victory in the 2011 U.S. Open, the 2012 PGA Championship, the 2014 Open Championship and the 2014 PGA.
It's a multi-step process, one that first involves teeing-off in the final round not too far off the 54-hole lead, both in terms of strokes and bodies. That's the "to create the opportunity, you have to be up there somewhere with a round to play" part of the equation. And it is also where most bids break down.
By way of recent example, three weeks ago at Torrey Pines, McIlroy was in contention to win a second U.S. Open. At least he was until his "best swing of the week" at the par-4 11th in the final round was followed by a "bad three-putt" and, one hole later, a double bogey provoked by an unlucky plugged ball in a greenside bunker.
So, as ever in this game of many variables, we're not talking exact science here. Things can happen. Bad things, as well as good. Especially when the pressure ramps up over the closing holes, which double as the penultimate destination on McIlroy's road map to glory.
"All anyone asks of themselves is to give themselves a chance on Sunday," he said on Wednesday ahead of his appearance at the Scottish Open. "That's it. So the only way you can win is to give yourself that chance. And I gave myself a chance. I was right there on Sunday. So I'm getting there."
McIlroy's philosophical response to what was ultimate disappointment is a reflection of his play in majors over the seven years since that second PGA win at Kiawah Island. Only once or twice -- most notably at the Masters and Open Championship in 2018 -- has he even put himself in position in the closing stages.
"That's the thing about majors, you just have to hang around," he continued. "You don't have to do anything spectacular. You can sort of par the course to death, pick off a few birdies here and there. It's a different style of golf than we're probably used to playing week-in, week-out, and I like that. I like that challenge. At the grand old age of 32, I like the fact that it's probably more of a mental challenge than a physical one because I feel like I can use my experience to hang in there."
Going into next week's Open at Royal St. George's that philosophy will come in handy on the first tee next Thursday. Even if McIlroy's practice rounds over the Kent links have gone less than satisfactorily. One day before the first round of the last Open at RSG, he played with Darren Clarke, who would go on to be "champion golfer of the year" five days later.
"At that point it didn't look like Darren was anywhere near winning the golf tournament," recalls McIlroy. "But that's the great thing about golf. You just never know. I think the big thing with St. George's, though, is you know that you know you might get some unlucky breaks. But you're going to get some good breaks, too. The ball is going to take some different bounces here and there. But if you just pack your patience and understand that it's the same for everyone, the good and the bad bounces should all level out over 72 holes."
And there you have it: Patience + good fortune + sound execution + clear thinking = ultimate victory.