GOLFTV Deep Dive
The Curious Case of Rory McIlroy's Slump
The last 18 months of Rory McIlroy's play haven't looked like the rest of his career. Prior to the 2021 Wells Fargo Championship, the most dominant player of his generation was in a slump. What led to his curious fall, and how has he gotten back on track?
Rory McIlroy was in a slump. We can quibble over the choice of that word, but Rory's standard is different from your run of the mill tour pro. It was a slump.
Back in 2019, McIlroy won the WGC-HSBC Champions to cap a stellar season. He was the PGA Tour player of the year, FedEx Cup champion, Vardon Trophy recipient and winner of four titles.
What followed was unexpected. Eighteen months between victories. Twenty-seven events without any hardware. A fall from the No. 1 ranked player in the world to 15th, his lowest spot since 2009. A slump had turned into a big question mark. What was wrong with Rory?
The scrutiny comes with the territory. McIlroy has consistently been one of the game's biggest stars since he turned pro at the end of 2007. Following his runaway major victory at the 2011 U.S. Open, he was dubbed the next big thing at a time when the sport desperately needed one. A year later, he won his second major at Kiawah Island, setting a record for largest margin of victory in the PGA Championship. When he hoisted the Wanamaker Trophy at Valhalla in 2014, McIlroy was 24 years old, the top-ranked player in the world and on track for the career grand slam.
Jump ahead to the beginning of 2021 and McIlroy was struggling. He had missed the cut at the Players Championship. He missed the cut at the Masters. He was fighting his swing, working with a new coach and lamented that he "needed a spark."
And then he won the 2021 Wells Fargo Championship.
Rory was suddenly pronounced back. But it was a long time coming—by Rory's standards. In those 18 months in which he struggled mightily with his game, the world around him changed. A global pandemic hit. Rory and his wife had their first child. And there's now a guy who does this:
As the year's second major, the PGA Championship, returns to Kiawah Island, McIlroy is the new betting favorite—something no one would have guessed before his recent victory. Nine years ago, a long-haired, chubby-faced McIlroy lifted his second major trophy after a dominant win on the Ocean Course. Rory was on top then and remained the game's most dominant player for the rest of the decade. But there was a peculiar blip that left many wondering what was wrong with his game.
Now, as we return to where he cemented himself as the next big thing, we take a look at what happened to Rory, and how he's made himself a champion again.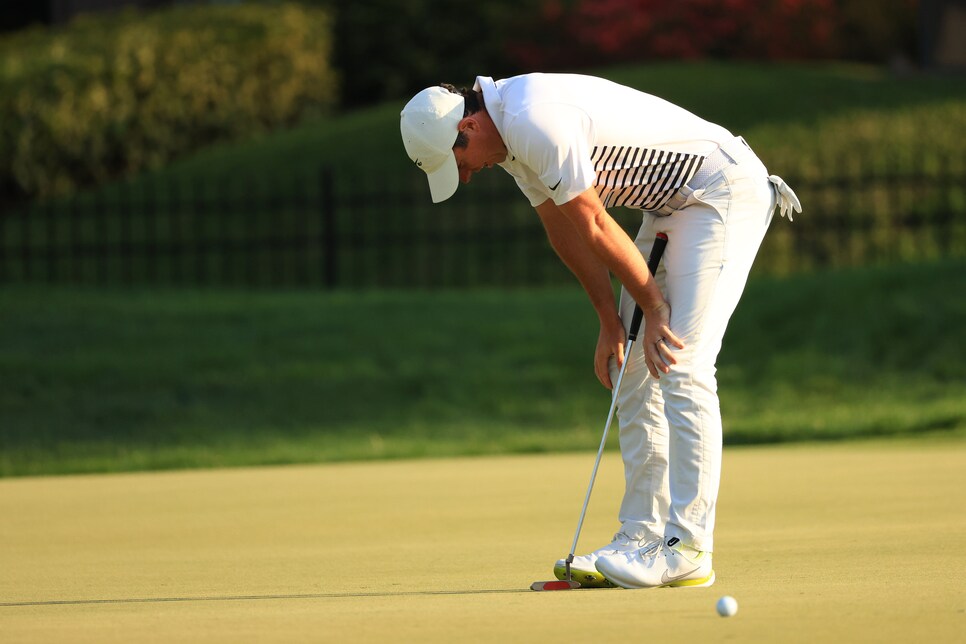 In November 2019, Rory was putting the finishing touches to one of the best seasons in his career. A victory at the WGC-HSBC Champions capped a stellar year that saw him win the Players Championship, the Canadian Open, the Tour Championship and the FedEx Cup for the second time.
His best was simply better than anyone else's. And though he didn't add to his major championship total, Rory was unquestionably the game's top gun.
"I believe on my day I'm the best player in the world and I think I can do that for a long time," McIlroy said. "For the foreseeable future, I feel like I can be the best player in the world, and I want to make the most of that. I think with all the experience that I have and what I've learned over these past 10 years, I think I can make the next 10 even better."
Rory kept the momentum going entering 2020, contending and posting top-five finishes in his first four events. His consistency also saw him return to No. 1 in the world for the first time since 2015 and for the eighth time in his career. Rory was back on top of the golfing world.
He entered the Players Championship as defending champion, but the world had other ideas, as the event was cancelled due to COVID-19. After a three-month hiatus, professional golf resumed at the Charles Schwab Challenge in June. But as the Tour adapted to a new reality of no fans, Rory struggled to adjust.
At Colonial, a Sunday 74 saw him finish in 32nd place, his worst showing since missing the cut at Royal Portrush 11 months earlier. In his next four outings he posted middling finishes of 41st, 11th, 32nd, and 47th—a far cry from his run of top-fives to start the year.
After a disappointing final-round 78 at the Memorial in July, Rory admitted he was struggling to get his competitive juices flowing without the energy of the crowds.
"If anything I've realized personally that it's very hard for me to keep focus out here. I feel like when there are fans and there's that energy and atmosphere, it's easy to get into that mindset that you need to get into. That's what we're used to. That's what we do. But when you don't have that, I've felt the first three weeks my mind was wandering a little bit, easy to lose focus, easy to lose concentration. And I think some of the mistakes I was making was because of that."
This dip in form also saw him lose the No. 1 spot to Jon Rahm, bringing a swift end to his 11-week stint at the top of the rankings. And while Rory had emerged sluggishly from golf's hiatus, another golfer came out of the spring looking part golfer, part pro wrestler.
Bryson DeChambeau had long been interested in distance metrics and had come to see length off the tee as the game's ultimate difference maker. Following the work of golf stats guru, Mark Broadie, who has long touted the importance of distance over accuracy, Bryson's team believed hitting the ball 20 yards further than his rivals, despite finding fewer fairways, would see him gain at least a stroke per round, just from the tee.
And the best way to achieve that was to get bigger.
Having spent the three-month break bulking up, Bryson emerged 20 pounds heavier and a brand new golfer. After finishing in the top 10 at all three events after the restart, Bryson powered his way to a sixth Tour title with more jaw-dropping drives at the Rocket Mortgage Classic. DeChambeau averaged 350.6 yards per drive in Detroit — the longest average driving distance for a winner in PGA Tour history.
Bulked up Bryson and his power game was the story in golf. And everybody was paying attention.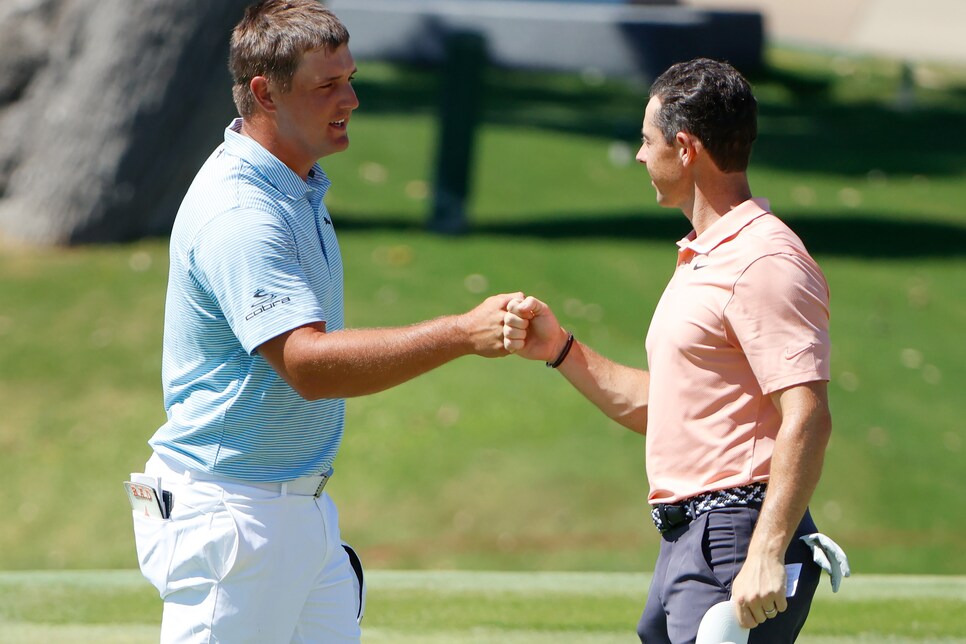 At the year's first major, the PGA Championship, all eyes were on Bryson. He didn't disappoint, driving his way into contention at TPC Harding Park, finishing three shots behind Collin Morikawa but good enough for his first top-10 finish in a major.
While Bryson and his power game were on the rise, McIlroy was headed in a different direction. After finishing 11 shots back at the PGA, he offered a bleak assessment of his play.
"Maybe i'm just not as good as I used to be. I don't know. I really don't know. I feel like the golf that I've played in the majors has been sort of similar to the golf I've played outside of them, and I've won some big events and played well and had a good season last season. Yeah, I can't really put my finger on it. I go out there and try my best every single day. Some days I play better than others, and just got to keep going and keep persisting and see if you can do better the next time."
Rory had posted just one top-25 finish in seven events since the restart, but at the end of August, he revealed that he and his wife, Erica, welcomed Poppy, their daughter, into the world.
The 'Nappy Factor' was perhaps in effect at East Lake as Rory shot a 64 in the first round of the TOUR Championship, eventually finishing tied for 7th. There was hope entering the U.S. Open at Winged Foot. But at one of the toughest venues in major championship golf, it wasn't Rory who dominated, but Bryson.
DeChambeau lapped the field at Winged Foot, winning by six shots. The 27-year-old was the only player to break par on the final day as he bombed and gouged his way to a first major. Rory finished in a tie for eighth, 12 shots behind Dechambeau, and, like the rest of the golfing world, seemed bewildered by what he had just witnessed.
"I don't really know what to say because that's just the complete opposite of what you think a U.S. Open champion does. Look, he's found a way to do it. Whether that's good or bad for the game, I don't know, but it's just—it's not the way I saw this golf course being played or this tournament being played. It's kind of hard to really wrap my head around it."
In October, after months of watching Bryson transform the game, Rory showed off his own gains—posting a video of himself reaching 190 mph ball speed.
For his entire career, Rory's calling card was his driver. And yet, he was changing it in search of more speed and more yards.
On a soft Augusta National in an unprecedented November Masters, Rory entered as a favorite to claim the green jacket and complete his career Grand Slam. The dream ended with an opening 75, but a backdoor top-5 provided some glimmer of momentum. For only the third time in his career, Rory ended the year without a win.
The beginning of 2021 presented a clean slate, and Rory's year started off right with an opening 8-under par 64 to lead the Abu Dhabi HSBC Championship.
But, despite leading by one going into the final round, a disappointing level-par 72 saw him finish five shots behind eventual winner, Tyrrell Hatton.
After two top-20 finishes on the PGA Tour, Rory's run of 25 events without a missed cut came to an end after a poor display at the Genesis Invitational.
Nothing looked in sync for Rory at Riviera. He hit just 11 out of 28 fairways and only 50 percent of the greens in regulation over two days. He admitted afterwards that he'd been spending so much time on his swing that he'd neglected to do many of the things required to actually win a golf tournament.
"I went to Riviera after feeling like I worked hard but was completely unprepared because I had sort of neglected sort of all other aspects of the game. I stood on the range for hours a day hitting golf balls and working on my swing, but didn't play golf. Didn't chip, didn't putt, didn't do any of the things that you need to do to shoot scores."
A return home for the Florida swing, where he historically performs well, offered a boost, and after finishing sixth at the WGC Workday Championship, Rory looked in fine shape at Bay Hill, opening with a 66 to share the lead. But in trying to chase down the leaders on Sunday, he put two balls in the water from the tee on the sixth hole, on his way to a four-over-par 76. To rub salt into the wound, Bryson won the event while Rory dropped out of the world's top 10 for the first time in three years.
"I feel OK. There was some good parts this week again. Some stuff that i'm sort of, I don't know what the word is or how to describe it, but just a little dejected or -- I don't know, like, maybe like maybe looking to go in a different direction. I don't know. I need something, I need a spark, I need something and I just don't seem to have it. Some days it's good, some days it's not."
If he was after a spark then maybe it would come at TPC Sawgrass. In 10 career starts at The Players, McIlroy had four top-10s, including his 2019 victory.
But Rory's title defense was done before he made the turn on Thursday.
He began his first round by sailing a drive wide of the fairway into the trees on the 10th en route to a double bogey. Things got worse on 18 where he found the water twice before three-putting for a quadruple-bogey 8. A 75 followed on day two as Rory missed the cut by 10 shots in what was arguably one of the worst performances of his career.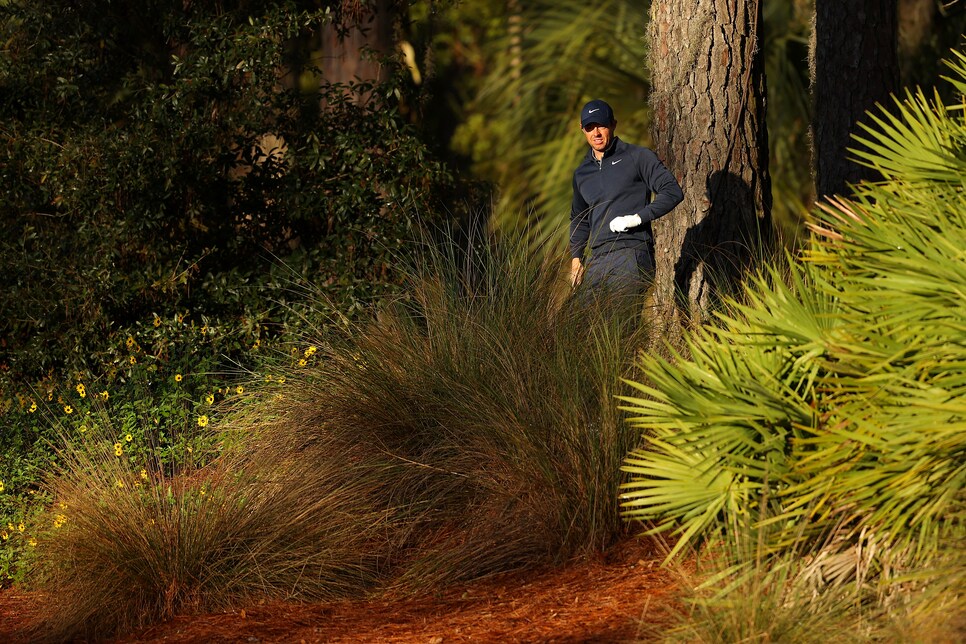 In his post-mortem, Rory finally gave the world an insight into some of the issues he had been battling.
"All this—the swing issues and where it all stems from, probably October last year. I was doing a little bit of speed training, started getting sucked into that stuff, and my swing got flat, long, and too rotational. Obviously I added some speed and I am hitting the ball longer, but what that did to my swing as a whole probably wasn't a good thing.
"I'd be lying if I said it wasn't anything to do with what Bryson did at the U.S. Open. I think a lot of people saw that and were like, 'Whoa!' If this is the way they're going to set golf courses up in the future, it helps. And I thought being able to get some more speed is a good thing, and I maybe just—to the detriment a little bit of my swing, I got there, but I just need to maybe rein it back in a little bit."
Rory was right. He added speed, but it didn't help, and the numbers back that up.
In 2019, he was first in strokes gained: tee to green and in total strokes gained. In 2021, he slipped to 19th in both categories, with Bryson now leading the TOUR in both.
While driving accuracy has never been one of Rory's great strengths, that also saw a dip, falling from 104th in accuracy percentage to 144th. His iron game wasn't spared either. In strokes gained approach, Rory dropped from 12th in 2019 down to 83rd.
To recap, one of the game's greatest players tried to change his best attribute.
"Where my swing is, it's an unusual pattern for me. You know usually what happens is the club gets out in front of me on the way back and then drops behind me on the way down. Where at the minute it's the opposite, it sort of gets behind me early and I sort of throw it back out in front of me on the way down. So it's a completely different pattern that I'm having to manage. I know for years and years my whole golf career. I got used to dropping it underneath the plane on the way down and from there I can manage it—I can hold it off, I'm used to that feeling, but this feeling that I'm having at the minute, I'm not used to managing it so that's where the two way miss comes in and that's where I just have to figure out what to do to get it back to a familiar pattern."
In March, Rory took the first steps to rectifying some of these issues when he began working with renowned swing coach Pete Cowen. The season's first major, and another shot at the career Grand Slam, loomed the following month.
Cowen has insisted that there are no instant fixes when it comes to swing changes, and that was clearly evident at the Masters in April where an erratic Rory missed the cut after posting the worst opening round of his career at Augusta — a four over 76. His tournament and perhaps his recent form was encapsulated in the second round when a wayward iron shot from behind the trees, hit his dad, Gerry in the leg.
Following the disappointment of Augusta, Rory took a three-week break from the Tour, and his return came at a much-loved venue, Quail Hollow — the site of two previous wins, including his first on the PGA TOUR. It was his birthday and Mother's Day in the same week. Things were looking up.
"I feel better about my game that I did flying home from Augusta on Friday night. We did some good work last week in Florida. You know, just being able to turn my right side through it a bit more and focusing on that has automatically got the club coming down on a better plane, a better path. And then ultimately that leads to better shots so. Obviously coming back to a place that I've played pretty well on before so hopefully that gives me a bit of good mojo going into the week."
A sore neck almost caused him to withdraw, but he finished his first round one over, then bounced back with a Friday 66. With fans back lining the fairways, Rory was in full flow on the weekend, debuting a cut with his driver. Everything clicked. He also led the field in strokes gained approach, and his putting was rock solid. Things were starting to click.
After starting Sunday two shots back, he made a 24-footer for birdie on 7 to take a share of the lead. By 18, he was two clear with victory in sight, before his worst drive of the day jeopardized everything. But Rory escaped courtesy of a clutch 7-iron from a downhill-sidehill lie, 199 yards out.
Two putts on the last gave Rory his third title at Quail Hollow, a 19th PGA Tour title, and more importantly, brought an end to 554 days without a win.
"Look you saw how I was, I was just excited to be here for the weekend. When I shot a good round on fFiday, I hadn't sniffed a weekend of a golf tournament for a couple of months. This is the first real test that I've had since working with Pete and sort of doing some different stuff and for it to pretty much hold together all afternoon, first time of asking, I'm excited about that. It's so cool to be able to win here again and see some of the hard work that I've put in over the past couple of months finally start to pay off."
Fans care about Rory because he lets you in. He lets you in on the process more than the standard golfer. That's why this journey in the last eighteen months is so captivating. It wasn't just a slump. It was an elite driver of the golf ball deciding he needed to change things up. It's speed dominating the modern game. It's swing changes being played out in the public eye. It's the most tantalizing aspect of golf in the most simplest form: How do I get better? For Rory, he stood on the 18th green at Kiawah Island in 2012 as the next big thing.
Almost a decade later, he's back as a different golfer, but the standard remains the same.