Easy Does It
A cagey and contented Lee Westwood is primed for Open season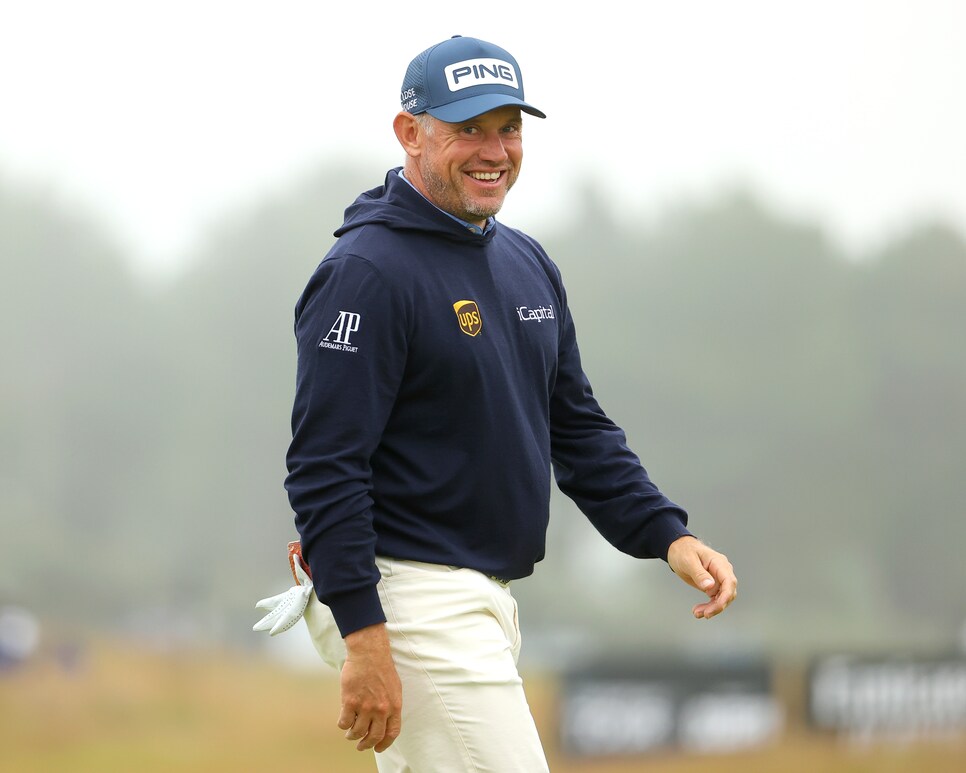 NORTH BERWICK, Scotland — As has become the norm in his mid-to-late 40s, Lee Westwood took the second round of the Scottish Open at The Renaissance Club in his mature stride. Yes, the opening 65 had been a nice start to the week. But it was only a start. And 24 hours later, the brace of bogeys he made to begin the back nine were met with an equal level of equanimity. Life on tour is like that for the 48-year-old Englishman these days. Just about everything— good, bad and everywhere in-between—is met with a good-natured mixture of realism. It's only a game.
And an easy game right now. Finishing eagle-birdie-birdie, Westwood surged from the chasing pack to legitimate contender in the space of 45 minutes amidst the haar-induced gloom encompassing the links on the southern shore of the Firth of Forth. With two rounds to play, Westwood is 10 under par and one shot off the pace set by U.S. Open champion Jon Rahm, Belgian Thomas Detry and Englishman Jack Senior.
But Westwood is way too long in the tooth to get over-excited about his victory chances here in Scotland and he was not above looking further ahead to next week's Open Championship at Royal St. George's. In tune with his more recent acceptance of fortunes good, bad and mediocre, his record at the southernmost venue on the Open rota is mixed. Winner of an amateur event ("can't remember what it is called") there in the early 1990s, he missed the Open cut in both 2003 and 2011.
"I always look forward to the Open Championship," he said. "I missed not playing it last year. So it will be nice to be back, especially as it is shaping up like a normal tournament with them letting crowds in. In 2003, I just wasn't playing well, and 10 years ago I probably played too many practice rounds with Darren [Clarke]."
That last bit was uttered very much tongue-in-cheek. Clarke famously walked off during his Tuesday practice round in 2011, then refused to even tee-off a day later, so bad was his form. Four days after that, of course, the Northern Irishman was clutching the claret jug.
So you never know, which again gels with Westwood's experiences in 2021. Second at Bay Hill and the Players back in March, he hasn't managed a top ten since. But the air of contentment that pervades his newlywed life has never gone away.
"Sometimes the stars align for players at majors," said Westwood, who has son Sam on the bag this week, before wife Helen takes over next week. "And sometimes they don't. There's where I am right now and where my game is at. I've turned up at events this year thinking I was playing alright and nothing has come off. Then again, I've arrived with doubts in my head and done well. So I just accept that. I never know what to expect, which is a good way to play, I think. I have no preconceived ideas or expectations.
"What I have done well is stay patient. I've not gone 'fishing' for anything in my game, which I've done in the past. I've gone back to the little things I know make me play well."
Westwood wasn't saying any more on that subject, but a paucity of specifics wasn't bothering one of Westwood's playing partners over the last two days. Watching and learning, rising star Robert MacIntyre was more than impressed by the play of the older man.
"Lee is just Lee," said the 24-year-old Scot. "He's Steady Eddie. If there was someone that I could play golf like, it would be Lee Westwood. Tee-to-green, he's just incredible. He makes the game look so simple. I go for daft pins, he's never going to go for daft pins. Yesterday, I've gone right at the pin on the 15th and three-putted, because I left myself on the wrong side. Lee's not even looking at the pin. He's looking three yards right of it and even if he pushes it he's always got a two-putt from there. That's a little thing I need to learn."
That process never ends, of course. Westwood is living proof of that. But he's making all the right noises going into what will be his 88th major championship appearance. He hasn't won one yet. But if omens are your thing, the then 42-year-old Clarke's victory a decade ago is front and center. Experience clearly has a place at St. George's.
"My swing feels in a good place and I'm rolling in my fair share of putts," said Westwood with a smile. "And when that happens, I feel like I'm a good enough player to still contend."