The Cream Rises
Led by top-ranked Keita Nakajima, the elite emerge for final-round battle at Asia-Pacific Amateur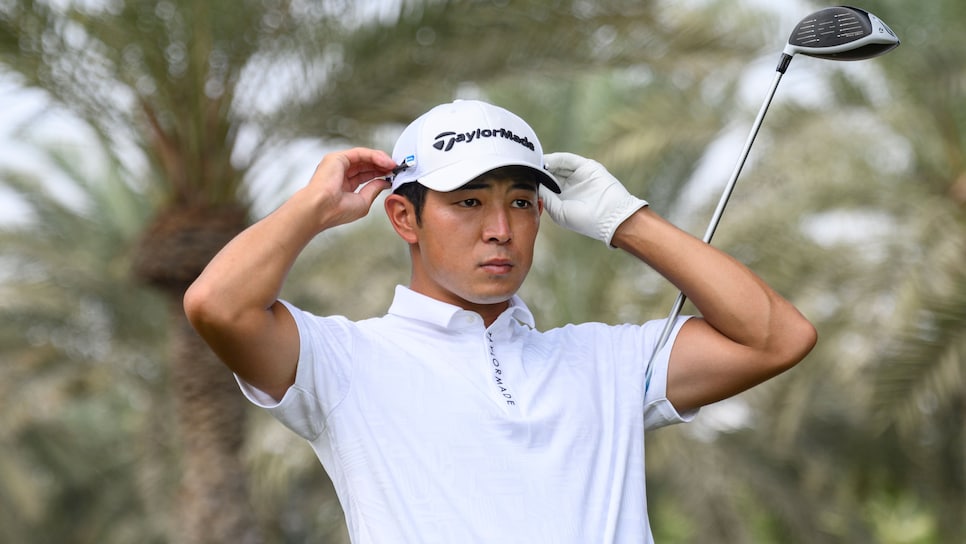 DUBAI, U.A.E. — The scene is set. The setting is scenic. And the stage, so far at least, belongs to the star of the show. With one round to play in the Asia-Pacific Amateur Championship at the Dubai Creek Golf and Yacht Club, World No. 1 Keita Nakajima heads a packed and cosmopolitan leader board. As many as 16 players from seven countries are within five shots of the 21-year-old Japanese amateur's 11-under-par total of 202. All will harbor at least some hope of ultimate success.
Perhaps the biggest threat to Nakajima's hopes of joining his compatriot, Masters champion Hideki Matsuyama, at Augusta National next April is the immediate presence of defending champion, Yuxin Lin. The 21-year old University of Florida junior zipped round the 6,986-yard layout in 65, two better than the leader, to sit one back at 10-under on the card.
Thus, the class of the original 93-man field—now 50 strong after the 36-hole cut—confirmed their elite status, setting up what is almost sure to be an exciting and dramatic final round. The water-strewn finishing holes ooze danger from tees to greens and all but guarantee such a scenario.
Still, it would be wrong to eliminate the possibility of a mildly surprising winner emerging in this 12th chapter of Asia's premier amateur event. A brace of eminently capable performers, Bo Jin of China (whose brother, Jin Cheng, captured this title in 2015 at Clearwater Bay in Hong Kong) and South Korea's Sam Choi are but two shots back. Alongside Nakajima, Choi is the only man who has broken 70 in all three rounds.
Elsewhere in the subplot category, low round of the third day belonged to Taichi Kho of Hong Kong. Seven birdies dotted the Notre Dame senior's card, the absence of bogeys also notable.
"I took a lot from what I learned yesterday," said the 21-year-old of a front nine scarred by five bogeys. "Those tough stretches helped me today. I stayed slower in the process and focused on what's ahead."
As for who is ahead, the seemingly eternally stoic Nakajima professed himself "happy" enough with a "steady" 67 in which he made five birdies and dropped only one shot, at the 223-yard par-3 eighth.
"I'm feeling good," he said. "In the beginning I felt a bit nervous, but I got good birdies on No. 3 and No. 4 and got some good momentum."
Crucially, he played the difficult closing stretch in one under par, saving par with a 15-foot putt on the 18th after a wayward drive led to a penalty drop. It was a finish that has him sounding ominously confident about his prospects in the final round.
"My mentality was to be strong in this tournament," he said. "I'm so happy with the last three holes."
Nakajima wasn't the only one making positive noises. Yin categorized the third-round 65 with which he followed his double-bogey finish on Day 2 as a credit to his "patience."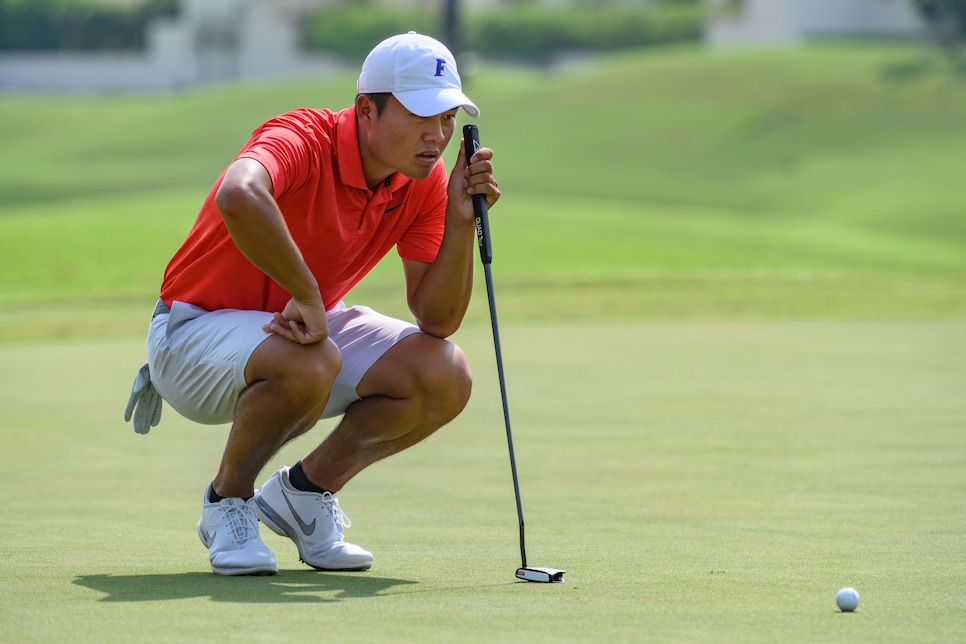 Yuxin Lin of China lines up a putt on the 4th during round 3 of the 2021 Asia-Pacific Amateur Championship. Photograph by AAC
Graham Uden
"I really stuck to my game plan," said the powerful left-hander, who won this event in 2017 and 2019. "My ball-striking was a little off yesterday so I worked a little extra after the round and it paid off. I also stroked it better on the greens today. All in all, I stuck to my game plan, didn't try anything too aggressive and played smart. That's important here. The last three holes are tough. You have to stay focused."
And more one suspects, if he or anyone else is to beat the best amateur on the planet.