News
U.S. Open 2018 live blog: Ian Poulter stumbles into the clubhouse at the end of his second round, everyone trails Dustin Johnson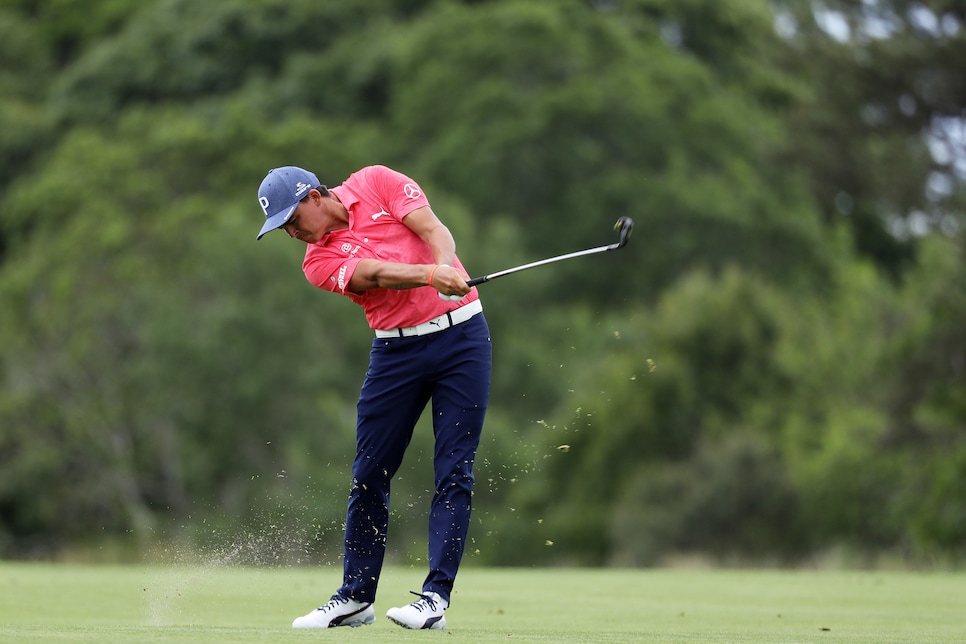 SOUTHAMPTON, N.Y. — Not sure if you heard, but it was windy on Thursday at Shinnecock. The conditions made for some brutal scores, none higher than a 92 from Scott Gregory, who admirably faced the music after his round and explained what went wrong. While he was the only one to join the exclusively bad 90s club, he was not alone in his struggles, as the likes of Tiger Woods, Jordan Spieth, Jason Day and Rory McIlroy all shot rounds of 78 or worse. Overall, the field averaged 76.5.
One marquee name stood tall though, that name being Dustin Johnson, who rolled into Shinnecock Hills off his 18th career PGA Tour victory at the FedEx St. Jude Classic. Johnson posted a one-under 69 in the high winds, hitting 10 of 14 fairways and making four birdies and three bogeys. The round put him in a four-way tie for first with Ian Poulter, Scott Piercy and Russell Henley. The world No. 1 will be back at it early Friday morning alongside Woods (+8) and Justin Thomas (+4).
Speaking of that wind, it's expected to be much calmer on Friday, which could give way to a much better day for scoring. We'll keep you posted on (hopefully) all the red numbers from a potentially fun day at the U.S. Open, if there is such a thing.
7:03 p.m.: Charley Hoffman won't love his finish with a bogey at the 18th hole, but he will be happy with his position on the leader board: T-2 with Scott Piercy, after Hoffman's 1-under 69 on Friday.
Hoffman did finish in the top 10 at last year's U.S. Open at Erin Hills. And he owns T-9 and T-12 finishes at the Masters. He's in position to be a factor at Shinnecock this week, currently just four back of Dustin Johnson's lead.
6:45 p.m.: Jordan Spieth made a heck of an attempt to make the cut ... but he came up just a little short. The 2015 U.S. Open champ went on quite the run of birdies (13 through 16) to give himself a chance—but bogeys on 17 and 18 will lead to Spieth missing the cut at Shinnecock.
Tiger Woods (+10), Rory McIlroy (+10), Bubba Watson (+11), Jason Day (+12), Sergio Garcia (+14), Jon Rahm (+15). That'd be a pretty good massive group to tee it up this weekend somewhere nice in the Hamptons!
6:35 p.m.: Ian Poulter wraps up a tough end to his round with another dropped shot, this one a bogey at the difficult ninth hole—to stumble to a 2-over 72. Anybody would consider that a good round at Shinnecock—but Poulter was at 3-under for the tournament until that triple-bogey 7 at the eighth.
That's a disappointing finish to what has been mostly a really, really impressive tournament from Poulter. He'll have to do his best to forget this finish before tomorrow's third round.
6:22 p.m.: Among the growing crowd at 1-over is Rickie Fowler, who just birdied the par-5 16th to move back to 2-under for the day. It's an impressive grinding type round from Rickie, the newly engaged 28-year-old, who is looking for another breakthrough this weekend in Southampton. He's keeping himself in the mix thus far at Shinnecock, a course he's said is one of his favorites.
Among the others at 1-over, who are all world-class players: Justin Rose, Brooks Koepka, Tommy Fleetwood and Henrik Stenson (all in the clubhouse). So in other words, three major champions, and two 20-somethings in Rickie and Fleetwood who seem poised to break through a major sooner rather than later.
6:15 p.m.: Oh NO! Ian Poulter is making a mess of the par-4 eighth. After hitting his approach into a green side bunker, he bladed his third over the green, bringing double bogey into play. He'd probably sign for double bogey now, because he then chunked his fourth into high fescue about five yards in front of him. From there, he hacked it just barely on the green and two-putted for a disastrous triple. At least he's still tied for second at even par. Woof.
Jordan Spieth is having a much better time than Poulter, having made four consecutive birdies to move all the way to seven over, just inside the cut line. Gritty stuff from the three-time major winner.
5:51 p.m.: Just when the leader board was looking a little weak, things started to heat up at Shinnecock. Rickie Fowler made his third birdie of the day after a mini-drought, and it came at one of the toughest holes on the course, the par-4 14th, where Fowler's approach might be the best shot you'll see on that hole all week. It left him this 15-footer:
That got Fowler to two under on his round and one over for the tournament. Aside from one bogey at the par-4 sixth, Fowler has been unflappable on Friday, hitting 11 of 11 of his fairways and 12 of 14 greens. One more birdie on his way in and he'll be in prime position for the weekend.
Meanwhile, Ian Poulter moves to solo second with a birdie at the par-3 seventh for the second day in a row. The Englishman is one back at three under. His fellow countryman Justin Rose just bogeyed eighth, putting him four back at even par, tied with Scott Piercy and Charley Hoffman.
5:27 p.m.: Some life from the afternoon's marquee group, as Spieth and McIlroy each birdie the short par-4 13th. It's looking like it's going to be too late for both of them, Spieth sitting at 10 over and McIlroy at 12 over.
The third member of their group, Mickelson, two putts for par at 13 to stay at seven over, hovering right around the cut line. Not exactly the energy we expected from this trio.
The latest man in the clubhouse is Scott Piercy, who carded a solid one-over 71, which has him at even par for the tournament. He's tied for fourth with Charley Hoffman, who just drained a 34-footer for birdie at the 12th.
Don't look now, but Ian Poulter has made back-to-back birdies to get to two under for the championship, one under on his round. He's now within two of Johnson.
5:09 p.m.: After starting his round one over through eight holes, Justin Rose has birdied three of his last six, putting him at two under on his round and one under for the tournament. He's now tied for second with Poulter. Finally, a little action.
4:25 p.m.: Though we're not seeing anyone go really low yet Friday afternoon, a handful of players near the leaderboard are playing well in these calmer conditioning at Shinnecock. Justin Rose is 1-under on his round to get to even-par for the tournament. Paul Casey and Rickie Fowler are both 1-under for the day and 2-over for the tournament.
Charley Hoffman just missed a short par putt on 7, but he's still at even par and 1-over—right in the thick of it. Ian Poulter, Scott Piercy have played solidly this afternoon, they're plodding along at 1-over for the day and tied with Rose at even-par.
No real highlights to speak of. Just some plodding along, U.S. Open style.
3:40 p.m.: Justin Rose picks up that dropped shot he had earlier on his front nine with a stellar birdie at the 18th hole, his ninth of the day, to make the turn in 35. He's back to 1-over and five back of DJ.
Rickie Fowler, who has had a solid day so far at Shinnecock, just bogeyed the sixth to move back to even par for the day and 3-over for the tournament.
3:25 p.m.: 2016 PGA champion Jimmy Walker out here throwing darts ... doing his best to move up the leaderboard on Friday afternoon:
3:11 p.m.: The man who seems to have a penchant for quietly finding his way to the top of the leaderboard at majors, Charley Hoffman, is doing it again at Shinnecock. Hoffer birdied the par-4 fourth hole to get to even-par, just four back of DJ's lead.
2:58 p.m.: Another gutsy par from Ian Poulter at the 14th hole, his fifth of the day, after finding trouble off the tee, and hitting a mundane pitch for his third shot, makes for an impressive putt to stay at even par and four back of Dustin Johnson.
Poulter's Ryder Cup counterpart, Justin Rose, bogeyed the 14th to move back to 2-over par. He's six back at the moment of DJ. And another Englishman, Paul Casey, is making a move early in his second round. Two birdies in a row at Nos. 4 and 5 have Casey at 1-over.
Meanwhile on the American side, Rickie Fowler is among those under-par in the afternoon rounds. He just missed a birdie try at the fourth hole, but he birdied the third. He's at 2-over par (1-under for the day) through his first four holes.
2:27 p.m.: The struggles are continuing for some of the star players who teed off in the morning wave yesterday. Rory McIlroy is 1-over on his round and +11. Jason Day is now +10 and just grabbed his wrist in pain. Jordan Spieth is struggling and currently +8 on the third hole, but looking at dropping at least one shot. Phil Mickelson is +8 with a chance to save par at 3. It's not getting any easier for this group of superstars.
1:50 p.m.: Poulter and Piercy have both bogeyed the 10th hole to start their rounds. So Dustin Johnson's lead is now four shots. It'll be interesting to see what his lead ends up being by the end of the day.
1:31 p.m.: The afternoon groups are now off—Justin Rose, Ian Poulter and Scott Piercy are among those starting their second round around the leader board who will battle to stay up there by the end of the day at Shinnecock Hills. Charley Hoffman and Charles Howell III will tee off in a bit here.
Will Shinnecock play tougher or easier in the afternoon? The morning wave got some early wet weather, but there's none of that this afternoon. The wind is supposed to remain consistent from the morning, blowing about 10 to 15 miles per hour—what you would expect at America's first links layout.
1:09 p.m.: Dustin Johnson comfortably two-putts from 27 feet at the difficult par-4 ninth hole to finish up a second-round 67. Rounds of 69 and 67 have DJ at 4-under for the tournament, and leading by three shots over Ian Poulter, who hasn't teed off yet.
What a start by DJ. The World No. 1 looked like he'd be tough to beat after his win last week in Memphis. It's early, but DJ will have a chance to be the first player in history to win the U.S. Open after winning on the PGA Tour the week before.
And in his same group, Tiger Woods rolled in a birdie on the ninth hole to get to 10-over. That might be just enough to make the cut on the number. The 14-time major champion will need the afternoon wave to struggle a bit to make sure the cut moves down to let Tiger make the weekend.
12:46 p.m.: Tommy Fleetwood has made the biggest leap up the leader board early on Day 2. The 27-year-old Englishman rolled in another birdie at the ninth hole—his sixth birdie of the day—to shoot a 4-under 66 to get to 1-over for the tournament. Fleetwood finishes the day T-4, and he'll be right in the mix in the week come the weekend.
Plus, the round of the week thus far.
Meanwhile, Scott Piercy bogeyed the difficult par-4 10th to start his round. He moves back to even par.
12:34 p.m.: You will likely see this highlight over and over this weekend. Dustin Johnson just rolled in an amazing 45-foot birdie putt from the top of the hill at the Redan par-3 seventh.
DJ, who has displayed deft touch on the greens over the past two days, might've just hit his most impressive putt. The ball rolled in on the last turn—just perfectly finding the bottom of the cup.
DJ gets it to 4-under, and the World No. 1 is 3-under for the day.
12:19 p.m.: Russell Henley bogeys his final hole of the day, the difficult ninth, to shoot a second-round 73. He finishes at 2-over after 36 holes. That's a tremendous start for Henley, currently T-8.
12:14 p.m.: Tommy Fleetwood has the hottest round on the course, as he just rolled another birdie in at the par-3 seventh hole. Fleetwood is 3-under par for the day, besting DJ's mark (for the day) by one. Those two are two of only four players currently under par in another difficult day at Shinnecock (Haotong Li and Gary Woodland are the others).
DJ is in the fairway at the par-4 sixth hole after a somewhat disappointing par at the par-5 fifth hole. Tiger is in the thick stuff right of the sixth fairway. He can't afford another bogey as he tries to make the cut this afternoon (he's currently 11-over).
11:46 a.m.: Make it a two-shot lead for Dustin Johnson. DJ rolls a 16-footer in at the fourth hole to get to 3-under par and 2-under on the day. That's a two-shot lead over Scott Piercy and Ian Poulter, who have yet to tee off.
DJ's putting has been so impressive this week. To think, he had never played Shinnecock Hills before this week? It's truly amazing to watch his speed control given it's his first week on these tough William Flynn greens.
The World No. 1 is now tied for the second-lowest round of the day, along with Tommy Fleetwood, who also just birdied the par-5 fifth hole (his 14th of the day).
11:43 a.m.: Bit of an unforced error from Russell Henley at the par-3 seventh Redan hole. A mediocre chip left him a six-footer for par, which broke across the hole. The former University of Georgia player will drop down to 1-over par through his 16th hole (2-over for the day).
11:30 a.m.: Dustin Johnson maintains his lead at the par-4 third hole with a nice two-putt par. His lead is still one over Ian Poulter and Scott Piercy, who will tee off this afternoon. Russell Henley just rattled in a par at the sixth hole to remain even-par.
Tiger also parred to stay at 11-over par. Once again, that first hole is going to bite him—as he's played it five-over par in the two days. Playing one of the easiest holes at Shinnecock in five-over par is not gonna bode well for anybody.
11:20 a.m.: After a bogey, double-bogey two-hole stretch at No.'s two and three for Rafa Cabrera Bello, just two players in the top 25 are under par for their rounds besides Dustin Johnson. The first is Tommy Fleetwood, who dropped this bomb at the par-3 second to get to two-under on his round, three over for the tournament:
Two holes ahead, Tony Finau rolled in this birdie at the fourth. That gets him to one under on the day and four over for the championship:
11:12 a.m.: The par-3 second gives the marquee group fits, but Johnson was still able to save par, getting up and down from just in front of the green to keep his one-shot lead. Woods and Thomas each make bogey, dropping Thomas back to four over and Woods to 11 over. The 14-time major champion doesn't appear to be long for the weekend.
Up at the fifth, Russell Henley shows some resolve and makes a birdie two holes after his triple bogey-7 at the par-4 third. That gets him back to one over for the day, even par for the championship, two back of Johnson. Scott Piercy and Ian Poulter, both a one under, each still have an hour-plus until they get their second rounds underway. Not sure if they are happy watching these guys struggle or scared of what's coming their way.
10:58 a.m.: Woods is making an absolute mess of the par-4 first once again after hitting the fairway off the tee. His second flared out right of the green and right of the green side bunker in ankle-deep rough. He chopped his next out and it rolled off the other side of the green, then chipped one 13 feet past the hole. He missed that and finished up for double bogey to fall to 10 over for the championship. Starting to think he might not win ...
Johnson's approach shot wasn't much better, missing the green left and coming to rest in a bunker. After knocking his third to 12 feet, he lipped out for par, giving him his first bogey of the day. He's still the solo leader at two under. Thomas made his par and is five back at three over.
10:42 a.m.: The way Johnson is scrambling, he's going to be tough to beat this week. The world No. 1 just got up-and-down from a downhill lie in a back bunker at the 18th with ease, putting it to six feet and holing the putt for par. He's now 10 of 13 in scrambling, and makes the turn in two-under 33 without a bogey and stay alone atop the leader board at three under.
Meanwhile, Thomas gets up-and-down from the fairway in front of the green to turn in one-under 34. He's at three over for the tournament, while Woods falls back to eight over after sneaking in a bogey putt to card a front-nine 35.
10:31 a.m. Tiger's drive at the 18th leaked a little further right than he might have liked, but his ball hit a marshall on the hop and it settled into the first cut of thick rough. He had to hack one out and it came up well short in a bunker in front of the 18th green, where he'll have tough time saving par.
Thomas plays a bold shot over the lip of a fairway bunker and finds the green, but it catches the false front and rolls off. The last to hit was Johnson, who absolutely crushed a drive and had just 126 yards left, but didn't take advantage. He actually hit a terrible shot, blading one that bounced off the back of the green and found a bunker. That scrambling percentage could take a hit, but he may still be the solo leader no matter what considering Russell Henley is about to make a triple bogey at the par-4 third.
10:18 a.m.: Thomas knocks in his birdie to get to three over for the tournament, good enough for T-14. Impressive stuff after starting with a bogey on his first hole that could have been a double, and then an 18-foot par save at the 11th.
Johnson nearly topped his bunker hole-out from Thursday with another one at the 17th, but it just lips out and he takes his par to stay at three under. Tiger two putts from 40 feet to remain at seven over, 10 back of Johnson.
10:13 a.m.: Johnson's tee shot at the par-3 17th finds a bunker left of the green, where he'll look to scramble for par for the ninth time in 12 tries so far this week. After a long conversation with caddie Joe LaCava, Woods strikes a 7-iron that finds the front of the green about 40 feet from the hole.
Thomas shot was the best of the bunch, sticking to five feet just left of the hole. He'll have that to get to three over.
Haven't mentioned Rafa Cabrera Bello in a bit, but we should. The Spaniard just turned in three-under 32:
Might not see a better back nine than that on Friday. Cabrera Bello is now in solo fifth, even par for the tournament.
10:04 a.m.: Thomas hits a good putt, but it wouldn't catch the left edge. Judging by his reaction, he knows that one hurts, but he's still just six off the lead at four over.
After stalking his birdie look from both sides, Johnson drains it, moving to three under to take the solo lead. He remains bogey-free and continues to look locked in. Woods pours one in right after him to get back to seven over. Good hole from the duo in some tough conditions, as the rain is really coming down now.
10:00 a.m.: Woods' wedge lands about 20 feet past the hole and sucks back to six feet for birdie. Needs that as he's currently tied for 85th and the U.S. Open cut is top 60 and ties. Still early, of course.
Johnson's approach was a good one as well, and he'll face a seven-footer to take the solo lead. From a green side bunker, Thomas plays a low runner that stops 12 feet below the hole.
9:54 a.m.: Tiger's drive was the only of the group's to miss the fairway, but he advances his second back in the fairway and leaves himself 98 yards to the hole. Johnson, even with all his length, had 312 yards left to reach the green and laid up with an iron. Thomas went for it with a 3-wood and rolled it into one of the bunkers left of the green.
9:41 a.m.: Tiger plays a sport bunker shot to four feet and saves his par, while Johnson and Thomas two putt for their pars. On to the par-5 16th, a big opportunity for the trio to get one back.
Despite a clear weather forecast, it's beginning to rain pretty hard and the temperature is beginning to drop, giving Friday an Open Championship feel. So much for a beautiful week of weather at Shinnecock.
9:36 a.m.: Woods hits the fairway at the 15th, then badly misses the green and leaves his second in a bunker. Back-to-back bogeys would not be ideal. Meanwhile, Johnson and Thomas each find the green with their approach shots.
A few groups a head, the trio of Spaniards are making their way to the 17th green. Can you guess which one has made a move? It's Rafa Cabrera Bello, who has played his first seven holes in two under without making a bogey. He's in a tie for fifth at one over, while he's fellow countrymen, Jon Rahm and Sergio Garcia, are a combined +19 and may be headed for an early exit.
9:24 a.m.: Tiger's par effort comes up short, and he falls back to eight over. Johnson makes his uphill seven footer as he continues to stroke it well and limit the damage. Thomas gets up-and-down for par from the bunker to stay at four over.
9:21 a.m.: As a group, there was a little bit of momentum building for Johnson, Woods and Thomas. Leave it to the 14th hole to bring that to a screeching halt. Thomas was the only one to find the fairway, and he still has work to do for par after hitting his second shot into a front right green side bunker. Woods and Johnson both missed the fairway badly and hacked out, Johnson just short of the green and Woods 144 yards from the pin. He did knock that one to 20 feet and will have a good look at par. Johnson's third shot comes up about eight feet short of the hole.
9:07 a.m.: Johnson goes before Thomas and clips a chip to tap-in range, avoiding a bogey. Huge with the long par-4 14th awaiting. Thomas' bunker shot went well past the hole, put he makes the speedy comeback putt for birdie to get back to four over. Quite an eventful first few holes for the world No. 2. Woods two-putts for par and stays at seven over.
A few nine-hole scores have been posted, the best coming from the young Sam Burns, a one-over 36 on Shinnecock's back nine that puts him at two over for the championship. The former LSU standout flashed some of his potential during the Florida swing earlier this season, finishing T-8 at the Honda Classic and T-12 at the Valspar. In April, he notched his first win on the Web.com Tour at the Knoxville Open, carding three straight rounds of 65 after a first-round 72. Now, on the biggest of stages, he finds himself T-10 through 27 holes.
9:00 a.m.: Woods leaves his 136-yard approach shot well under the hole, but will have an uphill look for birdie from 20 feet. A couple yards ahead, Johnson comes up well short and spins it off the green. First mistake we've seen from him this morning.
8:55 a.m.: With the tees up and the wind at their backs at the 13th, Johnson and Woods each smartly play irons into the middle of the fairway, leaving themselves a wedge into a back hole location. Thomas went bold, pulling out the driver and taking a shot at the green. His drive ended up in the front bunker, a great spot to blast one out close and capitalize on his risky decision.
8:43 a.m.: Thomas and Woods each hit their third shots tight after two wayward drives off the tee. Woods' was from 73 yards and Thomas' from off the back of the green on the right side. Looks like they'll both escape with par. Woods remains at seven over and Thomas at five over. Johnson also makes par to stay in a tie for the lead.
Back at the 10th, Jason Dufner stripes one down the middle and puts his approach to five feet, leading to an opening birdie. Dufner moves to one under overall, one back of Johnson and Henley. As expected, there's birdies to be had early on Friday morning.
8:41 a.m.: After a surprisingly decent day with the driver on Thursday, Tiger pulls it out for the first time on Friday and pumps it miles to the left, leaving him no angle to the 12th hole's back pin location. He hacked his next out well short and right hoping to give himself an angle to get one close and save a par.
Johnson continues to cruise along, finding the fairway off the tee and hitting his second to 30 feet. He'll have a little wait as Thomas and Woods each try and hit their third shots to a makable range for four.
8:30 a.m.: Woods hits a baby draw into the par-3 11th green and leaves him self a left-to-right 20-footer that ran out of speed. Two-putt par to remain at one under on the day, seven over for the tournament. Thomas' drive was well left of the green, and his second rolled 18 feet past the hole. But he was able to avoid a bogey-bogey start by making that for par to stay at five over.
Johnson, the last to putt after a beautiful tee shot, banged in his birdie, giving him two consecutive birdies at the par-3 11th. He moves into a tie for the lead once again at two under.
8:22 a.m.: Oh boy. You can't be mad at a birdie, but Woods' 2-footer caught the lip of the cup and toilet-bowled in. Nervy, but a one under start is a one under start. I'll be here all day with this type of analysis, by the way.
Johnson's birdie effort just slid by and he cleans it up for par, keeping now just one back of Henley, who made his first bogey of the day at the difficult par-4 14th. Thomas avoided a double-bogey by rolling in a six-footer for bogey, dropping him to five over. Woods is at seven over.
8:10 a.m.: Woods hits a wedge past the hole and spins it back to tap-in range. There is no way he can miss that one ... right? Stay tuned. Meanwhile, Johnson's ball finds the green about 17 feet from the cup, while Thomas faces a tough up-and-down from off the back of the green.
8:02 a.m.: The marquee morning group of Tiger, DJ and JT are off, and they each hit irons off the tee, none further than Woods, whose ball caught the slope and rolled all the way to the bottom of the hill. That was large, 307 yards to be exact, leaving him with 99 yards to a front pin location. Now, if he could only make a putt.
7:45 a.m.: Russell Henley opens his round with a birdie at the par-4 10th and a par at the tricky par-3 11th to grab the solo lead early on Friday morning. Now he heads to the gauntlet of holes 12 through 14... well, as I typed that, he drains his second birdie of the day at the 12th to get to three under. Just hand him the trophy now! Kidding.
Here are your Round 2 hole locations from the USGA:
Stay tuned as we get closer to DJ, Tiger and JT teeing off on the 10th at 8:02 a.m.