News
Masters 2018: Why Gary Player continues his crusade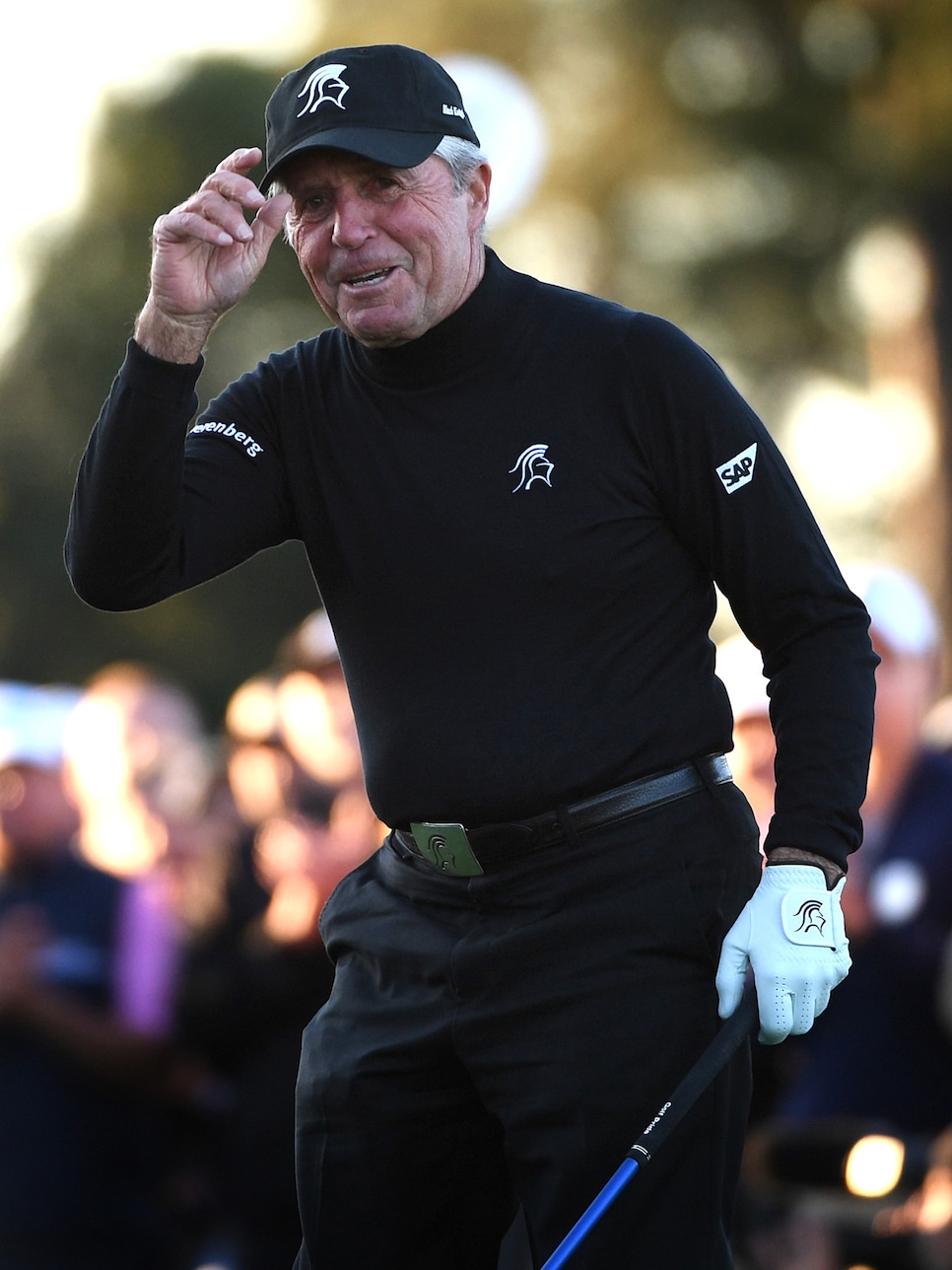 AUGUSTA, Ga.—Here's a sentence you never thought you'd read: Gary Player is beat. He sinks into a couch on the first floor of the Augusta National clubhouse, needing a brief respite from, well, being Gary Player. "These weeks are wonderful," Player says, "but they are busy."
Busy if you're Gary Player. For most elder green jacket winners, the Masters is a homecoming: back slaps, catch-ups, the retelling of exhausted stories. But the Black Knight is not them. If you had no prior knowledge of Player and encountered him under Augusta National's Big Oak Tree on Monday, you would have thought he was running for office. He was conducting interviews, shaking hands, making impromptu speeches. He tried to give everyone time, and if couldn't he promised to return.
This has been a Player routine for a number of years—not just at the Masters, but most big-time events and, frankly, whenever the mood strikes—his vigor never wavering. But even for him, this is a bit much. Saying "yes" to everyone you come across turns the five-second walk from the tree to clubhouse into 15 minutes.
So why does he continue to do it? He's made his fortune, his legacy secured. Why does Gary Player continue his crusade?
Simple, really: He loves golf. And he feels the responsibility to protect it.
"We are in such a good spot at the professional level, but the amateur game is in trouble," Player remarks. "We need to do everything to help it, and we are."
This is a riff you've probably heard from Player before. Though there's no subject he won't broach, he has his talking points—fitness, diet, the need to curb driving distance, growing the game. But repetition shouldn't dilute the message. There's no agenda to push, and the urgency and care in his voice are far from show. There's a reason he engages everyone he comes across, even when the cameras aren't rolling.
Yes, his pride occasionally blurs the line with grandstanding. He's opinionated, although you would be too if you won the Grand Slam AND Senior Grand Slam. He likes the attention. That's not the worst thing in an era when athletes are increasingly shutting themselves off from the public.
That accessibility in a concerted effort, which he views as duty. While he was holding court, two current marquee names blew off requests from media and well-wishers, a sight not lost on Player.
"They [the tour's current stars] are nice guys, they really are," Player says, "but they don't get the other aspect of it, dealing with people." He's mystified how many discuss Arnold Palmer's example but don't live it. To be fair, Player is not a current competitor; his priorities and that of a top-50 player are not comparable. He's also not a talking head. He's walked their walk.
Of course, Player's not here to criticize or condemn (unless you're against golfers weight-lifting; that's a different story). He's a ball of kinetic positivity. Player stops to give a group of high schoolers a pep talk on their responsibility to each other and country. A group of retired veterans walk over, and Player showers them with praise and thanks. Shades of his Presidents Cup captaincy remain, as he boasts the merits of China's Haotong Li, contemplating the difference he can make in a land that oppresses golf, as well as India's Shubhankar Sharma and his reach to 1.3 billion of his fellow countrymen.
It's not all serious. Player's quick with a jab or laugh to those who pass, and he still plays as much as he can. On Sunday, following his participation in the Drive, Chip and Putt Championship, he teed it up at Augusta National with fellow South African Trevor Immelman.
"Oh, I played so terribly," Player moans. "My flight over was terrible. We were stuck in delays, and I came in just tired."
The result? A three-over 75, beating his age by seven shots. "I did have three birdies. That helps."
And with that, Player rises from the couch, suddenly reinvigorated. Or perhaps he knows he has a job to do. Player's crusade continues, one golfer at a time.