News
Masters 2018: The Drive, Chip and Putt continues to offer good times—and remarkable stories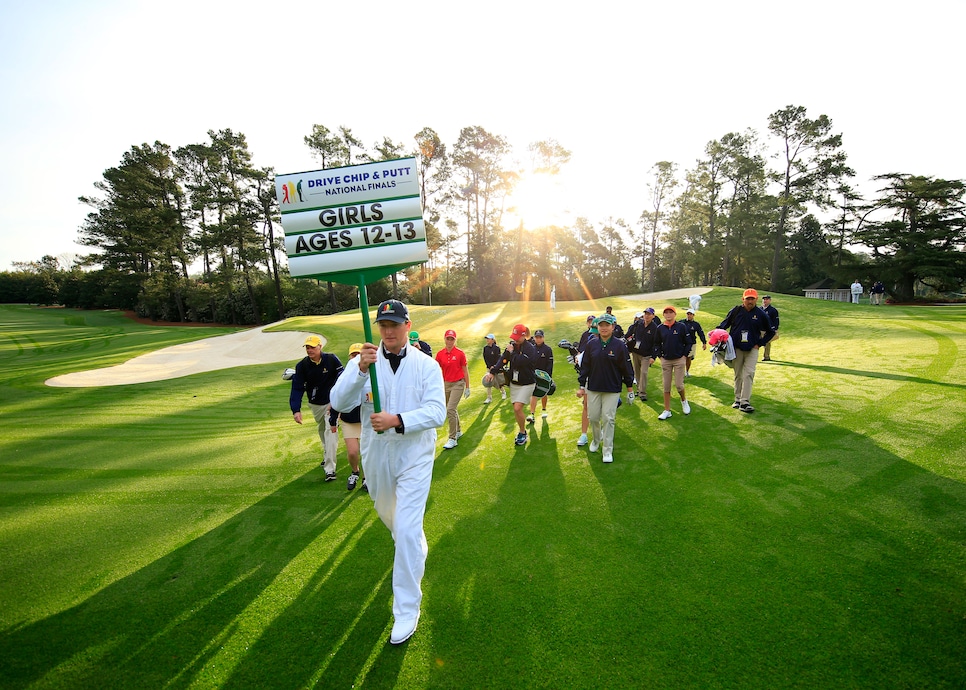 Photo By: Chris Trotman/Augusta National
AUGUSTA, Ga. — Since qualifying to compete in the Drive, Chip and Putt National Finals last fall, Vanessa Borovilos had been wondering what it might feel like to celebrate winning her age division at Augusta National Golf Club. Never, though, did the 11-year-old Canadian envision it would include 81-year-old Gary Player spontaneously lifting her triumphantly in the air during her award ceremony.
"Yeah, that was pretty amazing," Borovilos said, a native of Toronto who was smiling from the time she drove down Magnolia Lane to when the three-time Masters champion set her down beside the clubhouse. "Just part of an amazing day really."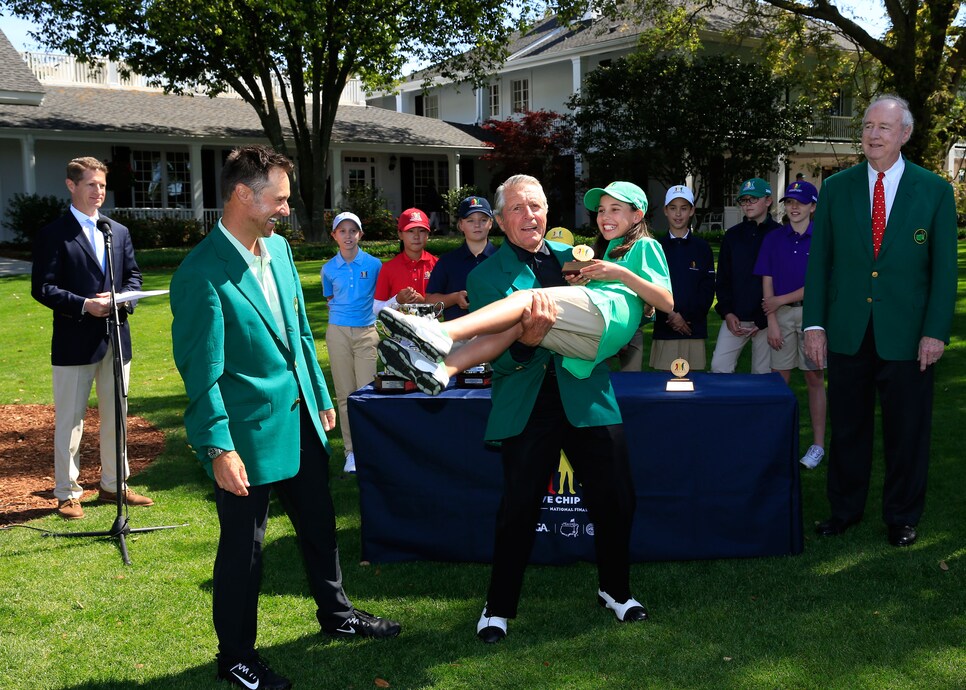 Chris Trotman/Augusta National
Sunny skies and thunderous applause greeted the 80 participants in the latest edition of this Masters week kick-off event that spotlights junior golfers ages 7 to 15. And once again, the mood was happy and playful, everything officials at Augusta National, the USGA and the PGA of America wanted when they started the DCP five years ago.
There are no metrics yet that tangibly measure the impact the event is having on junior golf participation. Yet the anecdotal evidence remains compelling.
Jack Farkas, 15, has a 14.4 handicap index, having only taken up the game in 2013 and not gotten truly serious until the last two summers. After seeing the DCP competition on television, he applied early last year and surprised himself by advancing to the National finals last fall.
"It was just an incredible feeling," Farkas said about earning his way to Augusta. "I wasn't expecting it. It showed how all that hard work pays off. What you do when no one is watching pays off."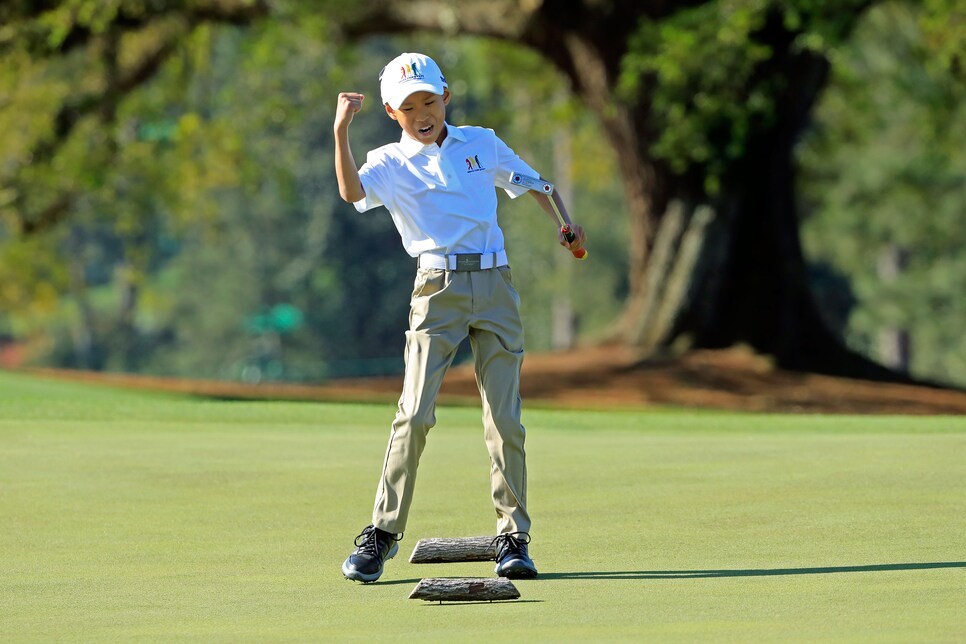 Sam Greenwood/Augusta National
"The Masters is the greatest event ever produced. So for the kids, it's got to be the greatest junior event ever produced," said two-time Masters champion Bubba Watson, who helped hand out awards on Sunday. "This is an event that is changing the game of golf. It's going to take years to, but this will change how the game and really bring a whole new group of youngsters to it."
The participants seemed appreciative of what was taking place, from the celebratory dinner on Saturday evening—attended by defending Masters champion Sergio Garcia—to the the pomp and circumstance of parading around Augusta National's practice area and 18th green.
"It feels like I won the Masters," said Teighan Chea, who rolled in a putt to clinch the Boys 7-9 division. "It's so amazing."
As the event continues to gain popularity, it also continues to reveal the game at its finest. In the first age division out on Sunday morning, the Girls 14-15, Katherine Schuster of Kill Devil Hills, N.C., claimed the overall title, sinking a 30-foot putt on Augusta's 18th green.
"There are no words to describe how happy I am," the 14-year-old said. "I can always look back and say I won a competition at Augusta National. Not too many kids can say that."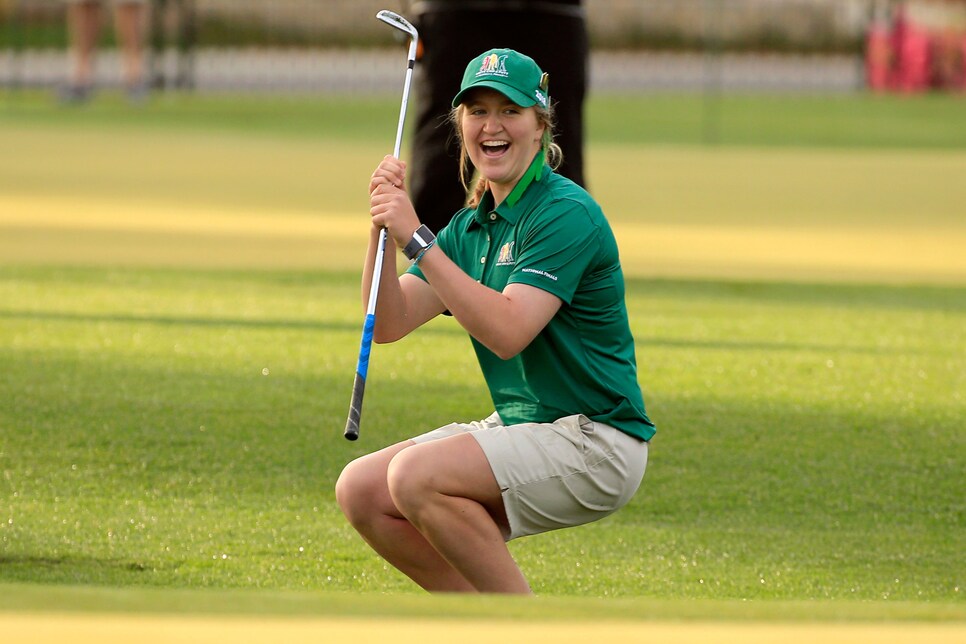 Hunter Martin/Augusta National
Schuster started playing golf in 2014, around the same time she was first diagnosed with a hereditary disease that results in benign tumors to grow on her bones. In 2014 and 2016, Schuster had surgery to remove the exostoses. Another recently was found on her ankle, and she may need surgery again in the fall.
For Schuster, golf is a release from the physical pain the disease causes and the mental worry over whether it will return. For inspiration, she looks to Stacy Lewis and how she was able to overcome her physical issues with scoliosis.
"She's a great role model, how she overcame that and became No. 1 in the world," Schuster said. "It makes me want to keep fighting too. It's a set back but if you can fight through you can accomplish your dreams."
The DCP field had others heartwarming stories of children who have persevered. Landon Kelly, a 9-year-old from Canada, was born with a diaphragmatic hernia that required two surgeries as an infant. He describes himself as "blessed to be a survivor." Kaden Ford, a 15-year-old from Colorado Springs, suffers from asthma, epilepsy and serious food allergies. Medication controls his condition, but golf helps give him balance.
Just to get qualify for the Finals was a challenge for some, beyond the golf. Allyn Stephens, 13, lives in Houston and her house was flooded with four feet of water during Hurricane Harvey around the time of the Regional finals. Her family was living in hotels, but she maintained her focus to earn her way to Augusta.
Asterisk Talley, 9, from Chowchila, Calif., finished second in the Girls 7-9 division on Sunday, but her story of getting to Augusta shows her own personal toughness. Talley had missed qualifying for the 2017 DCP finals when she finished second in her Regional. Trying again for 2018, she returned to the Regionals at the Olympic Club in San Francisco. A day before the qualifier, however, Talley needed to have dental work done in preparation for getting braces. Despite having six front teeth pulled, she and her parents drove the 2½ hours to San Francisco, and she finished first in her age bracket—holing one of her chips—to advance to Augusta.
"She was a trooper," said Brandii Talley, Asterisk's mom. "I kept asking her, 'Are you feeling OK? Do you want to do this?' and she kept saying, 'I'm good.' So we said let's just go for it and see how it goes. We were actually kind of surprised she made it all the way through."
The chance to experience a little glory at Augusta National has that effect. And now that you know you that a three-time Masters winner might lift you up as you claim your prize ("She had such a wonderful smile, and I thought lets make this really memorable," Player said.), well who knows how many more kids will be saying sign me up.