News
2018 Hot List Summit: 5 takeaways from Day 1 of player testing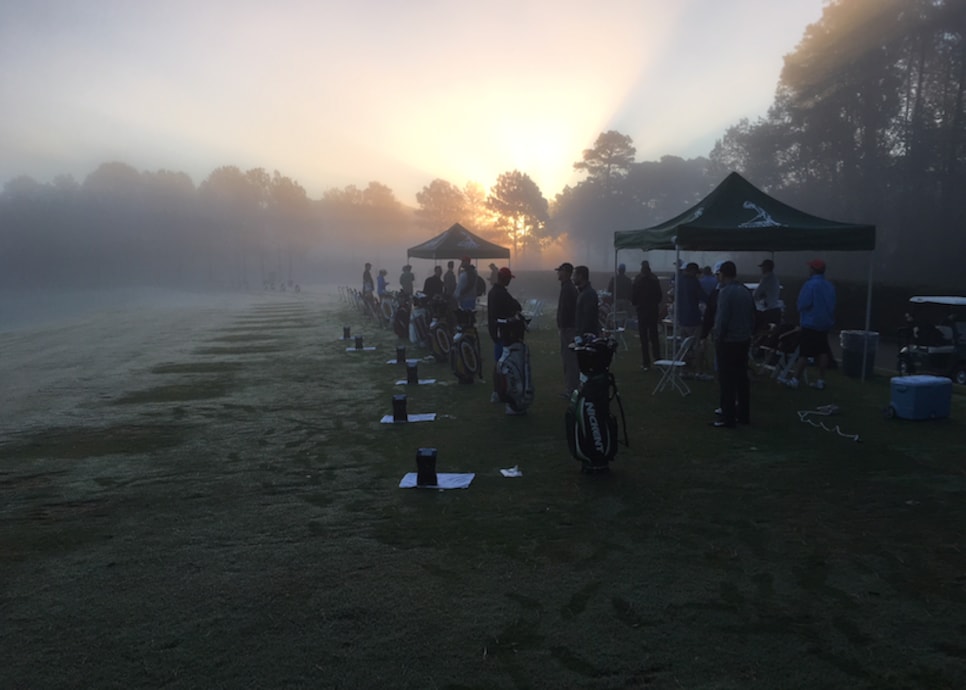 This week is Golf Digest's annual Hot List Summit, a congregation of scholars, scientists, retailers and testers searching for the same goal: What clubs belong in your bag? Assistant editor Joel Beall is your Hot List Summit correspondent at the Pinehurst Resort.
For all the components involved with the Hot List—meeting with equipment manufacturers, discussions with scientists and academics, retailer panels, internal experiments—the most illuminating part involves player testing. Our group is comprised of old and young, professionals and amateurs, studs and chops. For three days, they hit every new product on the market, all in the ambition to help their fellow hacker in the purchasing process. Day 1 of player testing at the 2018 Hot List Summit at Pinehurst Resort assessed the categories of game improvement irons, hybrids and mallets. Here are five observations from Monday's study:
There's a reason your 4-iron flies to another time zone
And sorry, it has nothing to do with your Pilates regimen.
Loft jacking is a dirty secret that has been around for decades, with Cobra pursuing this notion as far back as 1992 with the King Oversize irons. In essence, it's using a loft traditionally associated with a lower-lofted club (in this case, a 3-iron) utilized on a higher club (think a 4). Take a look at the table below illustrating the variance within Titleist's 718 line:

They are far from alone. Similar disparity can be found in Callaway's Apex and Epic brands (the Epic Star pitching wedge is 39 degrees, 5 degrees stronger than the Epic pitching wedge and 8 degrees against a traditional model), along with TaylorMade's array of offerings. Why is this taking place?
-- Less loft means more ball speed, as impact is less angled. With golfers becoming acclimated with launch-monitor fittings, they can easily see an iron that appears hotter.
-- New materials, configurations and designs have shifted centers of gravity lower, meaning the stronger lofts launch the ball on similar trajectories as the traditional lofts, only with more speed and less spin so they (often) fly higher.
Although we're all chasing distance, pay attention to numbers like landing angle and peak height to ensure those stronger lofted irons are producing "playable distances," meaning shots that can hold greens. Especially as some companies send stronger 7-irons to "win" the cage battles against other companies.
Don't get fitted unless your swing is in shape.
Our on-site fitter asserted that, if you're interested in getting new sticks, your game better be in good standing. Trying to make a swing and equipment change at the same time is a dangerous dance, which is why many fitters believe the best time to pull the trigger on a new set is later in the season when your swing is in a groove.
We understand the counters; chiefly, one of the reasons why golfers want new clubs is they feel like their game needs help. In that same tone, if you're playing well, you're likely not inclined to mess with a winning formula. Conversely, you don't want to spend four figures on bats when your swing is out of whack. There's the possibility a hitch or issue could lead to an improper fitting.
Don't mistake this as, "You HAVE to be playing lights out." Rather, make sure you're heading to the cage with a (relatively) workable swing.
Mallets: All the cool kids are doing it.
Technology can only do so much on a blade. The same cannot be said for its putting brethren. Traditionally face-balanced, there's been a movement to toe-hang mallets, one somewhat spurred by tour use from the likes of Jason Day and Dustin Johnson (along with an avalanche of non-TaylorMade operation from Odyssey and Ping models). This means the forgiving, high moment of inertia benefits of a mallet are married to a flat stick that fits the arc-like stroke commonly seen in traditional blades.
Better yet, while the mallet historically preached function over fashion, more styles and colors have turned the hideous tools into works of art. Okay, slight exaggeration, but at least they don't look like fire pokers anymore.
If you're struggling on the dance floors and still hanging onto an outdated blade, you can find your Valhalla here, my friend.
Why you're missing the point with your hybrid.
Many hybrids are put into bags for a simple reason: they match a player's woods. Or maybe it went the farthest. Or worse, "Well, all hybrids are the same, and this looks and sounds nice." Though this category was infused with parity in the past, it's a new ball game for 2018.
A hybrid isn't about which one can hit it the farthest or get the ball in the air easiest. Your search for the right hybrid starts by knowing what role they play in your bag. That includes distance gapping, how often you hit them from the tee, and the state of your long-iron game. If you're a big hitter, perhaps getting the rock airborne or achieving high flight needs to be your No. 1 priority. (For instance, one of our best testers, a former mini-tour player with the fastest swing in the group, happened to like two clubs designed for those who need help getting his shot up.)
If there's a big gap between your first fairway wood and lowest iron, finding a hybrid that bridges those two distances is supreme. High handicappers or those struggling with power need to find a rocket launcher.
These are clubs designed to make the game easier. But they can't help you if you don't know what you need.
A new approach on iron make-up.
Retailers are changing the way they price irons, tagging by the club, not the set. That might be semantics to some, but it's also an indication they're not selling eight-piece sets very often. In fact, a high percentage of sets start at the 5-iron, ditching the 4 and 3 for hybrids or fairway woods.
Also in this conversation, more blended sets are being sold. Maybe you like a player's sound, feel and maneuverability in the short irons, but need some forgiveness and distance in the long irons. Using the Titleist example above, a player is not held to just the AP1/2/3, but perhaps a mix of two or three.
Why is this important? Many demos only allow the hitter to use a 7-iron of the model in question. Do your research, test as many clubs as possible and know your own game so you can properly exploit the customization and creativity at your disposal. A blend of irons in the bag might seem unorthodox, but you won't think twice once your scores lower.