News
2017 Presidents Cup: It's not the Internationals' fault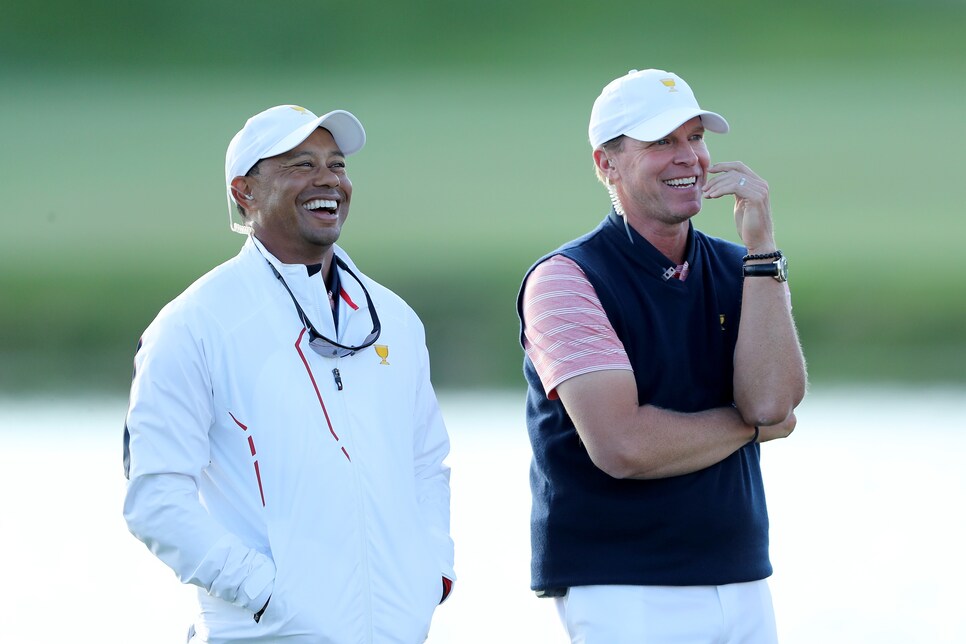 JERSEY CITY, N.J. — They were supposed to have a chance. Coming OhSoClose in South Korea, with more front-line firepower and depth than ever before. Yes, the Internationals were underdogs for the 2017 Presidents Cup, heavy ones at that. But, on paper and in spirit, a win seemed in the realm of possibility.
And then the matches started.
As bad as Thursday went for the global all-stars—and, save for the efforts of Louis Oosthuizen and Branden Grace, it was bad—Friday was worse. The Internationals came out on the business end of a 4-0-1 bruising, a score that somehow doesn't convey the plight of Nick Price and company. The South African supergroup of Oosthuizen and Grace was never competitive with Justin Thomas and Rickie Fowler, a loss that could simmer as a psychological blow heading into Saturday.
"We ran into a brick wall today with those two," Grace said. "Every time we tried to show them something, they threw something better back at us."
Former No. 1 Adam Scott and Jhonattan Vegas put up a respectable fight, but Brooks Koepka and Dustin Johnson—using their short game, not muscle—were too much to overcome. A Jordan Spieth lip-out birdie at the 18th is the only thing that prevented a sweep.
Perhaps their plight is best summed up by Anirban Lahiri. He dumped his opening drive in the water, left a bunker shot in the beach on the second, and had to sit out on the third hole for an illegal practice shot. Lahiri's day was over before it began, with Charley Hoffman and Kevin Chappell running Lahiri and Charl Schwartzel off the course, 6 and 5.
Through two days, the perception is the Internationals just don't have it. That top-ranked player Hideki Matsuyama is mired in a slump doesn't help the cause, nor does Jason Day's continued struggles in this event (in his last seven matches, the Aussie is 0-5-2). It's a narrative that's easy to sell, and one you'll hear with frequency this weekend. Except, it's not entirely true.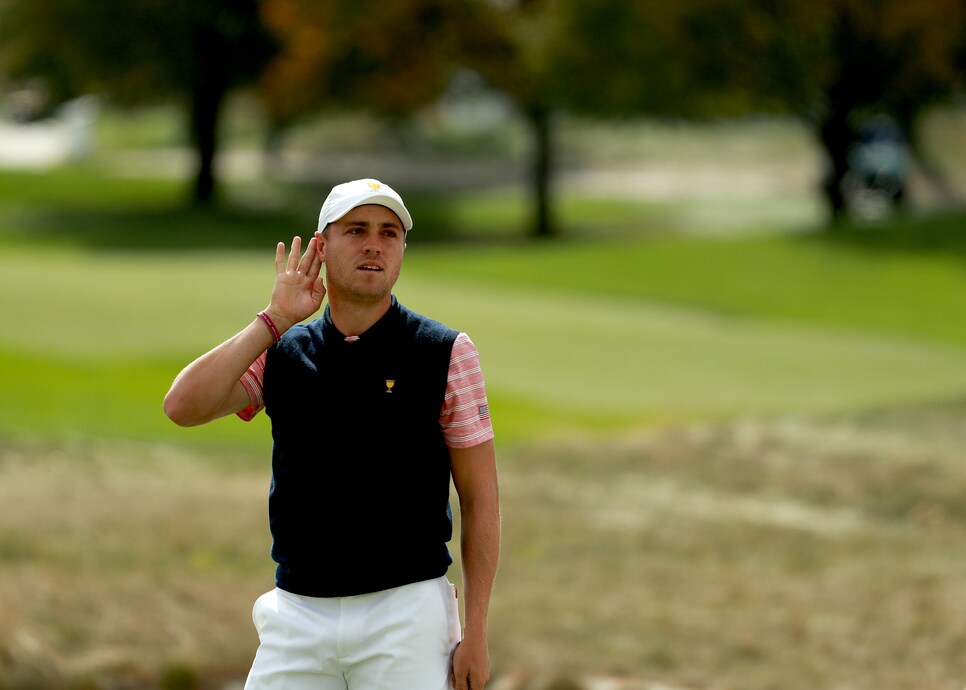 The reality is, the Internationals ran into the proverbial buzzsaw. It's an American roster that's as explosive and deep as the country's boasted in decades. Thomas, coming off one of the best historical campaigns for an under-25 player, has carried that performance into Liberty National, going 2-0 with Fowler in the early proceedings. Spieth, even without his A game thus far, looks very much like the guy who won three events and a major this year. Phil Mickelson continues his admirable fight against Father Time, his presence galvanizing both teammates and the crowd. Hoffman, a weekly sight on leader boards this summer, was a captain's pick. The roll call of talent is so expansive Dustin Johnson, the No. 1 in the world, is almost an afterthought.
"This team is a unique team from any in the past in that the talent level is high or higher than we've ever had, and the camaraderie amongst each other on and off the course is a whole different environment," Mickelson said Friday night. "There's this great support system."
Which is another factor that's reared its head. Though some roll their eyes at the years-long preparations that goes into these team events—preparations that entails the litany of assistant captains, emphasis on locker-room chemistry, etc.—the calculated approach paid off for the Americans at Hazeltine last fall, and is bringing similar dividends in Jersey City.
"You look at the leadership that we have this year, it's really strong," Mickelson said earlier this week. "It's really deep. You look at Captain Stricker, really quality leader, a quiet, sound leader, and when he delivers a message, it resonates. You look at last year's Ryder Cup captain, two-time Ryder Cup Captain Davis Love is here, Tiger Woods is here, Jim Furyk is here, Fred Couples is here. We have such strong leadership that really my role has been to not dilute their message."
Given Mickelson's résumé and stature, it's not a comment that should be taken lightly.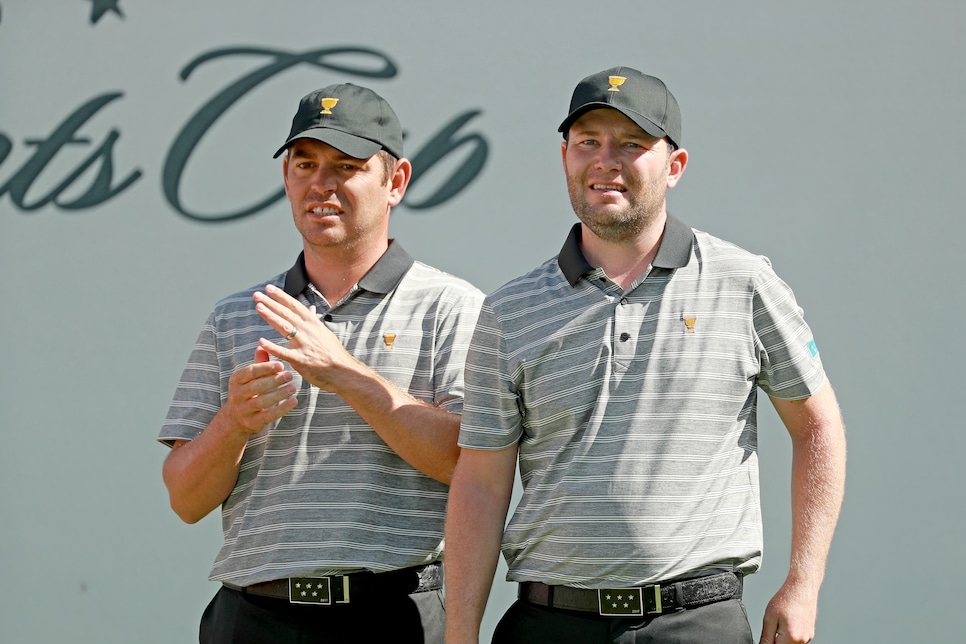 Whenever the dramatic happens on one of sport's center stages, we tend to disparage the losers rather than salute the victors. It's why you see memes clowning the '16 Warriors for blowing a 3-1 Finals lead but none celebrating last year's Golden State team that eviscerated their competition. It's not about raising up whoever came on top; it's knocking down someone from a plane we think they don't deserve.
But blowouts and failures don't make an unworthy opponent. Sometimes the conquerors are just that good. You could combine the best of the European and International pools right now, and the Americans might still be the favorite in a theoretical event. That's not an indictment on these countries' lack of faculty; the U.S. is merely blessed with talent at the moment.
"Moment" being the operative word. Unless the Internationals mount a Saturday comeback, get ready for plenty of "How do we fix the Presidents Cup?" takes. However, these runs tend to be cyclical in golf. (Remember, the U.S. dominated the Europeans for almost 50 years before the Ryder Cup became competitive.) That day may seem far, far in the distance, but the Internationals will eventually get theirs.
Which is why, instead of belittling the competition, enjoy the action. This type of dominance is rare, and often fleeting. You are watching golf's version of the '27 Yankees. How can you fault any opponent for losing to that?