News
Several top squads struggle as NCAA Championship berths are decided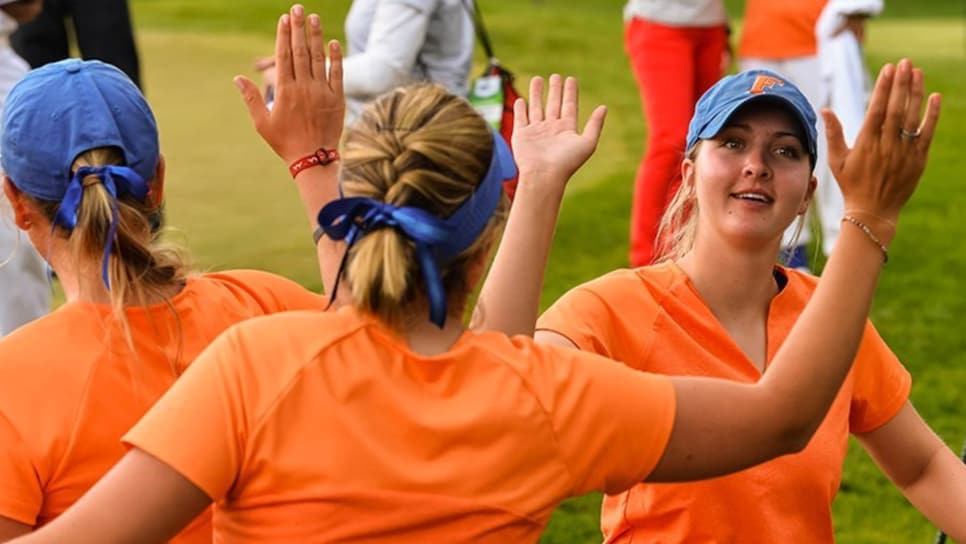 Courtesy of Florida Women's Golf
At the risk of sounding a little like Yogi Berra, winning NCAA Women's Regionals isn't actually about winning. It's about finishing better than seventh, something easier said than done for several top-ranked schools who found their seasons end one stop earlier than they had hoped. Of the programs in the Golfstat top 25, 11 schools finish outside the top six in their respective regional, including UCLA, which failed to advance to the NCAA Championship for the first time since 2000 after carrying the No. 2 ranking in the country entering the postseason.
Here's a breakdown of each of the four Regionals, and a look at the 24 schools and 12 individuals advancing to the NCAA Women's Championship at Rich Harvest Farms outside Chicago, May 19-24.
COLUMBUS REGIONAL
Scarlet Course at Ohio State University
It was back-to-back NCAA Women's Regional titles for top-seed Florida. A par putt on the 18th hole from Kelly Grassel clinched a share of first place for the Gators along with SEC rival South Carolina—which won its third-straight Regional crown—at 22-over 886.
Grassel's putt also secured the senior a share of the individual title, who shot a two-under 70 in the closing round to finish with an even-par 216, matching South Carolina freshman Ana Pelaez as the only two players to break par.
"To be able to play on this type of course, under the pressure of regionals, the week before the National Championship is a huge advantage for us," said Florida women's coach Emily Glaser. "This is the type of course where taking a mental vacation at any time will cost you dearly. We expect the NCAA Championship to be like that as well."
Three Big Ten schools, each with some familiarity with the Scarlet Course, seeded outside the top six managed to finish inside the cut line: host Ohio State (No. 8 seed), Purdue (7) and Michigan (9), where Big Ten individual champ Elodie Van Dievoet made an 18-foot birdie putt on the last hole to clinch the Wolverines the final spot.
Team qualifiers
T-1, Florida, +22
T-2, South Carolina, +22
3, Florida State, +27
4, Ohio State, +29
5, Purdue, +40
6, Michigan, +44
7, Colorado, +45
8, Arkansas, +46
Individual qualifiers
Cara Gorlei, Arkansas
Camila Serrano, Florida International
Maddie Szeryk, Texas A&M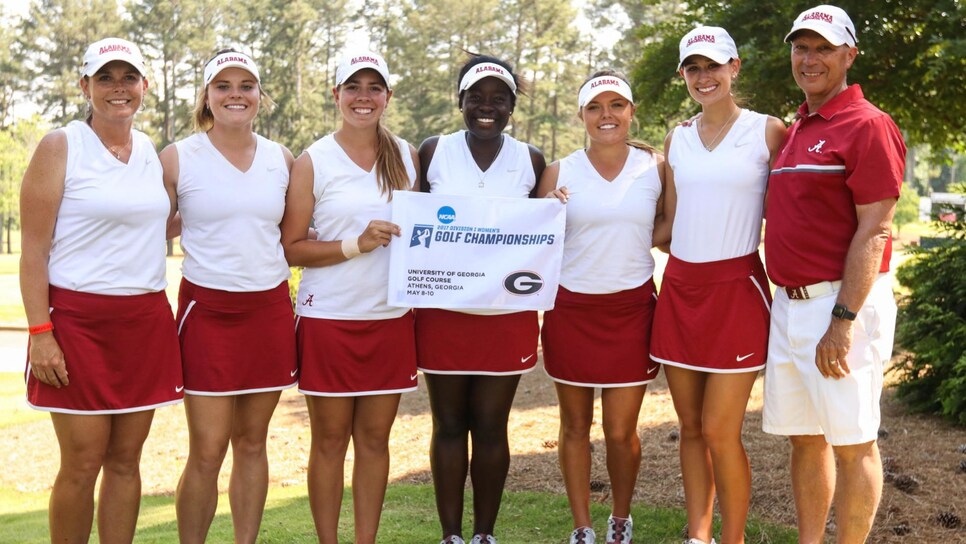 Courtesy of the Alabama Women's Golf
ATHENS REGIONAL
University of Georgia G.C.
Top-seed Alabama jumped to the top of the leader board with a four-under 284 in the second round and matched that score in the third round to cruise to the team title by 14 strokes over Northwestern. It was the Crimson Tide's third NCAA Regional victory, after wins in 2011 and 2013. It also marked the 12th straight season the school advanced to the national championship.
"I think we did great," said Alabama women's coach Mic Potter. "I wasn't too worried going into today because everyone was playing really well. We are very familiar with the course since we play every year at the Liz Murphey, not to mention other tournaments. … I felt like we were trending in the right direction. All year we have started slow and played well in the last round so I thought we had another good round in us and sure enough we did."
Cheyenne Knight, the SEC player of the year, and Lauren Stephenson were the top finishers for the Crimson Tide, each shooting five-under 211 scores to finished tied for second. Wake Forest's Jennifer Kupcho claimed medalist honors with a closing 68 and a 10-under 206 total.
Making the biggest move in the final round was North Carolina. The Tar Heels shot a one-under 287 to vault three spots into sixth place, grabbing the final berth to the national championship. Conversely, host Georgia, the No. 2 seed, never got anything going in the final round, shooting a nine-over 297 to finish in seventh, missing nationals by three strokes.
Michigan State continued its unexpected late-season run. The surprise Big Ten champs were the 14th seed but finished third to earn their 11th NCAA berth in 17 years but their first since 2014.
Team qualifiers
1, Alabama, -7
2, Northwestern, +7
3, Michigan State, +8
4, Baylor, +13
5, Clemson, +20
6, North Carolina, +22
7, Georgia, +25
8, Tennessee, +26
Individual qualifiers
Jennifer Kupcho, Wake Forest
Laura Fuenfstueck, College of Charleston
Maya Walton, Princeton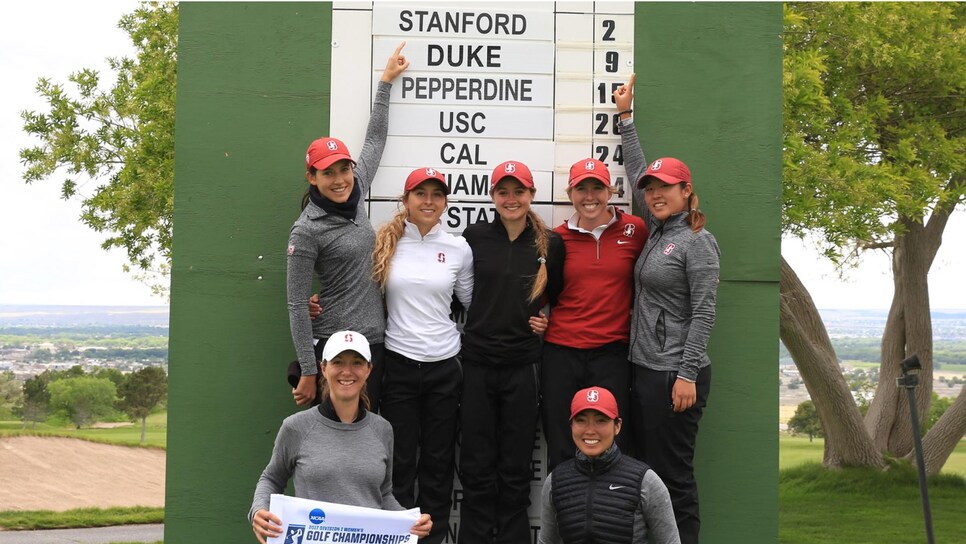 ALBUQUERQUE REGIONAL
The Championship Course at the University of New Mexico
Stanford, the No. 1 ranked team in the country according to Golfstat, looked the part, defeating Duke by seven strokes to win a school-record fifth title of the 2016-'17 season. It marked the 10th time in 11 starts in which the Cardinal, NCAA champs in 2015 and runners-up in 2016, has posted a top-three finish.
Stanford freshman Albane Valenzuea continued to impress, earning medalist honors with a final-round 70 and a six-under 210 total, three strokes better than Pepperdine's Tatiana Wijaya.
Traditional powerhouses Duke and USC, which finished fourth to reach NCAAs for the 20th straight year, advanced. The defending NCAA champions, Washington, however, saw their season end when the 10th seeded Huskies finished in eighth place, three strokes back of Miami (Fla.).
Team qualifiers
1, Stanford, +2
2, Duke, +9
3, Pepperdine, +15
4, USC, +20
T-5, California, +24
T-5, Miami, +24
7, N.C. State, +26
8, Washington, +27
Individual qualifiers
Martina, Edberg, CSU-Fullerton
Bianca Paddanganan, Gonzaga
Nadine White, Campbell
LUBBOCK REGIONAL
The Rawls Course
Arizona State's Monica Vaughn, Olivia Mehaffey and Linnea Strom finished 1-2-3 individually as the Sun Devils easily won the school's sixth Regional title but first since 2009, the last time the program won the NCAA title. The Sun Devils shot a 22-under 842 to outpace runner-up Furman by 21 strokes.
"I'm at a loss for words; I'm just so excited for this team, and it's a huge win for our program," said ASU women's coach Missy Farr-Kaye.
Vaughn's eight-under 208 made her the seventh player from the school to win the individual title at Regionals.
One other Pac-12 school advanced from the region, but it wasn't the one everyone expected. No. 12 seed Oregon surprised to finished third while top-seed UCLA, winners of four events this season including the conference championship, shocking finished in eighth place, six strokes out of the sixth spot.
Team qualifiers
1, Arizona State, -22
2, Furman, -1
3, Oregon, +2
4, Texas, +5
5, Texas Tech, +9
6, Kent State, +11
7, Oregon State, +13
8, UCLA, +17
Individual qualifiers
Julienne Soo, Oklahoma
Alex White, BYU
Susie Cavanagh, Oregon State